Most of the billboards in The Townships are in French. There's a conspicuous one near the top of Mont Sutton's access road that simply says "Amen" branded with the logo and a picture of some beautifully rimed trees.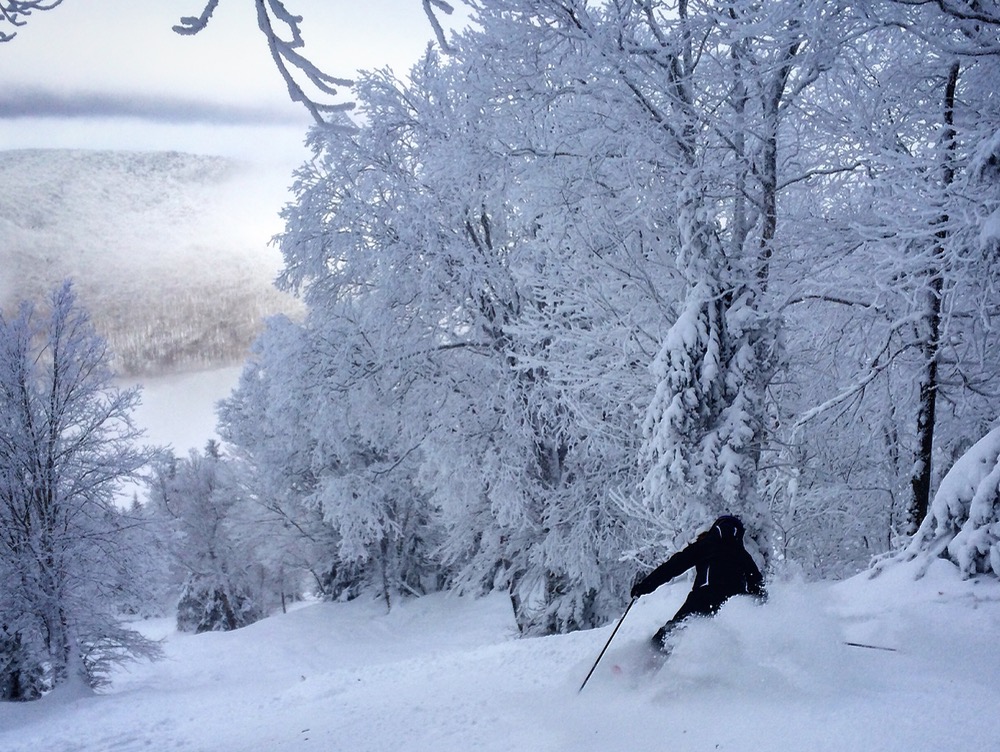 It's a little ambiguous, but after skiing there last weekend, I'd probably define it as "divine bliss and sheer joyfulness from sliding over a soft base of perfection." Skiing is serious business, after all.
Overstatement? Je ne sais pas. While it hadn't snowed at the mountain for a few days, life is more than recent snowfall, uphill capacity, double black diamonds, and super fast lifts. Sutton seems to get the fact that those metrics don't directly translate into fun. From heaven, not hoses, en français.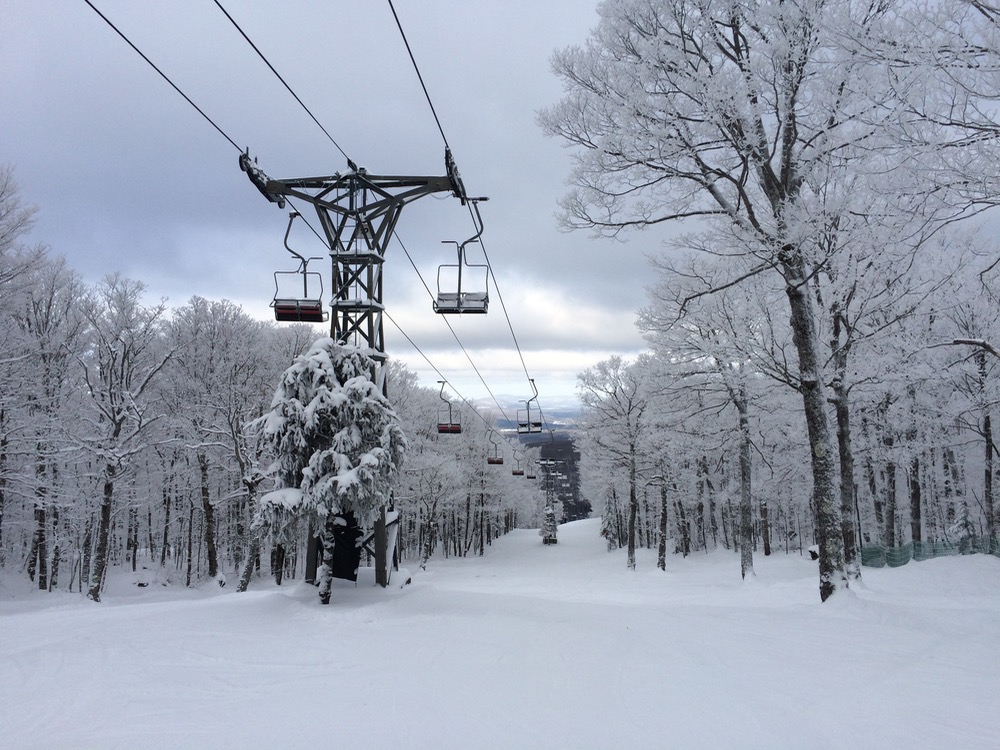 Like most ski areas, Sutton has heard complaints this season as pass-holders and day trippers lamented the warm weather and the lack of manufactured snow. But even on a day which saw a third of the mountain still closed, I'd rather focus on a glass half full.
On a chair ride up I learned some of Sutton's oral history from another single. When the ski area was starting out, clearing trees was cost prohibitive. This led the developers to trim selectively, and glade skiing was born in Quebec.
Most of the trails are probably wider now, but the gladed areas are still numerous on the map and most of the trails are still the older style that I prefer; they follow the natural contours of the mountain rather than bombing straight down the fall line.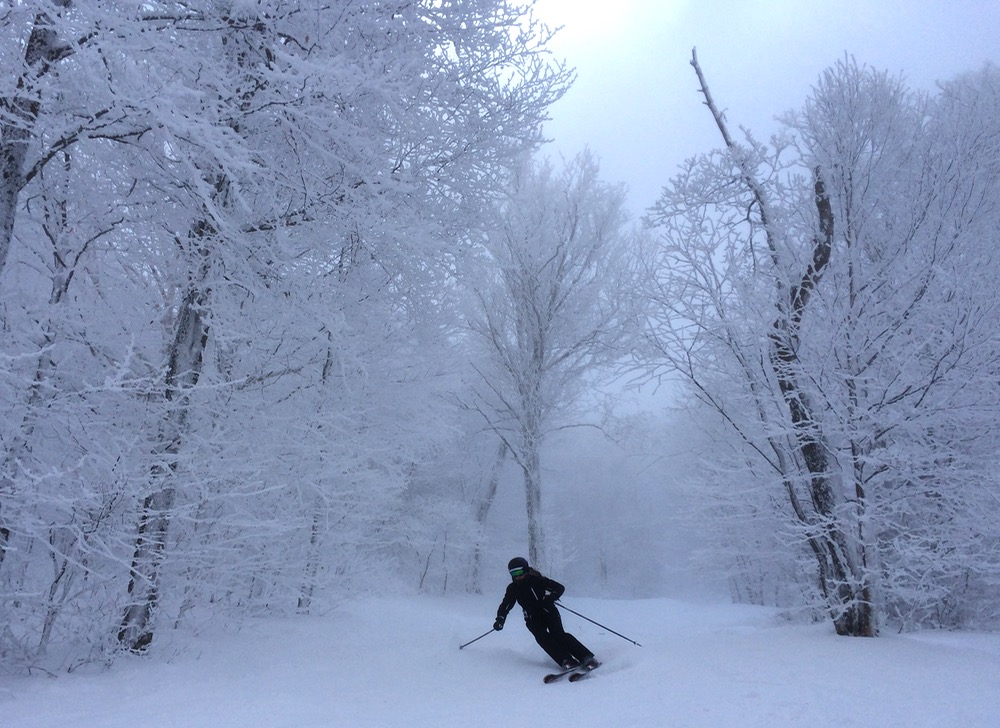 My day was great right from the start. I cleared my plate early and jumped on the 10 Est from my new home-base in Montreal, and I was just thrilled. The sky was blue, the ice is forming nicely on the St. Lawrence under the Champlain Bridge, and the sun was shining.
The Townships feel free, free of the tyranny of screaming news anchors, alternate side parking, and Aunt Jemima syrup. I can't pass through on a Tuesday without it feeling like a Sunday-driver.
When I arrived at the mountain, clouds were perched atop the summit, stretching to the south and completely blocking out the sun, an appendage, of the Jay Cloud. Since snow has sorely been lacking this season I just hoped for the best, fresh. I was looking forward to getting my head in the clouds for sure.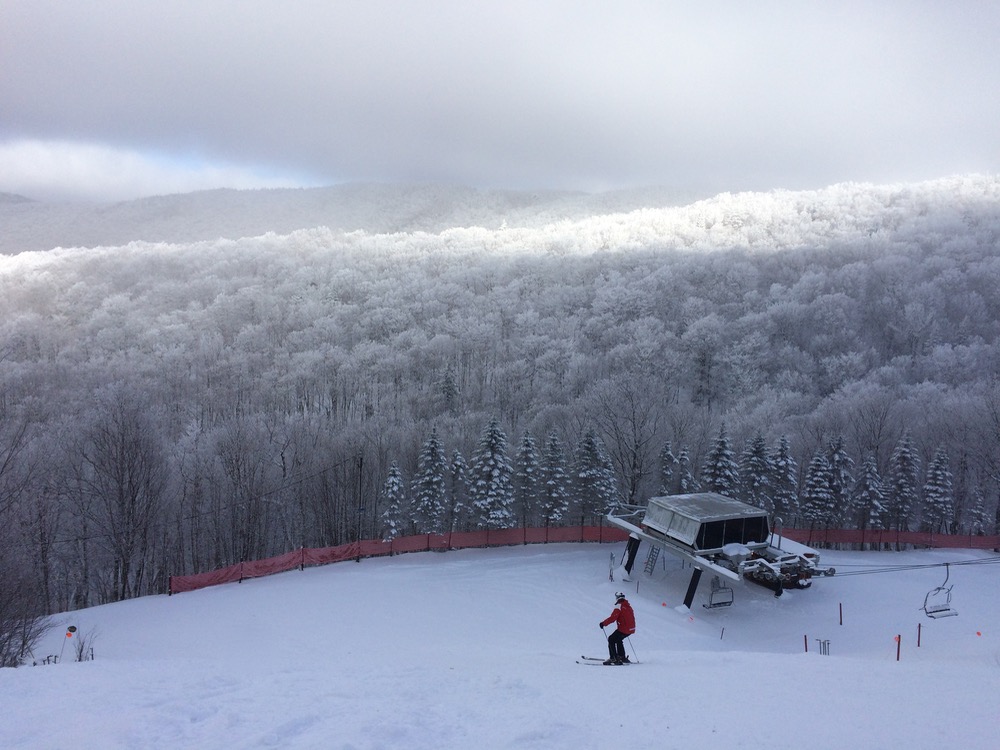 What made the day unforgettable however, was seeing a ripping skier carve fast arcs under the high speed quad. See, Canadians are quite good at all winter sports. If you actually notice someone, you expect to find Angel Collinson or Mikaela Shiffrin when they take off their helmets.
I decided to say hello, and ask for a tour. The tour consisted of "catch me if you can" antics, on several top to bottom laps. It's amazing that some games never get old, and "catch" has got to be one of them.
On chair rides up, I chatted with my new friend. Marie said that Sutton is her home, and she feels no need to go anywhere else. I thought mentioning the guys in The States that would be happy to give her a tour of their hills, but I selfishly kept it to myself. There was just so much joy in those perfect turns, it was fun to watch.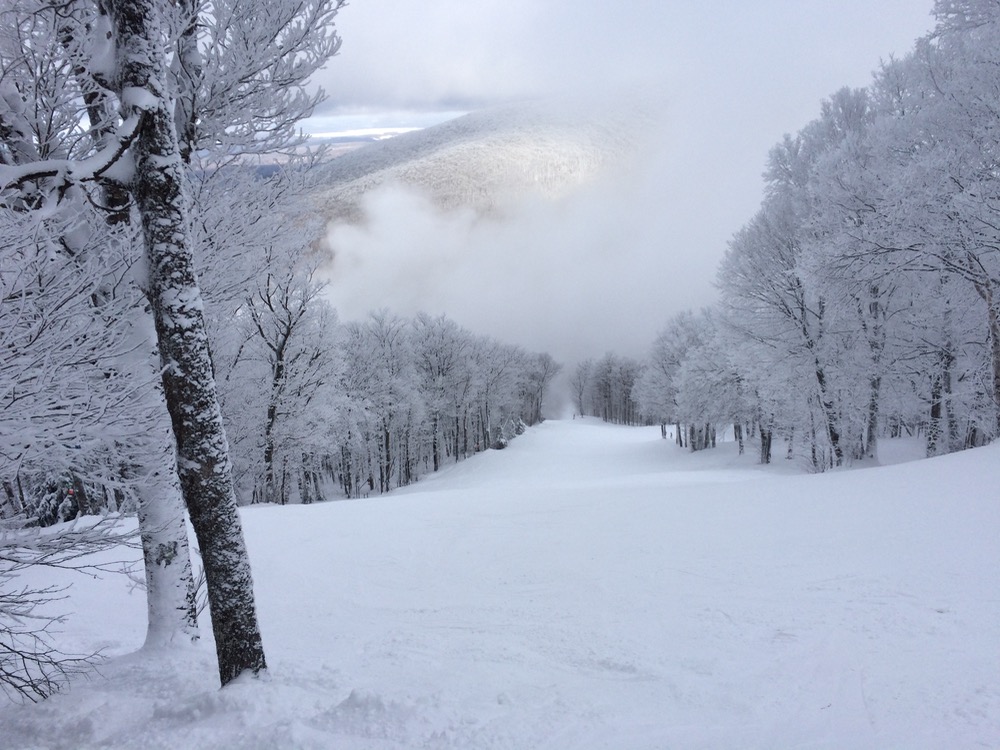 I felt at home as well. The pace of the mountain feels good, it's a peaceful place where you can hear the quiet of the woods. These thoughts echoed through my head today, as I read the story that a group of local skiers have just purchased the mountain.
They anticipate putting in improvements, especially snowmaking. Those upgrades will only make the mountain better, and are welcome, but it I couldn't shake the feeling that everything needed for a great experience is already in place.
Hopefully the base continues to deepen and I'll be able to try the old glades with confidence sometime soon. Regardless, following around a ripping new friend on soft snow?
The Townships are a special place. Amen.