I spent the holiday week trying to dodge the rain and find what little of the white stuff that's left. The search had me riding some mixed conditions at Windham, Hunter and Gore. Fortunately my favorite chairlift partner, Farah, was able to join during her winter break from medical school.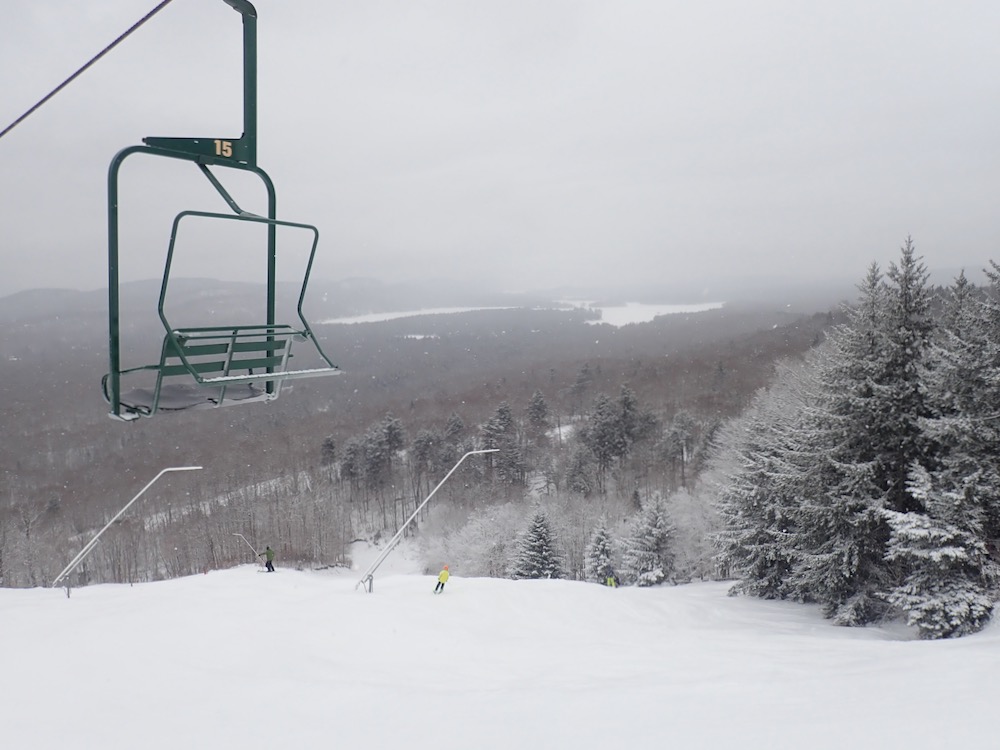 After skiing Gore last Saturday, we drove to the Old Forge Camping Resort where we'd rented a cabin with our friends Conor and Leslie. They had been cross country skiing McCauley that day and said it was slick.
But on cue, snow started to fall and we started to feel better about our chances for the next day. We welcomed winter's appearance with a big campfire and a drink. You could hear the snowmobilers in other campsites doing the same.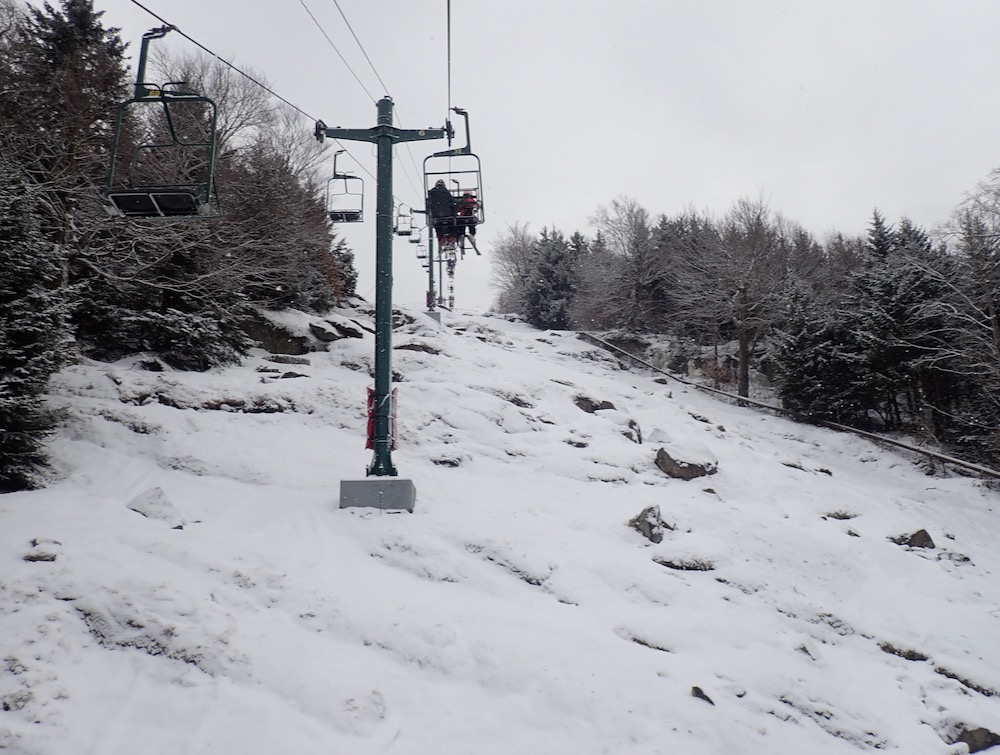 The next morning greeted us with an inch of new snow and it was still coming down. We grabbed a breakfast sandwich at Ozzie's and said goodbye to our friends. They originally planned on snowshoeing that morning but after seeing the snow decided they would cross country ski another day.
We made our way to the mountain after a late start, we didn't mind, we saw it as an opportunity for more snow to fall. The lot was three rows deep but we still found parking up front. The lodge was bustling on this holiday Sunday, with bar seats and couches all filled. We geared up, bought what must be the cheapest ticket in NYS and headed up the lift.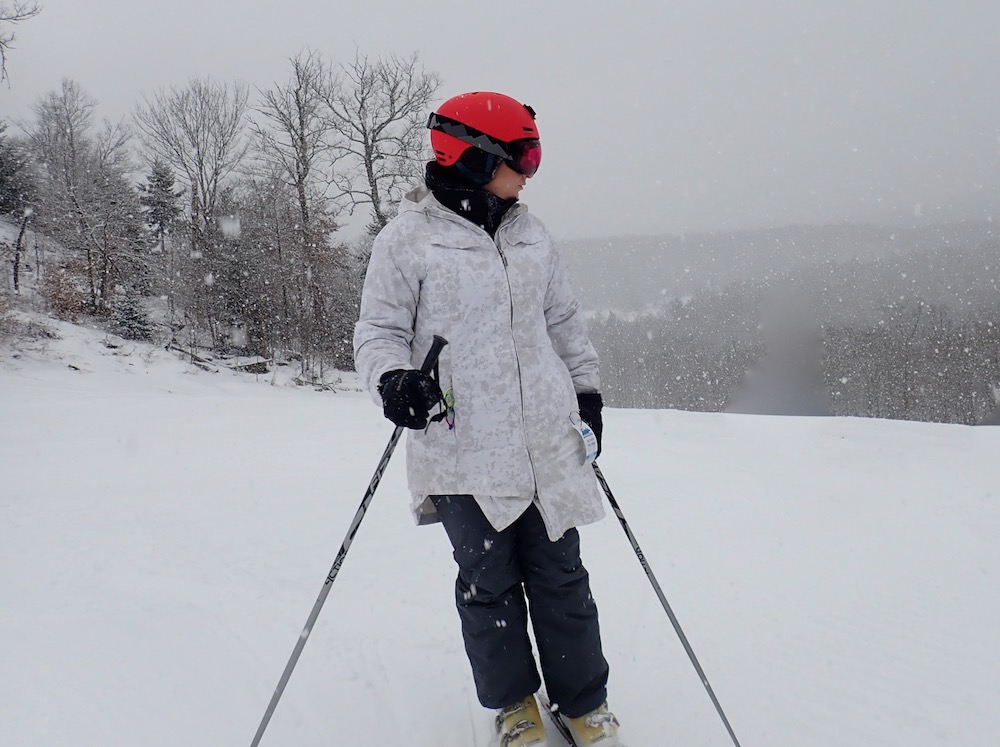 Like many of the resorts across the east, trail selection was limited despite the overnight snowfall. We took a cruise down Challenger to test the snow. A strange mix of frozen granular and the soft stuff on top, it was better than we expected. Once we were comfortable, it was time for the more challenging Skyride. It was clear the staff had been hard at work to make snow and get it groomed.
The headwall is steep, but the coverage was really good. The contoured face had small small chutes and spines, leading to some interesting line choices. People were skiing the valleys, but I found the ridges we're holding all the soft stuff. I was even able to make a few hard slashes in the fresh snow. When we got tired we took a leisurely ride down the wood lined Rambler. These trails double as cross country skiing trails, and we're relatively untouched. I knew Conor and Leslie were enjoying the day as much as we were.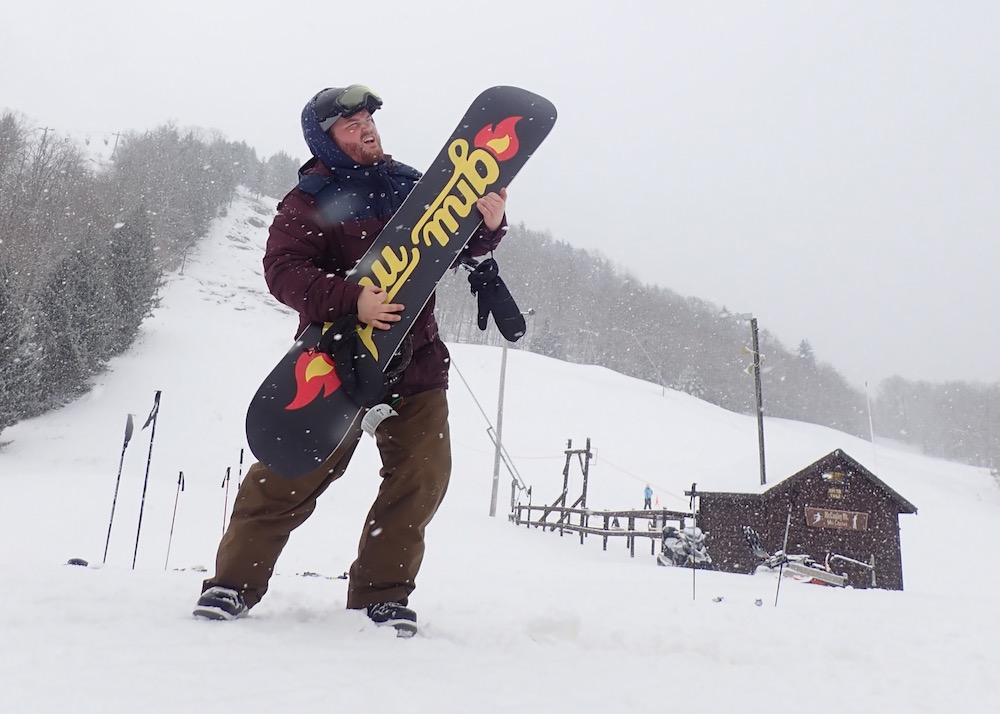 Despite the weather during the week conditions were actually fairly soft. A couple times when trying to edge hard I felt the ice base deep below. East coast riders learn to choose where to carve, heading for thick stuff. With every lap we took it got softer and the snow never stopped falling. When we called it quits in the afternoon the snow was still falling.
I should have made a bet back in snowvember that we wouldn't have snow on Christmas. Still, I'm confident that winter will rebound. For me skiing is about who are you're with as much as the mountain or the weather. I had some great days with family and friends in 2018. As long as Farah is on the lift with me I know 2019 will be a good year too.