During my hike up Lyon Mountain, I felt like I could almost touch the sky.
Whether it was the open feel of the forest — not as thick as the woods of the High Peaks — or the intense sunshine shafting down to light the trail, I don't know. I could stand on my tiptoes, reach out, and it was there.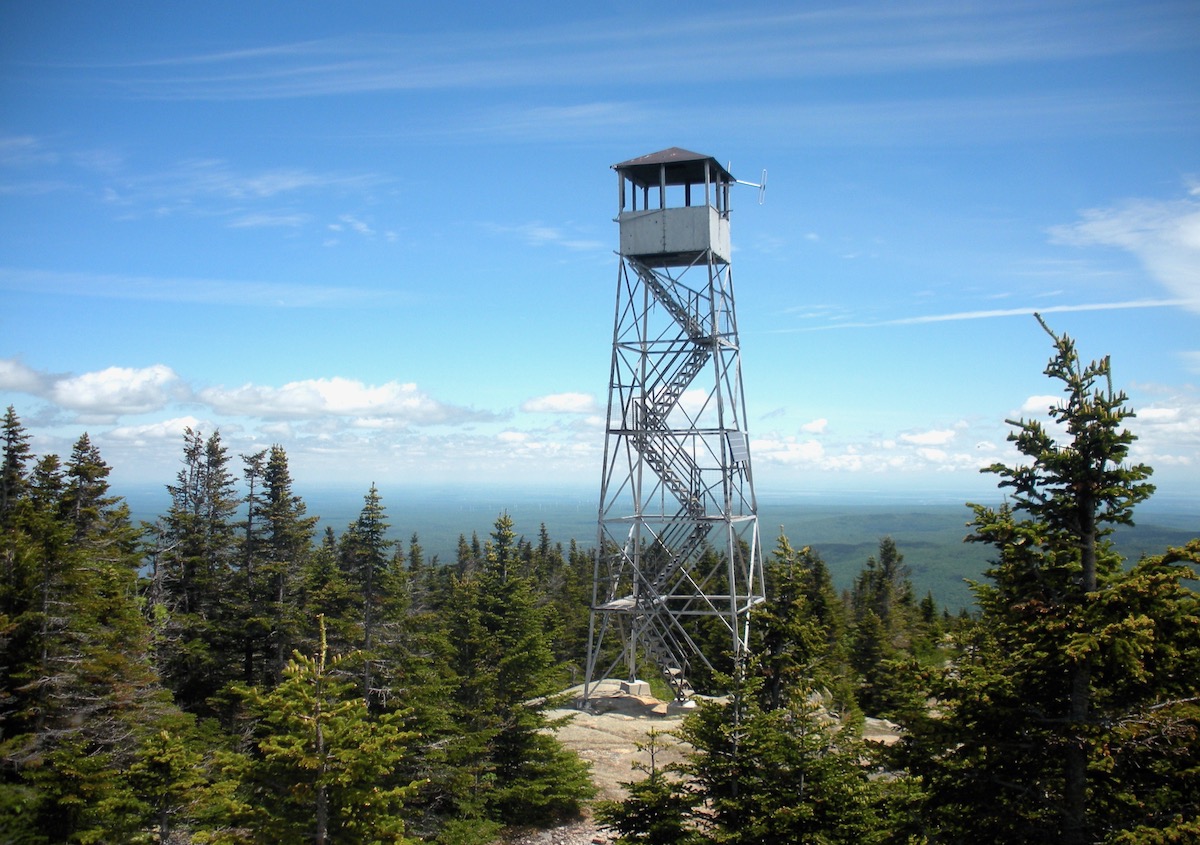 I chose Lyon for two reasons. On Saturday night, I went to the Executive Disorder concert for the release of their new record, Forever War. (If you like thrash metal, you need to own this record.) I was staying near Plattsburgh instead of Lake Placid, and I was determined to find something I hadn't hiked before. Lyon stands alone in that part of the northern Adirondacks.
From Schuyler Falls, I drove out early Sunday morning on State Route 374. Through Dannemora, past the prison… with that imposing wall brooding on main street. Looping around Chazy Lake, I turned right at the DEC sign and the Subie rattled a mile up a dirt road to a parking area.
At the previous night's concert, a friend told me that trail running shoes would be OK on Lyon Mountain, so I laced those up instead of my old Scarpa boots, and set off. A hundred yards or so up a rocky and wet old fire road, a sign pointed left into the woods. Marked in red, this is a new trail developed by the Adirondack Mountain Club (ADK) between 2009 – 2011.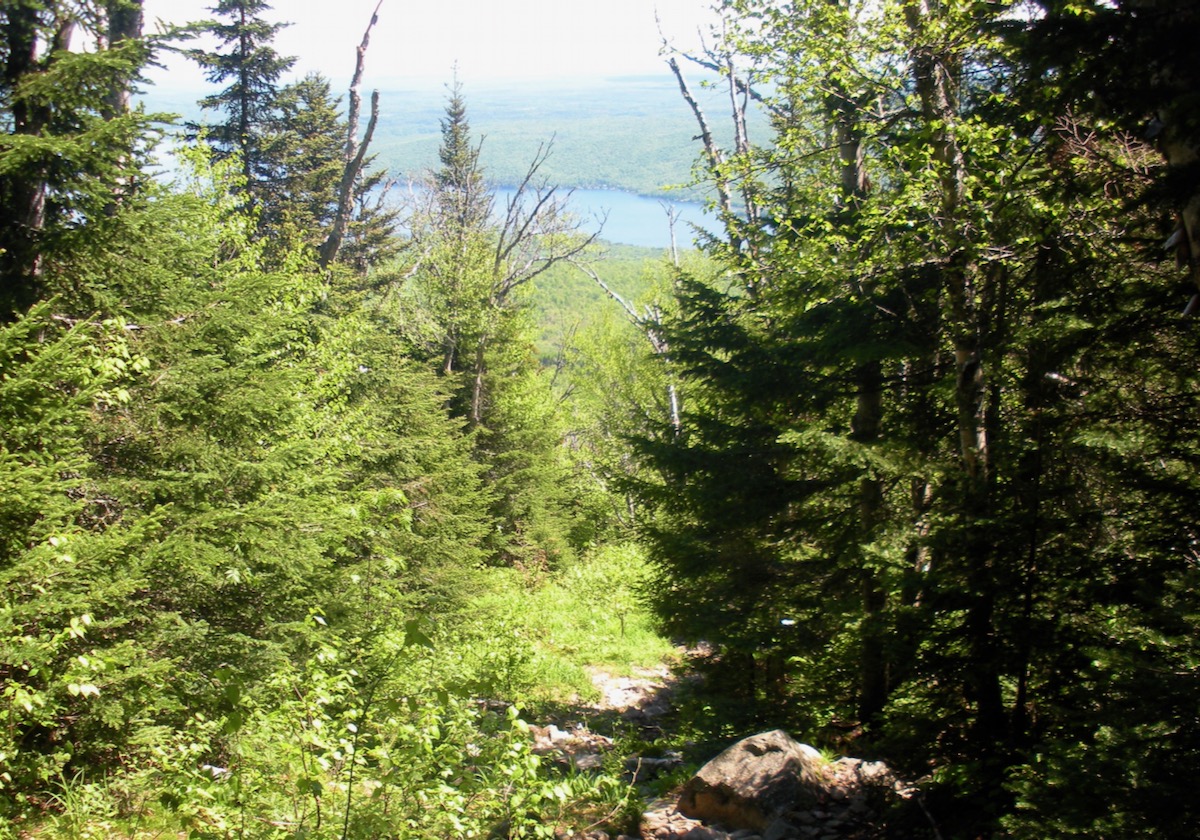 As it turned out, the new trail was easy going. Birch and other hardwoods dominated down low, with white pines beginning to put in an appearance as I gained altitude. Some sections were thick with underbrush; elsewhere, the understory was a carpet of ferns.
Numerous switchbacks made for a manageable grade. There were wet spots and rocky bits here and there, but you're in the Adirondacks, what else would you expect? Overall, the trail wasn't nearly as technical as some found further south.
At around 3.5 miles, the new trail crossed the old one. You can see why the ADK re-routed it. The old trail appeared to go straight up the fall line, and where the two crossed, the older trail was a jumble of rocks. No running shoes there.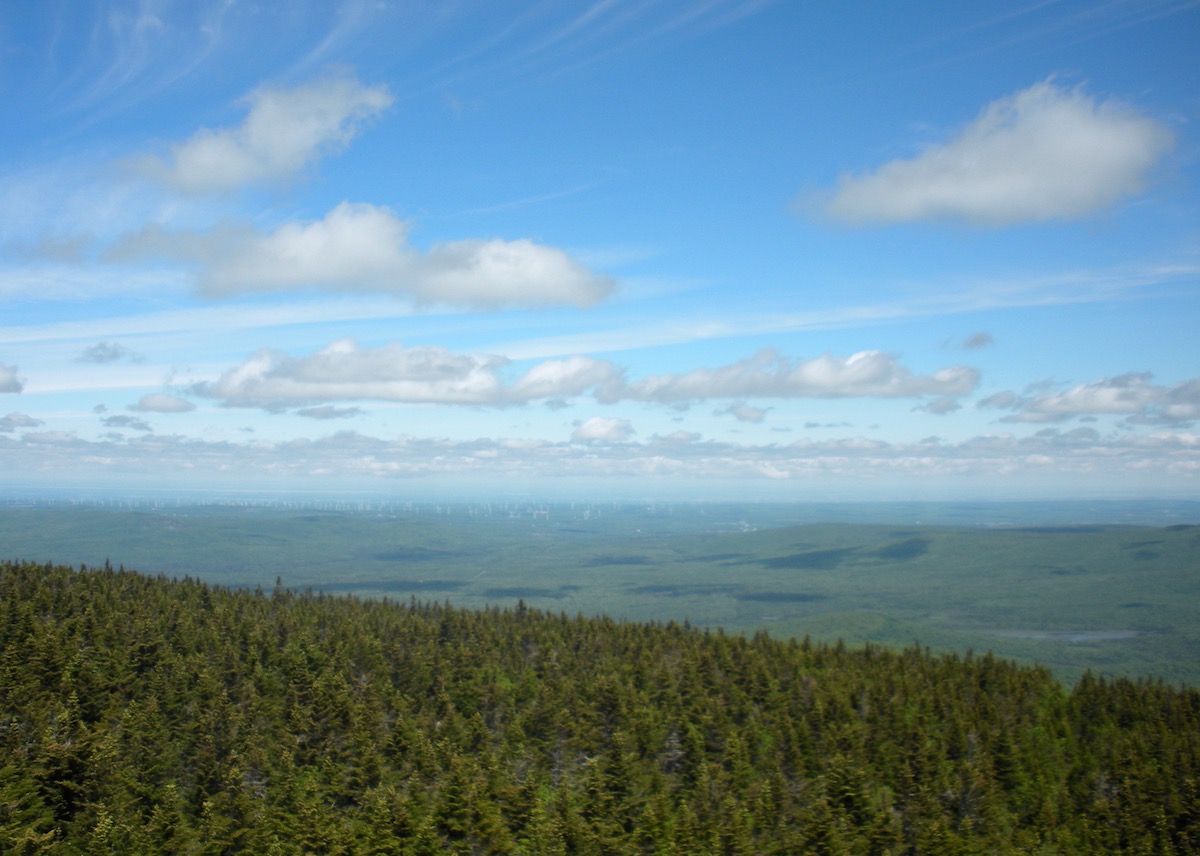 Leaving the intersection, the switchbacks came more frequently and the trail grew steeper. Another half mile, and a cairn marked another junction as the new trail dead-ended with the old. The last half mile was rougher but still manageable.
The true summit is a boulder about 50 yards west of Lyon's rickety fire tower, which I climbed to escape the swarming black flies. To the north, there was a massive wind farm that may have been in Canada. According to a guide you can see Montreal on a clear day, but today, distant clouds obscured. To the east, were Chazy Lake, Lake Champlain, and the Green Mountains. The ridge to the south had one high bump, which I'm assumed to be Whiteface, though I could be wrong.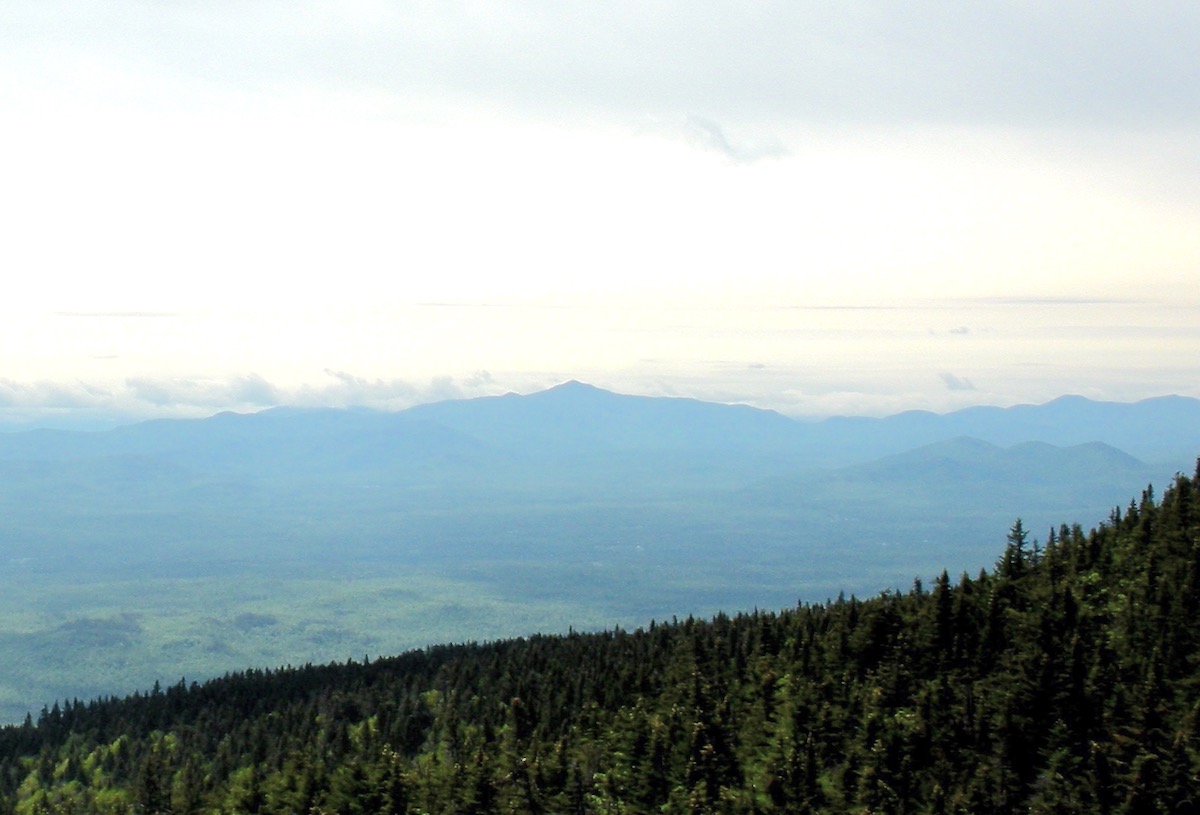 In the fire tower, I hung out long enough to grok the view, and yes, take a call from my editor. There's bupkis for wireless connectivity down by the lake, but plenty up high. After speaking with Harvey, I ate a few handfuls of trail mix, clambered down the fire tower, and headed back.
Round trip, Lyon Mountain took around four hours, including 20 minutes hanging out on the summit. On the return trip, I counted 17 people climbing for Lyon's summit, which I'd had to myself for 20 minutes. I'm grateful for a few minutes of solitude in the woods. If you're looking for a different view of the Adirondacks, or peace and quiet, you need to scope out Lyon Mountain.