I've been thinking about the Gore Mountain vertical drop by lift. The longest lifts are not my favorites.
For me High Peaks and Straightbrook are probably tied for first for my needs. North Chair is slow and it helps keeps the Tahawas woods fresh.
Topridge serves some great terrain. Topridge itself is steep and long. The run under the Topridge chair — High Pines — is an awesome, fun irregularly soft bumped dream. In fact Gore has three great under the chair runs High Pines, Dark Side and Double Barrel. Any day where you ski all three is a great day.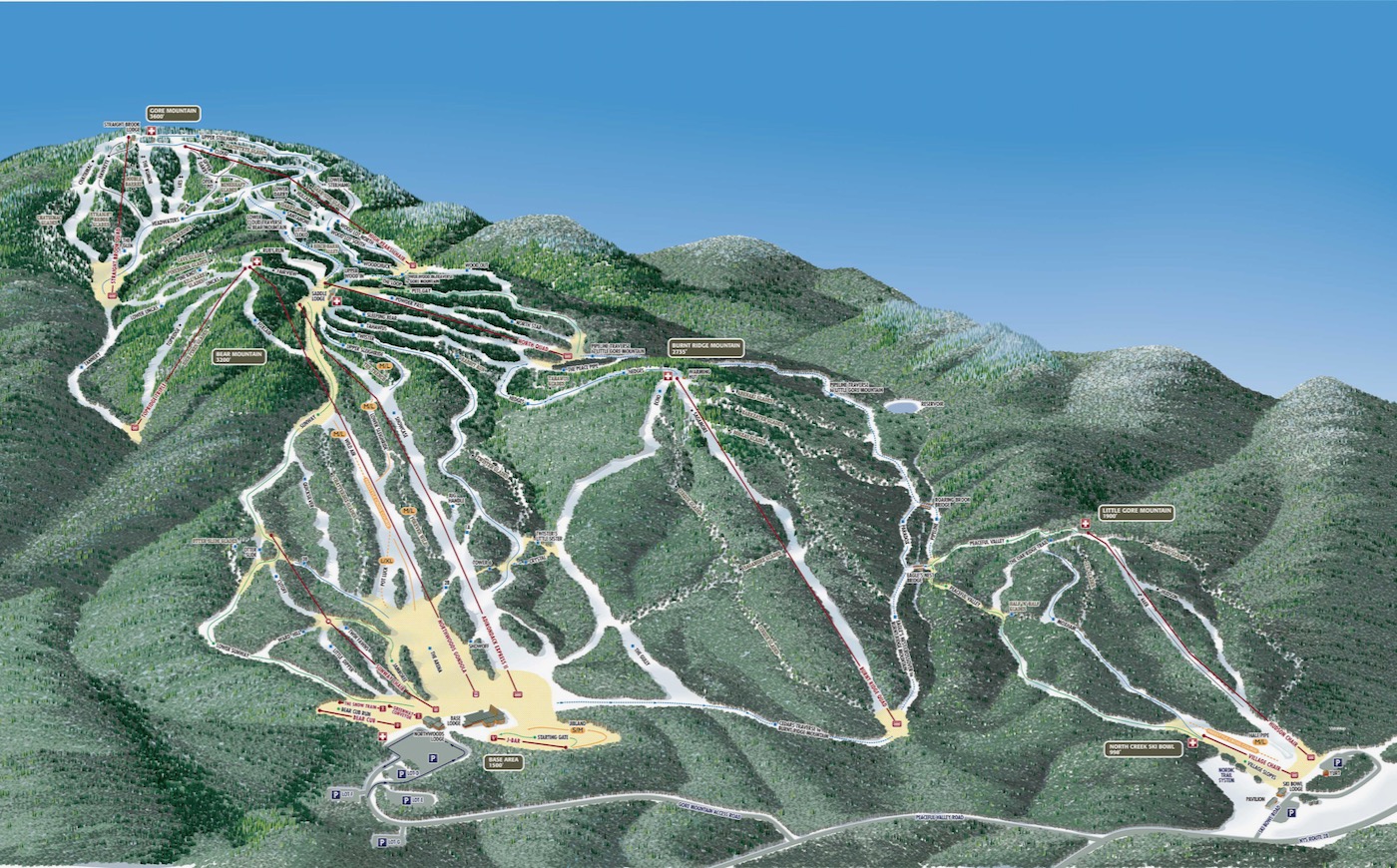 I only rank the Gondi fourth because you need it. It's the fastest way to the summit. There is some good terrain off it. I just think it's a bit of a pain. It's the only lift on the mountain that you have to avoid at certain hours.
The new Burnt Ridge Quad is very worth skating to, if there is powder and the trees are open. It's sad that a fanatical skier like me would put the new big bucks quad 6th out of eight. On a powder day with the trees open it would probably be 3rd.
The Express is a redundant, but key feature. The Gondi can be down or on wind hold, but you can still access the summit.
There's a variety of terrain and it spreads people out. And it's a great place to telemark. A big percentage of terrain is trees, small huckable cliffs, high speed groomers, or steep terrain. Off the map in-bounds stuff doubles the size of the mountain.
The vertical drop for the primary lifts:
Gondi: 1703
Express: 1500
BRQuad: 1432
Topridge: 998
Straightbrook: 900
North Chair: 750
High Peaks: 684
Sunway: 520
In order of importance, for me, are some short lifts:
High Peaks: 684
Straightbrook: 900
North Chair: 750
Topridge: 998
Gondola: 1703
BRQuad: 1432
Sunway: 520
Express: 1500