For weeks, I'd been looking forward to taking my brother from Denver for his inaugural visit to Lake Minnewaska. Over the years, he'd heard me rave about how it's one of the most beautiful state parks I'd ever experienced, east or west.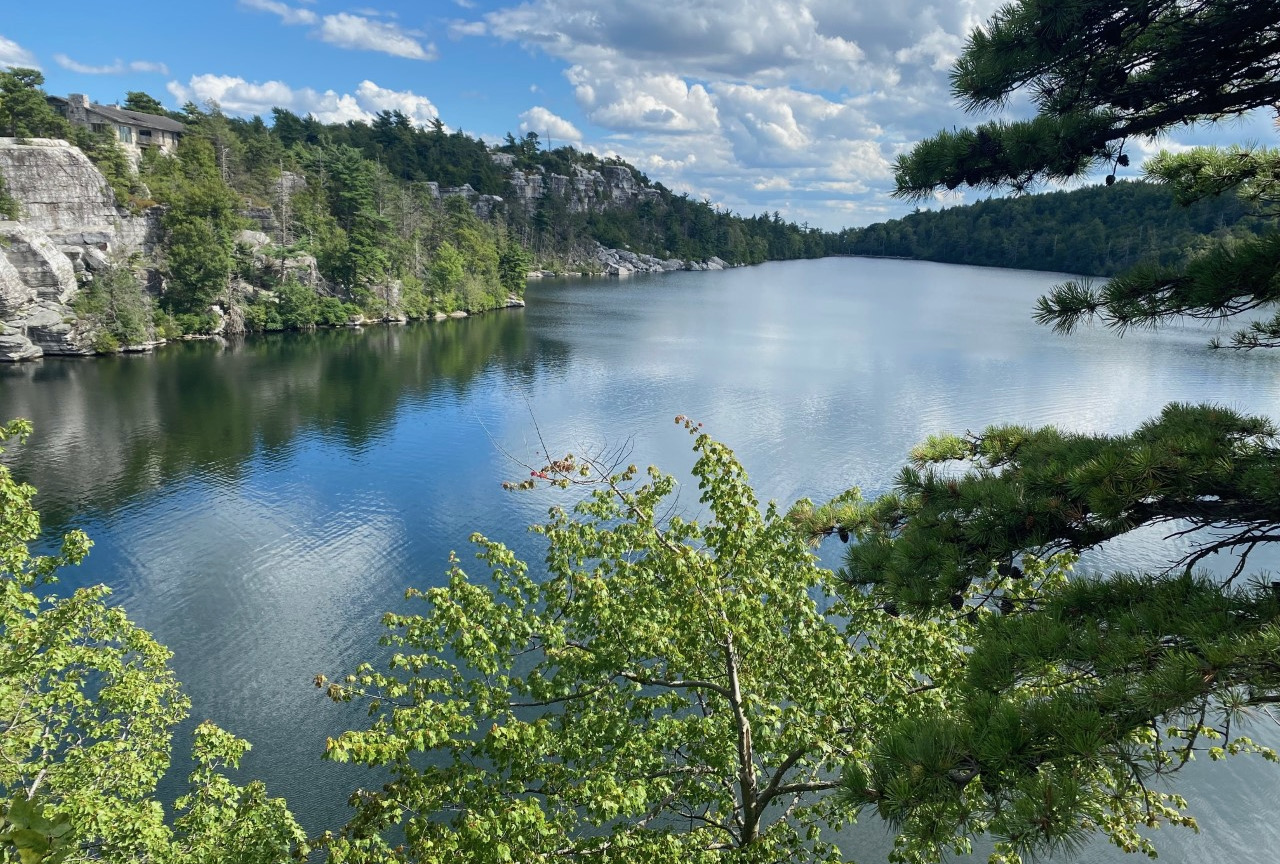 I went on about how it's a place where you could go biking, hiking, climbing, and swimming alongside gorgeous mountain laurel blooms in June, wild blueberries in July, and colorful foliage in autumn, and it never disappoints. Although he didn't actually say it, I assumed that his attitude was, "yeah, but I live in Colorado, so we'll see." While pulling into the Peter's Kill parking lot last week, I wondered if I'd oversold our ride.
I'd never been there during a drought like the one that's been plaguing the northeast. Would the creeks and waterfalls be dry? Would the lakes be several feet below normal and ringed by dried mud? Would the trees and underbrush be brown and desiccated?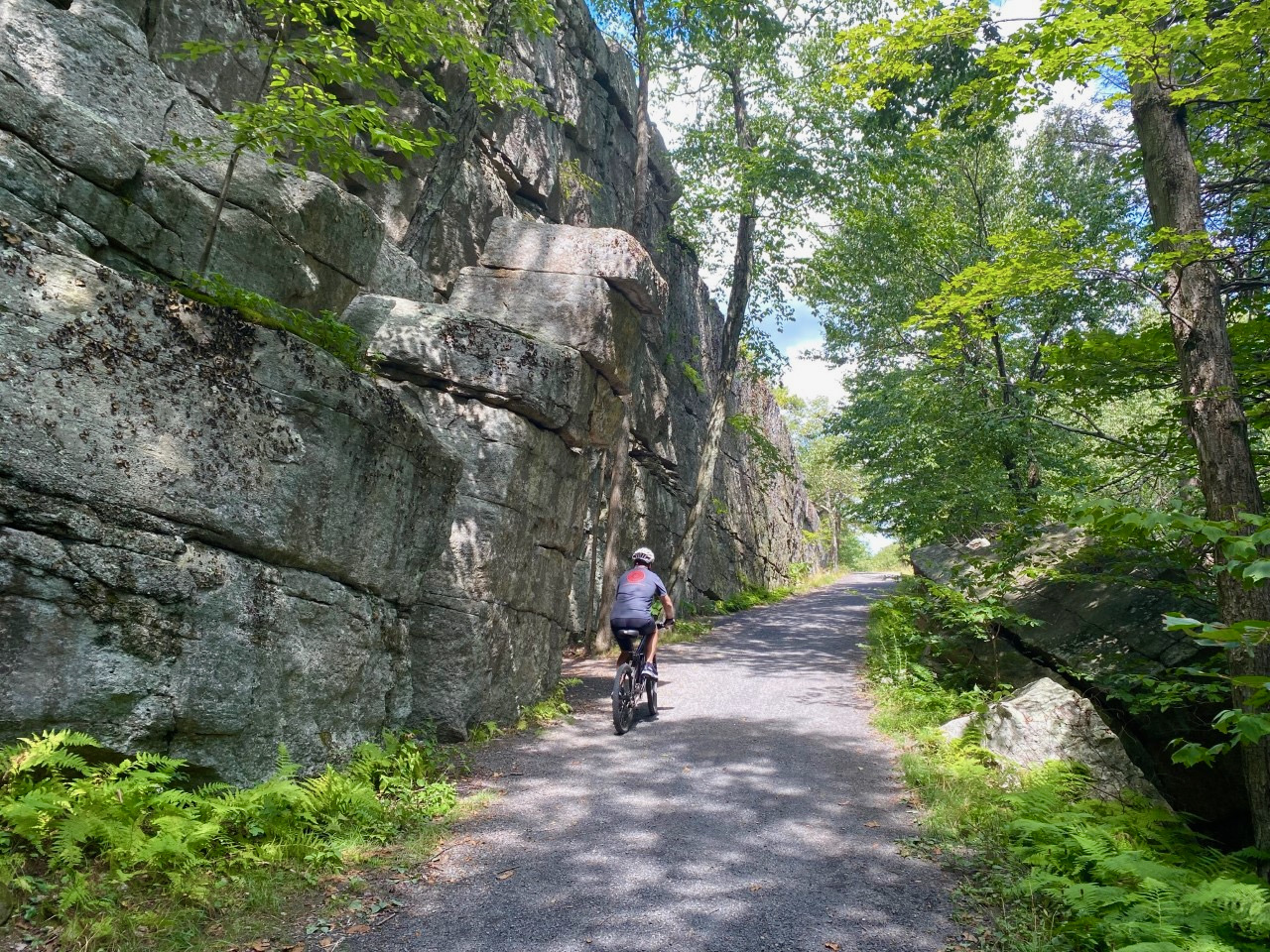 Even though the answers were sometimes yes and sometimes no, Lake Minnewaska still came through with a stunning experience.
After starting out on the Awosting Falls Carriage Road, where things were looking relatively nice and green, the creek below the falls was almost dry, as was the cascade itself. While it's normally one of the money shots on this ride, my brother didn't seem to be bothered. In Colorado, he's an ardent road-biker and not a fan of technical mountain biking so the largely smooth carriage roads were right in his sweet spot.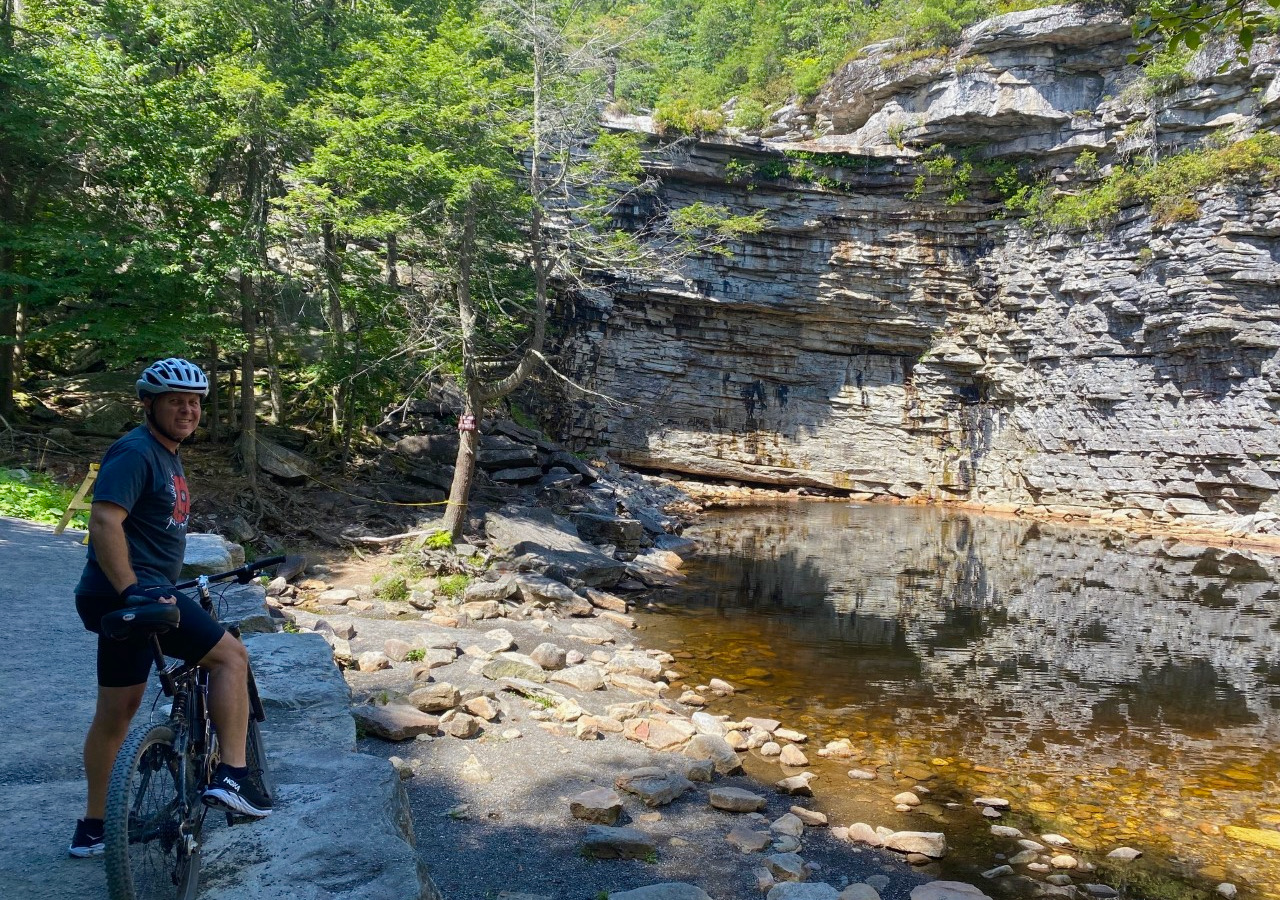 After huffing and puffing our way up to the main parking lot, we rode clockwise around Lake Minnewaska, which didn't appear any lower than normal. While it was tempting to jump in the water here, I advised that we were better off waiting until later in the ride to go swimming.
Even though the southeast-facing Castle Point carriage road winds through green trees and underbrush, between the hot dry air and the intoxicating scent of the pitch pines, it often felt like we were riding in western Colorado or Utah. It was another reminder of the Shawangunks' unique micro-climate and how impressive the scenery is, even to someone from out west.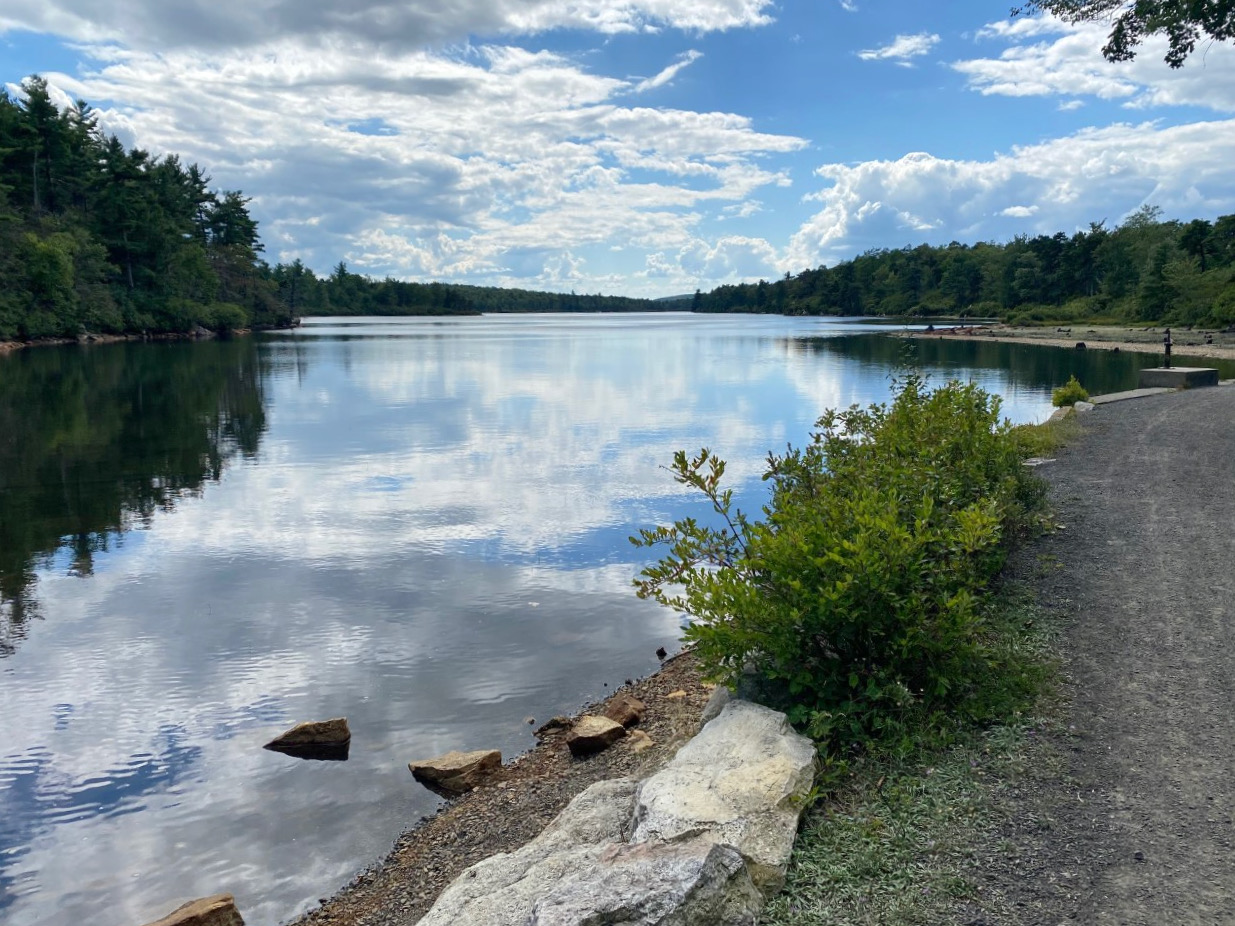 About 90 minutes into our ride, we reached our destination, Lake Awosting. The wild lilacs that line the shore were clearly stunted by the drought; however, they still had a delightful fragrance and were a great accompaniment for our swim.
By the time we stopped for drinks and snacks at the Mountain Brauhaus on the access road from New Paltz, my brother said that it was one of the most enjoyable rides he'd ever been on and confirmed that a couple dry months can't put the brakes on the overwhelming beauty of this region.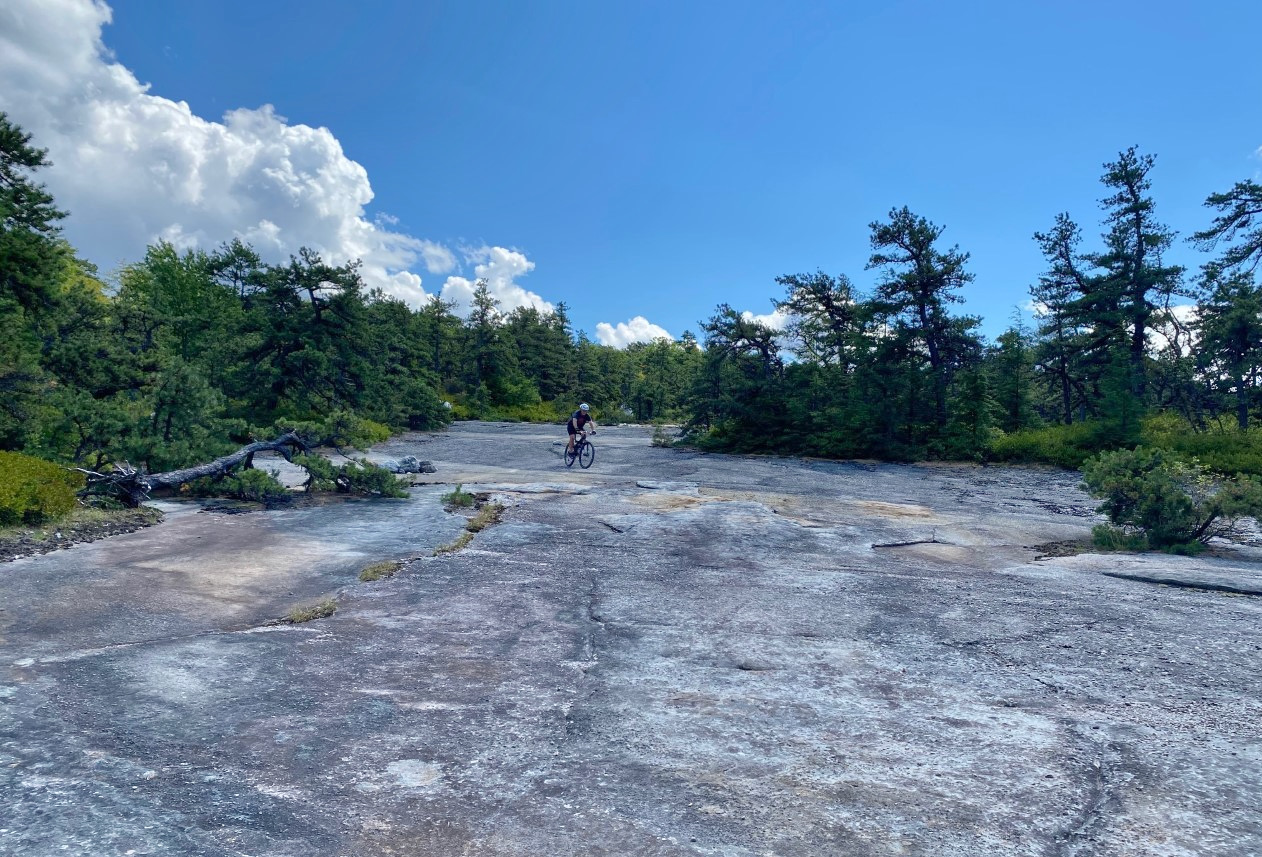 We didn't realize how lucky we were with our timing as over the past weekend, three days after our visit, a series of lightning strikes hit Napanoch Point, about 2.5 miles from where we were, which set off a 150-acre fire that continues to burn today. Before Tuesday evening's rain, it was only 15% contained and had closed all of Minnewaska State Park until further notice.
According to recent reports, the New York Army and Air National Guards have been called in to join more than 200 wildland firefighters and volunteers including two State Police helicopters that have been dropping up to 180 buckets of water each day, each holding 300 gallons.