"Some guys buy a Corvette when they turn fifty. Other guys join ski patrol." Spoken by a Belleayre patroller who showed up on a Saturday to help finish the testing process for some of my fellow patrol candidates. Joining ski patrol is my version of a mid-life crisis. Fundamentally, I was the same as a guy who buys the car he has been lusting after for most of his life.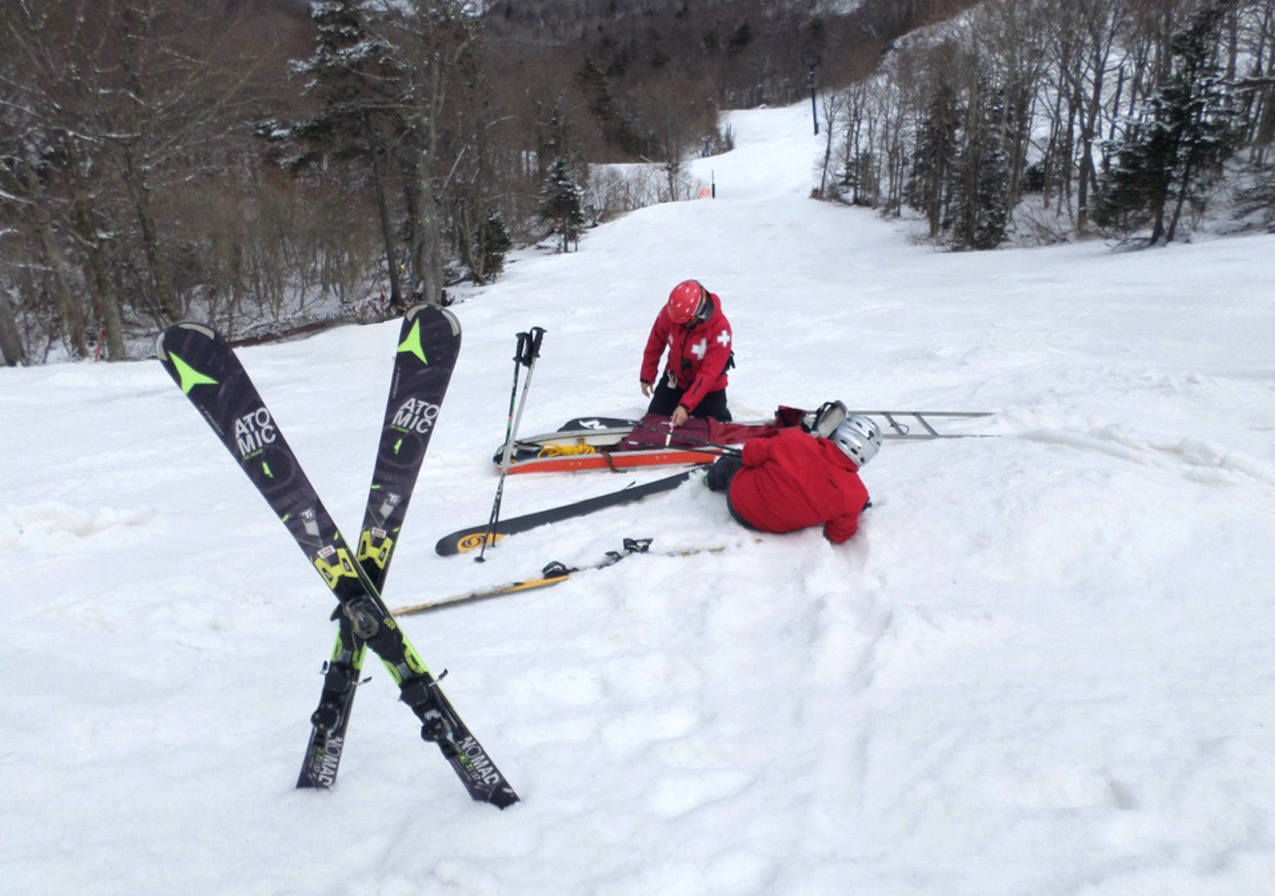 Like the Belleayre patrollers, I was there to help out with testing. My son and I had been through the process a month before. It was the end of a long road that began last fall when I spotted a post on social media announcing that a patroller from Belleayre would be conducting an Outdoor Emergency Care (OEC) class for interested parties.
Actually the road began around the beginning of the century when I spotted a paper flyer asking "do you have what it takes to be a ski patroller?" It was an invitation to show up and spend a day with the Mountain Creek Ski Patrol, let them judge if you skied well enough to learn what was required to patrol. I was judged adequate, but their rundown of the time commitment was daunting. Carving out time for the training was more than I could manage.
Now that I think about it, Mountain Creek wasn't the first time I thought about joining patrol. In 1994/95, when I worked as a liftie at Alpine Meadows, I thought that the patrollers were the coolest guys on the hill. They all seemed to exude competence without being arrogant.
I spent a winter working at Killington in 97/98, ski patrol seemed to be where it was at. I was a dispatcher in mountain operations so I interacted with patrol on the radio quite a bit. Once again, they were a solid bunch of people. So I've been interested in being a ski patroller at least since my ski bumming days. The very first time I went skiing with a bunch of high school friends, I managed to break my collar bone. The patroller that help me out that night seemed like an alright guy. He did an expert sling and swath to stabilize my shoulder and I got a friend to drive me home so I could go to the ER with my dad.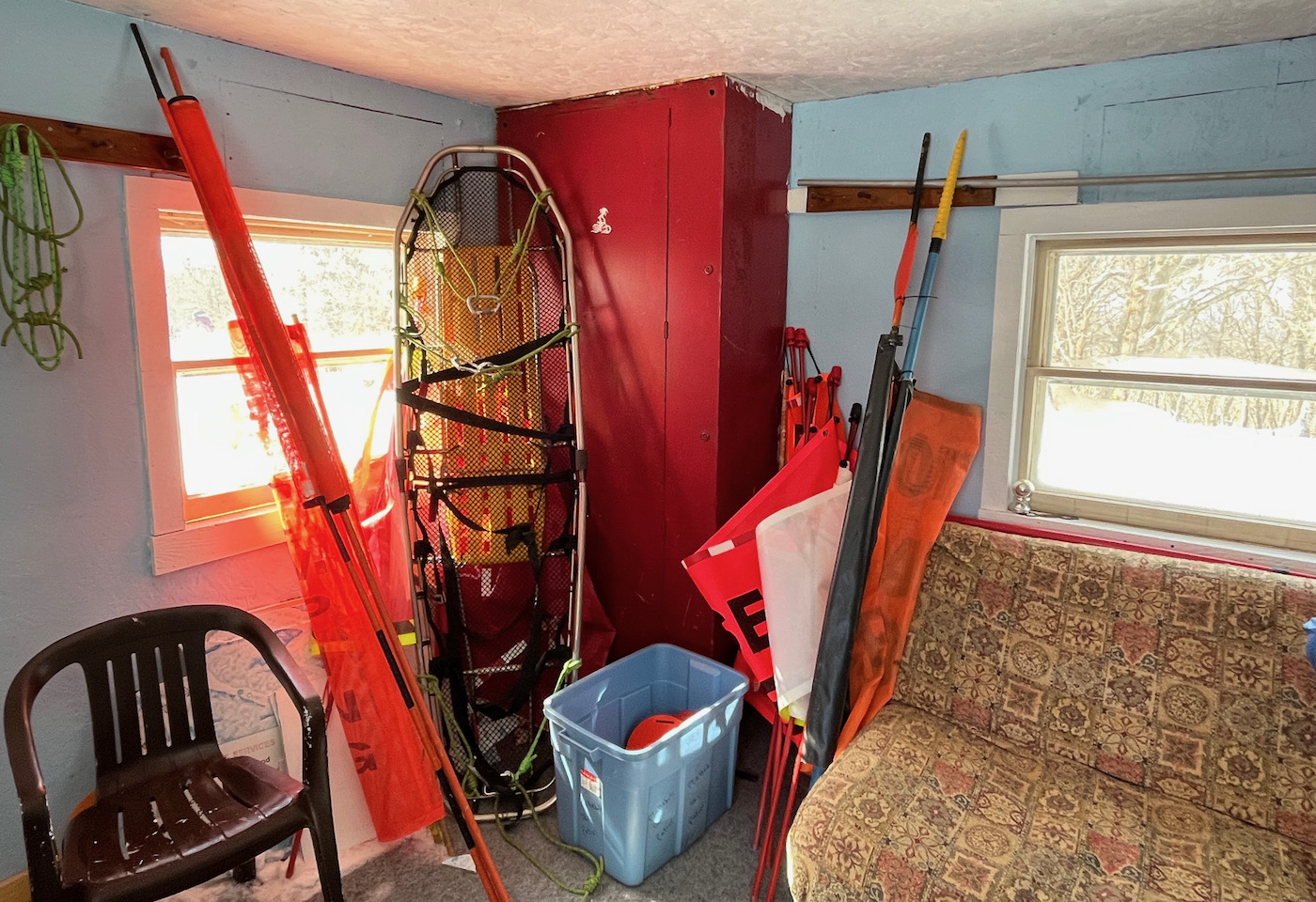 So yeah, ever since I started skiing way back in the eighties, I've been ski patrol curious. In that respect I'm exactly like a middle-aged car guy squirreling away enough money to buy a Corvette. Except in my case I had to scrounge up time, not money. I guess the mid-life crisis diagnosis was spot on.
That's why, when I saw the opportunity to take the training in a hybrid hands-on/online form last fall, I figured it might finally be my time. And since it was happening during the winter, I'd be up at the mountain most weekends anyway so the hands-on training would be more convenient. I sent the email, got the details and signed up for OEC, and I invited my older son to join me. He said sure, why not. I guess the Corvette metaphor doesn't hold up for everybody.
At some point last fall, Junior and I logged onto GoogleMeets for our first OEC class. After introductions and a hype video from the National Ski Patrol, we got into it. The first couple chapters covered basic stuff about the history of the NSP (started by Minnie Dole), various emergency care systems and organizations and legal issues that applied to patrolling — things like "standard of care" vs "standard of training" and Good Samaritan laws.
Each week, we had to read a couple chapters from the OEC textbook, either online or in the physical book, and take some online quizzes before logging on Wednesday night for a class. After the first few chapters, we got into anatomy and more detailed medical subjects. The material was more involved than I expected. I found a lot of it pretty challenging.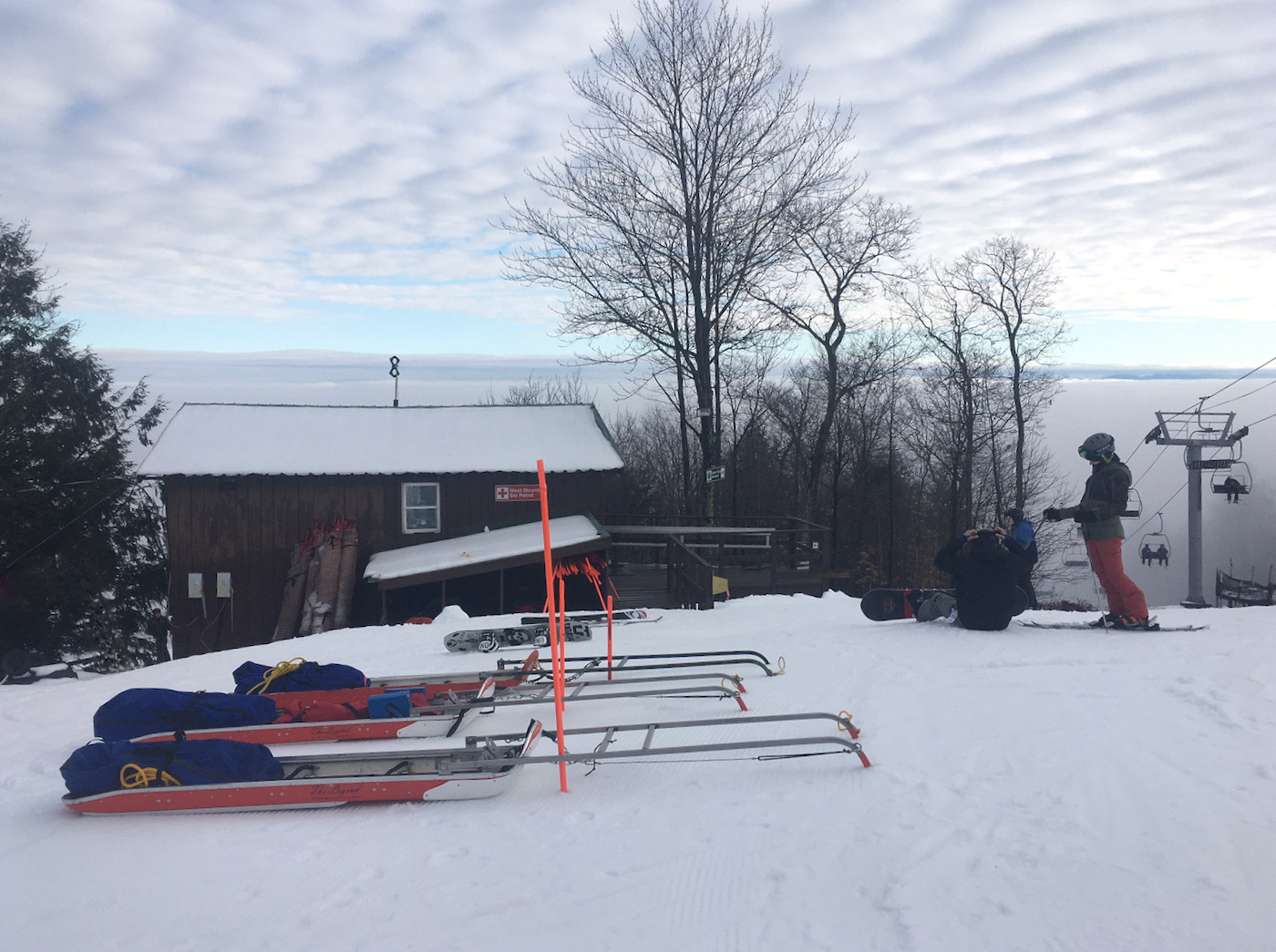 In the mean time, Junior and I had attended Plattekill Ski Patrol's fall meeting, been put on their schedule as "candidate patrollers" and assigned "mentor patrollers" to show us the ropes. As candidates, of course we weren't going to provide any injured skiers medical care but we would learn to open and close trails, take care of signage, bamboos and ropes, help out at "sweep" at the end of the day and learn and assist the real patrollers where we could. Mostly we would just be skiing around with radios.
We learned a lot from the veteran patrollers at Plattekill. Every one of them was generous with their time and advice, offering encouragement and tips whenever possible and just generally helping us out. I can't say enough good things about all the Plattekill people we met.
The hands-on portion of OEC was conducted once a month at the instructor's house in Margaretville. The first session covered lifting techniques and got our CPR certification out of the way. Subsequent sessions covered things like splinting, backboards, controlling bleeding and bandaging. We learned how and when to use three or four different types of traction splints.
We even learned how to deliver a baby. For that one, our instructor brought in a guest lecturer. It turns out there is a baby delivery practice dummy that works like a CPR dummy. I swear. But what OEC is really about is patient assessment. Everything in the curriculum was geared towards the ability to conduct a good patient assessment. Over and over our instructors emphasized that was the goal. If we could do a good patient assessment, they said, everything else would follow. It made sense.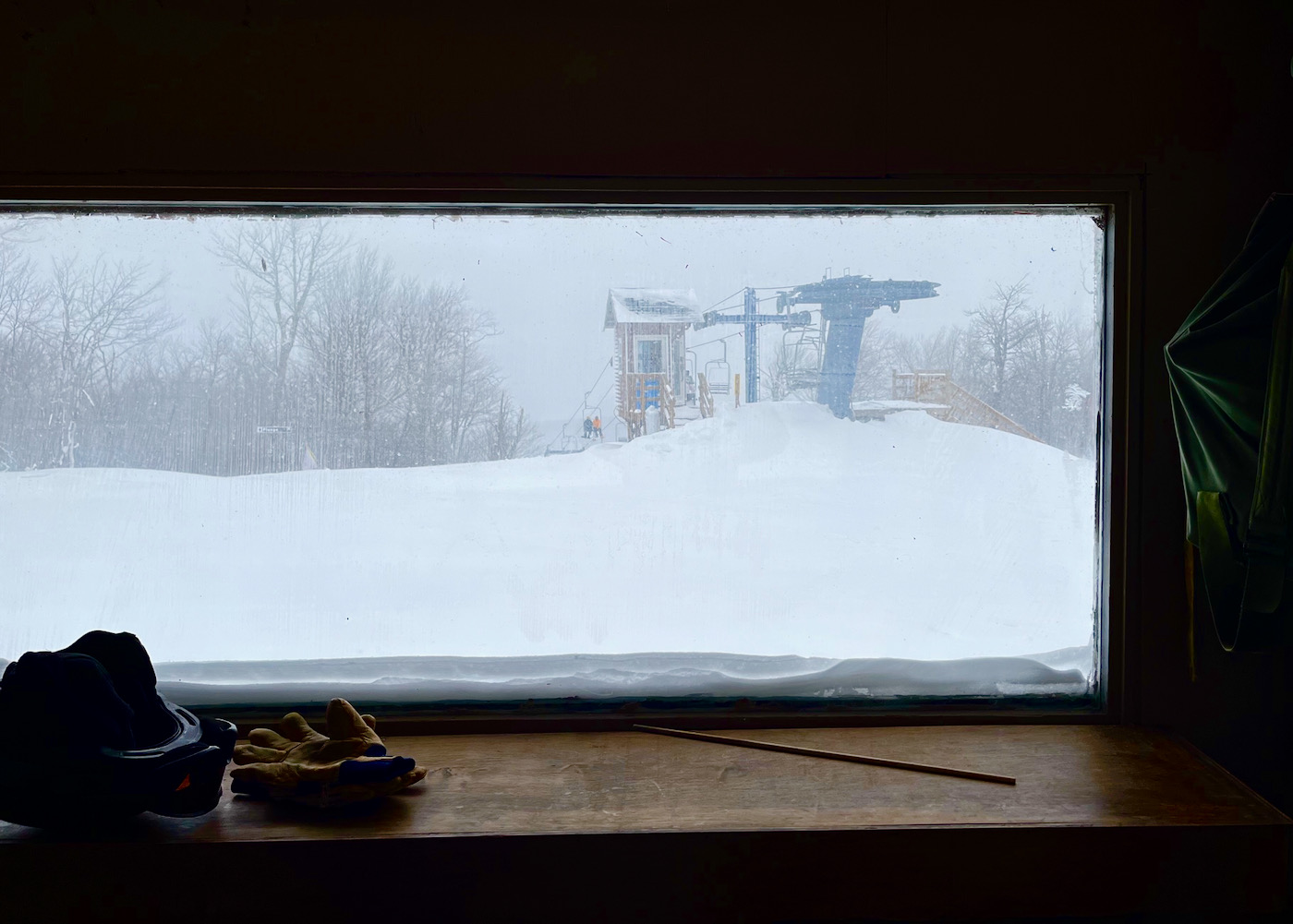 We took it seriously. We read the book. We studied. We practiced our patient assessments on each other and on my younger son. We practiced splinting and sling and swath. On the days we skied with the patrollers at Plattekill, we paid attention and asked (hopefully good) questions. We tried to learn from them in the time we had.
We also enjoyed ourselves immensely. Getting first run is always good but I found I enjoyed doing sweep at the end of the day even more. That last run of the day with the sun low on the horizon and nobody else on the trail was special every time.
Ironically the same thing that convinced me now was the time to take OEC turned out to be the thing that threatened my mastery of the material: remote learning. That and the long timeline undermined my learning process. By the time we got to the later chapters, I felt like I had to go back and review earlier sections. The online chapters all had audio versions attached so I started playing them in the car as reinforcement.
I repeated the anatomy and assessment chapters many times. As ski season ended and test time drew nearer, I still felt like I wasn't ready. The online OEC site had quizzes for each chapter and practice tests that you could take as many times as you wanted. I did a lot of practice testing and kept getting grades in the eighties. Eighty was a passing grade but getting eighty twos and eighty fours over and over again wasn't confidence inspiring.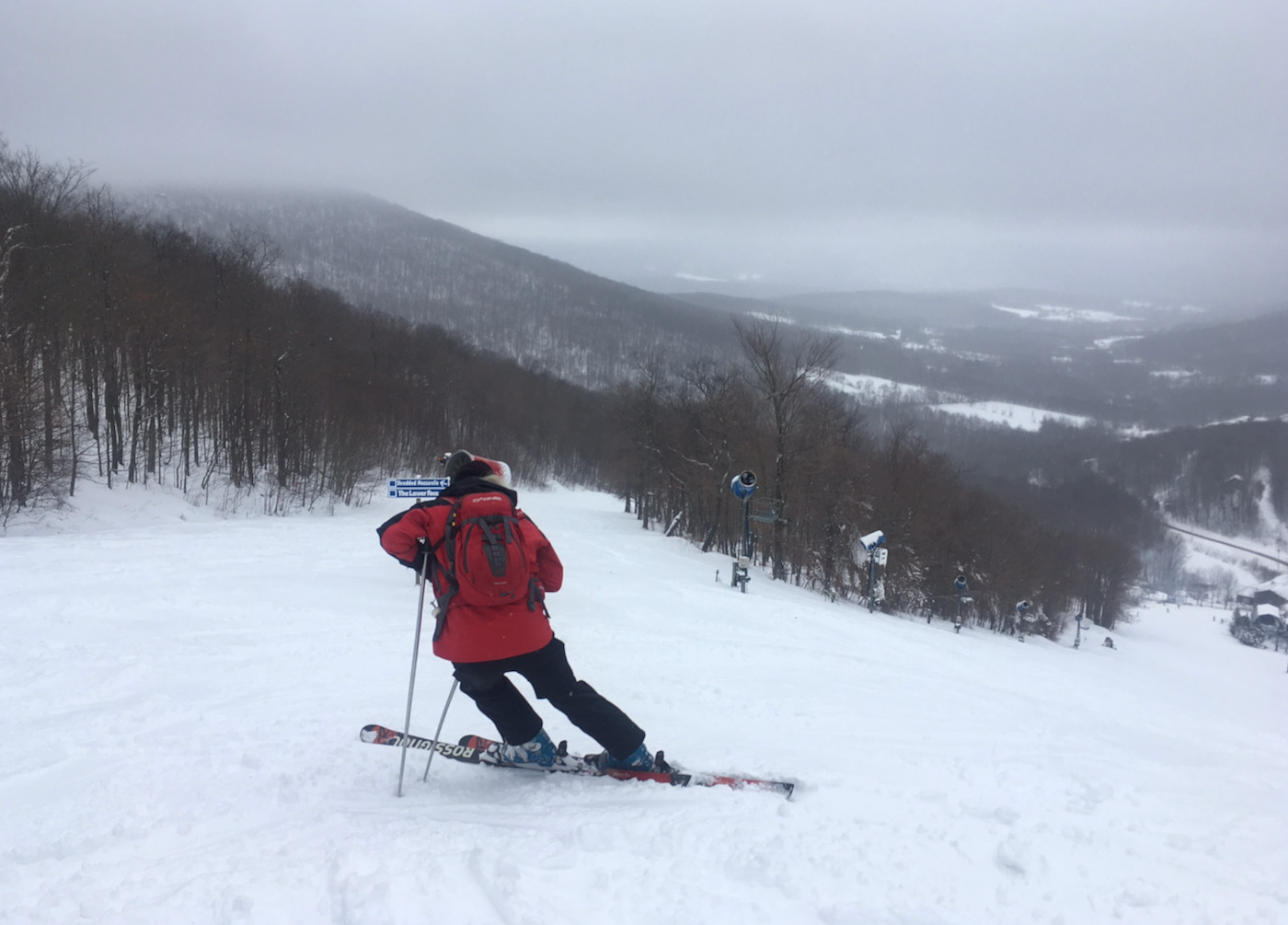 There was also a practical exam we would have to pass to complete the course. That consisted of several skills stations where we would have to demonstrate the ability to do things like administer oxygen or apply a splint/sling/swath and two full patient assessment scenarios. We wouldn't know ahead of time what the scenario would be. While I figured I could just increase my study time as the written test approached, I was not as sure that I would pass the practical. Compounding my uncertainty, I couldn't really tell how seriously my son was taking the course. His college studies took precedence. He told me he had it all under control but I was never sure.
Just as our OEC classes were winding down (and ski season was mostly over) we were offered a lifeline. One of our instructors was a senior patroller at Holiday Mountain in Orange County, a guy with tons of EMT experience. He had helped out our main instructor with our hands-on training sessions and had logged onto most of our online classes too. He was about to start another OEC class at Holiday and offered to have anyone from our class who wanted some extra instruction to attend as many of his sessions as we wanted. He would be doing in-person classes on Tuesday nights and hands-on training on Saturdays, all at the Holiday lodge.
Hell yes, I thought, that's perfect. A few more hours of hands-on training was just what we needed. I figured we'd get as much extra instruction as we could fit in before testing, whenever that happened to be. If we felt like we still weren't ready at that point, we could transfer over to the Holiday Mountain class, finish there and test with them. We got a lot out of it.
Before too long, Junior and I decided to attend the Tuesday night classes also. By that point, we had so much time invested that I just wanted both of us to pass. Attending the Holiday Mountain classes in person with their compressed time frame was just what we needed. It had the added benefit of introducing us to another bunch of patrollers who were as welcoming and generous as the Plattekill and Belleayre people had been — just really nice folks.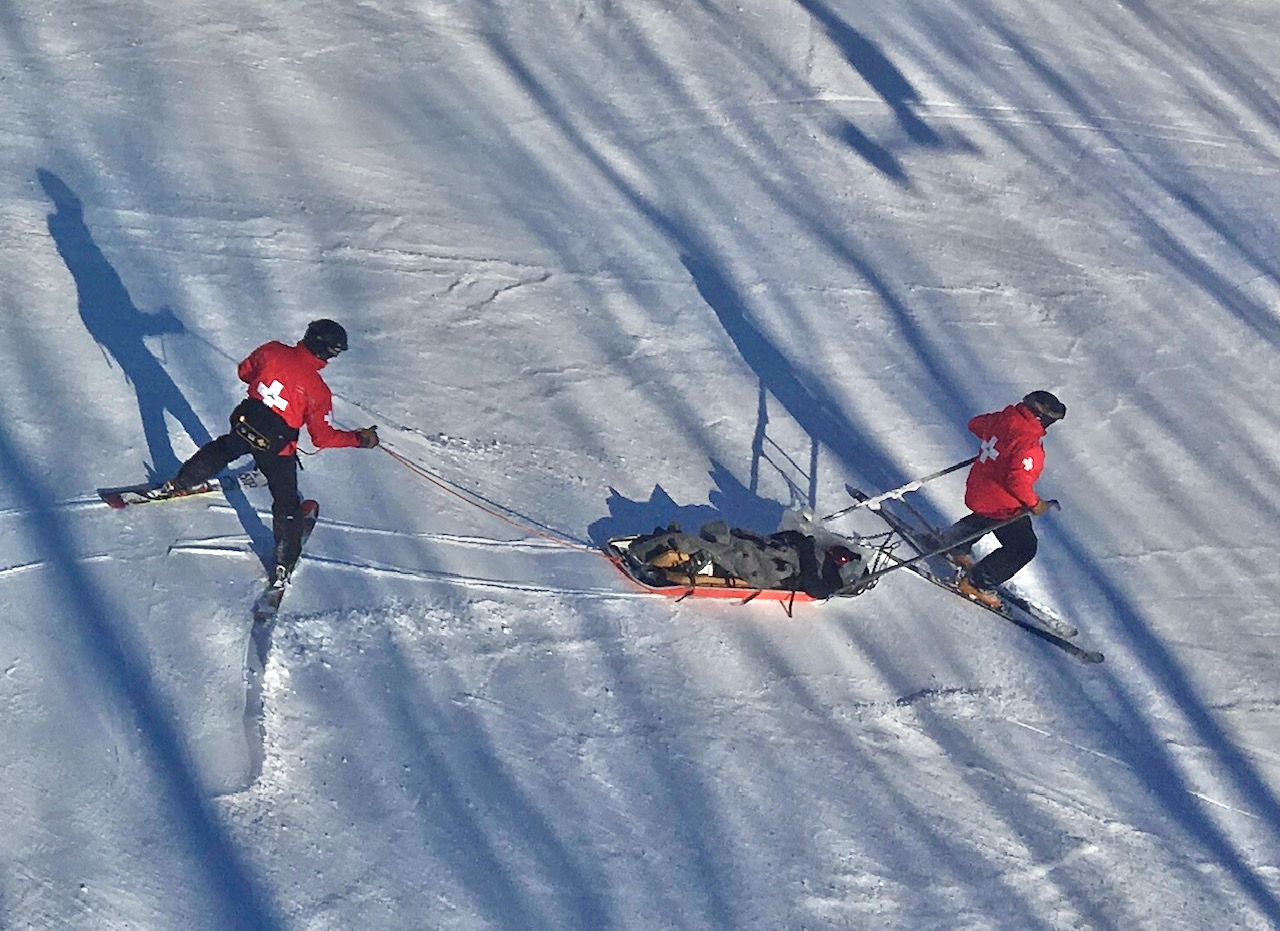 As time went by, it became apparent that our original instructor was having trouble coordinating all the different people he needed to put on a final exam. You need a lot of patrollers to show up for an OEC practical exam. Some to act as testers and others are needed to be helpers in our test scenarios. You need additional people to be simulated victims as well. NSP depends on a lot of people volunteering their time and these test days are a good example of that. There are a lot of moving parts.
I'm not the only one with a busy life. Some things came up in June that pushed our final exam back a few more times until it was decided that most of our class would test together with the Holiday class. Two dates were picked in July, a Tuesday night for the written part of the test and a Saturday for the practical.
The written test was a bit of an anticlimax. I'd taken so many practice tests and repeated the audio versions of the chapters so many times that my confidence had increased and Junior had finished his semester so he'd had time to cram at the end. We both felt confident as we drove up to Holiday that Tuesday night. We had to wait for our grades but when the email came we both got ninety fives. That was weird. "Don't worry, we don't think you cheated," our instructor assured me when I saw him again, "You got different questions wrong." Whew.
The practical exam — where we had to demonstrate that we had learned the hands-on skills we would need as patrollers — was a whole different story. I was very nervous about it as we drove up to the lodge. Walking in, greeting our instructors and fellow patrol candidates, eating a bagel… none of that helped. It didn't dissipate my nerves at all.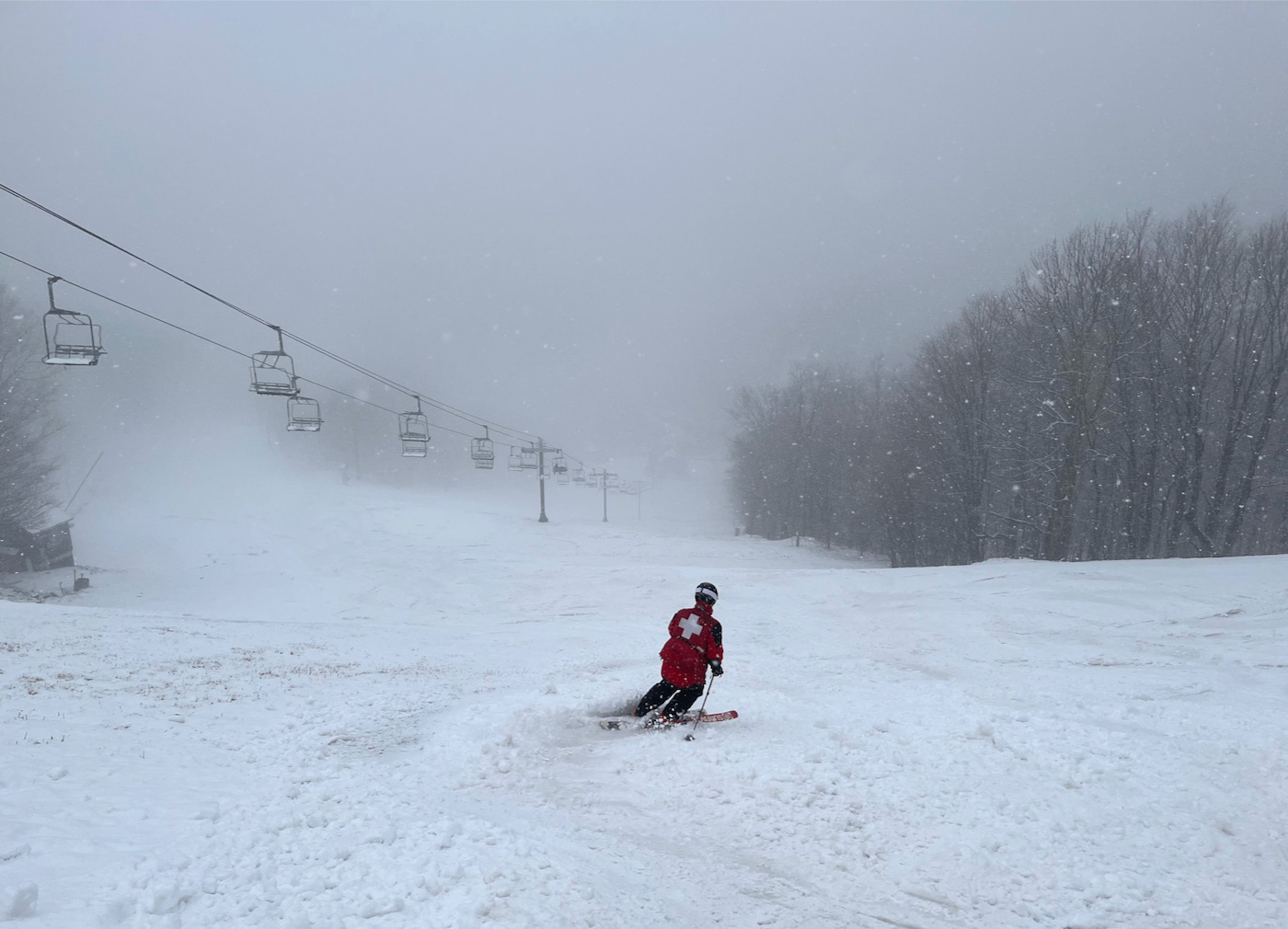 My first skills station required me to splint a suspected humerus fracture and apply a sling and swath to stabilize the arm. It was weird. I got through it successfully but I felt like I was completely on autopilot. I'm not normally an anxiety prone individual but I guess I'd built the thing up in my head enough that I had trouble with it. Plus, it has been close to thirty years since the last time I had to take a real test, one that I cared about at least. I was out of my comfort zone.
After my first simulated assessment I sat down next to a classmate and couldn't remember any of the details of what I'd just done. After a minute or two I was able to go through it in my head and realized I'd skipped an important step in the process. Dammit. I made myself calm down and got through the rest of the stations successfully. After lunch, our head instructor told me that I had in fact failed my first assessment so I had to go attempt it again. This time I hit all the key performance indicators and passed. Finally getting through the day was a big relief. Junior passed everything also (eventually).
About a month later, our instructor put together a makeup date for some of my classmates who weren't able to attend the first test date. This time I was the one showing up to be a simulated victim and/or helper. That was when I met the Belleayre patroller who offered the mid-life crisis theory. It fits in my case — doesn't in others I guess. Different people have different reasons for doing things.
One thing I can say is that I have yet to meet a patroller I didn't admire. I went into this with a sense that patrollers are the coolest folks on the hill and I still feel that way, but I now also respect them for their professionalism, competency and kindness. Every individual was generous with their time, patient with us as students and as welcoming as can be. I really owe all of them my thanks and look forward to joining their ranks.
---
For more information on how to join ski patrol, see nspserves.org.
---