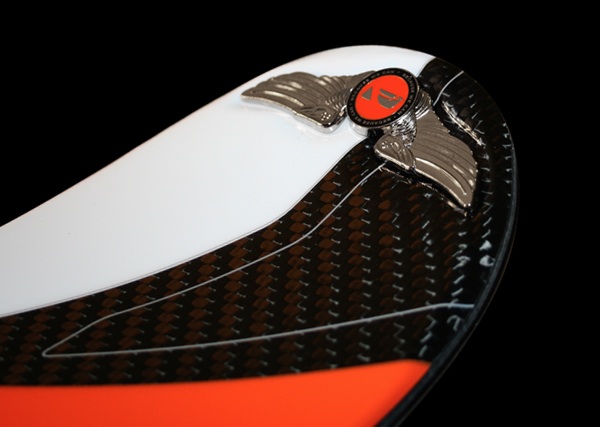 We recently had an opportunity to interview Ben Callaghan and Joel Nashett of Avant Skis. Both are avid outdoorsmen from the Northern Adirondacks. Joel, originally from Saranac Lake, is a former ski racer, involved with ski cross, cycling, canoeing, hunting and fishing. Ben, from Tupper Lake, is an artist, a long-distance runner, and loves being in the woods, where he skis, camps, hikes, canoes and kayaks. Both are within a handful of summits of completing the 46 High Peaks.
How did Avant begin?
Ben: Avant began on the slopes of Big Tupper. Both Joel and I are inventors. As kids, instead of playing video games, we were out building two-story camps in the woods, making air pressured potato guns out of bike pumps and constantly testing our knowledge of combustion. After we got some proper education in design and engineering, we began researching how to make skis in 2005, and pressed our first pair in 2006.
Joel: It took us as long time to come out with a saleable product because we chose a complicated design for our first run. Although each iteration of the design improved exponentially, it still took us quite a while to source materials and perfect our process.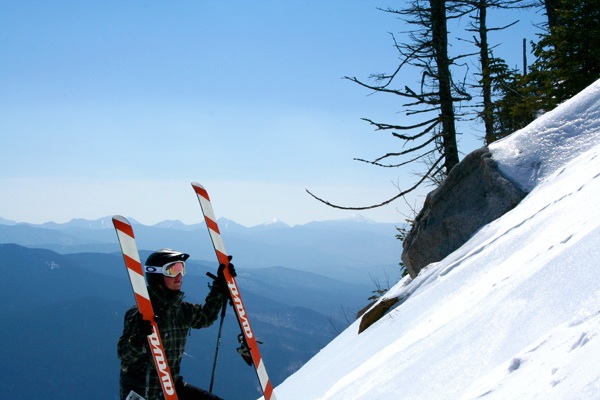 Are you a ski designer and manufacturer?
Ben: Yes. We've designed and built every piece of our process, including a pneumatic heat-controlled ski press, router systems, molds and every layer that goes into the ski.
We design our skis from our own experience. We know what works now and we include aspects of what we believe will work in the future. We want to establish ourselves as a reputable company that can satisfy most skiers. At the same time, we're getting ready to launch several new products that could revolutionize skis in the years to come.
One of our goals is to push the development and use of new materials. We want to see innovation in performance and aesthetics, even if it costs more.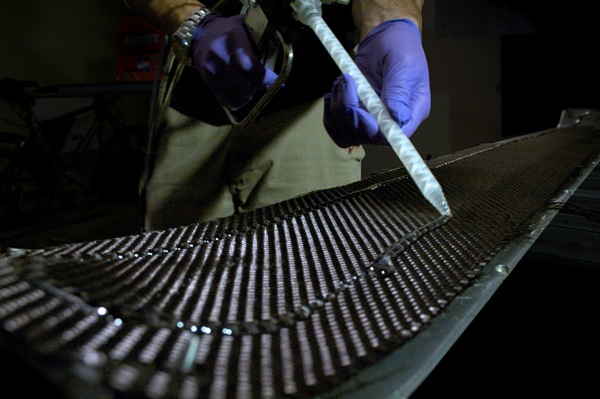 With the Aviator series, we chose carbon fiber for its superior performance — it's light weight and responsive — and for its beauty. We've spent a long time ensuring that the carbon fiber weave gleams through the clear topsheet, and in our opinion, it was worth it.
How many employees do you have?
Joel: Avant is primarily run by Ben and me, but ski manufacturing is complex. We have a network of affiliates who assist in some of the more capital intensive processes where expensive equipment is involved to create the precision that we need to execute our ideas.
Where is your manufacturing facility?
Joel: At the moment, we're building our skis near Hartford, CT. We're looking to expand and move our facility closer to the mountains. We're striving to become the premier East Coast ski manufacturer.
What would be an ideal location for Avant?
Joel: We envision a ski factory / R&D center that could become a destination in itself. Think of the Coors Brewery tour in Golden Colorado, the Vermont Teddy Bear factory. I think that if people could come to a ski resort to ski and to watch how skis are made, or even get their hands dirty working on their own boards, it would be a must-do item on a travel itinerary. Also, the ability to take a ski made that morning and test it that afternoon would really cut down the time between design and testing. At this point, we would love to collaborate with a ski resort, which would be beneficial to business at that ski resort, bring in tourists and of course, give Avant a nice boost.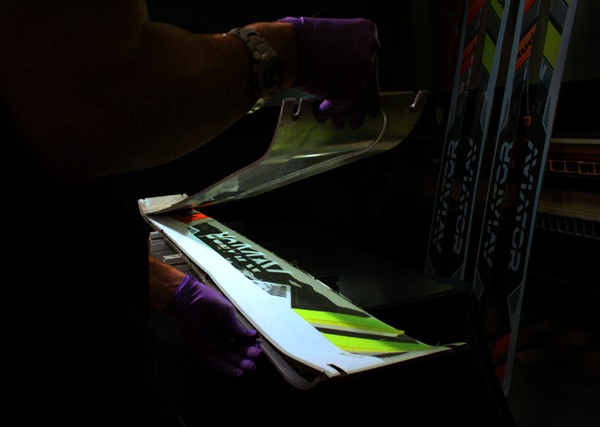 Ben: As Joel said, we have had many ideas for turning Avant and its "future headquarters" into something more than just a factory or an office building. It would be great to operate out of an area as beautiful as the Adirondacks and to create a destination in that area comparable to the Vermont Teddy Bear or Ben & Jerry's. That said, we have very lofty goals. We plan to be competing in the U.S. market as well as overseas. It would be really great to have a strong local presence, as well as a respected position in the global snow sports industry.
What is Avant's philosophy?
Ben: The word "Avant" means ahead — the front of an army, innovative, experimental, pushing the boundaries of the norm. These are our core principles. Every day, we work to design new and exciting products and to develop innovative ways to produce them.
Joel: We have a simple motto: "Because we can." This statement evokes the spirit of Avant. Why do skiers ski? Why do they take risks to experience the freedom and thrill of skiing? Why did Ben and I begin this venture to create a ski brand? "Because we can."
Who are your dealers?
Joel: Our dealer network is in development. Avant is looking to develop relationships with online dealers and local ski shops that maintain a great reputation for service.
Although online sales are continuously increasing, we fully understand the importance of a full-service ski shop. Ski shops are important to the local economy, the community and the entire ski industry. Dedicated ski shop owners provide a face for consumers to associate with the quality of a company and its products. It's something you can't find online. Avant will provide major incentives to dealers who showcase our products in their storefronts.
What makes your construction unique? What are the advantages of carbon fiber?
Ben: We spared no expense in developing the Aviator. Each piece of the ski was meticulously designed and engineered with the highest quality materials. The biggest difference between this ski and other all-mountain skis is the full carbon fiber sub-layer. The gleaming carbon is completely visible through much of the top sheet allowing you to see this lightweight performance, as you feel it under foot.
Joel: Carbon fiber is lighter, stiffer and more damp than other commonly used laminates like fiberglass, wood and even metal. When the carbon is fused with a vertically laminated poplar core, we get amazing results using fewer layers of material. This makes the ski lighter, less bulky and more responsive.
Ben: Also completely unique are the neon reflective and mirrored inlays. These provide dampening characteristics and add a whole new dimension to surface graphics day or night.
Each ski is also equipped with Avant's cast Aviator wing emblem and for maximum durability, our skis are constructed with die-cut bases, thick, fully bonded edges, and UHMWPE (ultra-high-molecular-weight polyethylene) sidewalls and tip spacers.
Are there plans to offer directional skis?
Joel: We are currently only producing twin tips. These skis are so universal that they can be used anywhere except for competitive racing, where every centimeter touching the snow counts.
Ben: We believe some form of a twin tip is simply more practical for freeskiing. Twin tips allow skiers to have the freedom to ski in any direction they wish or back out of trouble in deeper snow, not to mention more versatility in the park.
Would Avant have broader market appeal if you offered directional skis?
Joel: We'll investigate some type of directional skis in the future. Every ski design has its merits, and some may require a lower profile or different shaped tail, but right now the twin-tip market has grown exponentially faster than traditional skis. Five years ago, there were only several dozen twin tip models offered, while now there are over 300 models available from many great ski manufacturers.
What established manufacturers do you most respect? What brand of skis would you own if you didn't create Avant?
Joel: There are a lot of great companies out there. We currently own skis from eight different ski companies, and each has its pros and cons. When it comes to competitive racing, it's good to stick with the brands that win races. In racing, subtle differences can mean the difference between winning and losing. In the free-skiing market, there's more room for expression — a ski that matches your style. Many companies offer a good ski, and consumers now have a real opportunity to express their individuality through the ski they ride.
Ben: I own a pair of Salomon 1080 Spaceframes that I skied for a long time. They were a great ski, poppy and light, but they were designed as more of a park-specific ski and didn't hold up to all-mountain terrain. I've skied Kastle, Rossignol, Solomon and Atomic throughout my life, but in the past four years, I have mostly skied Avant.
Joel: For slalom, Elan SLX: the dampest carver in the world. It's like riding a slingshot. For ski cross: Nordica Doberman GS. These long boys only know how to go fast. Don't use these skiing with friends or you will lose them. If I can only take one ski with me out west and I'm expecting some seriously deep powder? Nordica Supercharger Blowers are fat, and the traditional sidecut and camber let me ski the whole mountain. What ski will you find me on almost every day? Avant Aviator Ace. Unless the hill is glassy ice, three feet of fresh powder or I'm practicing rails, the Aces are ideal.
Are your skis specifically designed to appeal to NE skiers?
Joel: We want Avant skis to appeal to skiers in any location and skiing conditions. With 90mm under foot, the Aviator is a great ski for 98% of conditions in the East or out West. Northeast skiing encompasses a wide variety of conditions. East Coast skiers are hardcore and we think Avant skis are the right tools for the job.
We've started developing a ski that will rock super deep snow and big mountain steeps. Because, let's be honest, who doesn't yearn for the days where you are waist deep and weightless?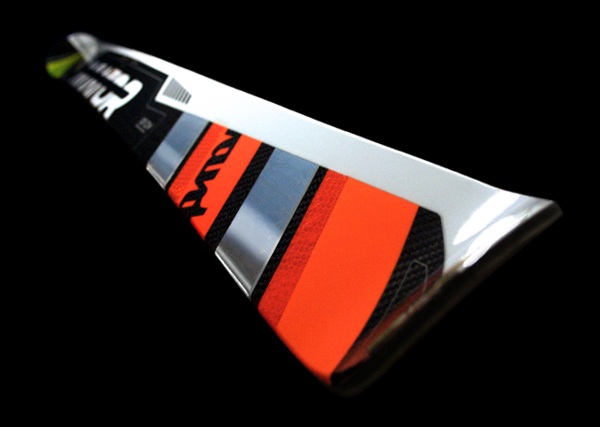 How do you plan to build brand recognition?
Ben: We hope to develop brand recognition in many ways. One very important avenue for brand recognition is a strong online presence backed by a community of contributing fans. Through ski blogs, forums, Facebook, and Twitter, we hope to grow that community and through these networks maintain a close relationship with our customers. We want crucial feedback that will impact our product development.
Many brands think "social networks" are simply an avenue to shove advertising down people's throats in a more direct way. While there's a place for advertising online, they're missing a real opportunity to share ideas and create conversation.
What sets you apart from other boutique brands made by impassioned skiers (PM Gear/Bro Model, etc.)? Are you concerned that this ski niche is becoming oversaturated?
Ben: Avant is entering the ski market in a time of great change. The small-brand ski company niche has BLOWN UP in the past few years. This creates a big challenge for large companies and the small.
Ski brand loyalty is changing. Every year, different companies come out with the latest and greatest gear. To maintain brand loyalty, companies can't rely on how long they have been around or how much money they make, because now it all comes down to what's "HOT." That means you have to deliver every year.
At Avant, we're confident that we have the creativity and freedom to create exciting new products that will re-inspire people to experience the thrill of snow riding.
How tough is it to overcome the price differential between handmade and factory-made skis in the minds of consumers?
Joel: Ski prices vary greatly. Handmade and factory-made ski costs really depend on the number of a particular model that are manufactured and sold. Economies of scale are always a big factor in the cost of skis. Currently, most skis have extensive hand layup and production, even by the large manufacturers.
The consumer needs only to pick up a buyers guide to see that big-brand companies have ski models that are well north of $1,000 for a flat ski, while other prices dip under $500. Many small companies making handmade skis have competitive pricing. Although we have higher manufacturing costs, our overhead and corporate structure is minimal. While some ski companies use Chinese manufacturing to keep their costs low and still maintain good quality, there is usually a direct correlation to price vs. performance. The real question is, are you a competent enough skier to actually appreciate the benefits of a higher end performance ski?
Were other skis marketed/sold prior to the current Aviator line?
Joel: No. We've focused our efforts on this line and perfecting the performance through extensive R&D and testing prior to releasing the Aviator Series. We want Avant to offer stunning products that we're proud of. A poor performer would have been detrimental to launching our brand.
In ski test ratings for the Freeskier Magazine 2011 Buyers Guide, at Copper Mountain last winter, our designs proved themselves with a perfect score for carving and nearly perfect for stability — two aspects of a ski that are critical to performance, especially on the east coast.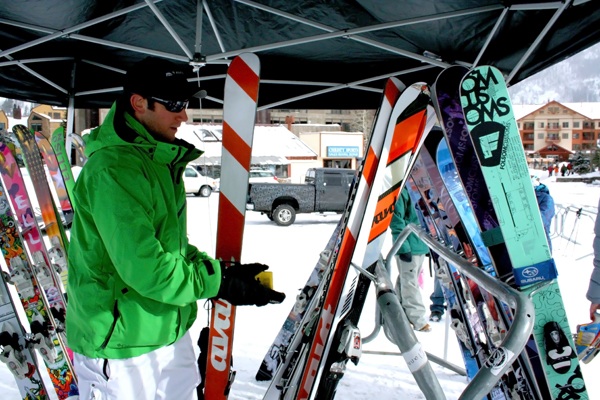 What is your production run for the current line, how many have been sold? What kind of sales track record does Avant have?
Joel: Our initial production run is flexible. Sales numbers are small now, so we want to make sure to maintain our economic viability and that we only manufacture skis we are going to sell. We plan on finishing up our manufacturing season with 100-150 pairs of skis. As we have said before, our broad market sales begin now and we promise to have an impeccable sales record.
Where can skiers buy Avant skis?
Joel: Right now, visit our website, www.avantskis.com. If you have a favorite ski shop, encourage them to contact: [email protected].
Avant is eager to work with dealers who are willing to take on a new ski brand. In return, we are offering great incentives and plans to help promote their business to a larger market.
What is your opinion of what's going in Tupper Lake now?
Ben: No question, I think the town needs the new development from the proposed mountain project. I represent the fourth generation of my family to grow up in Tupper Lake. I've always wanted to return to the area, but can't make a living there. If you ask anyone from my generation who grew up skiing at Big Tupper, they will tell you they are behind the mountain project 100%. Granted, there has to be MAJOR community benefits from the project, but if those are in play and the recreational areas are still open for public use (the ski mountain, golf course, biking etc), I am all for it. I understand why some people are opposed to the development, but I believe they are not looking far enough into the future.
The mountain project wouldn't fix everything, but it would increase tourism and jobs, which would spur population growth, boost local business and grow the community. Tupper Lake used to be a major crossroads, a key location for the development of the North Country. Let's put Tupper back on the map and get the mountain running again, high-speed quad style!
Joel: I hope that people can try to look at the big picture and understand that they need to make the right decisions for their children and grandchildren. The town has an opportunity to invite growth and some level of prosperity, which can trigger a positive domino effect and transform Tupper Lake into more than a pass-through town and into a destination, a place where business is sustainable, a place where their children have the option of finding good employment and something they can really take pride in (not that that doesn't exist already).
Northern New York is such a beautiful place to live and experience. But we need places to work and we need to be able to attract outsiders into our communities. A chance like this to turn Tupper Lake into a more prosperous town will help grow Saranac Lake and Lake Placid as well, which is critical for many families' income. We need to remember that these opportunities don't come around every day.
What is your favorite lift-served hill in New York State?
Ben: That is a tough question. When we were growing up, Big Tupper was my hands-down favorite. After it closed, we skied Whiteface and it made me a better skier. But even Whiteface gets a bit stale after a while. You can only ski a tree line so many times or straight-line Skyward before you yearn for something even steeper and more challenging. When the Slides open at Whiteface, those are some good days. But to answer your question, I'll have to go with Big Tupper. The snow was always better there, and that's where I first learned to bomb through the trees.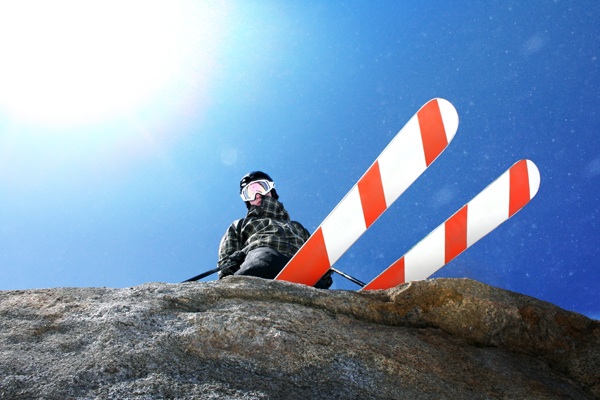 Joel: I have two, but for different reasons. Whiteface has vertical that is unsurpassed, sustained pitch for ripping grunt-worthy sustained g-force turns, and amazing views. The mountain has enough backbone to beat up on even the best skiers. Big Tupper has superior natural snow and amazing variety in the natural terrain. The entire mountain is ultimately a natural terrain park. And the vibe is the best in the business with friendly people, family, and neighbors.
What's your favorite backcountry spot?
Ben: Big Tupper when it was closed. That was the best untracked powder around. There are also some steep open bowls off the private side of Mount Morris that I have been able to ski because my family belongs to a camp back there. I have always wanted to ski slides in the Adirondacks, but when I'm in the High Peaks, it's primarily for winter climbing. I did lug my alpine gear up Mount Marcy one winter and skied down a really nice bowl from the summit to the tree line.
Joel: Besides poaching lift served, closed terrain, One easy(ish) option is Panther mountain near Upper Saranac Lake, NY. There used to be some highly secret trails off the backside that dropped right down to Panther mountain road off the summit that hold unbelievable amounts of snow. If you pick your day right, you can be a hero and ski down the front-side to Route 3, where everyone can see and envy your tracks. However, this side gets lots of sun exposure and only holds good snow for a few days after a dump. Also, watch the run out at the bottom!