It wasn't really my intention to force my son's friend to go hiking with us. My wife asked me the day before, since I had the week off, if I could pick him up and take him and my 11 year old swimming.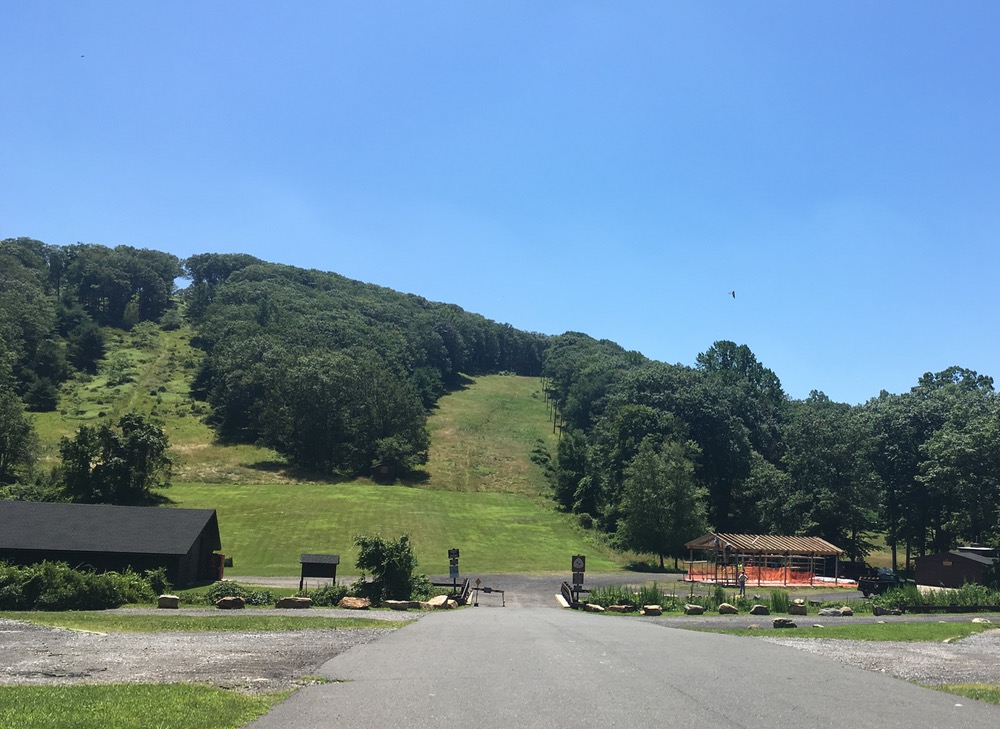 I had plans to go do the loop hike around Silvermine Lake in Harriman State Park, but he was welcome to tag along if it was okay with his mom. It's a kid-friendly hike.
After a few texts, he was in. I'd coached the kid in soccer a few years ago and know him better then most of my sons' friends so I wasn't worried about him not keeping up. My younger son is a notorious complainer so I hoped having his buddy along might inhibit him a little.
It didn't occur to me that he was participating under protest until we picked him up. He told us that he didn't really like hiking or getting up early but his mom made him come.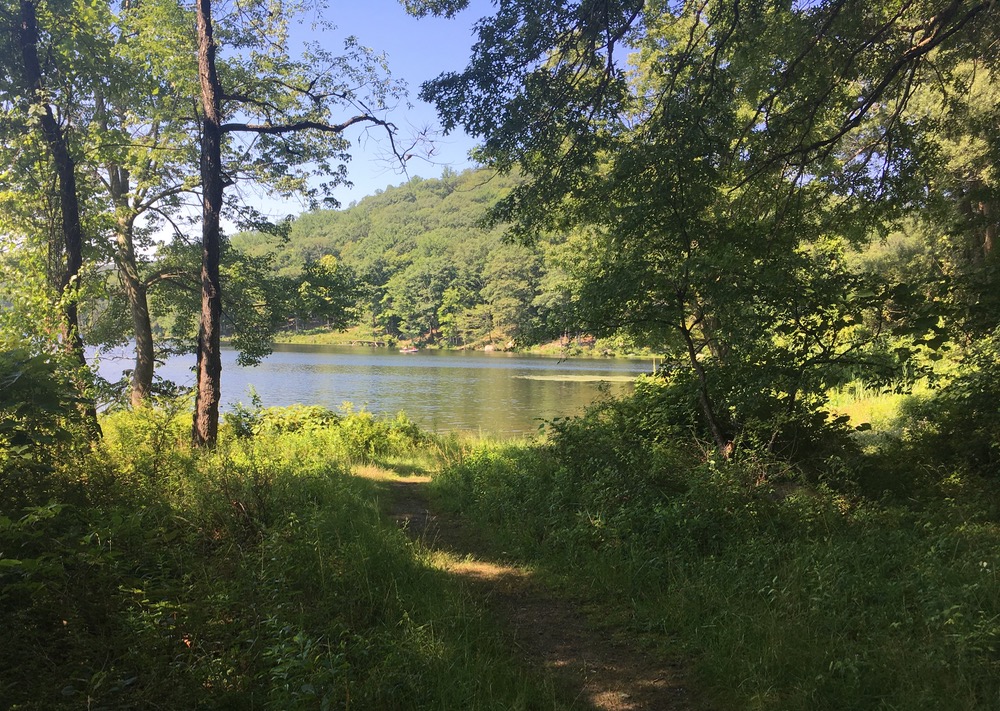 I explained my plan as we drove. We would take a trail along Silvermine Lake, cross a stream, do a short bushwhack up a hill to the Silvermine Ski Road, climb up a hill, join up with the Appalachian Trail for a ways and circle back to the base of the old Silvermine Ski Area, where we would park.
They were somewhat intrigued by my explanation of the Appalachian trail but quickly went back to their usual topics of conversation. As we got out of the car I was happy to see that the lot was mostly empty. Harriman can get extremely crowded in summer weekends.
Having a weekday off gave me a rare chance to get my son out in the woods without wading through a million picnics, family reunions and birthday parties.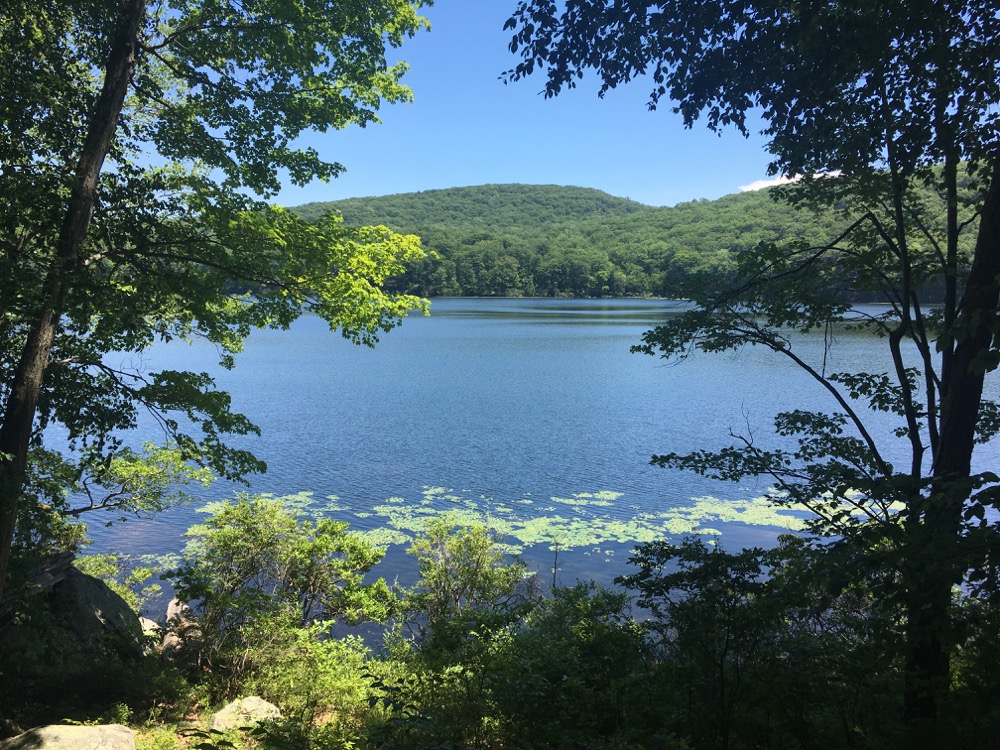 We were approached by two girls enquiring if we knew where the rope swing was. I said no, I didn't but to be careful because swimming isn't allowed in Silvermine lake. I gave my son a backpack with the snacks and raincoats and we hit the trail.
There's a well-defined herd path that runs between Seven Lakes Drive and the western shore of the 84-acre lake but once you get past the damned-up north end, the trail disappears into the trees. This part of the route isn't marked on my map but I've seen at least one guide book that shows it continuing to the north until it connects to the Silvermine Ski Road, a wide, well-constructed path from the CCC days.
Instead of continuing on to the junction, I guided the boys to the right where a small stream runs north, away from the lake. In the past, I explained to them, I always found if more fun to cross the stream and bushwhack up the hill to the Ski Road. I told the boys about doing it with my son in a backpack, when he was two, while I helped his older brother (then 6) across the stream.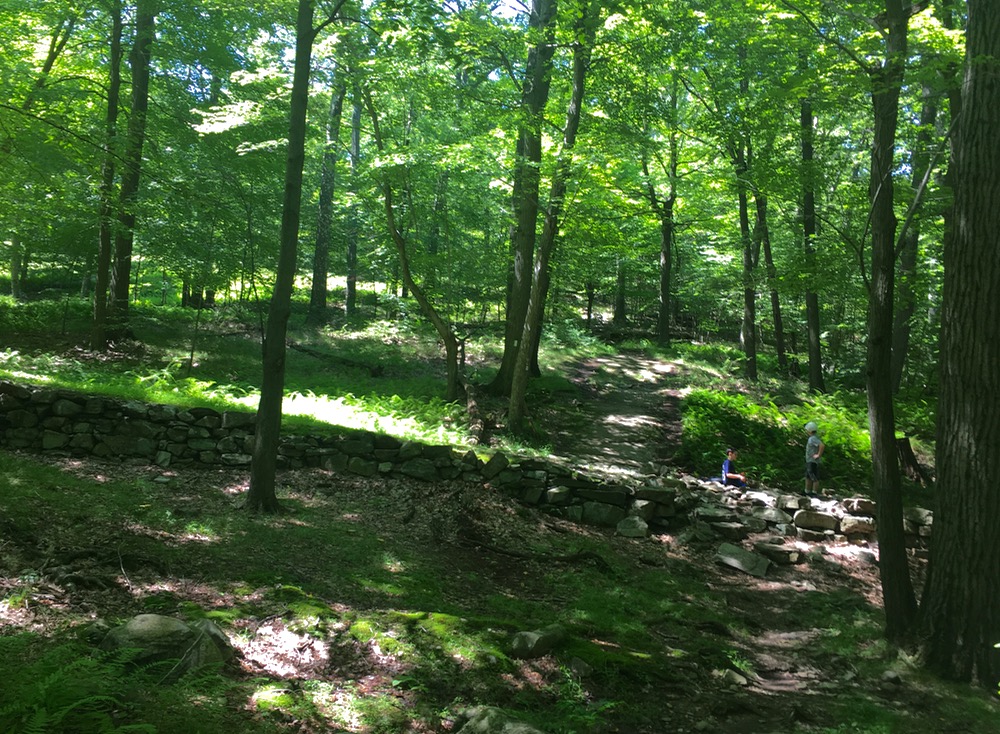 This time would be easier, since they were big enough to do it themselves. They had fun hopping from rock to rock and we pushed up through the woods in search of the trail.
The Silvermine Ski Road isn't the kind of trail you can step across without noticing. It's wide and flat and well-built, almost paved, the result of an earlier era's attitude toward hiking. It would make a great bike route if mountain biking wasn't banned in most of the park. The boys seemed happy to have a well-defined path to follow but soon, they started to get tired from the climb.
We took a break for snacks and drinks and then continued on, keeping an eye for bears, snakes and spiders. I have found over the years that my travels seem to pass more slowly when I'm watching for a landmark. It seemed to take forever to make our way up the hill to the intersection with the Appalachian trail.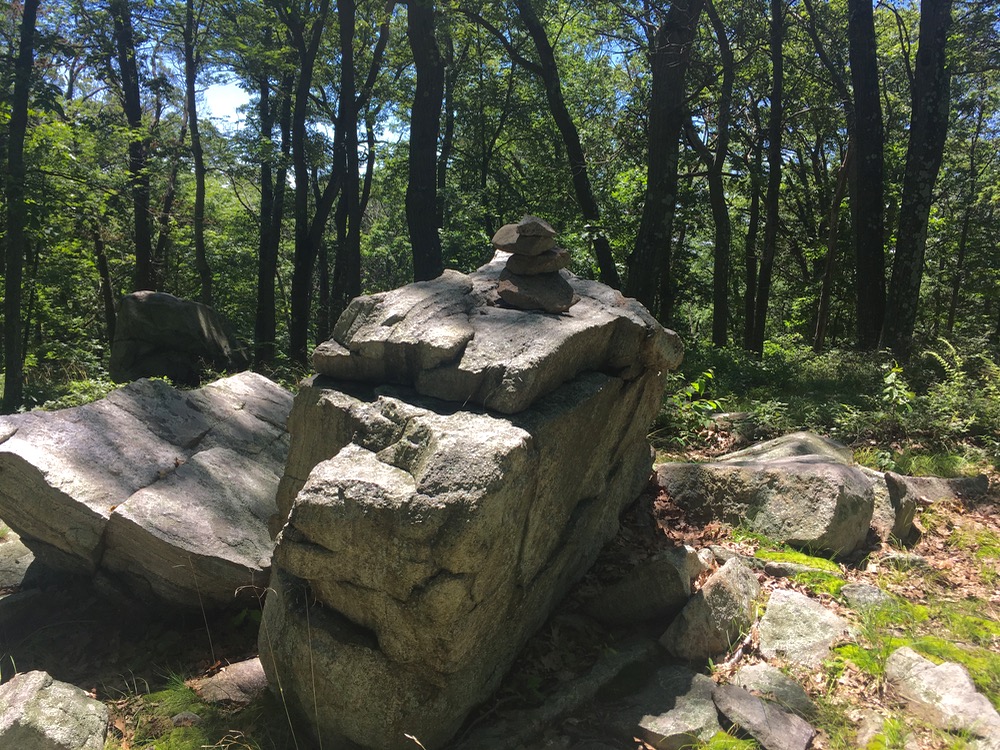 When we got there it was time for another break so I wandered around a little. Up the trail in the other direction I came across a nice bit of rock that looked to me like it would make for a nice afternoon of top-roping were rock-climbing not banned in most of the park. As I returned to check on the boys I got a look at some quality CCC engineering. The road is flat and its grade is moderate and consistent as it continues uphill.
We turned onto the Appalachian Trail, narrow and natural compared to what we were leaving behind. The boys had started asking how much farther we had to go so I showed them on my map where we started, how far we had gone and where we were headed. I started explaining how the compass related to what was on paper but they were losing interest by then.
I tried explaining contour lines, but wasn't sure how well I did. Soon enough we were more or less at the top, where the trail runs across a series of rocky humps through the woods. I was happy that we bumped into a pair of thru-hikers and were able to chat for a few minutes.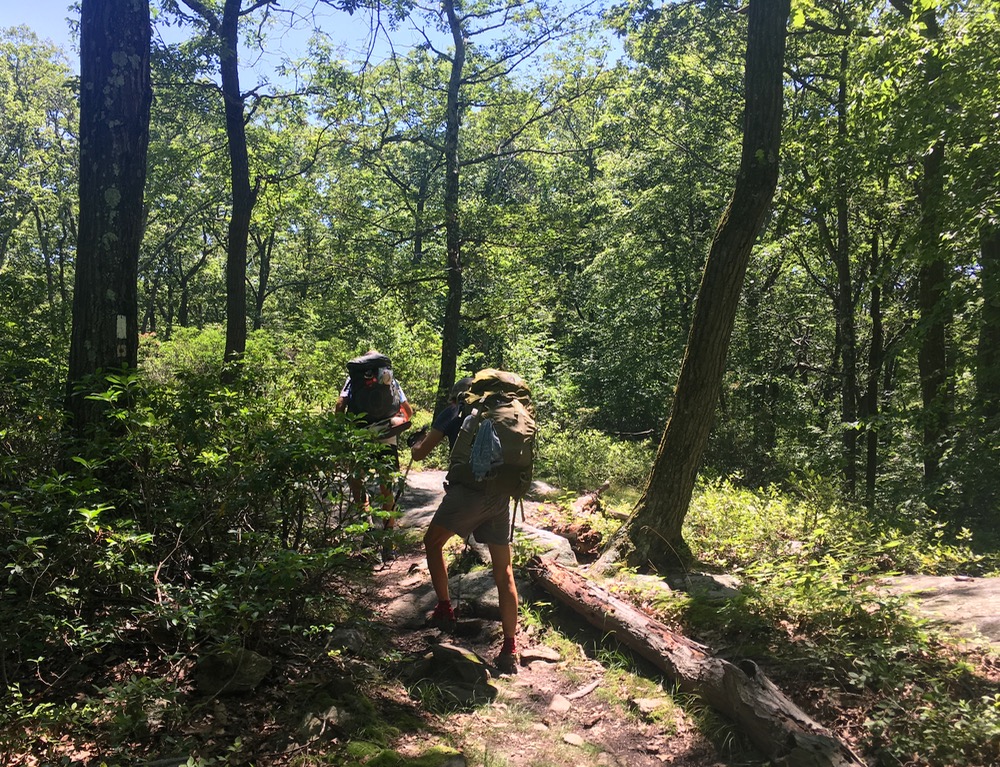 I explained to the boys that this was part of a trail that went all the way from Georgia to Maine but I don't think it really sank in until one of the hikers explained that they had started their trip in April.
The short encounter raised a lot of questions in my hiking partners' minds that I tried to answer as we moved on. We dropped down a rocky, steep slope onto an campsite with a big stone trail shelter and a couple of fire circles. The boys found this fascinating as well and had more questions.
They were happy to hear that the rest of the trip was mostly downhill. Knowing we were on the last leg of the trip infused the boys with new energy; I had to slow the boys down to make sure they didn't twist an ankle. The lake reappeared to the right of the trail and soon we bumped into a few dog-walkers. Before I knew it, we were back at the parking lot, looking up at the old ski area.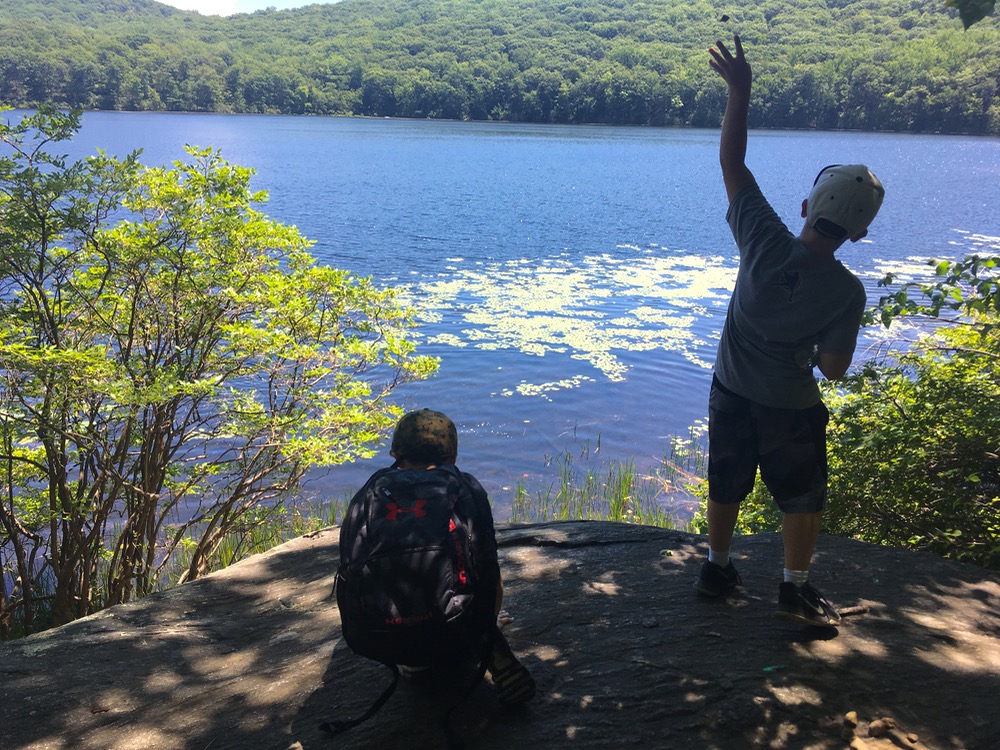 As we debated where to get lunch, I asked my son's buddy if he wanted to come along next time we went for a hike. I didn't get a solid yes but I think they both had a good time and learned something. I know we all got some fresh air and exercise and, like always, look forward to the next trip.