Sensible people stock up on supplies and wait out winter storms. Skiers and riders load up their equipment, stock up on snacks and charge head first into the storm. It helps to have an AWD vehicle or better yet, an adventurous friend who has one.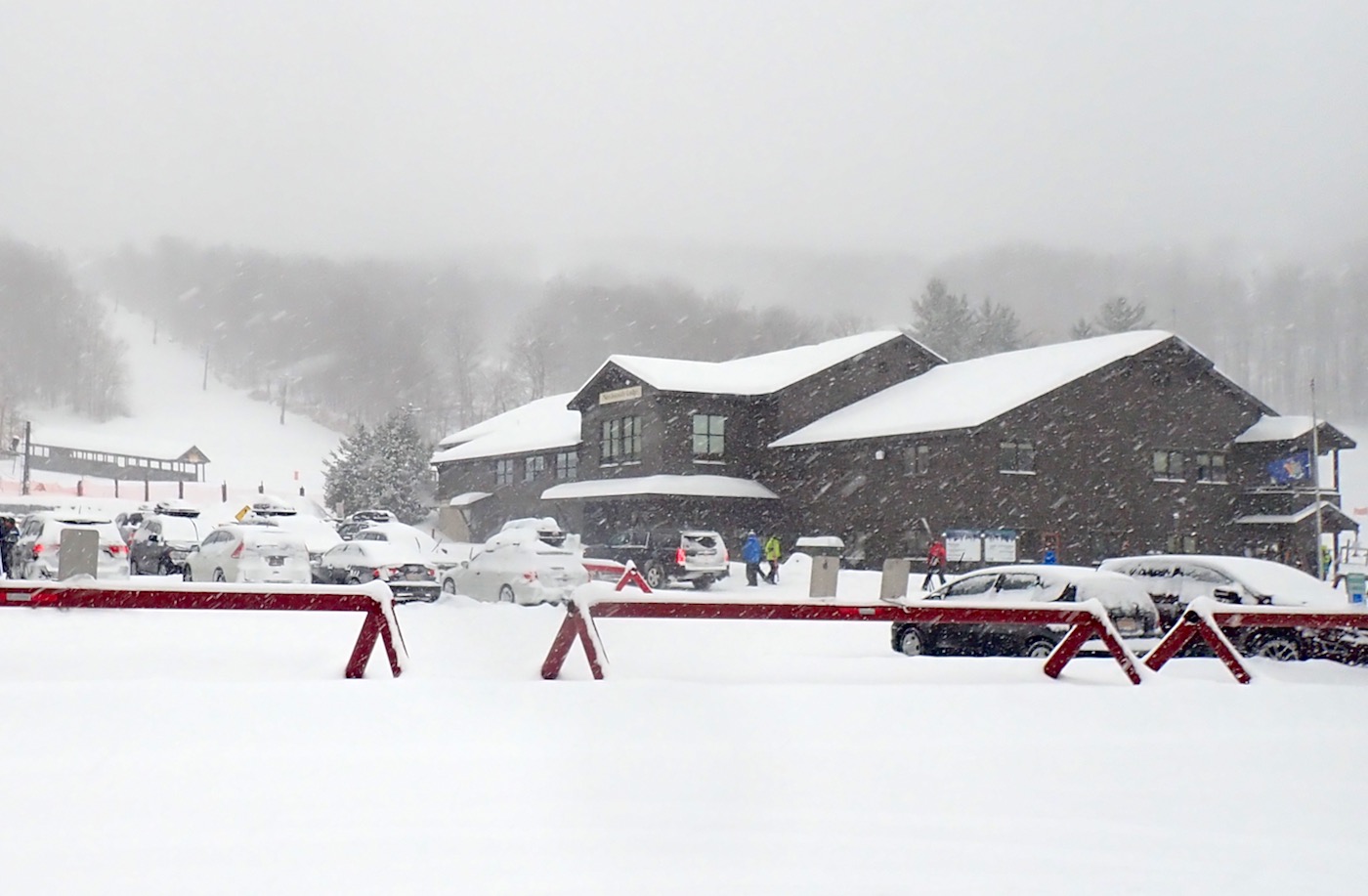 Last week I convinced Conor to drive his Subaru through Winter Storm Harper from Central New York to Gore Mountain. By heading up Saturday night we hoped to improve our chances of actually making it to the mountain. The hour long drive to our lodging — the Red Pines B&B in Speculator — took almost twice that much time, so I think we made the right call.
We met a family from New Jersey on their winter vacation. They've been coming to Speculator for 8 years to ski at Oak Mountain and they couldn't stop raving it, and it is now on my list.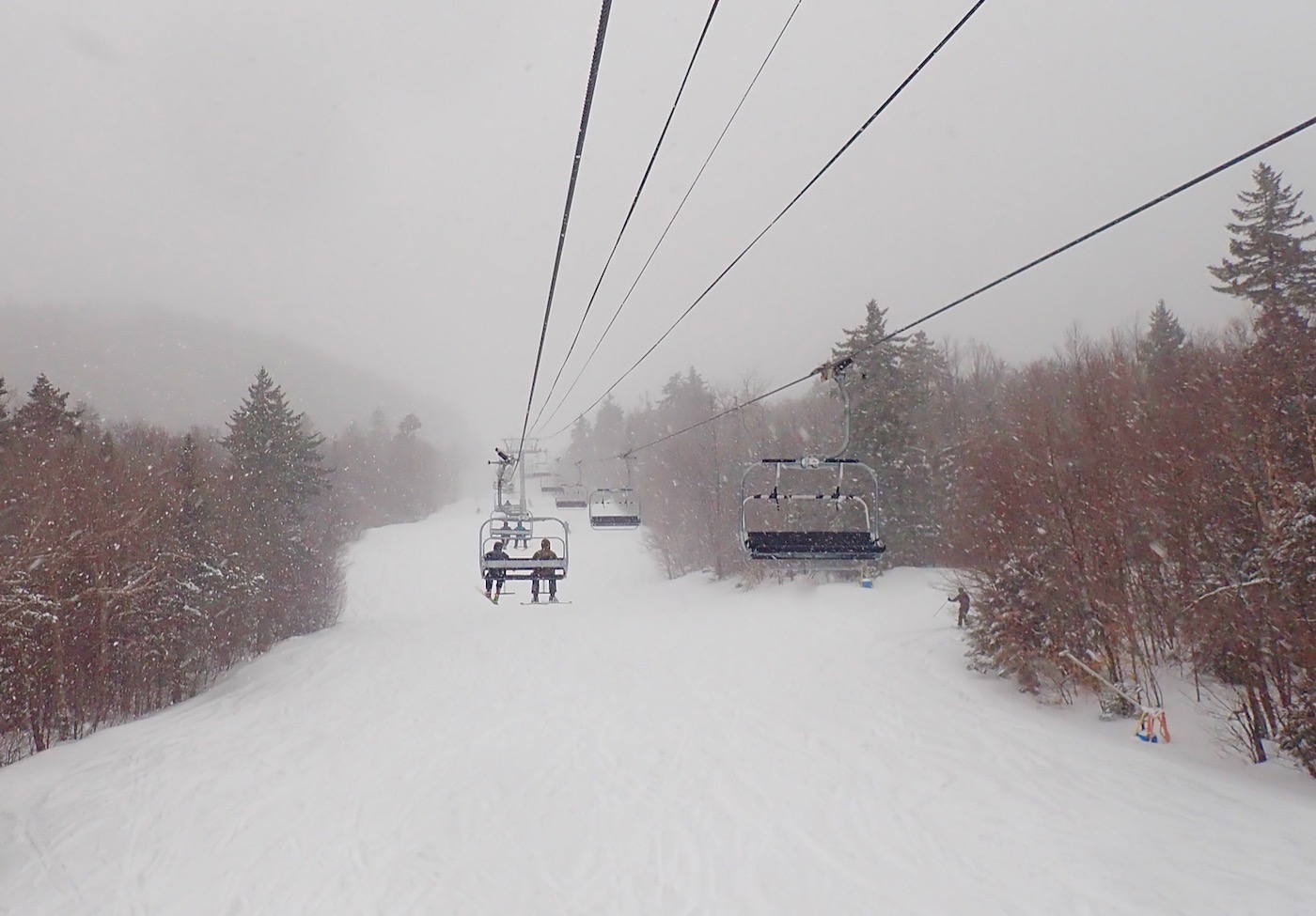 The drive on Sunday was as crazy as you would expect. We beat the majority of the traffic up the access road and only had to avoid one car as it slipped out along the side.
After taking care of the tickets and gear, we rode on to the Adirondack Express to bypass a short line at the gondola. From the chair we could see it was deep and the snow was still coming down hard.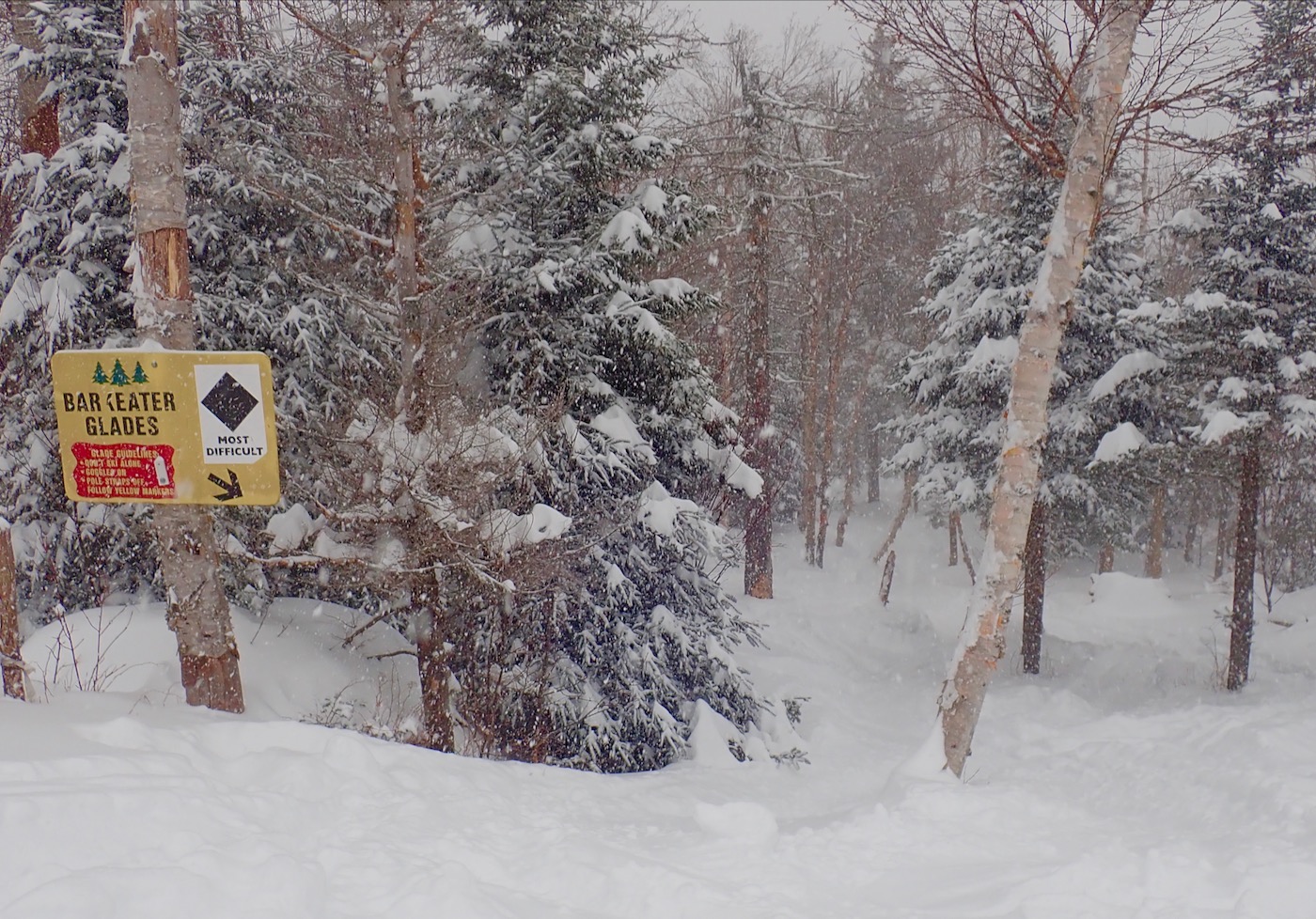 We started our product testing on Twister: it was like riding on the clouds. We'd hope to jump into Twister glades, but the ropes were still up. That clearly didn't stop some people, but we dropped further down to the cutover to the Burnt Ridge Chair.
The glades here are my favorite at Gore. There were a few tracks down the Barkeater Glades but more than enough fresh snow to go around. We found similar conditions in the other glades on Burnt Ridge and it was all smiles.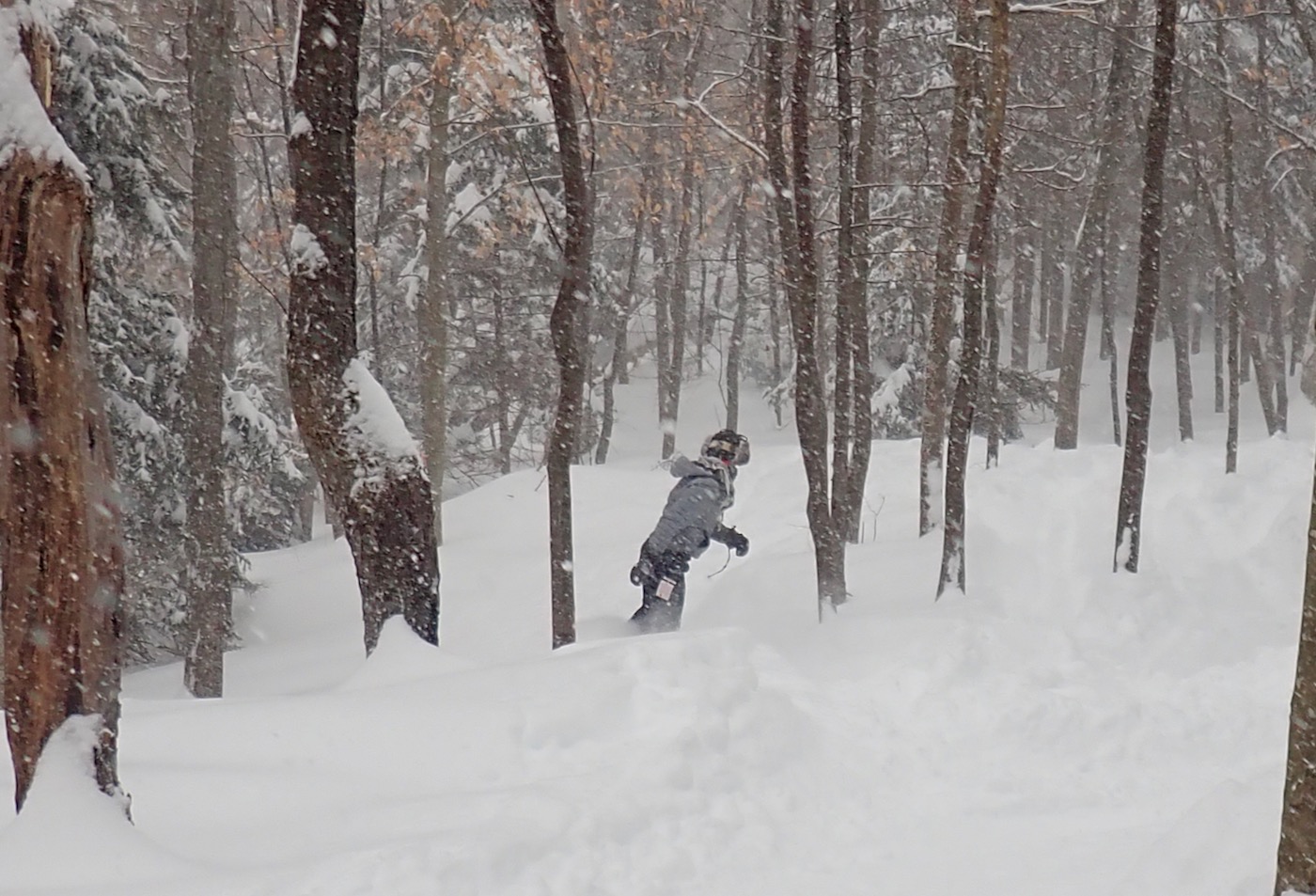 Soon we headed back to the Northwoods area and up the gondola. Nothing was off limits at this point, so we ducked into the Kill Kare glades on our way to the Straightbrook Quad.
By midday the deep snow was started to get pushed around. It was hard work to ride the Straightbrook Glades, but I didn't hear any complaints. By the time we reached Tannery had our legs were on fire. It was time for a change of pace on the North Side.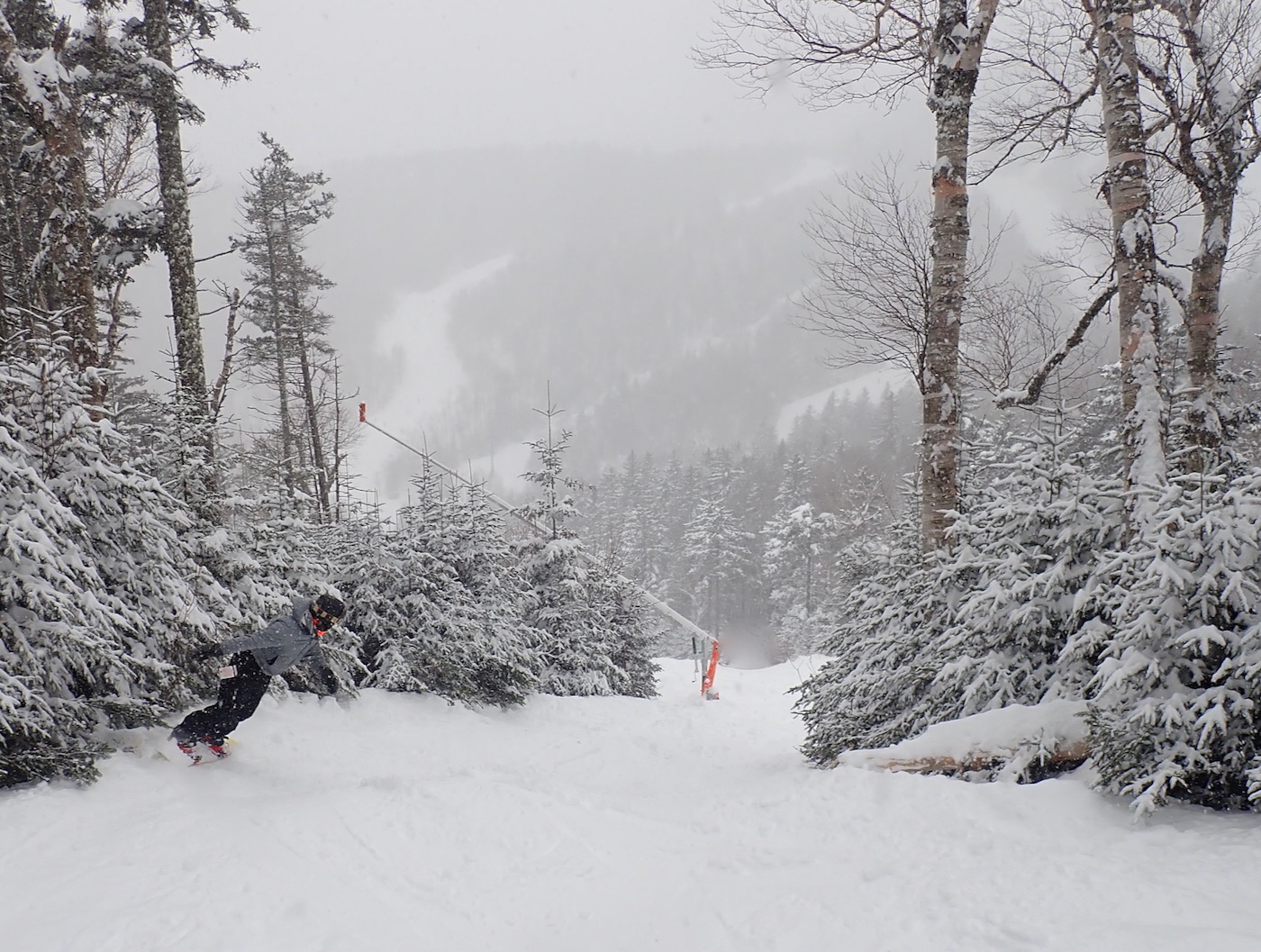 We sent it off the "Upper Wood In" cat walk down to Powder Pass. We'd heard some hooting from the chairlift, or at least I thought I did. Powder Pass was a dream. That much snow shouldn't be left untouched so late in the day. We did our best to tear up it up as the snow began to stop falling.
Our legs gave out around 2pm and we went inside for a celebratory beer. It was my first time in the Tannery Pub since they remodeled it and it was lively. There was a lot of laughing and smiles across the room as the band set up.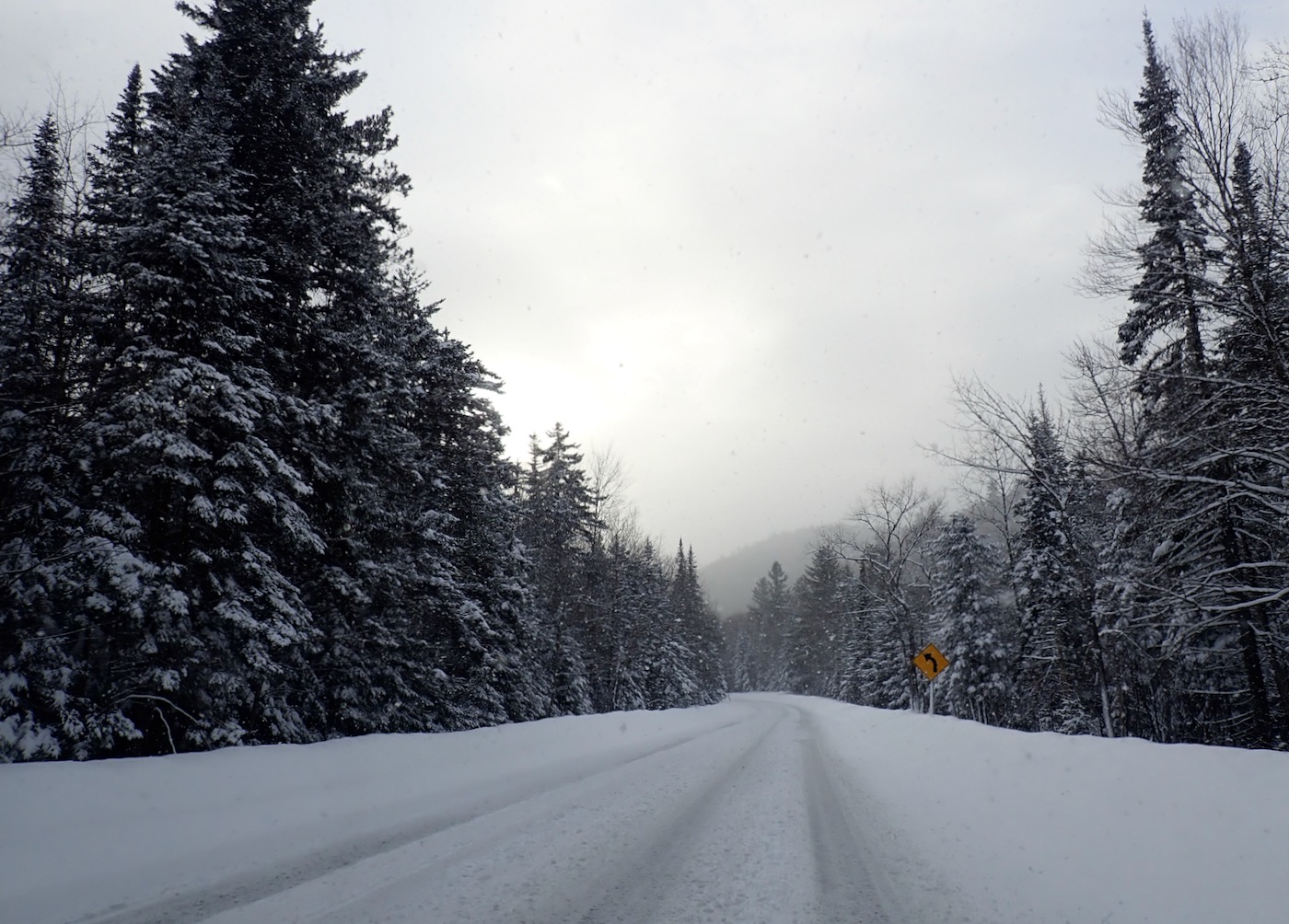 Twenty-two inches of powder invigorated me. The whole day I felt like I was skiing in the Warren Miller movies I grew up watching. Thanks to Conor for driving. On the long ride home, I was occupied only by grinning, my mind filled with images of a great day.