The weekend's forecast was quite iffy throughout the week, ranging from rain and mostly cloudy, to eventually partly cloudy high in the 50s. I wasn't ready to end my ski season though Greek Peak had already called it quits, so I watched the weather closely to see if a trip up to Gore would be worthwhile. By Thursday night, the forecast had improved greatly and plans were set in motion.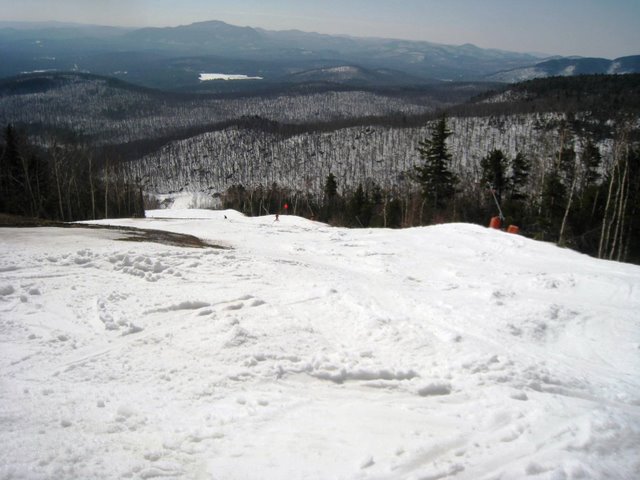 Marilyn and I started at 6:30am from Newfield and were rolling into the parking lot just before 10:30. We were on the soft hero snow by 11 under cloudless bluebird skies. The trails were in great shape and the woods were already soft and had good coverage, especially on the north faces (Darkside). Straightbrook glade was excellent too. Dodging rocks, sticks and dirt made for a better challenge, however, coverage was mostly quite excellent.
We started off with a run on Topridge because we heard that the snow was waning and that exposure would turn to it to mush quickly. It had very nice conditions at that hour and was a nice warm-up for our day. We then headed down Uncas to Straightbrook and worked our way around the Summit for the rest of the morning. We ran into Penny and Charlie (from Ithaca) and continued working all the summit trails until they were ready for lunch. I decided not to stop for lunch and headed over to the Darkside (High Peak area faces north) to see how it was softening there. All the glades were open and were skiing superbly.
I ran into Gore regulars Derek and Lori after just one run alone in the Darkside Glade. Our small group gradually grew as the locals were drawn to the very nice conditions on the Darkside. We went into all of the woods shots, some legal, though each one had a name, too many to remember.
I texted a message to my lunching friends as to where the best skiing was and when they were done eating their deck-grilled burgers they headed that way. In the meantime, I stayed with the local posse until my Ithaca friends caught up to us at the top of the High Peaks chair at 3pm. The locals had some grand plan to finish off their day but knew they had to get back to the summit to retrieve their packs.
I went with my Ithaca pals for the last run of the day. We chose Chatiemac, and boy that run was fabulous. The ride up Topridge was so pleasant. Temps were over 60 at that point. We were getting sad that this was going to be our last run, possibly for the season. At least we were ending on a high note, on such a perfect day. We dedicated our last run to our friend Shelly who had broke her leg at Gore in January. The 4 of us were with her when it happened and we were discussing her speedy recovery and that she would be skiing next season. Fox Lair to Wild Air was wonderful. We hit the moguls at the Arena that were from last week's mogul challenge. That was a fun way to end the day, er, possibly the season.
The apres-ski party on the deck was going strong. We had a few beers and I got to see a lot of good friends, many are Gore employees and locals, kicking back, celebrating the warm and sunny day and even talking about the upcoming rafting season that begins next week. A guitarist played Grateful Dead tunes and other classics. It was tough to pull away, but we said our goodbyes and headed out. Four hours later we pulled into a friend's birthday party in Ithaca and enjoyed a few beers around a bonfire where we got to share our adventure with our Ithaca friends. A long and wonderful day.