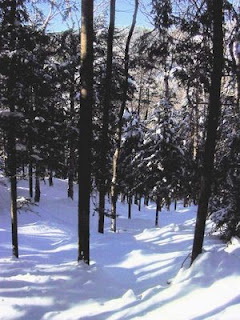 Gore was really good again on Sunday. It snowed another 2 inches at our place, and probably more at the top. Plus, the wind had filled in the troughs of the bumps in the trees and on the trails.
Not sure why "wind-blown" has such a bad rap. It guess it can be tough, but not today. Conditions included everything imaginable except maybe crud. Dense powder and lighter powder, cut-up, wind blown and some mank down lower towards the end of the day. Pine Brook was first, I was second man in, and there were options.
It's so deep now that new lines are opening up as the snow covers everything. Skiing over obstacles that you don't even know are there. I found the best snow/lines in Pine Brook, Straightbrook, Darby Woods, Tahawas, High Pines and Twister. There was a bit of a conga line doing the climb into Tahawas.
Twister Glades were again great to ski fast. It's one of the only tree runs on the mountain that I can basically sprint through, skiing and reacting without really thinking too hard. And off at skiers right, I followed a snowboarders track to avoid the death funnel at the end of the glade and I found deep untracked. And a funny thing happened. Twister the trail, had been fenced for racing…that orange web fencing. When I got back to the trail I was basically on the trail but behind the fence. So I was ripping all this untracked…untracked since Wed's storm…behind this fence, with the folks "on piste" kinda starring…how did he get there? Same as it ever was.