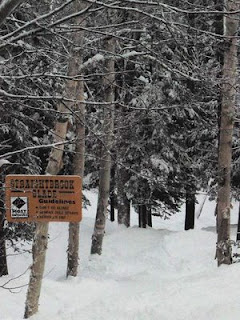 A great day, but first a pet peeve. Zelda and I have serious cash invested into two full passes, and a pass for the day care, the Bear Cub den, for our daughter. My complaint… you can't drop your child off until 8:15, but the lifts run as early as 7:45. I know the lifts aren't supposed to spin until 8:30. But it's a lot of cash to invest in a mountain to then be at a disadvantage on days with fresh snow. Ok got that out of the way.
Since I was up in mid-February it did that warm wet thing, then there was 4 inches at some point, 16" on this past Weds, and 5 or 6 last night into today. As we were loading into the Gondi, things looked great on Showcase and everything at the bottom. It looked like all the snow that fell was on top of the corduroy.
By the number of expert skiers coming down, we knew that the top must still be roped off. We took Pine Knot … it was pretty cut up by 8:30 when we got to it, and the Pine Brook glades were still closed, so we went right to the Straightbrook chair.
Zelda hit Chatiemac and I ducked into the SB Glades. Did two in a row and they were probably my two best runs in there this year. There are lines in there that are too much for me, on a normal day. Tight, steep and when they are packed out… no can do. Today, I was first or second man through on the lines I chose… and it was definitely hero snow. We hit the Dark Side… CB taking Cloud to Santanoni or Little Cloud…me improvising on the options… Steilhang and Hullabaloo, ultimately ending in the trees before getting to the High Peaks chair. It's a new twist for CB and I …she beats me to the bottom now, or waits for me at the run out to whatever glade I'm in. I do my best to showoff when she's watching. I never got to Lower Darby or Darby Woods. One new development – the entrance into the Dark Side from Lower Steilhang is now marked with a sign.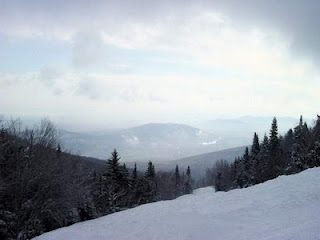 We crossed back over to Straightbrook, Zelda on Headwater and I did Upper Darby to the Mineshaft. In my mind, you have to go after Upper Darby or Lower Steilhang when they are open. They never get groomed and get little or no snowmaking. If they are open, like today, you gotta hit em. Upper Darby was bullet proof ice on it's "headwall" and I basically slid on my a$$ on the steepest part. Actually today was something new for me in terms of crashes. I went down maybe 4 times…but each time was more of a choice then a real mistake. I must be the only guy on the internet who crashes or admits it.
Down to Topridge … Zelda hit Uncas … and I did High Pines…a great natural snow trail with no grooming or snowmaking and lots of little drops. It was one of the best things today. Soft and great for tele. We took a lunch break at the Saddle. Surprisingly uncrowded, we walked right up to a window seat. After lunch we hit the North Side….another great situation for us…Zelda skis Sleeping Bear and Tahawas…and I'm in the Tahawas glades. One of the great things about the Tahawas glades…there's about 40 feet of herringbone, and just that little impediment…which is no problem on Teles…really keep the traffic down. I ran into some snowboarders in there really struggling with the small climbs. On to Twister and Twister glades. Today it was a track meet in there. A low angle sprint. Nice and soft until the very bottom, were it got a little scratchy.
We finished by splitting up for about an hour and a half. Zelda skied the bottom…I hit Double Barrel … another one of my crashes … then I headed to the Chatiemac Glades to see what all the fuss was about. They've posted a bunch of signs around the mountain about skiing outabounds and pass pulling. And in the Chatiemac glades, there are a bunch of signs indicating the "ski area boundary." If you honor the signs it definitely limits your lines over on that side.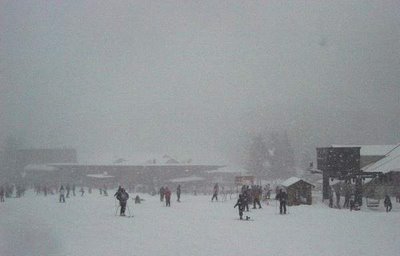 Since everything was open and excellent, and the crackdown seems real…I went legal all the way today. At about 2:30…it started to dump big time. I was coming down the hill pretty tired, but went into the Otter slide glades…it was an out of body experience. I couldn't see more than a few trees ahead. It was a 30 minute squall. I swear we got an inch of snow in 30 minutes.
Overall today was probably a top 5 best day this year. Highlights were the Straightbrook glades, Dark Side, Chatiemac Glades, High Pines, Twister Glades and Otter Slide. Tomorrow should be a deluxe day of corduroy and trees.