What a difference a day makes. And 5″ of snow.
Gore called it 3, measured at the base. I find my measurements at 1900 feet are usually higher than Gore measurements, but I'd expect the difference to be less than 2 inches on five. Garnet Hill reported 6 inches.
Regardless, it made a big difference. Winds were high (still are at 6pm) but with temps in the 20s, wind chills were manageable, for me.
Things looked sweet when we got to the mountain around 8:20. I push the women folk WAY harder in the am, when there is fresh snow to be had. We took the Gondi primarily for the warmth factor.
Guns were still going on Pine Knot and Uncas from yesterday. Uncas was still closed. I'll do anything for soft snow. If Pine Knot had the only carvable snow on the mountain and it was a killing field with zero visibility, I'd do laps.
When we got to the Straightbrook Chair things looked great. Folks who got first tracks on Chatiemac were hootin as we rode up. Lies had been groomed, which happens only a few times a season. All the way up…Chatiemac or Lies…Chatiemac or Lies? I hit Lies and did big GS turns all the way down. Then Chatiemac and Open Pit.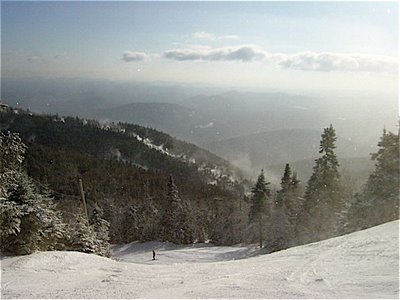 They were "race training" on lower Hawkeye below the headwall. On the fourth ride up, they were already taking down the gates. A crowd had gathered at the rope. Everyone knew that when they dropped it essentially there were be a version of first tracks.
The racers all ski the same curvy line and leave the sides untouched. I had decided to skip Hawkeye because I knew the upper half was boilerplate. Basically anything that hadn't had snowmaking since 12/26 was tough sledding.
I took Chatiemac one last time before Zelda and I were going to check out the lower mountain. On a whim I cut over to lower Hawkeye from Chatiemac to see what was going on. Now there were at least 50 people waiting for the rope to drop.
Patrol was in a line guarding the thing like it was the crown jewels. The head of Patrol is a very likeable guy…I think his name is Mark (aka Bean Dip). He's standing there having fun with the crowd. Then he says "ok SEASONS PASSHOLDERS ONLY" and holds up the rope. Stunned,almost nobody snags it. I was third down and it was a blast.
Down to Tannery and up the Topridge Chair. It looked like they were going to drop the rope on Uncas which they had been pounding with snowguns for two days. Zelda headed down and I snagged it too. It was comical. Like a rollercoaster. Great carvable manmade. A couple laps there and then a break in the Saddle to warm up.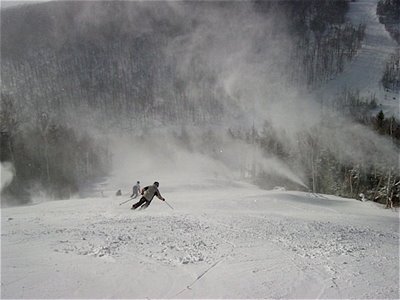 We did a run on Twister and then another off the Triple where cut over to Echo at what we call the Echo Spot. Apparently it's already known by Patrol as the Worm Hole…an entrance to another dimension. It's only been there for 3 days and it's got a name.
Burnt Ridge is really cool. It IS a whole 'nother dimension that makes the mountain feel so much bigger. WIDER. Sagamore…the black trail, has no snowmaking yet. Somebody poached it and MAN it looked like a dream.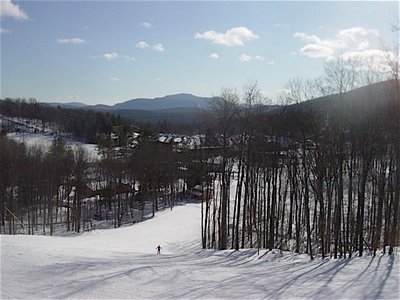 Zelda took a break to warm up while I did everything at the top again including a great run on Lies. Ultimately I ended up lapping Uncas where the manmade conditions were nice…some sweet bumps forming. Tons of folks over there, but fun none the less. A great day to be alive.
Tomorrow we'll probably go sledding and hit the road. Looks like my dream of skiing on my 50th Bday isn't happening and work is going to get real busy in the first half of January. Even next weekend is a long shot. Still it's been a great year so far… especially the weekend of 12/20. Still we need a BIG ONE. I'm waiting.