Ski Days 8, 9 and 10
I'm new at the trip reporter game, and not the greatest with details. As Leo Kottke once said "I'll give ya what I got."
All three days, coverage on any thing that was open was good — no rocks and a nice surface. Hard but no ice to speak of, except on Hawkeye. They were fairly aggressive with snowmaking, which I appreciated. In a year like this, I always head toward the guns.
Fri 1/19 — they weren't running the triple, and riding the gondola all day is bit of a hassle on telegear. (want some cheese with that whine?) The summit was an awesome sight — it snowed Thursday night and at the summit pretty much on and off all day Friday. Heavy at times, and great views when it let up — it was fun to be up there.
For me, Open Pit was the place to be all weekend, no ice, just white lightning. And Headwaters was deluxe too, with lots of loose manmade snow. In the afternoon, they put guns on the Hawkeye headwall and most of the upper part. The Hawk was actually better in the afternoon except in a few spots where they were making gak. Two guns were trashing the bottom of the headwall and the flat section under the lift line. I don't really why at zero degrees a few guns would produce water and ice instead of snow.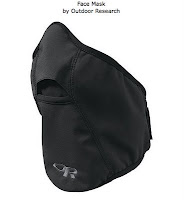 Sat 1/20 – Snowed again Friday night – maybe 3 inches at our place (2000′). Now the triple was open but the wind was screaming. I'm sure much of the East had the same situation. My first ride up the triple – it was zero at the saddle and the wind was outta control. I was fine except for my lips which are toast now from Sat and Sun combined.
Zelda and I invented a "huddle" maneuver to get through the worst part at Pole 24. Anybody who skies Gore knows the knows the danger in riding the triple. If it is zero degrees and the wind is blowing, exposed skin on any part of your body on triple is a risk. An extended lift stoppage at the wrong point on your ride could result in permanent injury.
NOTE: Since this day – I now ALWAYS carry a mask from Outdoor Research like the one above. It was cheap, it takes up zero room in my butt bag, and it can be a life saver. Showcase opened for the first time this year. I heard it was sweet first thing with fresh on top of corduroy. I passed it up for doing schelp runs over to Open Pit which was really the highlight of the weekend – no ice.
Sun 1/21 – the high temp for Sunday at our place was at midnight on Saturday night. 20 degrees. When I got up at 6am it was 11, when I left for the mountain at 7 it was 5. It had to be zero all day. Started by riding the Gondi to try to see if Hawkeye was open. Nobody at Gore seems to know the status of things and multiple times this year I've be given inaccurate info like "Pine Knot is open" or the "Straightbrook chair is running." Three round trips on the Gondi and Pine Knot was still roped.
When I came down from the top Twister wasn't open, so I popped into the saddle lodge to warm up, etc. Right as I came out they lowered the rope on Twisty – I think I was the first one in this year, other than patrols. It was incredible. The whole lower, steeper half was being pummeled with snowmaking. Linking turns was a pure pleasure. All in all – other than the Hawkeye debacle – it was a great weekend at Gore.