MattChuck is an accomplished skier from Clifton Park, NY. He's a passholder at Gore Mountain who skis all across the northeast and at times out west. Following are excerpts from Matt's review of a recent Ski Magazine piece on Gore.
---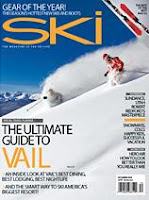 In the current December issue of SKI Magazine, blogger Everett Potter does a special "Weekends" feature on Gore. To start, the author recommends checking in at the Fern Lodge in Chestertown or the Alpine lodge in North Creek. The article was probably written before the news about the Copperfield broke. Then he recommends barVino. I haven't been to the newly opened barVino and somehow, I doubt Everett has either. Another option he offers is the Black Mountain – a solid choice. The next day, Potter suggests a warmup run on Fox Lair to Wild Air, then Fairview to Twister, Topridge, Uncas and then finally to the Straightbrook quad. Then ski Rumor (ok), Lies (ok) and Upper Darby …so…. Upper Darby was open when you were there? Next he recommends that you "wind your way down Upper Steilhang" (not sure I ski that one for the corduroy). After lunch at the Saddle Lodge, he recommends the Burnt Ridge area. "Test out Sagamore, a long black diamond, and then hit Cirque Glades, a true experts-only area that offers a taste of the backcountry."
It's a whole new concept in FIRST TRACKS!? Couldn't the guy just wait a year, actually ski it, and then form an opinion of the terrain? So the advice continues…the next day, hit Hawkeye, Chatiemac and Straightbrook Glades after "warming up with a cruiser on Showcase." Then "get up some speed on Hullaballoo, a groomed black diamond." When does that happen? 3 times a year? Hullaballoo is good because they don't groom it.
Finally… finish with a "thriller" down Upper Darby (the guy really loves this trail), "following Lower Cloud to the base." This "analysis" that makes me wonder if Mr. Potter has ever been to Gore. Basically, the author took a press release and reworked it. The article seems like a collection of internet research on hotels and restaurants, then for the skiing portions of the article, he glanced at the trail map. The piece also says "Grab a Trailblazer – an egg, bacon and cheese breakfast sandwich – at the new Northwoods Lodge…" But you won't find sandwiches in the ski shop or bear cub den daycare facility. But really all of this is nit picking.
Here's my real beef: There is no mention of the great trails that set Gore apart from other mountains. No High Pines, no Darkside, no Chatiemac Glades, and no Lower Steilhang. On the bright side, I guess that's more Gore for us. Also missing from the piece is any reference to the North Chair – where I assume most of Ski Magazine's readership would enjoy going. Finally he recommends Lower Cloud for the first timer at Gore.
Matt's Take: Maybe next time SKI should cough up a few bucks for gas and a lift ticket, and write a real article. Everett Potter is a travel blogger that offers hotel reviews, interviews with travel insiders, and practical travel information for consumers.