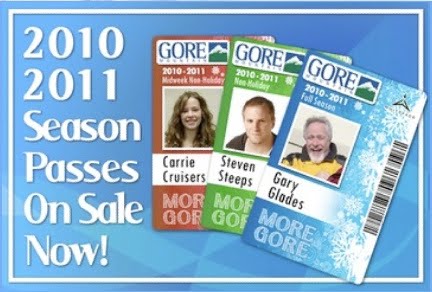 The Gore Mountain Friends Program is a passholder discount promotion designed to bring new skiers to the mountain.
It's pretty simple really. For every NEW Gore Skier that you bring to the the mountain both you and that new skier get a 10% discount. All pass applications must be submitted together with full payment. It's conceivable that one industrious organizer could get his or her pass free.
On March 6 of this past season I was riding the Straightbrook Quad with two skiers I didn't know. We got to chatting and talking about pass prices. At $699 I think Gore's full pass, including Whiteface, is one of the best deals in the Northeast.
Skier #1 made a comment to the effect that it WAS an even better deal than most people realized. Skier #2 shot him a glance, and subtly elbowed him.
I asked what he meant. Skier #1 said that with the friends program it was even cheaper. I knew about the discount program and had been part of it in my first passholding season 2006/2007.
I said, well that's good your first time. He told me he'd been getting the discount for several years, by manipulating the system, in a way I won't recount.
It amazed me that he was openly bragging about it. Clearly, I was a passholder; my badge was right on my sleeve. I couldn't help think… who did he think he was stealing that money from? Yeah, he's stealing it from the mountain. He's stealing it from me too.
While Gore is profitable, the mountain is not a cash cow. ORDA reported that in 08/09 Gore did about $9.5M in revenue against $9.0M in operating costs. And with the current budget pressure the mountain is under, there a distinct possibility that either prices will rise, or services will decline, or both.
The way I see it, that's going to cost legitimate passholders the most. I'd urge the mountain to do everything possible to crackdown on this fraud, and Gore skiers to report any incidents to management.
I'm curious if anyone knows about this scam. Post comments below.