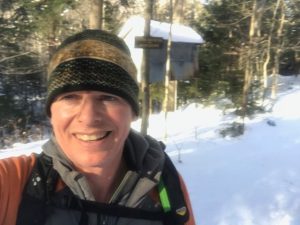 Steve Ovitt is an accomplished backcountry skier and woodsman. He was a NYS Forest Ranger from 1986-2011 patrolling Northern Warren County, responsible for the Siamese Ponds Wilderness and the Vanderwhacker and Wilcox Wild Forests. In 2012 he started Wilderness Property Management to help people develop land for recreation.
Steve is responsible for the development and re-development of some great XCD backcountry ski routes and bike trails throughout Northern NY. His most celebrated ski trail work may be the revival of one of NY's oldest ski trails, the Raymond Brook Ski Trail in Johnsburg, NY.
He shared his tips for skiing the early season and thin cover.
---
From the desk of:
Steve Ovitt
WPM Inc. Backcountry Advisor,
Wilderness Property Management Inc.
Professional Trail Builders Association – member
Early Season BC Skiing Tips
Be quick on your feet and switch your weight onto the other ski if you feel any resistance or rock drag.
Avoid rock pillows. When you can't, unweight the ski gliding over the pillow. Generally one ski will fit between the rocks so let most of your weight fall to that ski.
Always use the whole trail corridor and any open woods adjacent to find that sweet turning rockless route.
Don't rush the steeps. Hardcore turns or side slipping will sink your skis to the rocks and duff.
Ski to the uphill side of spring seeps in the trail as the snow is generally deeper there.
Beware of drainages as they may have less snow cover. It's often too early to ski on the rocks to keep your skis out of the slush and your ski tips may dig into the bank on the far side.
Equipment Tips
Free-heeled skiers should consider knee pads. There are great ones made by Black Diamond or you can use closed cell foam and some milk jug plastic to fill the knee pad pockets on the alltime-best BC ski pants made by Outdoor Research.
Carry a ski scraper with rounded corners in the chest pocket of your jacket. Don't wait, scrape immediately if your skis get wet so you can get back to gliding and turning.
If you don't have a scraper, or in a pinch, use one of your metal edged skis to scrape the other ski.
Beware of falling in thin cover. If you need to, try to fall uphill and on your side in a sliding motion.
Remember that the days are short in December and early January so having a good long beam headlamp is a necessity.
Save your long dreamed about epic ski adventure for mid-season and after you have had a chance to shakedown your gear and body. Your dreams could come true if you have practiced and your gear is working right.
Enjoy the snow, the woods and your friends and family.
Happy holidays.
Steve