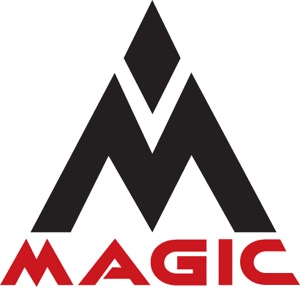 Magic Mountain is an anomaly in Southern Vermont. Steep and challenging, yet laid back and inviting, it exemplifies what old school skiing is all about in stark contrast to many other area resorts.
From the very first time you ski here, it will be obvious that "It's all about the community of like-minded skiers who love skiing here and are always willing to show newcomers why Magic is such a special place. Oh and then there's the skiing, the challenge and the mountain." Magic is run by skiers on every level and it shows; great effort has been put forth to retain the highest quality skiing possible at an affordable family-friendly price — weekend tickets are still a deal in today's economy. With many hidden gems, lower skier traffic and some of the best snowfall around you can find fresh snow days after a storm and there are cliffs to discover, both hidden and in plain sight, when you want a little air under your skis.
Lifts
Magic has two fixed grip lifts — Red and Black — that will bring you to the top. A third fixed grip chair — Green — goes to mid-mountain. Whether you're a beginner looking to get better or an advanced skier looking for a thrill, Magic's 3 lifts will get you where you want to go. All three fixed grip chair towers are below the tree tops, which means it's an ideal storm day destination with very few wind holds.
The Red Chair
The Red Chair is Magic's signature. Installed in 1971 and refurbished in 2011 (the update was paid for by donations from Magic skiers), it's a workhorse fixed-grip double. The 12+ minute ride on Red is perfect for catching your breath, getting to know a new friend, and sightseeing. It also previews what may be Magic's signature trail, Redline. From the top of Red, every trail on the mountain is easily accessible.
The Green Chair
The mid-mountain Green Chair was long a work in progress; construction started in 2003 and the lift didn't operate until 2019. This chair was a visible example of the hard times that Magic went through in the early years of the 21st century. New ownership took over in 2017 and the mid-mountain lift was an early priority, allowing the area to open earlier and also offering beginner terrain without having to ride all the way to the top of the mountain. Another fixed-grip double, it also previews one of Magic's famed steep and narrow trails, Greenline. Beginners need not fear; the multitude of trails serviced by the Green chair tend toward lower angles and nice, wide-open avenues to hone turning skills.
The New Black Quad
The Black quad has been another work in progress. Originally a fixed-grip double that was turned into a triple, the old (installed in 1961) chair and its infrastructure just couldn't be fixed (it last operated in 2016). When Ski Magic LLC took over the mountain in 2017, replacing this chair became an obvious necessity.
---
---
The newish quad (originally installed in 1986) was purchased from Stratton in 2019 and will go into operation for the 2021/2022 ski season. Another fixed-grip lift, Black will serve the same terrain as Red (the entire mountain) and will triple Red's uphill capacity to the summit if both are running. Once again, this chair previews some steep, narrow, terrain that has cemented Magic's reputation as New England's most challenging skiing south of Mad River Glen.
Terrain
Magic is a simple mountain to navigate with all trails ending up at the base lodge area. The mountain is divided into "east" and "west" sides from the summit.
The east side of Magic offers the full spectrum of terrain from steep, narrow, mandatory-air runs to wide-open, beautifully groomed cruisers.
The west side of Magic offers only more challenging terrain. Both sides offer incredible tree skiing if you know where to look. Steep narrow runs may be what most skiers think of when they hear Magic Mountain but that's just the beginning.
The East Side
The east side of the mountain offers everything any skier could want from the truly extreme Redline (multiple cliffs, huge moguls, and "the Plunge") to the wide open, natural snow cruiser that is Up Your Sleeve. Magic regulars will tell you that despite loving the steeps and trees, Up Your Sleeve may be the best run on the mountain.
West Side
The west side of the mountain is not for beginners or low intermediates; skiers should truly evaluate their skill level when they ski past the "Experts Only" signs as they enter Wizard, the access trail to the west side. Wizard starts out as a low-level traverse that offers spectacular views but it also very quickly previews what the terrain on the west side of the mountain offers. The top of Magician is the steepest sustained pitch on the mountain and it's a place many people stop on Wizard to take pictures. Very soon, Wizard turns into a steep, narrow, often mogul-ed chute that gets you to the other west side trails.
Trees
Magic prides itself on being the home of the most challenging and cleanest trees in Southern Vermont. On-map tree runs have doubled in the last few years and countless hidden runs exist throughout the mountain, just waiting for you to discover them either by your own accord or perhaps with a friendly local bribed with one of the many microbrews on tap at the mountain's Black Line Tavern.
Its open tree skiing policy is designed to allow for exploration and adventure and those who choose to do so will not be disappointed. Magic even has a "beginner" tree run (White Kitten, served by the Green chair) that is wide open, low angle, and perfect for skiers who want to learn why tree skiing is so special. Magic's reputation for being a tree-skier's paradise is well-deserved but there is so much more to this gem of a mountain.
Snowmaking and Grooming
With recent upgrades in snowmaking capabilities and a significant upgrade in grooming equipment and operators, Magic now offers the same quality of groomed surfaces as its counterparts across the valley — but with about 5k fewer skiers a day to scrape it off ensuring excellent cruising from bell-to-bell.
Vibe and Après
The après-ski experience at Magic is never stuffy or pretentious; just skiers telling lies about their day and having a good time. You won't see a lot of Bogner but you will see a lot of duct tape.
The Black Line Tavern is home to the best bartenders and the best live music scene in the area. With dozens of Vermont microbrews available on tap or in cans, the tavern is a beer-lover's paradise. The kitchen offers tasty food that is a nice departure from the burgers and chicken tender fare (you can get those too) at most ski areas. Live music is a big part of the Magic experience and when they bring in feature bands (Twiddle has played there), the place will be packed.
If you feel the corporate "resort experience" detracts from the mountain and the skiing, Magic is for you. If you feel that skiing has become too expensive, too restrictive and too crowded, Magic is for you. If you want to be part of a community dedicated to preserving one of Skiing's original purist destinations, Magic is for you. If you come to ski and just want to have a good time, Magic is for you.
With inexpensive lodging nearby and a significantly shorter drive than comparable skiing destinations to the north, it's the smart way to get your adrenaline or family outing fix without paying double for frills you don't want or need. If you've been to Magic in the past, come and see what's new. If you have never been, there has never been a better time to come and see what all the fuss is about. Note that Magic is now part of the Indy Pass.
To see our front page coverage check out our Magic Mountain Blog.
by Matt Cote and Brian Johansson
---
Magic Mountain Trail Map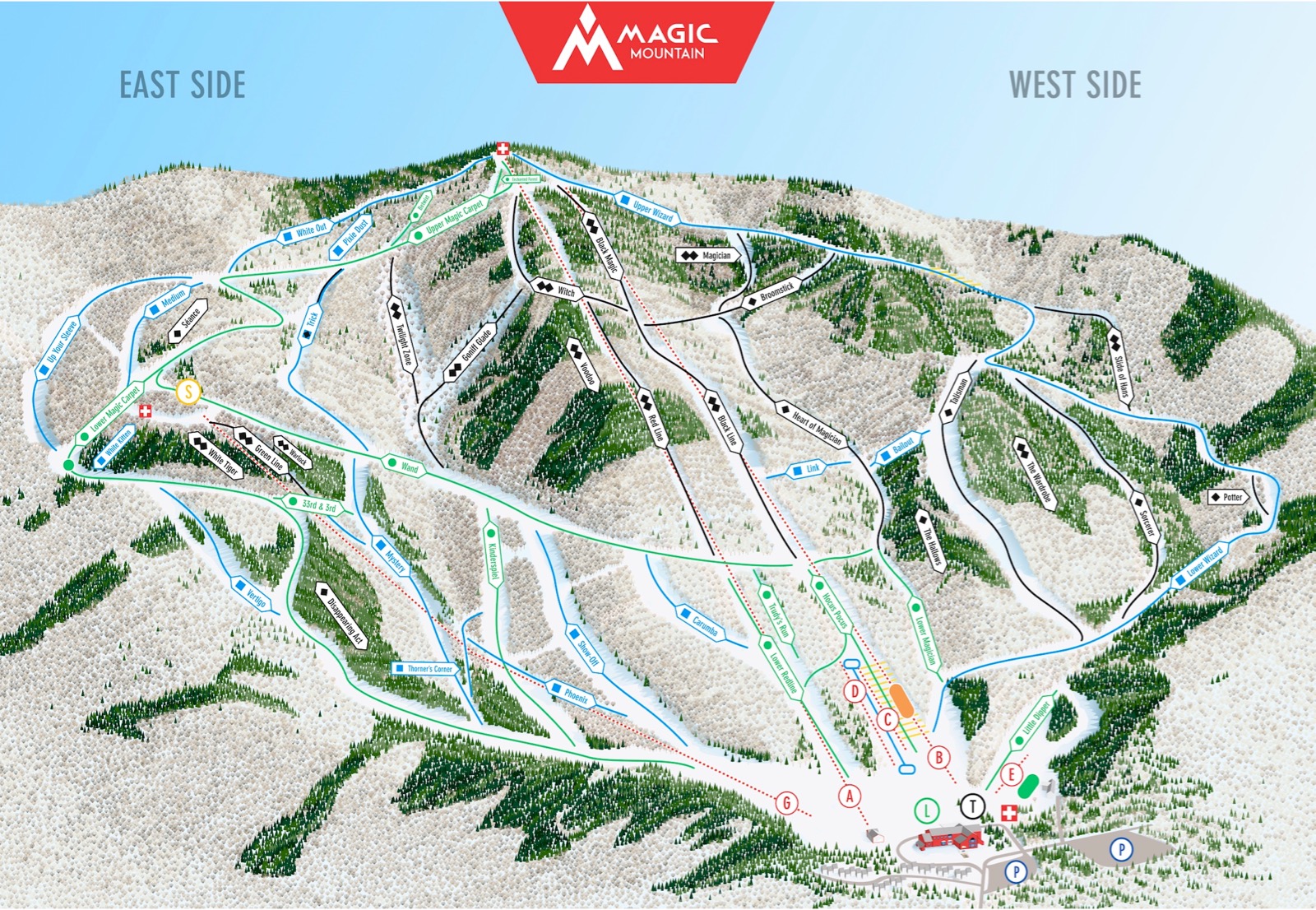 ---
Magic Mountain Vertical and Stats
| | |
| --- | --- |
| Summit | 2,850 feet |
| Base Elevation | 1,150 feet |
| Vertical Drop | 1,700 feet |
| # Trails | 43 trails |
| Trail Miles | 15 miles |
| Longest Run | 8,448 feet |
| Skiable Area | 205 acres |
| # Lifts | 4 lifts |
| Uphill Capacity | 3,500 / hour |
| 10 Year Avg* | 102 inches |
| 10 Year High** | 178 inches |
† Advertised annual snowfall
* Reported average seasonal snow total 2012 – 2022
** Reported highest measured seasonal snow total 2012 – 2022
---
Magic Ski Day Essentials