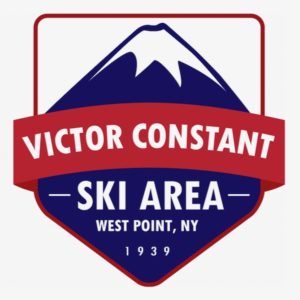 The Victor Constant Ski Slope at West Point is open to the public Monday through Friday from 3:00pm to 9:00pm. Weekends are reserved for military personnel and their families.
Boasting a triple chair that was purchased from Belleayre over a decade ago and a beginner slope served by a rope tow, The Vic, as it's known to locals, has three lines that are maintained for the duration of the season.
Rodney Smith to Short Short: This is a personal favorite with rollers, a few drops and plenty of space to work on whatever it may be that you're working on. This is the most popular trail on the hill, with the bunny slope being the close second.
Holman Run: This line is a straight away drop and there are ski teams on this trail every single weeknight. If you're looking for a hot fast run, here you go.
Bunny Slope: Yup. it's a bunny slope.
These are all maintained with 100% snowmaking coverage.The snow grooming here is legitimately some of the best in the nation. One line of corduroy flows into the next. It's fair to say that the groomers work with military precision.
The remainder of the trails are dependent on natural snowfall. There are also three in-between glades that are not officially trails but are in-bounds and you're welcome to them. These spaces may or may not receive attention in the off season.
Sitzmark, when open, is ungroomed natural snow which varies from a magical delight on pow days to the meanest hardest moguls you can imagine.This often culminates in the park that the cadets set up. It is not for the faint of heart nor is it set up by professionals.
Wildcat is a retired dirt road and has a long flat which favors skiers over boarders. On more than one occasion, I've stalled behind a slow skier and had to walk a bit. But if the trail is clear of slow humans, its a delightful romp through the woods reminiscent of some of Plattekill's finest.
---
---
The West Point Ski Lodge was renovated in 2019 when it split seasonal duties as the golf clubhouse and provides the amenities you'd expect from any other lodge.
This is a great learner's mountain. The lift lines are usually non-existent. The trails are well maintained and there is enough texture on the hill to keep everyone entertained.
by Nate Smith
---
West Point Trail Map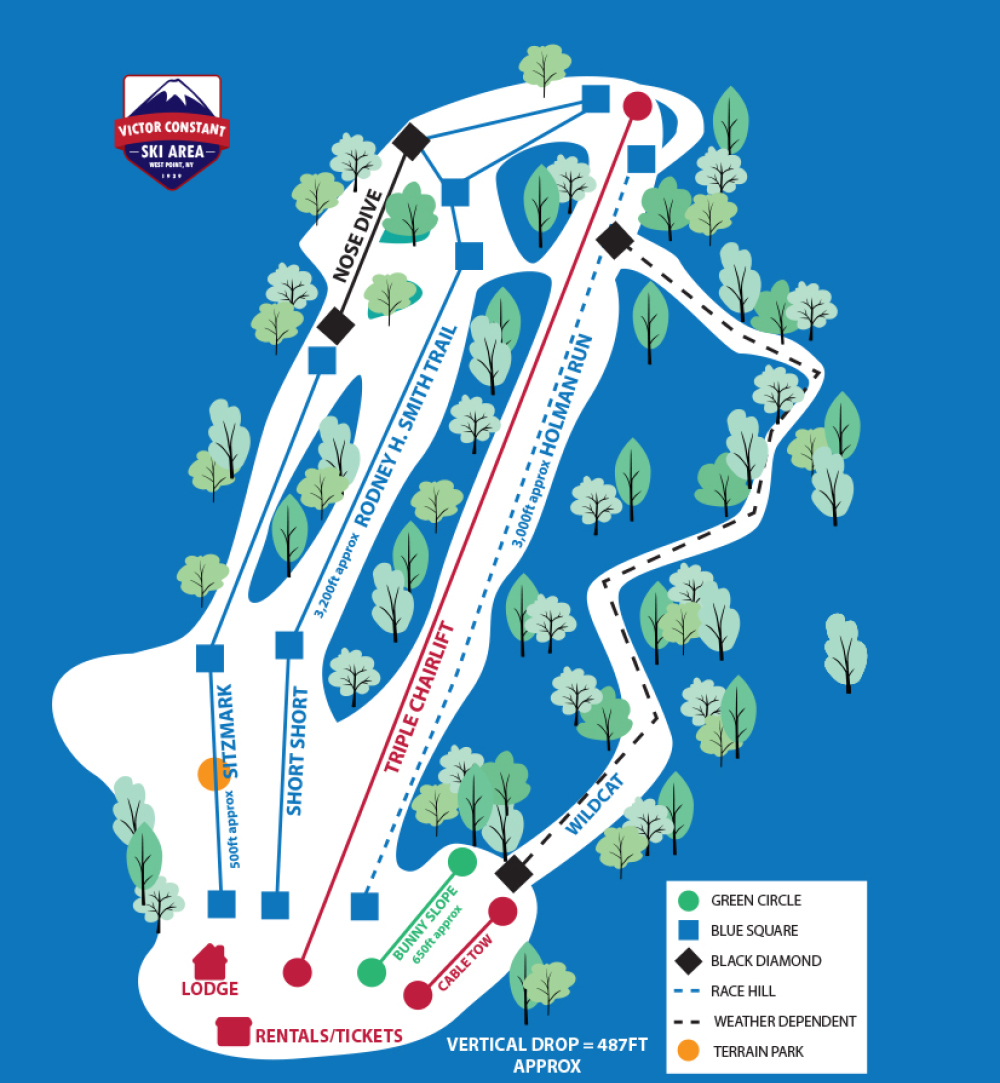 ---
West Point Vertical Drop and Stats
| | |
| --- | --- |
| Summit Elevation | 960 feet |
| Base Elevation | 485 feet |
| Vertical Drop | 475 feet |
| # Trails | 5 trails |
| Trail Miles | XX miles |
| Longest Run | 3200 feet |
| Skiable Area | XX acres |
| # Lifts | 2 lifts |
| Uphill Capacity | 1,800 / hour |
| Annual Snowfall | 39 inches |
---
The Vic Ski Day Essentials