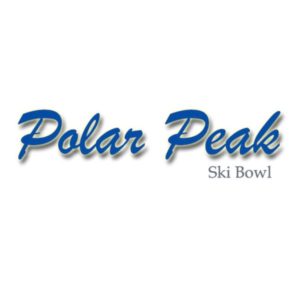 Located in the Taconic Hills of Columbia County NY Polar Peak Ski Bowk is a private little gem (not open to the public) and piece of current day ski history. Founded in 1991 by Mark and Tom Herishko, who were then 11 and 13 years old at the time, Polar Peak started out as an after school and summer project that has been refined throughout the years. Today the operation includes a small warming hut, 400' long ropetow, Thiokol snowcat, and of course a custom in house designed snowmaking system developed by the brothers throughout the years.
A close friendship with Izzy and Orville Slutzky helped make this dream possible as they donated much of their old ropetow (R1), which has been retrofitted and resurrected as the "Summit Express." The iconic brothers of Hunter Mountain also donated as much snowmaking/grooming knowhow, and just overall advice through the years. Thanks to them the project has flourished.
On the hill there are 11 separate slopes of varying degrees of difficulty. The "main line" is Upper and Lower Glade, a 400' long run that starts out level up top until the ridge is reached, then it is a fun and quick steep burst until things level out below midstation. Polar Drop is the double black diamond "mogul run" which faces true south. Both the Chute and the Bowl form a wide open run, and Peak favorite thanks to drifting that forms, creating a nice base and often fresh tracks with the wind. Both of these runs empty out on to Jericho's Gulch. Arctic Alley and Cascade are both on the north end of the hill, nice short runs, with a constant pitch. Polar Bear is the small warm up slope. From the Summit Polar Run and Fox Run make an easy 1,400' long by 150' wide slope that meanders down the ridgeline and around back to the base area.
The snowmaking system is custom designed, un-intensive, primarily portable and low pressure. In-house designed P4 snowguns as well as a Ratnik Baby Giant X-2 are used in snow production. While the entire hill is theoretically capable of snowmaking only a small portion is covered annually (Upper/Lower Glade, and Jericho's Gulch).
Grooming the slopes is accomplished by snowmobile and a 1978 Thiokol Snowcat, dubbed Arctic 1. The snowcat is a great new improvement and is a work in progress during the summer months. The crew looks at the wiring diagrams, scratches their heads, and tries to figure out how to refurbish to meet current day needs.
While Polar Peak is only open to the Herishko Family, (and is not a public area, municipal area, or club), you can live vicariously through their often time hilarious adventures on the hill by visiting the website, or if in your travels you find "the Peak" just down the road from their family farm, and you see them living out their dreams on the hill, beep, they are sure to wave!
by Tom
---
Polar Peak Trail Map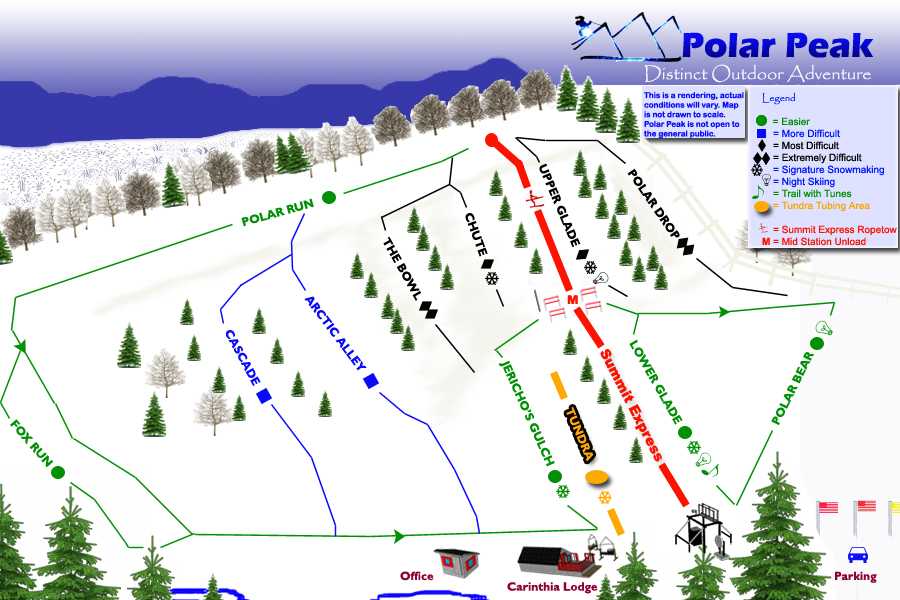 ---
Polar Peak Stats
| | |
| --- | --- |
| Summit Elevation | 660 feet |
| Base Elevation | 546 feet |
| Vertical Drop | 114 feet |
| # Trails | 11 |
| Trail Miles | .75 |
| Longest Run | 1,400 feet |
| Skiable Area | 8 Acres |
| # Lifts | 1 |
| Uphill Capacity | 120 / hour |
| Annual Snowfall | 60 inches |