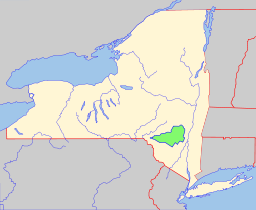 Catskill Park spans 700,000 acres inside the "blue line" in Delaware, Greene, Sullivan, and Ulster counties in New York State. Over 40 percent of the land within the blue line is Forest Preserve owned by the state and managed by the Department of Environmental Conservation (DEC). Another 5% is owned by New York City to protect four reservoirs that are within the park.
The park boundary stretches from near the Hudson River just west of Kingston NY to the East Branch of the Delaware River. Its northern extreme is at Windham and its southernmost point is near the Rondout Reservoir. In contrast to the Adirondack Park, the Catskill Park doesn't include every peak of the Catskill Range. Only 33 of the 35 highest peaks are inside the Catskill Blue Line.
The park is governed by Article 14 of New York's constitution, which stipulates that state land can't be sold or transferred and must remain "forever wild." Under the Master Plan, state land in Catskill Park is organized into management units that are primarily given one of four classifications: Wilderness, Wild Forest, Intensive Use or Administrative.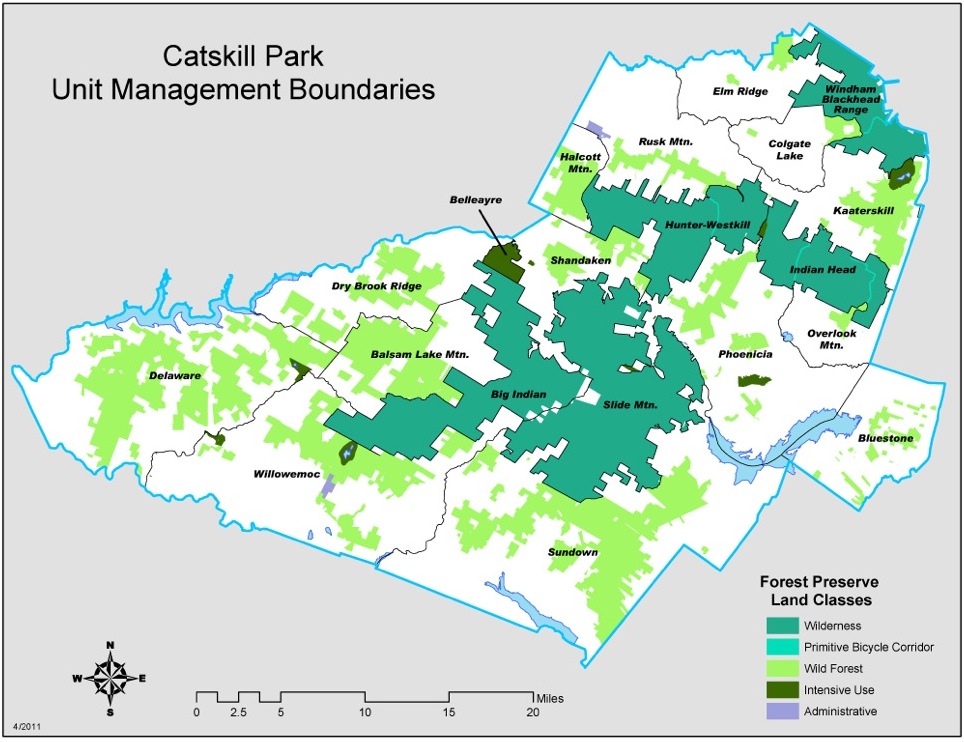 By law, New York's Wilderness Areas must contain at least 10,000 acres of contiguous land. Wilderness is intended to be "untrammeled by man" and as close to its natural state as possible. The goal of wilderness is to minimize human impact and encourage passive recreation like hiking, camping, fishing and hunting.
No mechanically-powered devices are permitted in wilderness areas. Exceptions include chainsaws which may be used by DEC personnel to clear trails, and motor-vehicle usage is allowed in emergency situations. Generally trails are single-track except at the lowest elevations. Designated campsites are kept to a minimum.
Under the current Master Plan many of the higher summits and remaining tracts of first-growth forest are inside wilderness areas. There are five wilderness areas in Catskill Park: the Slide Mountain and Big Indian-Beaverkill wildernesses in Ulster County, and the Indian Head, West Kill and Blackhead Range wildernesses in Greene County.
It has been an informal DEC policy to treat all state land in the Catskill Park above 3,100 feet as de-facto wilderness. A proposed update to the Master Plan would make that rule official, and it would extend the rule as much as possible to all land above 2,700 feet.
Wild Forest areas are generally lower in elevation and contain forest that has been more recently disturbed. Much of this land was logged just prior to incorporation into the preserve. As a result, there is significantly more evidence of human impact, and more intensive use is permitted, as compared to Wilderness lands. In Wild Forest areas designated mechanized vehicles are allowed. This has made them popular with snowmobilers. In addition mountain biking is allowed in the Hunter Mountain Wild Forest. Currently ATV's remain banned in these areas. Some hunters favor Wild Forest — the second and third-growth stands are more likely to contain deer and kills can be taken from the woods more easily.
Some Wild Forest parcels have irregular boundaries that allow uses that would be otherwise incompatible with a surrounding wilderness. The Overlook Mountain Wild Forest contains a corridor through the Indian Head Wilderness Area that includes a popular and still driveable dirt road to the fire tower at the Overlook Mountain summit. A similar plan has been proposed to continue to allow vehicular use of the road that leads to the Hunter Mountain fire tower.
Wild Forest areas in Catskill Park include the Long Pond-Willowemoc in Sullivan County; the Touch-Me-Not, Cherry Ridge-Campbell Mountain and Dry Brook Ridge in Delaware County; the Balsam Lake, Lundy, Bluestone, Peekamoose Valley and Phoenicia-Mt. Tremper, Shandaken and Sundown in Ulster and the Blackhead, Colgate Lake, Hunter Mountain, Kaaterskill, North Point and Windham High Peak Wild Forests. The Halcott Mountain Wild Forest is also designated as Wild Forest because it doesn't meet the 10,000 acre requirement to qualify as wilderness.
Intensive Use areas are usually smaller than Wild Forest tracts and include campgrounds with basic facilities. Paved roads offer easy vehicle access. North-South Lake is New York's largest public campground and includes numerous camp sites, a swimming area in each lake plus the former Catskill Mountain House site at Pine Orchard, and the surrounding historic trails. Other campgrounds include Beaverkill, Devil's Tombstone, Kenneth L. Wilson, Mongaup Pond and Woodland Valley. Most intensive use areas — except for the Belleayre Mountain Ski Center — are state campgrounds meant for heavier, higher-impact use.
Additionally, there are two Day Use Areas within the park, one near Belleayre and the other at the Catskill Interpretive Center. These are small parcels with picnic tables where camping is forbidden.
Administrative Areas are even smaller, unnamed plots that DEC is permitted to use for education and other purposes. Included in this classification are the Vinegar Hill Wildlife Management Area, the Simpson Ski Slope and the Catskill Mountain Fish Hatchery, and the Esopus Creek Fish and Wildlife Management Parcel.
In 2008 the DEC proposed changes to the master plan to include the creation of Primitive Bicycle Corridors. This proposal created four 100-foot wide bike trail corridors affecting approximately 150 acres in total. These corridors through existing and proposed wilderness areas would allow the public to use a bicycle, but would otherwise be managed according to wilderness guidelines. These corridors are along old roads that have had traditional been used cycling.
Images and land usage map from the NYDEC