New York's acquisition of Lyon Mountain has spurred yet another land use debate in the Adirondacks. Like many other discussions of this nature, the conflict is between established traditional uses of the land and the letter of the law as written into the Adirondack Park State Land Master Plan.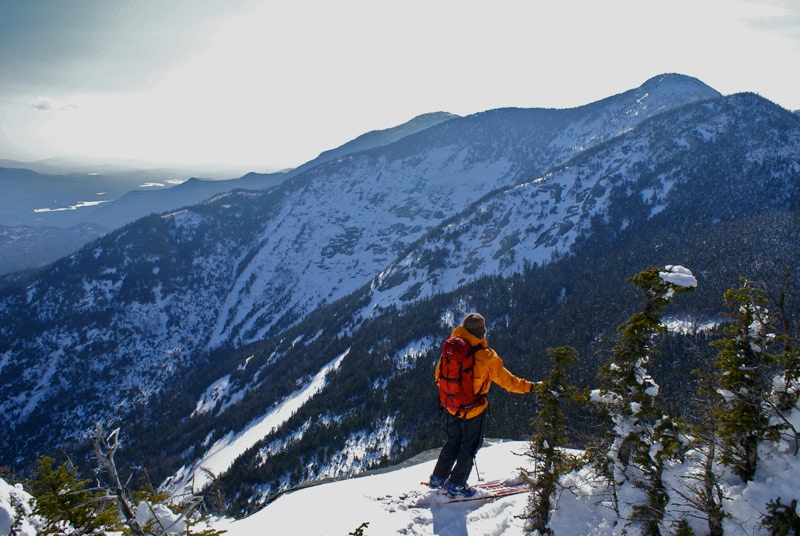 For years backcountry skiers have maintained and skied glades on Lyon Mountain, but initial indications are that the DEC may choose to take a hard line regarding this practice. According to a recent article by Adirondack Almanack, Tom Martin, the DEC's regional forester considers glade maintenance on Lyon Mountain illegal and stated "it may violate Article 14 of the state constitution."
Lyon Mountain is now classified as Wild Forest. According to the DEC "Wild forest areas are managed to provide opportunities for a greater variety of recreational activities and a higher intensity of recreational use." Beyond this broad definition, there is precedent for an interpretation of the law that would deem glade skiing a compatible use of the Forest Preserve.
In various parts of the forest preserve across the Adirondacks — including wilderness areas — hunters have always pruned their traditional routes. The DEC is certainly aware of it; one ranger we encountered in the backcountry said "these families have been maintaining their routes for generations in these woods, long before the State Land Master Plan was written. How can you stop them?"  Rangers are locals too, and they understand this complex dynamic.
Skiing is one of the oldest winter activities in the forest preserve. Conservationist and ADK member John Apperson skied  Mount Marcy in 1911 and Haystack, Basin, and Saddleback all prior to 1920. William G. Howard, Superintendent of The Conservation Department from 1927- 1948, was a backcountry skier who approved widening the Mount Marcy Ski Trail and construction the Wright Peak and other ski trails cut by the Civilian Conservation Corps in the early 1930's.  These trails were advertised in Conservation Department pamphlets and were used extensively until the arrival of ski lifts in the 1950's and 1960's.
---
Adirondack Powder Skiers Association
Ron Konowitz (aka Ron Kon) has been skiing in the Adirondacks since the 1970s, and is generally thought to be the first person to have skied all of the tallest peaks in the state. He's a regular skier of Lyon mountain who wants to work with the Department of Environmental Conservation (DEC) within Forest Preserve rules to allow this traditional use to continue. Ron is leading an organization called the Adirondack Powder Skiers Association (APSA) that has a very specific vision about how glade skiing could be incorporated into the master plan in a way minimizes impact:
"Glade zones should be limited to naturally occurring openings in mature forests that can be minimally maintained to enhance the skiing experience.  The decisions on glade location should be a collaboration between skiers and DEC Foresters.  Skier input is critical in making sure that glade zones and trails have the appropriate aspect, terrain and natural snowpack needed to provide an enjoyable and responsible recreational pursuit. The final decision on approval of these zones would be made by the DEC."
Ron envisions his group, the APSA, doing glade maintenance at little to no cost to the state as trained volunteers working under the DEC Adopt A Resource Program.  This system is already in place for leantos and trails throughout the Forest Preserve.
"GPS maps would be created to ensure that maintenance is being performed only within designated areas. All maintenance in these Skier Specific Zones would be performed between September 1 and April 30 and routes should be closed to foot traffic between May 1 and August 31.  Appropriate signage and outreach would be needed to educate summer user groups to insure the protection of this resource."
---
Glade skiing isn't a new sport but it's popularity has increased dramatically in recent years due in some measure to advances in gear that make it possible to ski steeper and tighter lines. It's time that the various Unit Management Plans for both the Catskills and Adirondacks be modified to accommodate this relatively benign use of state land.
We're not advocating unregulated cutting by private groups in the forest preserve. While everyone knows that it happens, the state can't, and shouldn't, condone it. What makes more sense is adding one more specified and regulated activity to those are already permitted within Wild Forest. Currently approved uses within this classification include a wide variety of activities including hiking, fishing, skiing, snowmobiling, mountain biking and motor boating.
Backcountry skiing is relatively low impact compared to hiking or mountain biking.  There is no removal of soil or moving rocks creating trail hardening. Further when skiers descend through glades, soil and rocks are hidden and protected by a layer of snow.
Groups like the Adirondack Powder Skier Association (APSA) could be instrumental in helping the DEC identify the best terrain for this use. Our thanks to Ron Kon and APSA for working to create an officially recognized place for backcountry skiing on New York's state land.