Many skiers don't know that ski instructors take clinics themselves. In fact, PSIA instructors are required to take clinics to maintain their certifications. Last week, I had the privilege of participating in a Mini-Academy at Killington, which is offered to Level 3 certified instructors and led by a member of PSIA's Demonstration Team.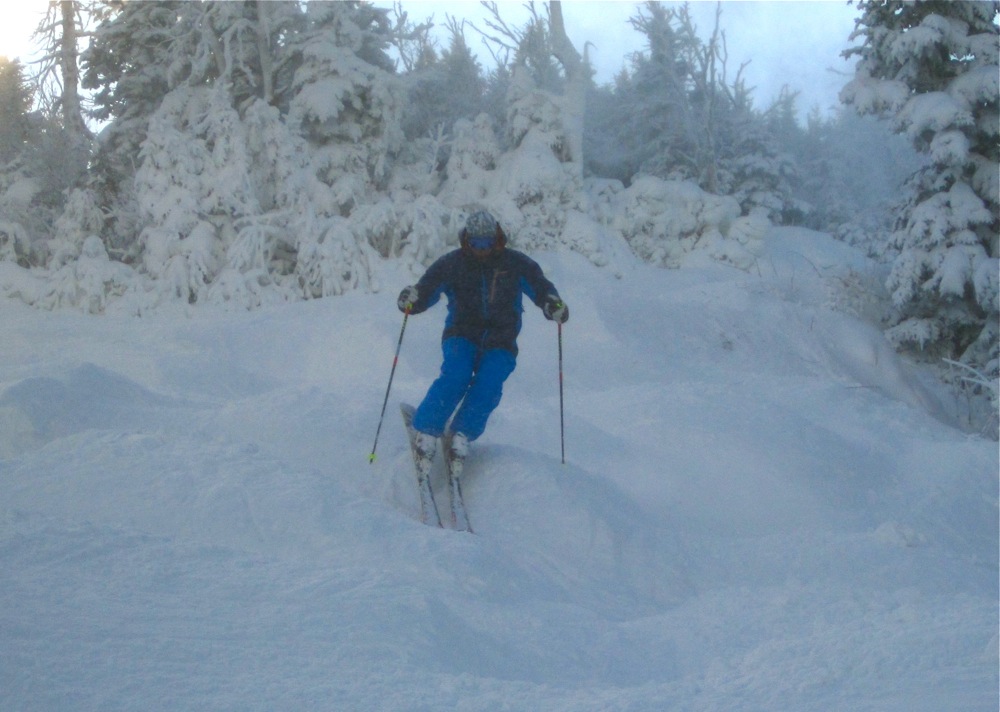 The demo team is comprised of the top teachers in the country, as established by a week-long competition held at Snowbird once every four years. These try-outs are like an episode of "Survivor." Instructors are run through an endless series of ski drills until only the best remain. In addition, instructors have to complete a series of indoor and on-snow presentations to ensure that only the best teachers and communicators make the team.
I skied with Demo Team member Mike Hafer from Northstar in California. At the outset, Mike asked each instructor in our group what they wanted out of the clinic. Many sought to understand how the new ski rocker technology should change how we teach. Mike believes that rocker will require skiers to adjust what he calls the "DIRT" of their edging, flexion and steering movements.
DIRT stands for Duration, Intensity, Rate, and Timing. Those who ski from the backseat will find that skis with rockered tails will give them much less ski to lean on. The consensus was that many skiers new to rocker are going to have to modify how they ski to get the most out of their new equipment.
We discussed and explored the spectrum of turns, from a smeared turn to a carved turn to a true arc. While our turn entries were strong, Mike pushed us to fine-tune our edging through the bottom half of the turn. He gave us a number of drills where we skied on our inside (little toe) edge ski starting with one-legged little toe side slips with edge sets. Staying on one ski, we worked on the transition from one turn to the next, by rolling from the little toe to big toe. The key here is modifying the DIRT of your movements so that when you link turns, you're more patient with turn entry. This leads to improved edge hold through the entire arc.
To be successful, you have to slow down the rate and timing and lengthen the duration of your extension into the new turn. This affects the application of edging and the result is smoother medium and long-radius turns with better edge hold. In the bumps, we applied a more smeared turn by changing the DIRT of our movements to smooth out our skiing. Both of these changes in our movements are applicable to rocker skis.
Through the two-day clinic, Mike addressed our interest in rocker technology by working on our ability to modify our movements for different outcomes in different terrain. Increased awareness of the necessary changes in the DIRT of movements can help instructors and students ski more effectively on these new skis.
---
Dave Zientko is a PSIA Level 3 Certified Ski Instructor at Whiteface. His focus is helping intermediates and advanced skiers enjoy more of the mountain while skiing efficiently and tactically in all conditions.