I drove to Roxbury on Sunday. I had a variety of justifications for the trip, including picking up my ski pass. It was my only free day this week, and I could have gone to some other hills, but really I just wanted to get back to Plattekill.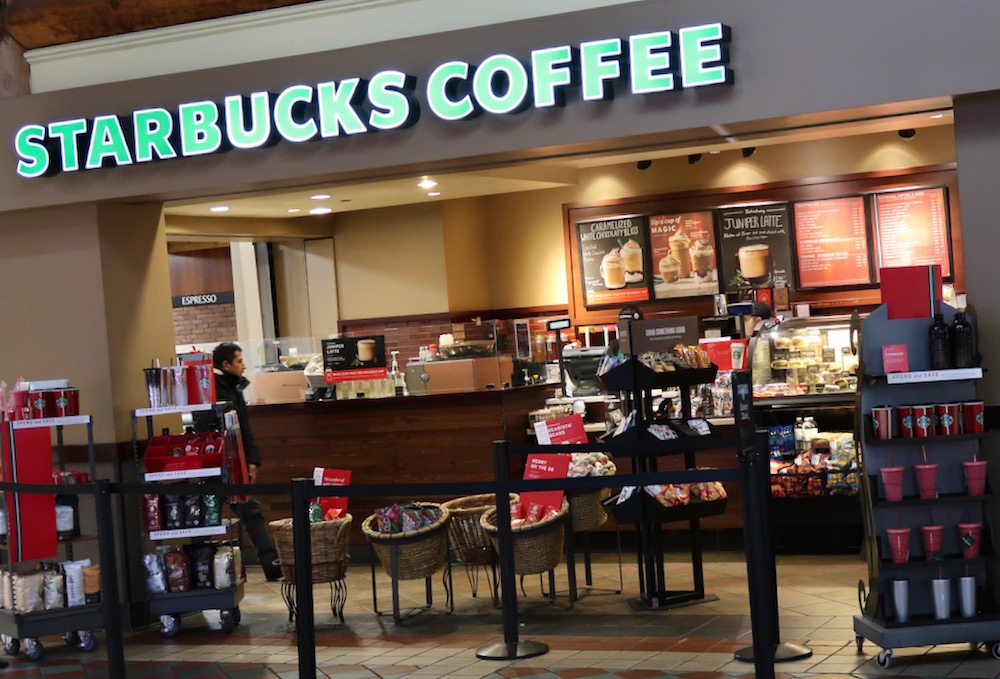 Upper mountain lifts weren't running, so I set my alarm for a reasonable hour. It was almost like I picked up where I'd left off at the end of last year, with a casual spring skiing approach. A benefit of the delayed start, when I took my break on the NY Thruway, the sun was up and Starbucks was open.
I knew there wasn't much natural snow on the ground in the Catskills, but on Saturday the radar showed snowfall in the air and the slopes looked enticing to me on the Plattekill webcam.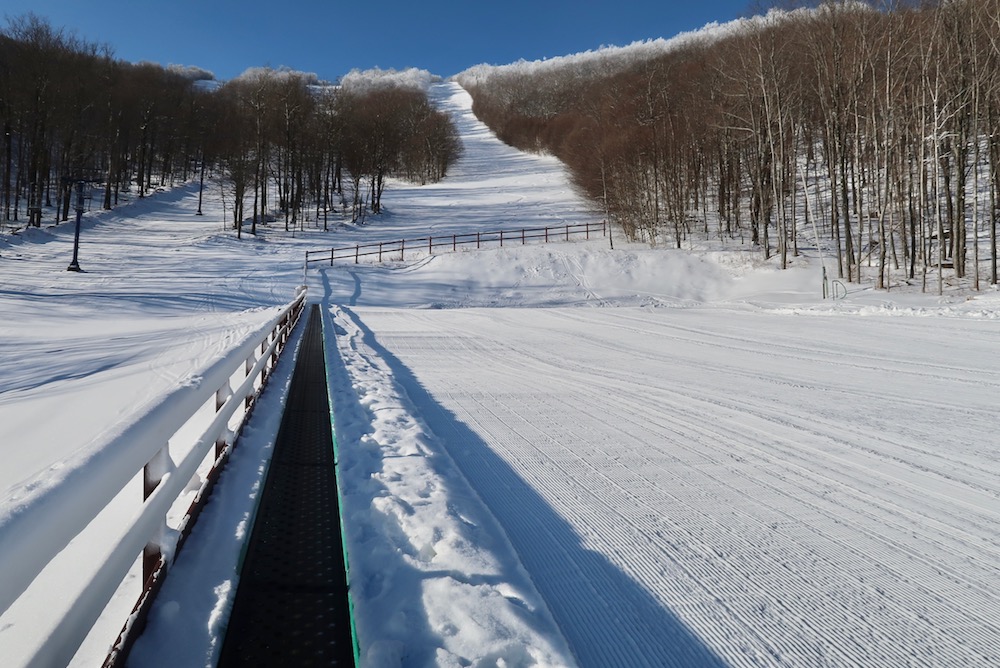 I arrived at the mountain at 9am and said my hellos to everyone I hadn't seen since spring. I ran into Macker and teased him about being a movie star. I told him about the upcoming showing of Snowfarmers in the Lodge on January 5th. He promised he would come.
In addition to picking up my pass, I wanted to spend some time with Danielle to talk SEO for the new website. I also wanted to meet Chris — the new bartender — to discuss our lift ticket promo for the upcoming NYSkiBlog annual meeting.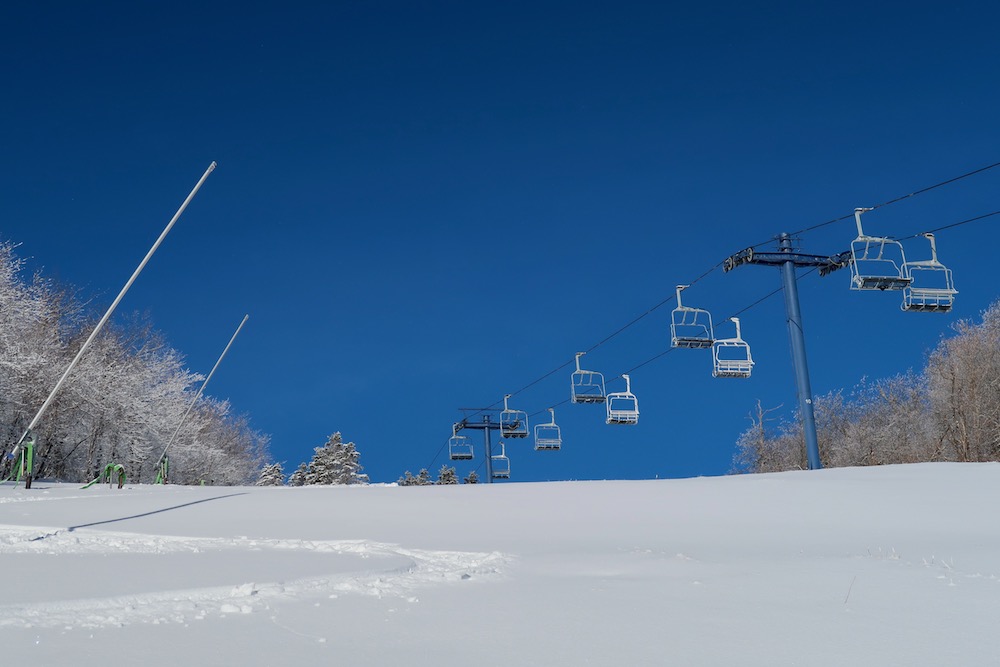 I was planning on skinning one or two laps and I'd brought my lighter boots, my T2s, to facilitate the uphill. As I was booting up Laszlo came into the bar. We talked about all kinda things including the short-lived compressor failure that limited him to fan guns during the mid-week period. Parts were secured and the mountain was quickly back at full strength, but it wasn't in time to drain and groom the whales for the weekend.
Laz told me that patrol was moving equipment and padding uphill via the triple. If I wanted to help, I could ride up and make my way back down on my skis. I liked the sound of that. I swapped my T2s for my burlier T1s.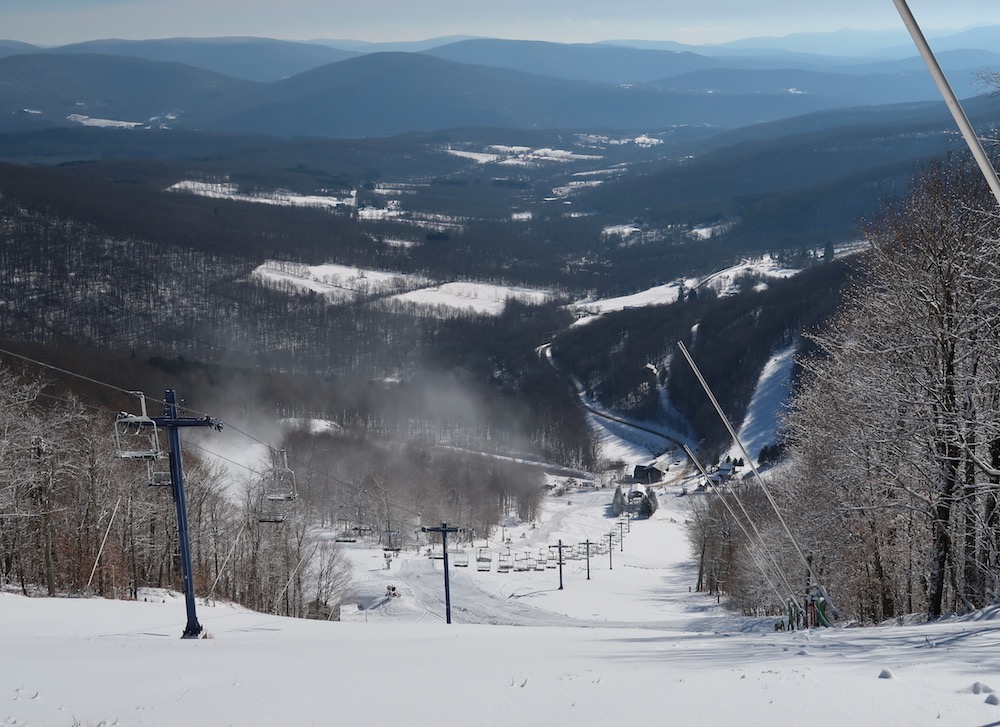 But first, there was the lift served cord, right in front me. I did two laps on the magic carpet. Then I headed to the top — with William the instructor — who had some beta to share. He had just bootpacked to mid-mountain and ridden down. He spoke of a nice layer of natural snow that was on top of the manmade that had been blown on the Face. He also recounted the tale of the three-hour private lesson he'd had with Uma Thurman when he was working at Hunter. Stoke!
I went first (woohoo!) and slarved some big dreamy turns right up to the top of the headwall. I stopped and waited, figuring that if I was going to claim I was "earning" my turns, I'd better come back into the office with a photo or two.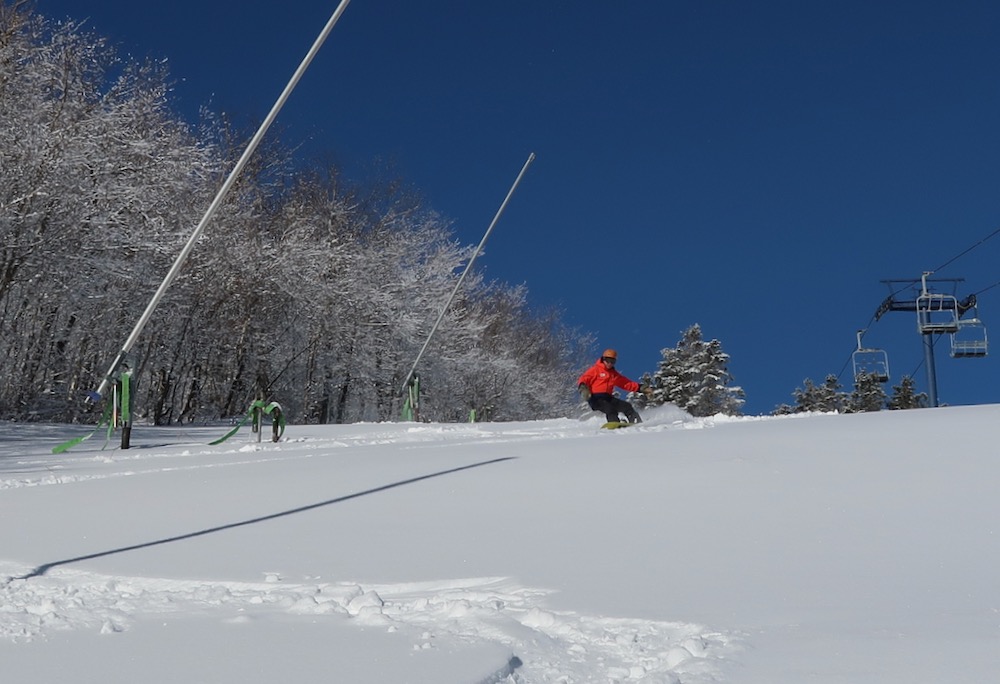 I waited several minutes. I'll grant that this wasn't the kind of pow that inspires a frenzy, but it was still wild to stand above an untracked slope for an extended amount of time without anyone approaching me from behind.
The cover was thin, but as it often is, it was blown in deeper on skier's right. The Face is fairly grassy and the skiing, for what it was, was nice. I did two laps and then headed in to the bar to meet Chris. I gave him the rundown on the kind of support we'll need from our barkeep during our event in January.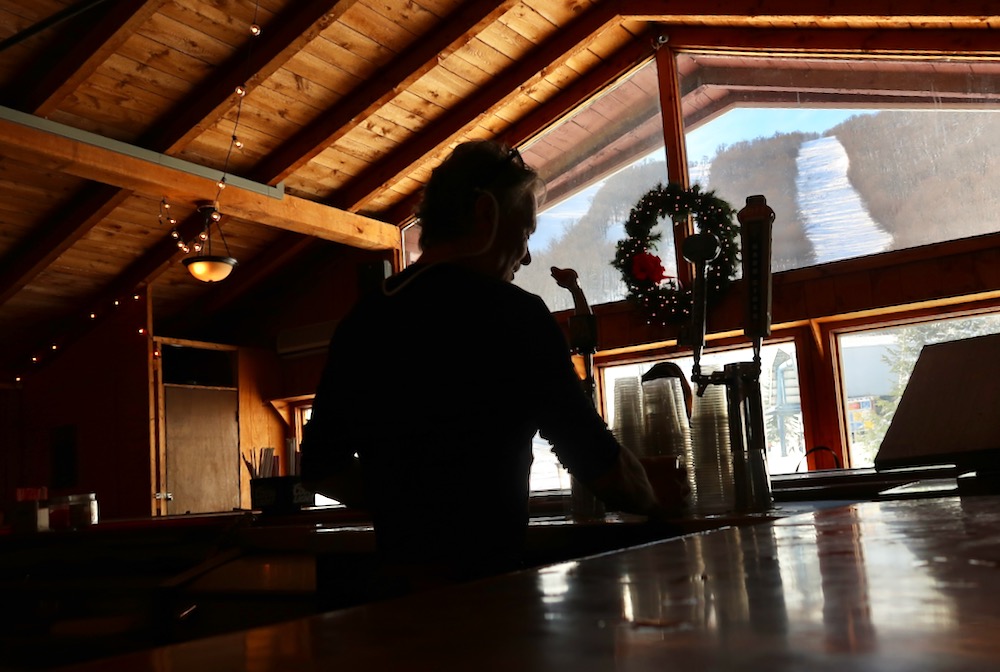 Before heading home, I went down to the office and met with Danielle. We talked website and caught up on the news of the day.
As you can clearly see, I don't really have too much of a story to tell, other than to say I drove to Plattekill and took some pictures of that deep blue sky. I wanted to post them on the front page of NYSkiBlog. I thank you for your understanding. 🙂