Skiing has no off season for me. I'm a total ski nerd, and try to stay focused by doing one quasi-athletic thing each day to stay in shape. Even though we all age every day, I'm convinced that with the right exercise and new toys, we can kick more butt each year, just like Bruce Wayne in Batman.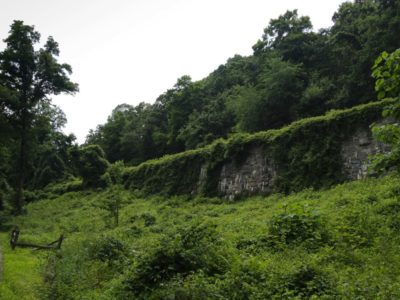 So when I woke up to a text from a buddy asking me if I could move his truck from Brooklyn to Tarrytown, NY, I said, "let me look into that for you." After a quick Google search for bike directions, (which I didn't bother to print) I was on my way to save a friend and pursue a 40-mile ride home.
Westchester has been very aggressive the past few years expanding their network of bike trails. My route was predominantly on the South County Trail — a bike path completed as part of the Rails to Trails network that had previously been serviced by the Putnam Division Railroad.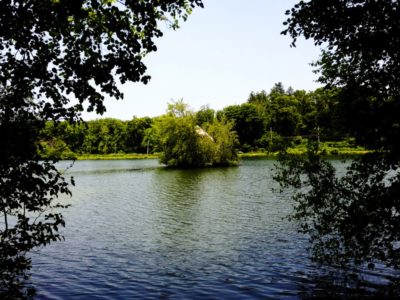 After gaining the trailhead, which was a 500 vert climb from the river, I was honestly surprised by what I found. The trail darted in and out of the woods, skirting a reservoir and was so far removed from traffic it was hard to believe I was in urban NY. This was the theme of the Westchester South County Trail all the way through the Bronx. While the directions originally seemed easy, there are plenty of intersections to challenge an unprepared traveler.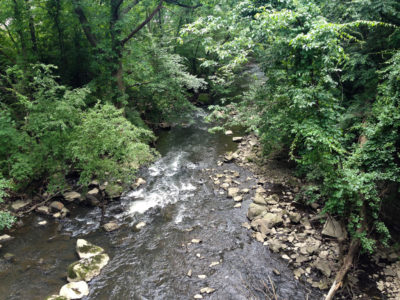 While lost in one area in Elmsford, I vaguely remembered it as the location of a premier auto garage, and I had to stop by to see what was in the lot and ask directions. Cheech, the mechanic in question at Rennwerke graciously poured me a cup of cold water and offered a little rice pudding and then pointed me back to the trail. Note to readers, the greenway disappears between 119 and Warehouse Lane near the Sam's Club. Feel free to consult a map (as I should have) if you get lost!
My ride was uneventful until I reached the Bronx. I caught glimpses of Yonkers in the valley and several highways, noting the exits and chuckling about the times I'd been caught in traffic there. On my bike I was breathing easy, enjoying the sights and sounds of the mostly residential backyards. I must admit my single-speed ride was a detriment as section was straight and begged for speed, although it did seem irresponsible to let it rip.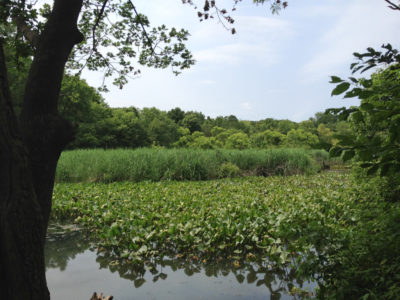 When I got to the Bronx and Van Cortlandt Park, my luck changed. I caught sight of a familiar tower over the reservoir and it made my day. I snapped a shot and remembered my childhood fondly, remembering the playground, neighbors, and the worst case of poison ivy ever. This would prove portentous, because another mile or two down I lost the trail, and had face the itchy vine once again, crawling under a fence to get back to civilization.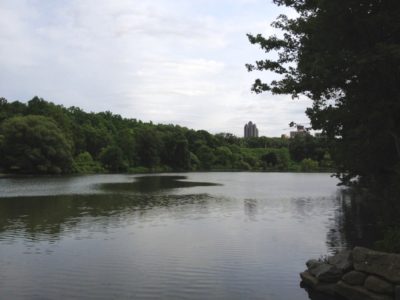 The rest of the ride was more like commuting. I dodged traffic like a messenger, trying to find my way back to the river and greenways. Still, seeing the Cloisters protrude from the canopy and hearing a saxophone player wailing under a bridge at 138th street were experiences I'll relish.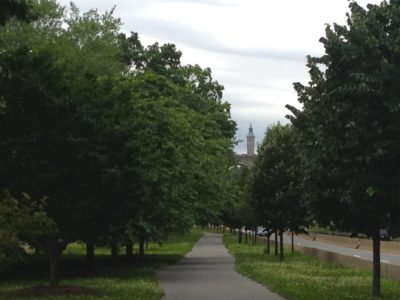 If Charles Dickens had been with me on this ride, he might have said "It was the best of rides, it was the worst of rides." And he would have been right, but like the mantra "no pain no gain," without mistakes there is no adventure. There is nothing as gratifying as being a tourist in your own town to make sure you catch what you miss during your routine. And we're lucky in New York to have places as beautiful as the Catskills, so close to perfect vistas in the city like that of the Cloisters over Manhattan. I'm going to have to do it again and report back.