Sitting complacently in my camping chair staring down at the remains of the lobster I'd just devoured, an involuntary smile spread across my face from ear to ear.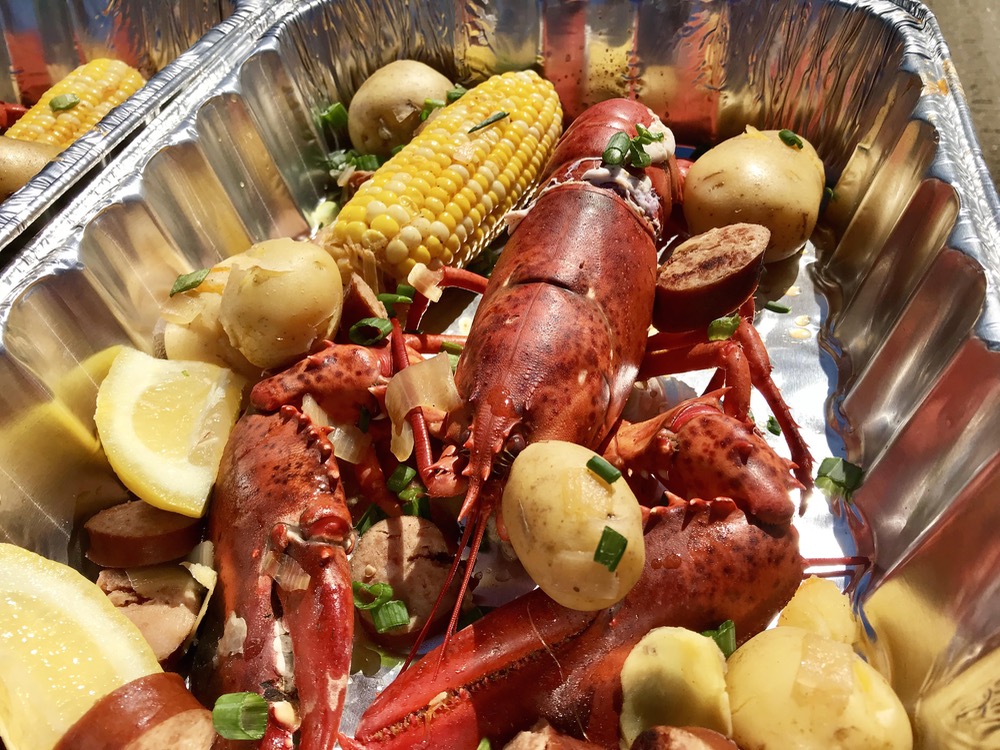 Out west, our brethren are still reaping the spoils of "Miracle March," posting powder photos on Instagram, but in this moment I felt no envy. Here I was in shorts and a t-shirt, sitting in a parking lot at Sunday River enjoying a lobster boil and a cold beer in between sessions of soft, sun-soaked spring skiing.
I love powder as much as the next ski junkie, but this past weekend in Maine was about as good as it gets.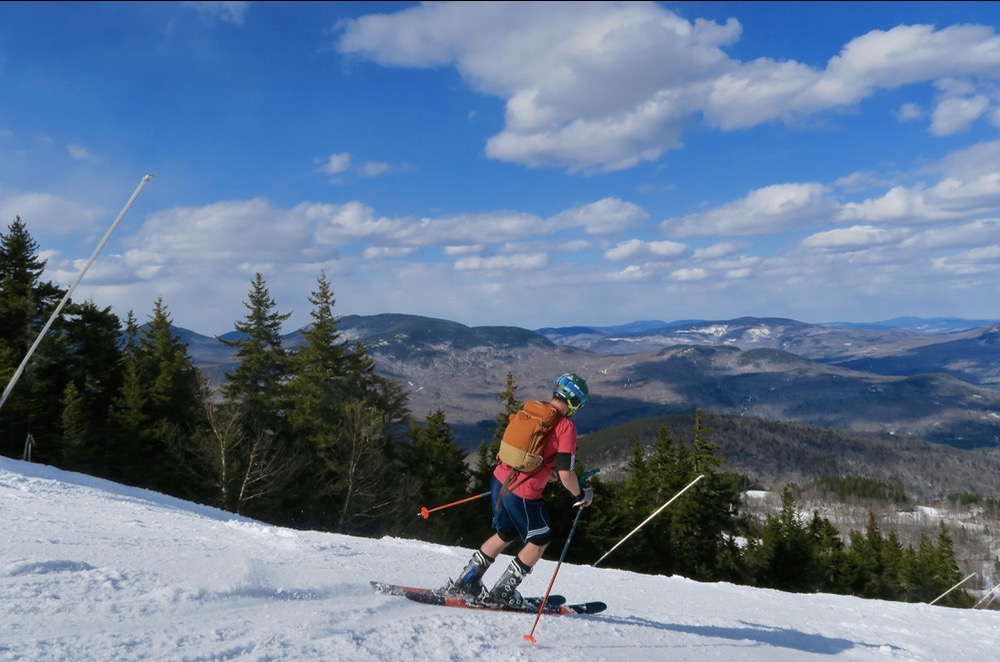 John and I drove up to Maine on Wednesday night, stopping in Portland for an epic seafood dinner at Eventide Oyster Co., one of the must-try restaurants for foodies traveling through New England. After spending the night in Freeport, we headed out before dawn to complete our journey to Sugarloaf, the first stop on our trip.
I had only visited Sugarloaf once before in late April 2017 as part of a trip to ski Tuckerman Ravine, so I had barely scratched the surface of what this massive resort has to offer. This time, thanks to the abundant March snowfall that blanketed the northeast, The Loaf was nearly 100% open.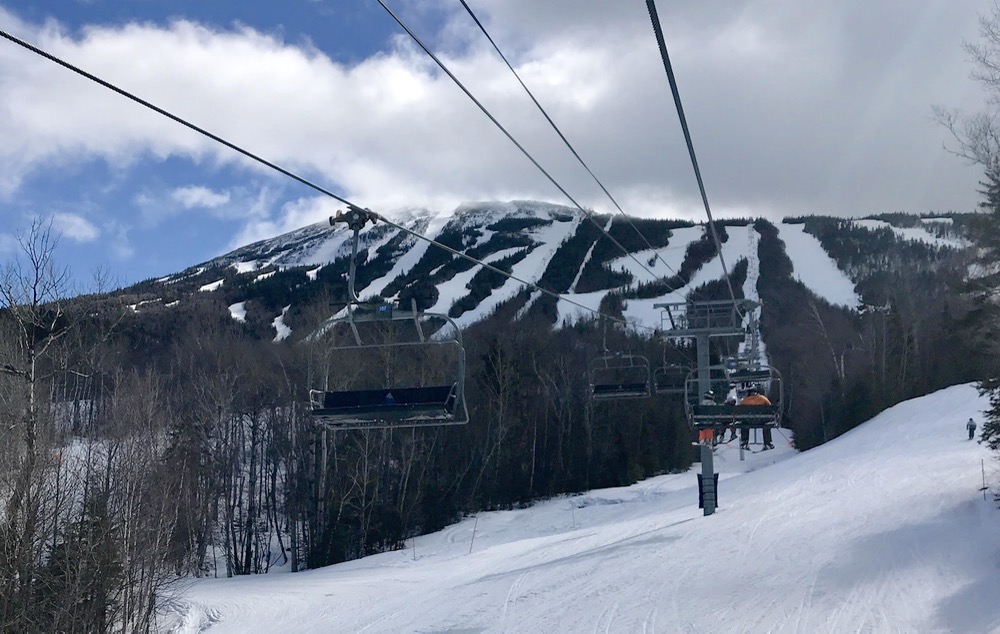 Add in warm, sunny spring weather and you get over 1,000 acres of corn snow on some of the best terrain east of the Rockies. The snowfields at the top offered views of Mount Washington to the west and Katahdin to the east, and the terrain was steep and technical.
Misery Whip was our favorite of many options; a steep, narrow and challenging bump run named after a type of two-man saw used to fell large trees. Many of Sugarloaf's trail names are derived from terms used in logging, the region's primary industry. On a clear day, you can see the signature stripes of active logging operations on many of the surrounding mountains.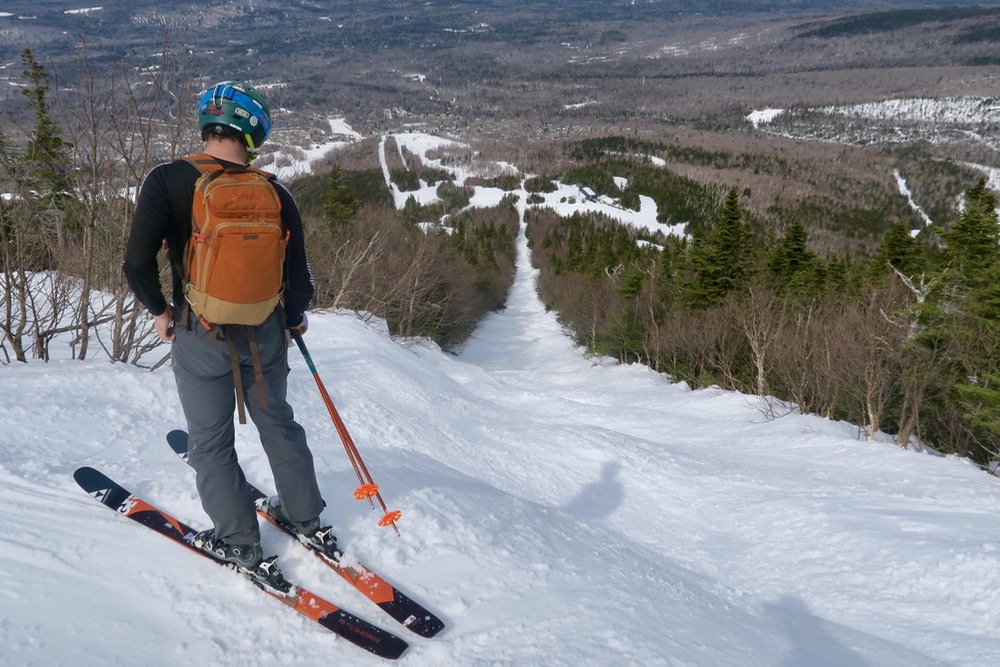 We were excited to end our first day at Sugarloaf with a trip into Brackett Basin, a 650-acre zone filled entirely with glades and logging roads that was unlike anything I have ever previously skied. The resort even offers cat-skiing on weekends when this terrain is open, but you need to reserve a spot at least a week in advance.
Our second day at Sugarloaf was even warmer, but half an inch of rain fell overnight so the coverage was noticeably thinner and fog smothered the mountain for most of the day. The snow was incredibly wet and sticky, stripping the wax from parts of our bases by lunch time and challenging my skepticism of the need to wax your skis daily when skiing in the spring.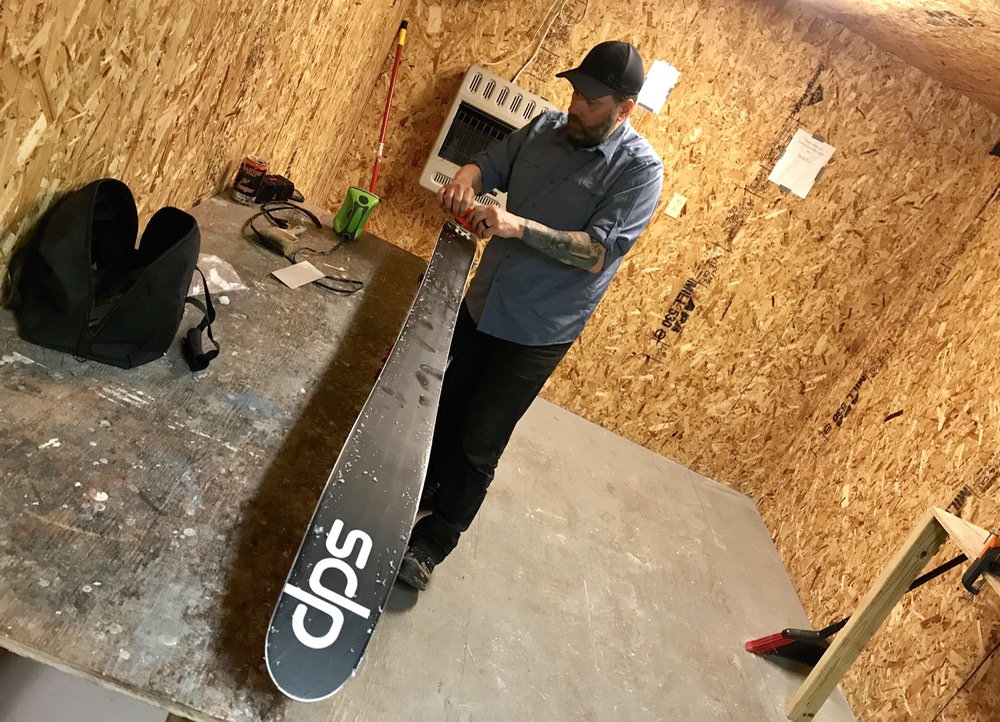 On Saturday we arrived at Sunday River at 7:30 to snag a parking spot right by the slopes near the Barker Lodge. Despite above-freezing temperatures and cloudless skies, the trails took a while to soften up under the sun after the previous night's refreeze, so we stuck to groomers in the morning.
The skiing was fun and fast, but the views were even better. The steep, rugged peaks of Grafton Notch State Park form a beautiful and imposing background to every north-facing trail, leaving endless opportunities for postcard worthy photography.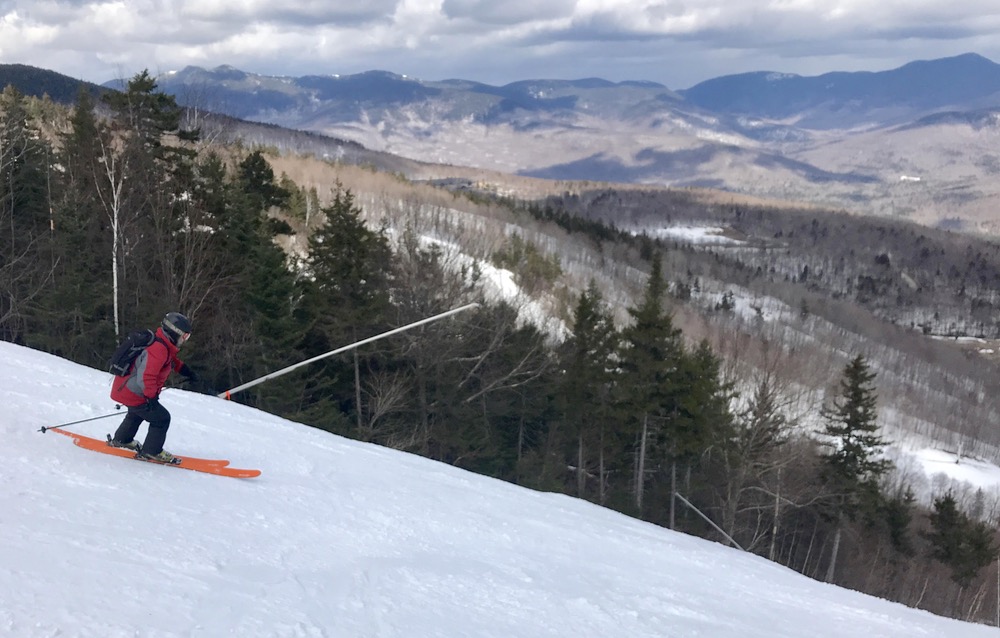 After racking up over 20,000 feet of skiing, we headed to the Jeep to complete our culinary mission—a lobster boil in a ski area parking lot. We dropped the lobsters in the pot with along with all the usual suspects (sausage, corn, potatoes, scallions, beer, etc), traded some beers and sports rivalry quips with the locals (go Yankees!), and 20 minutes later we were silently stuffing our faces with sweet, delicious, butter-soaked lobster.
The meal was fantastic, but the siren song of corn snow was calling our names. We cleaned up, shed a few layers, and headed back to the slopes to ski delicious spring bumps until last chair.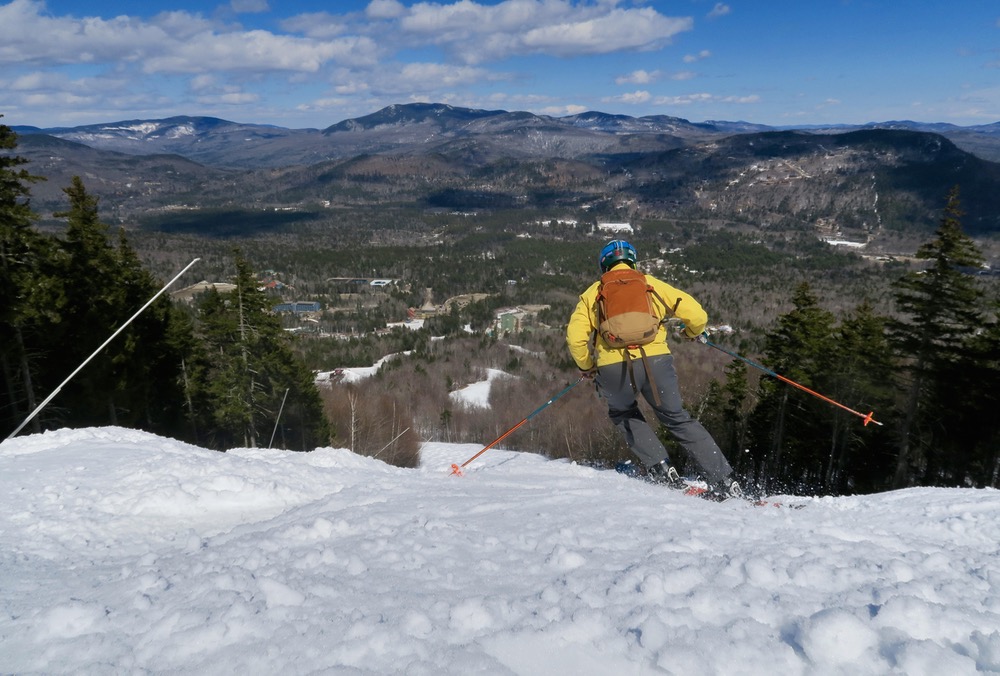 On Sunday we returned to Sunday River and were pleasantly surprised with much softer snow than the previous morning. As the British would say, there were "moments of sun," although it lightly rained and snowed through most of the morning.
We worked our way across the resort, exploring the steep slopes of White Heat, Downdraft and Vortex. For lunch we cooked sausage and peppers which, while not on the same level as our lobster boil, were still quite a treat. After lunch, we headed back to the resort's southernmost peak, White Cap, where we alternated taking runs down the now-slushy White Heat and the jumbo-sized moguls on Shockwave.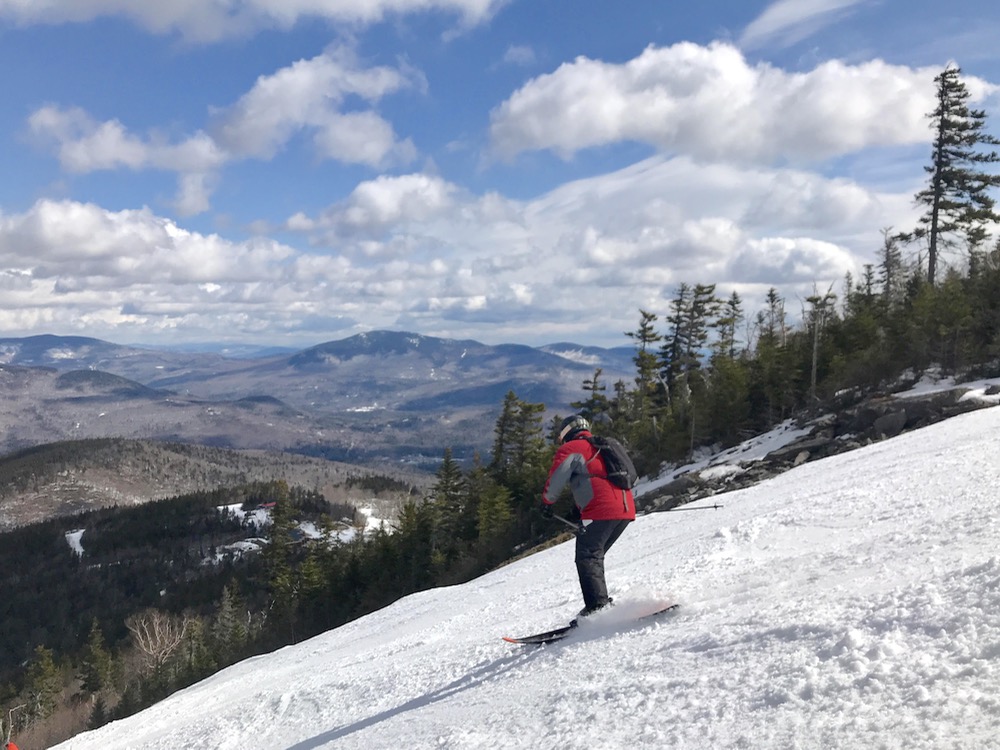 Spring skiing is always bittersweet, as the soft snow and warm sunny days come with the caveat that the ski season is in its dying days. I took up skiing as a means of overcoming seasonal depression, and ironically I now mourn the cessation of winter each year.
This has been a roller-coaster season for skiing in the northeast, but the bases are still deep and the snow is soft. Do yourself a favor and get out there for some spring skiing before it's too late. "If you don't do it this year, you will be one year older when you do."