I continue to think about the challenge of digitally capturing ski days. Powerful, imaginative images can be a source of joy forever. But I don't want shooting to diminish the ski experience for myself or others.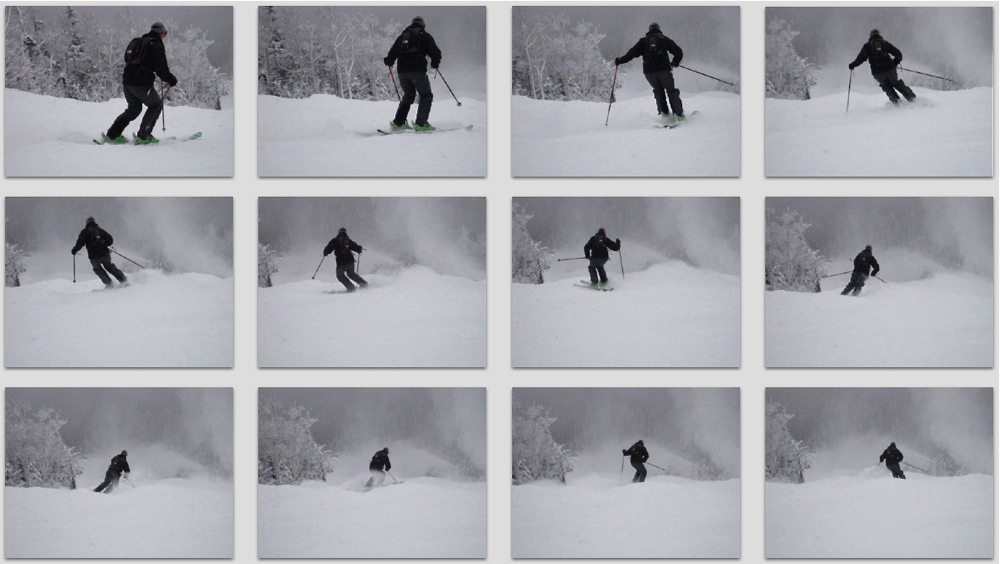 There's something I like about this sequence of images. They're sharp enough, the conditions were decent, and Rochester Mark is a great skier.
But there's more to it than that. The series was taken with a continuous shooting feature. If you (click to) enlarge the panel above and glance from image to image, you can almost imagine Mark in action. When I run quickly through those photos in a digital album, it's very evocative of skiing. In a rudimentary way, it simulates movement.
I ski with a point-and-shoot camera and I'll admit that shooting stills does slow me down a bit. And while good video can take a TR to the next level, it takes even more time and preparation. For me, it's not easy to shoot video and enjoy skiing at the same time. I started to wonder if there was some middle ground.
With some help, I turned the shots above into a short MOV file.
From a purely visual point-of-view, I think the original series of stills has a magic that the "still video" doesn't capture. But it does takes a viewer's effort and imagination to create motion with them.  On the other hand, while the automated version above isn't actually video, it's easy to do and it could add something to trip reports.