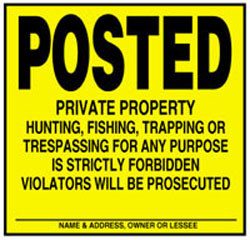 Following seven years in Albuquerque and Chicago, I returned to New York City in early 1997. After making do with the Windy City region's tolerable, but mostly unexceptional mountain bike offerings, I was happy to be back in the northeast. Unfortunately, I was clueless about where I could find decent trails close to the city.
I went to Barnes and Noble and bought a book that had been published earlier that year: Mountain Biking New York. The author, Michael Margulis, listed 93 rides throughout the eastern third of New York State stretching from the Atlantic Ocean up through the Adirondacks. Since I was living in Brooklyn, I focused on the rides in Long Island, Westchester, and northern New Jersey, along with a few trips to the Shawangunks, Catskills, and Adirondacks.
One morning in late August that year, while preparing to escape Brooklyn's brutal heat and humidity, I zeroed in on the 11 rides listed for Harriman State Park, not even 90 minutes away. I drove over the George Washington Bridge, headed north on the Thruway, and arrived at the trailhead for one of the rides, directly across the road from Lake Sebago. A few minutes later, I got started on an overgrown double track that the book referred to as "Tour des Bois," French for "A Ride Through the Woods."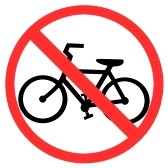 My plan was to spend a few hours riding and then cool off in the lake for the rest of the afternoon. But about 15 minutes into the ride, I heard an engine coming up from behind me and figured that it was someone on an ATV. Turning around, my jaw dropped when a four-door park police sedan drove up. Given that the trail was barely six-feet wide and rocky as hell, I have no clue how the ranger managed to catch up to me. Even more surprising, he turned on his flashing lights and barked through the car's PA that I should dismount and stand away from my bike.
The uniformed ranger came over and explained that I was trespassing on a restricted-access trail (hiking only) and that my bike was going to be impounded until I paid a $300-dollar fine. I protested that there were no signs indicating the trail's restricted access, to which he replied that that the entire park, with the exception of one small trail, was off-limits to mountain bikes, and that it was my responsibility to be informed of Harriman's policies. As he confiscated my bike and brought it over to his open trunk, I pulled out the trail map and ride description that I had photocopied from the Mountain Biking New York book. He took a look at it, frowned, then got on his car radio and groused to whomever was on the other end, "It's that mountain bike book again; there's a full chapter on the Woodtown Road trail."
Following a lengthy discussion with his colleague, he wheeled my bike back, handed me the map and said, "This is the only reason you're not losing your bike. We're going to call the publisher and tell them to pull the book. It has listings for a bunch of illegal trails in this park." After walking back to the trailhead (the ranger wouldn't let me ride my bike), I went swimming and reflected on my first experience getting busted on a restricted-access trail. FYI, the second edition of the Mountain Biking New York book only lists 70 rides, which indicates that about 20 of the trails in the first edition — more than a quarter of the listings — had been deleted, probably because they were no longer accessible to mountain bikers.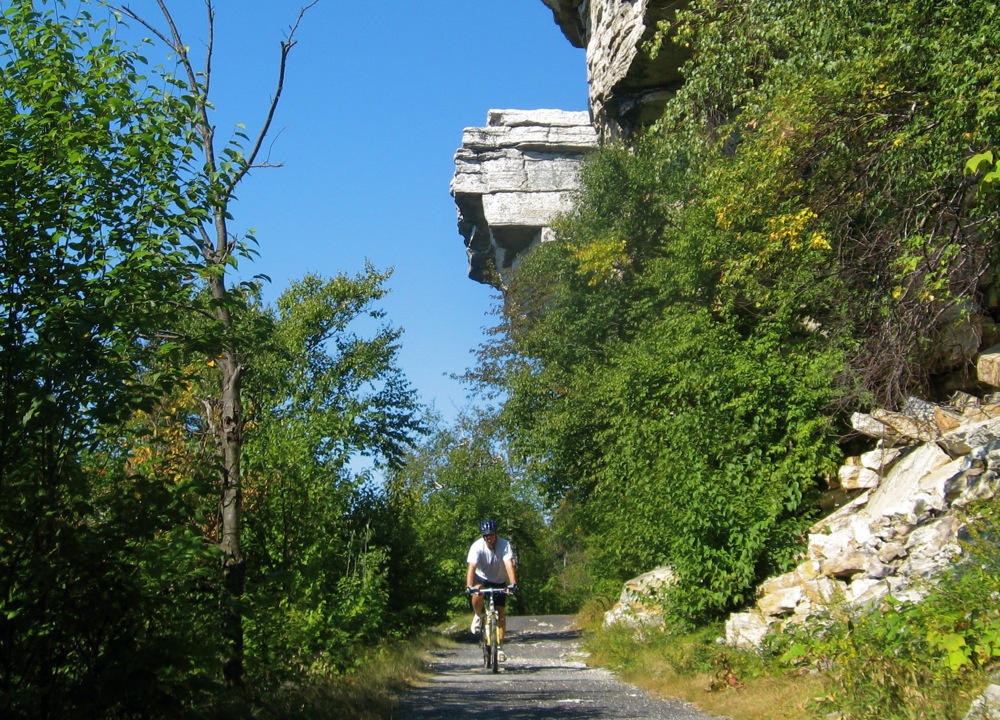 Over the past decade, I've run into a handful of places, including a 2,000-acre park in the New Jersey town in which I've lived for the past seven years, where mountain bikers have been banned from previously multi-use trails. When publicly-owned land is no longer available to all of the public, it's usually due to concerns about safety (mountain bikers presenting a danger to hikers) or the environment (soil erosion or people building unofficial trails). What's annoying is that there are many examples of parks — Lake Minnewaska in the Shawangunks, along with Ringwood, Wayayonda, and Morris County parks in northern New Jersey — where these two groups of taxpaying citizens seem to co-exist peacefully.
But for some reason, losing my right to access state land doesn't irk me the way it does when I'm riding on trails that my friends and I had considered public domain for decades only to find that the property was bought by a private owner and posted with No Trespassing signs. It reminds me of Native Americans who, several hundred years ago, "sold" land to European colonists without grasping the difference between communal (everyone can use it) and private property (exclusive use).
While riding over the July 4th weekend in Central New York, I ran into fences and signs in the Split Rock trail network. They've been there for a few years, and have always annoyed me, but this time, I wondered if it made any sense to be upset about losing the right to ride on land that I never owned in the first place?
The concept of private property is a near religion in our country; however, it's fascinating how people, especially outdoor enthusiasts like yours truly, don't take it well when access is pulled from places that they consider(ed) public domain. On the other hand, I wonder how I'd feel if people were riding through my backyard? Does anyone else talk out both sides of their mouth on this issue?