Skis and snowboards are different tools for sliding down a snowy hill. They each have strengths. Conversation about their differences is old and hum-drum and yet it still never quite disappears.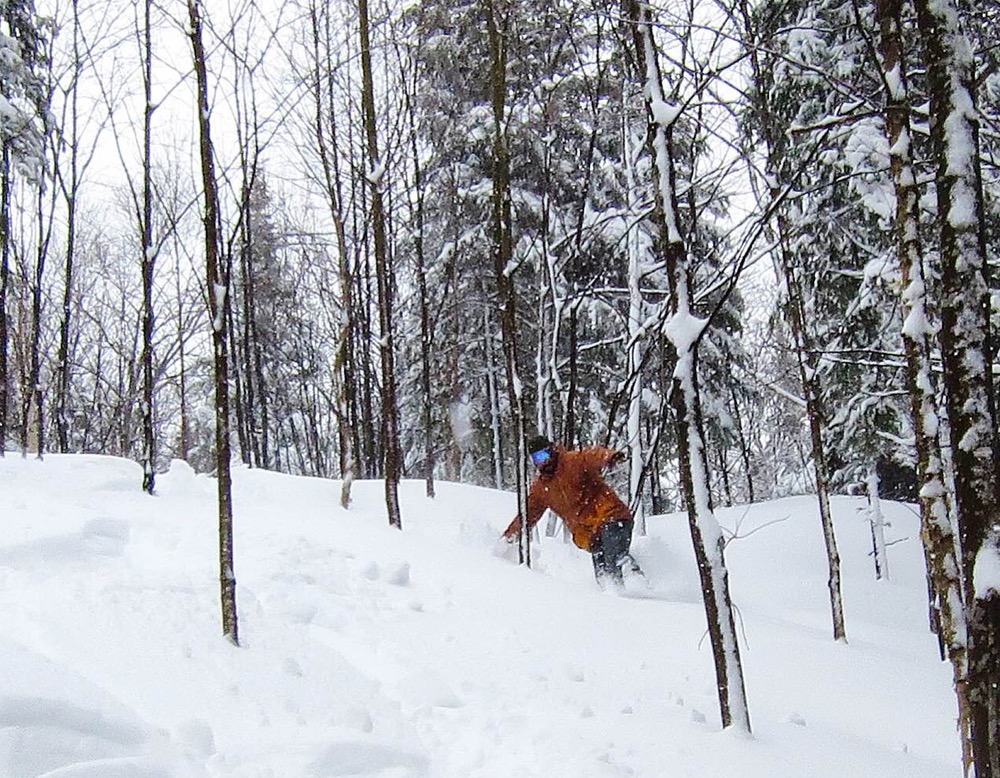 Snowboarding may allow a more expressive descent on a trail and surf better on powder. Although the gap was narrowed with twin-tips and new shapes, skis might still be a bit less sexy precisely because of their utility. "Did you see me nail that traverse, I totally skated it hardcore!"
On my first run with a new snowboarding buddy last week, he commented on my buckle fiddling. I couldn't believe a snowboarder was accusing me of being slow, it was rivalry deja vu all over again.
A good snowboarder can be so fun to watch. Patrick was no exception. After mastering XC and alpine by age ten, he switched to snowboarding and never looked back. He simply finds riding on one plank to be more expressive. If snowboarding retains any of its adolescent flair, perhaps he tagged the gnarliest mountain in the Laurentians with an AIRosol can, not a brush.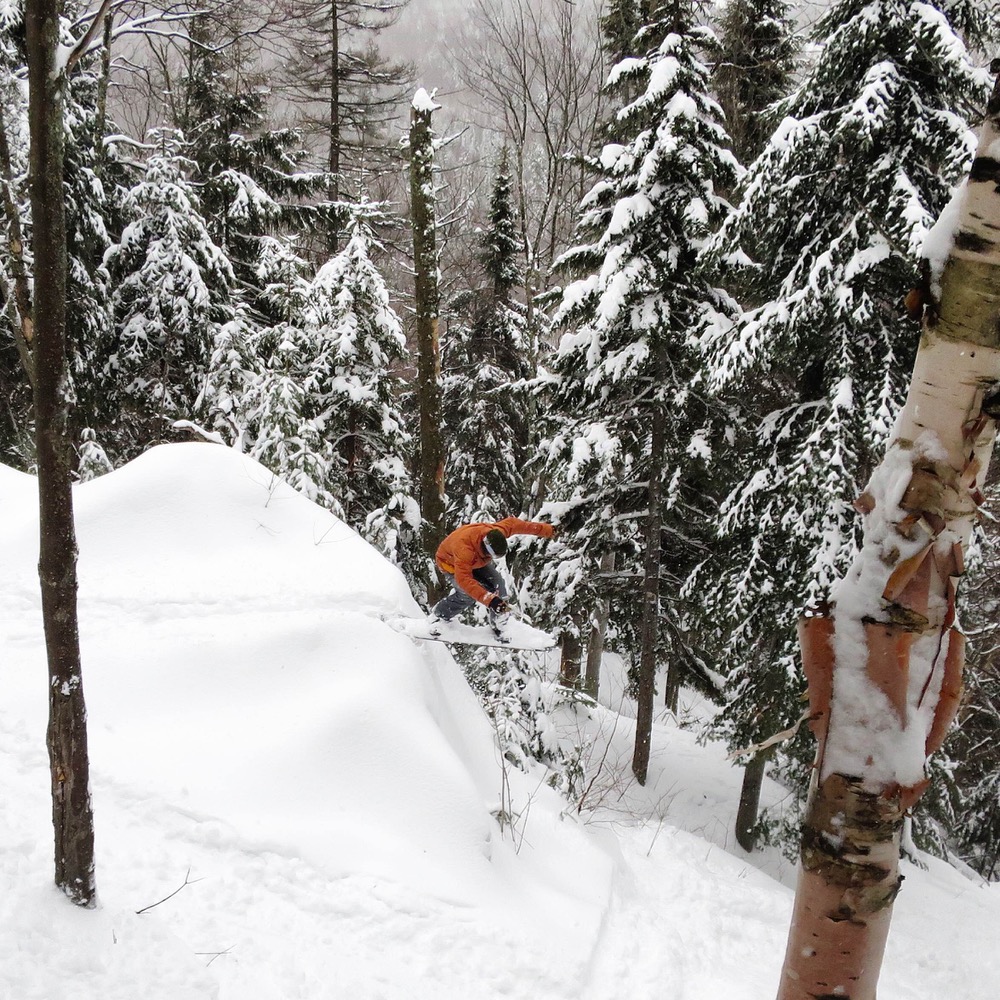 There were also plenty of actual kids out for lessons, but the wait was never long once the second lift started to spin. With a fresh soft layer on the gruesome ledges under our feet, I saw some of the best freeride skiing I have seen anywhere; everyone seemed to be hucking multiple ledges or throwing backflips.
Did the World Tour just show up? The talent was so good.
I was riding some powder skis I had barely used last year in the BC. Perhaps I should say I was on two snowboards (thanks for that joke in every liftline, 2005-2015), but barely got air and didn't throw any tricks. It was the first time I felt a little awkward skiing in some time, and the doubt fed on itself. Do I even write about skiing?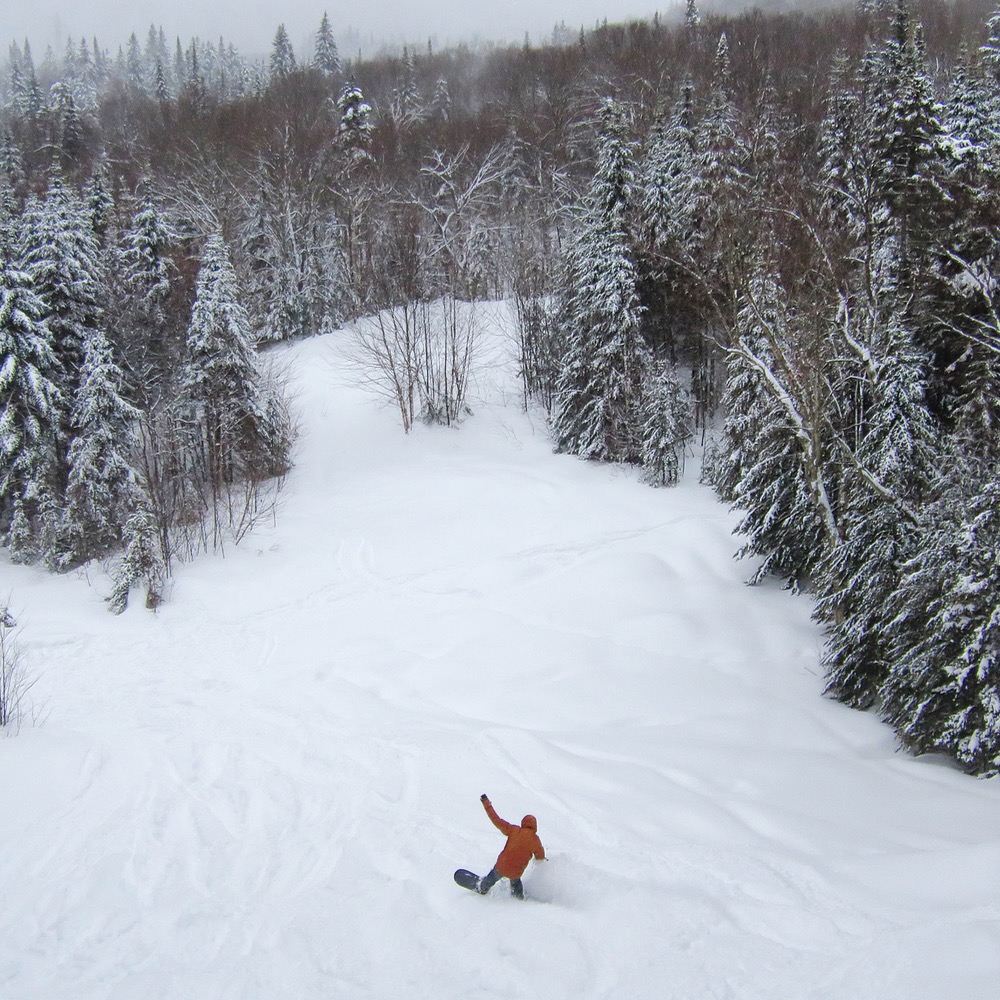 Patrick never held back or showed doubt. He told me that landing on a board required more delicate balance than on skis, but i never noticed any glitches when he went flying. After I tired of pounding the pillowy moguls were forming and asked if we could head into the sidecountry. He didn't mind booting back up, and we ended up doing three laps in La Reserve's backside.
It was on our second run that I could finally shine. Disaster as averted as I packed down a nice trail for him helping him through a massive fail of a flat.
Otherwise, there isn't much else to say. The temperature climbed above freezing in the afternoon, but the snow kept coming down. La Réserve is, if nothing else, so well named and so well located. With the hordes lapping Tremblant, just to the south in the rain, all I can say is "merci" for saving a skier and snowboarder some empty chairs, 10″ of powder, and a great day for us in the North.