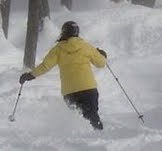 Powderqueen has signed on as an NYSkiBlog author for the 09/10 Winter season. She's exactly what I was looking really for in a second author. She skis a lot, she likes to write and takes solid photos.
She spends significant time at Gore and will add breadth to the blog by posting more pics and reports from Whiteface, Hickory, Snow Ridge and other mountains in New York, Vermont and out West. Her ski itinerary and experience should make things a little more interesting. Her reports will be tagged with the "PDQ" tag you see below to make them easier to find. Like the one she submitted last year on the late February dumpfest at Jay Peak.
Oh yea, she's a ripper.  I skied with her only once, on that epic powder day last December. The girl can handle anything.  She's not flashy, just totally competent.   Can't wait to see her reports.