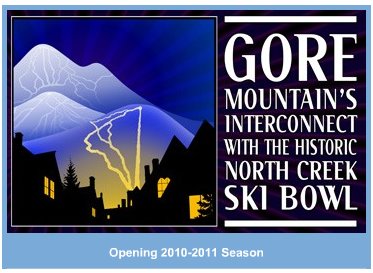 I love this image the mountain is using to promote the interconnect. But … the bottom of the trail system will not actually connect to the village. It is MUCH closer, but you can't actually see town from the bottom of the lift. It's probably too far to walk to Main Street.
I'd love to know about the ZONING of the land right around the bowl. Will town expand to connect to the Ski Bowl? Will there be restaurants and business close enough for alpine booted folk to spend the cash "off mountain?" I realize none of this has mattered at Whiteface. The mountain is miles from town, and LP thrives.
One thing that I think could be huge, but probably not too likely…an affordable huge bank of accessible locker space at the ski bowl. A quarter to store your boots and gear — to make getting to town easier.
While under state control Gore will never be Okemo. They may never blow the kind of snow that Okemo does to get terrain open early season, and recover from NCP events. But then Vermont will never be the Adks. I love VT and the Adks. But they will never be the same thing and there will always be some who will prefer one over the other.
I think Gore is going to thrive. North Creek is already changing. Contrary to what I've seen posted by some in the forums, town is on the upswing. New owners bought the Alpine… a dilapidated motel… and did a beautiful renovation. New owners have also done a fantastic job upgrading the hardware store, Braley and Noxon. The Copperfield has been reopened under new ownership. And one of the town's benefactors built a beautiful community center that showcases art and cultural events, (and Warren Miller flicks!).
It's true that there are still some unoccupied storefronts. It's been a long slow process and the current downturn has slowed things down. But North Creek is coming. I don't believe those pushing improvements have missed the boat at all. With real estate, if you have a good idea and long term view your investment will usually pay off.
North Creek will change. It's not going to be Lake Placid, or Stowe, or Killington or Ludlow. But it won't be the North Creek of old either.