by James Michaud
In the skiing world, there are many ways to categorize our preferences: fixed-heel vs. tele, lift-served vs. earned turns, off- vs. on-piste, powder vs. groomer, steep vs. mellow, bumped-up vs. smooth, charge hard all day vs. lots of breaks; you get the idea. One of the most interesting oppositions is people who "only care about the skiing" versus those who see a winter trip as a total vacation — not only trying out different mountains, but also putting themselves into a different cultural context than what they usually encounter at home. For the record, I fall into both of these camps at any given point in the ski season.
We New Yorkers have two great choices right at our proverbial doorstep — driving up to atmospheric New England or continuing across the border to what may be our continent's most unique ski-related experience: Québec, including the Eastern Townships in the southeastern corner of the province and the ski region along the St. Lawrence River north of Québec City. Whereas the Townships are characterized by quaint Victorian villages nestled amongst rolling hills, lakes, and mountains, the latter trip is distinguished by a mixture of mountains, vast flat expanses, and stunning views of major waterways.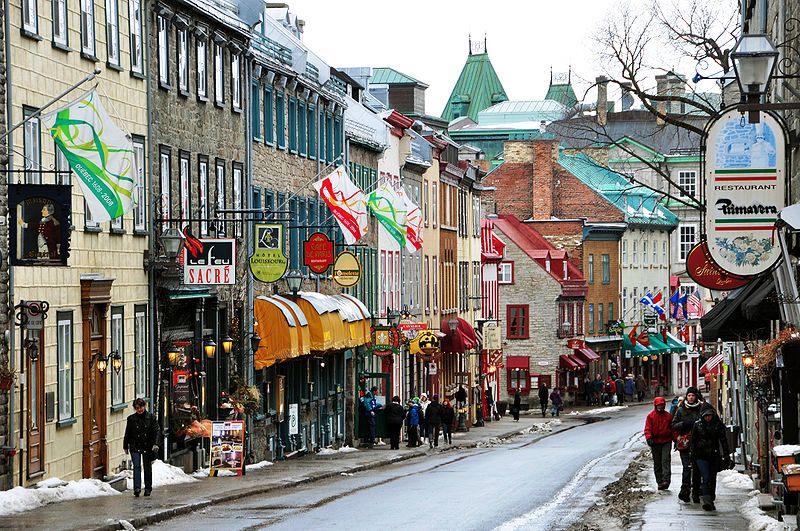 Arrival in Québec City
Following a quick 75-minute direct flight from Newark, we picked up a rental car at the airport, drove 15 minutes into town, checked in at the very comfortable and centrally located Hotel Manoir Victoria, and were whisked off on a fascinating three-hour tour provided by Michelle Demers from Québec City Tourism. Founded 400 years ago and named after the Algonquin word kebec, which means "where the river narrows," the old part of Québec City — known simply as "Québec" (pronounced "kay-beck") to French speakers — is the only remaining town north of Mexico with fortified walls. Filled with fashionable cafés and restaurants, cobblestone streets, and a sophisticated ambiance, it certainly earns the marketing slogan "a European vacation without the jet lag." If you've ever been to the walled city of Saint-Malo along the northwestern coast of France, Québec will feel like its North American twin.
Whereas Montréal has always operated as a completely bilingual big city, province capitol Québec keeps things proudly francophone, including all signage. That said, since it's a major tourist magnet, it's difficult to run into people who don't speak accomplished English, so there's no worry about a language barrier getting in the way.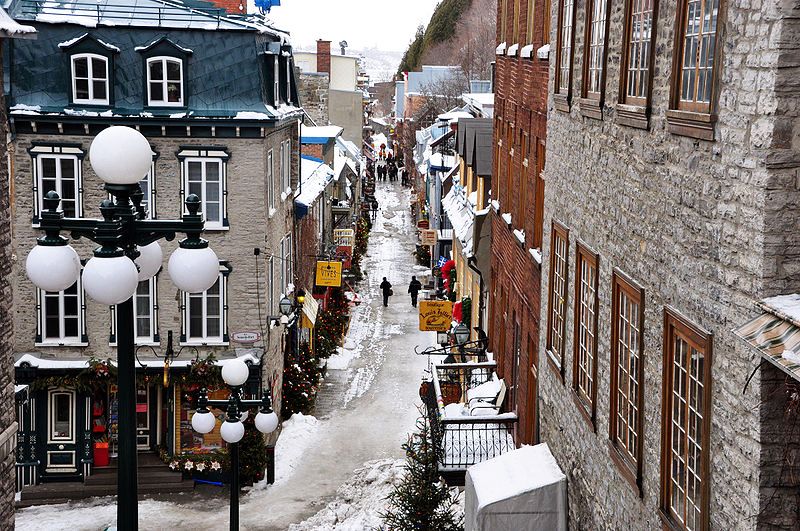 My wife, who had never been this far north, had a great time there and was a bit perturbed that we had to leave after barely two days. While calling Québec a "ski town" may be a stretch, with four legitimate ski areas within an hour's drive, it's a great headquarters for a winter vacation, and as such, North America's most distinctive. Moreover, if any members of your group want to pass on skiing for a day for whatever reason, they won't have problems finding things to do within this walled time machine.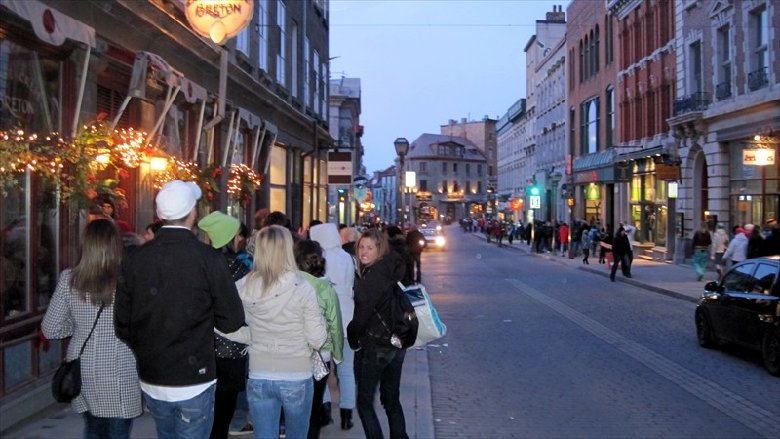 Ski Day 1: Massif du Sud
We kicked off our ski itinerary with the only mountain on this trip that's located on the east side of the St. Lawrence River. The first half of the one-hour drive to Massif du Sud is like traveling through a French-language version of Nebraska — a road that goes straight as an arrow through a flat, rural landscape with tiny villages sporting farm-equipment dealerships. Finally, the northernmost edge of the Appalachian mountain chain pops up.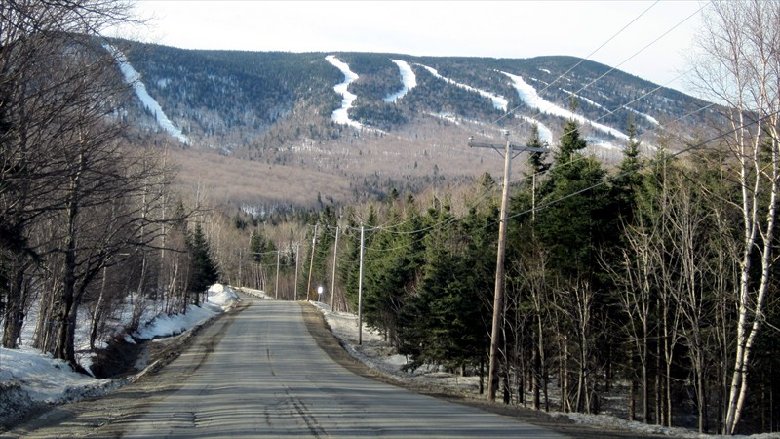 With 250 inches of average annual snowfall, Massif du Sud is one of the most reliable lift-served mountains in the province and given its low ski-day numbers, you won't be sharing the hill with many others. Moreover, in January and February, it's closed from Monday to Thursday, which means that arriving Friday morning will give you carte blanche to track up anything that's fallen over the previous four days.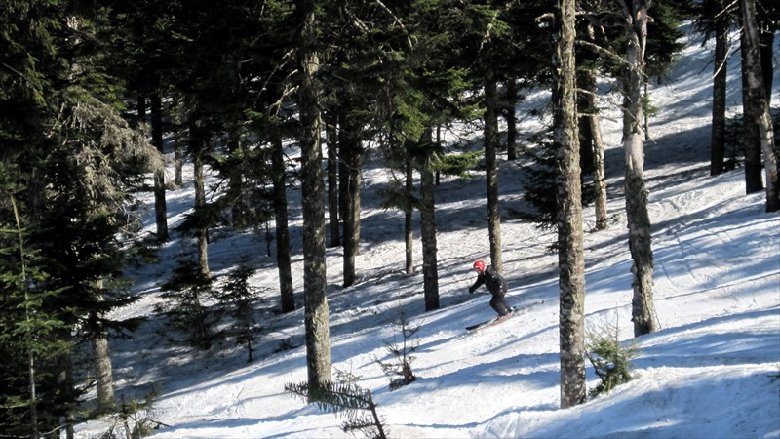 Massif du Sud's only chairlift, a fixed-grip quad, drops you off on a wide, flat ridge from which trails twist down the consistently pitched fall line for 1,375 feet. The rolling groomers are a lot of fun, but the mountain's real selling point is the network of gorgeous blue-spruce glades that cover almost 40% of the ski area, including the most extensive one, appropriately named "La Cathédrale."
Given the ski area's easy access to the Quebec City region, it's hard to believe that the mountain is still considered an off-the-beaten-track choice for skiers. On this bluebird day, the St. Lawrence River and the front side of Mont Sainte-Anne created a gorgeous backdrop that could be viewed from many different vantage points on the mountain.

Although only in operation since 1989, Massif du Sud has already changed ownership several times over the past two decades, but the present team is constantly thinking up new ideas to bring people to the area, including the province's only cat-skiing operation that's connected to an existing lift-served ski area, an extensive real-estate development, and an array of four-season offerings. For skiers, the only potential on-mountain negative is that, as mentioned above, there's only one main lift servicing the mountain; so if it's down for repairs, you're out of luck.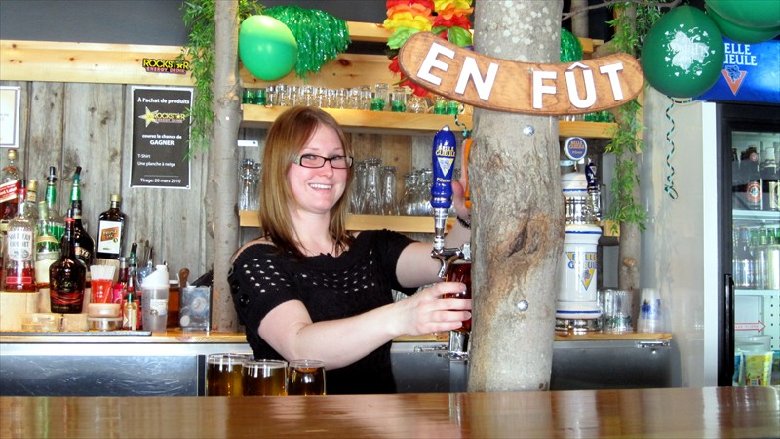 We received an incredibly friendly welcome from everyone at the ski area, which was capped off with a few Belle Gueule beers at the Sous-Bois ("glade" in French) Bar — appropriately served through a tap emerging from a tree trunk. Massif du Sud's intimate, unpretentious vibe really hit the spot and we'd love to go back to sample its glades again.
Ski Day 2: Mont Sainte-Anne
After our relaxing day at quiet, low-key Massif du Sud, we headed to the opposite end of the ski-area spectrum: high-profile Mont Sainte-Anne. Only 25 minutes north of Québec, this bustling, full-service resort resembles a small city and is second only to Mont Tremblant as the most popular ski area in the province. With bluebird skies and warm temperatures on the menu, Mont Sainte-Anne's three distinct faces allowed us to work the sun from bell to bell, resulting in a near-perfect spring day.

While the 1980s-era base village isn't my cup of tea, Mont Sainte-Anne's 465 skiable acres of glades, bumps, and groomers provide terrain for all ability levels, along with three high-speed lifts to help you rack up vertical. Our mountain guide, Marc Levasseur, did a great job taking us to the right trail at the right time and filled us in on all sorts of Mont Sainte-Anne trivia, including the fact that the resort has hosted more World Cup competitions than any other mountain in Canada.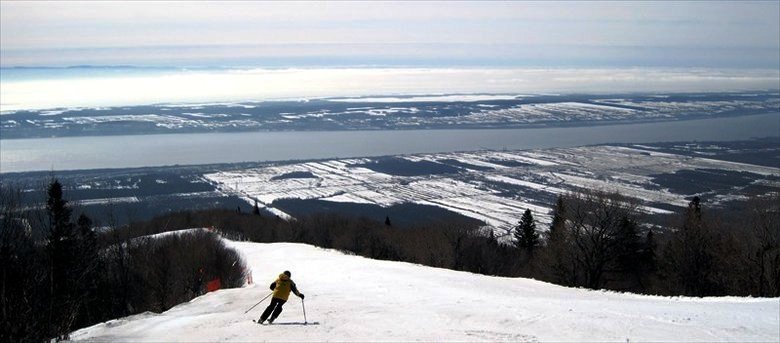 Marc started us off on the south-facing front side of the mountain, which offers 2,000-vertical-foot runs with stunning views of the St. Lawrence River and 20-mile-long Island of Orléans. By late morning, we moved to the more challenging "Forêt Noire" (Black Forest) sector on the west side, then spent the rest of the afternoon doing laps on the north-facing back side, which stays open through late April/early May.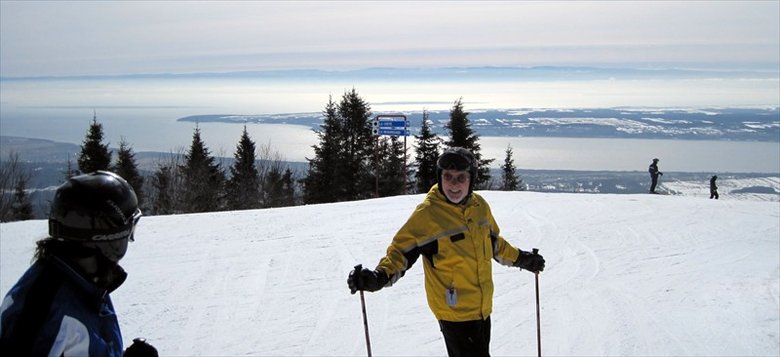 Something to consider: Mont Sainte-Anne rings up big skier-visit numbers during peak periods while receiving a decent, but not overwhelming amount of natural snow by East-Coast standards (approximately 180 inches); thus, it's snowmaking dependent to a large extent. To maximize your chances of good conditions and uncrowded slopes, timing is important — i.e. avoid mid-season weekends and holidays. As we found out, if you go during an off-peak midweek, there's plenty at this mountain to keep you entertained.
Ski Day 3: Le Massif de Charlevoix
From Mont Sainte-Anne, we drove one hour north along the river to the picturesque region of Charlevoix (pronounced "Shar-luh-vwah"), and checked into Aux Portes du Soleil, a motel that was bought and renovated by a Swiss couple with all sorts of creative touches. Filled with mountains, two unique national parks, appealing villages, and framed on its eastern border by the mighty St. Lawrence River, you can easily understand why Charlevoix has become a favorite tourist destination for natives and visitors alike. Given that the region was designated by UNESCO as a World Biosphere Reserve, it's no surprise that Charlevoix's largest lift-served mountain offers one of ski world's most impressive backdrops.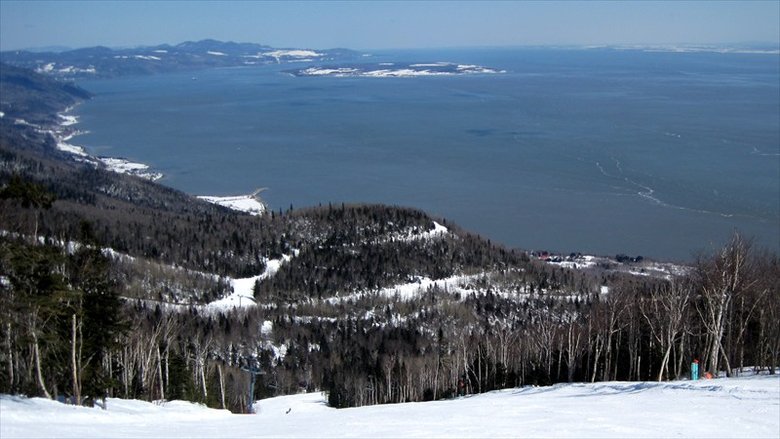 Officially rebranded a few years ago as "Le Massif de Charlevoix" to avoid confusion with Massif du Sud, most people continue to refer to the ski area as "Le Massif." For weeks, I'd been preparing my wife for the moment when she'd arrive at the summit lodge and get her first look at the mind-blowing, super wide-screen vista of the St. Lawrence River 2,500 vertical feet below. She'd seen plenty of photos, including the ones that I'd taken on my first visit there in 2005; however, I kept insisting that they didn't do the view justice — anyone who's been there can confirm that.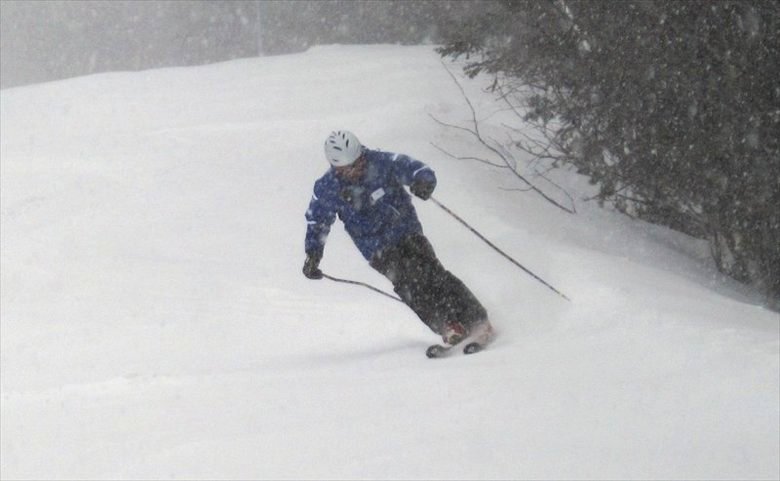 After two gorgeous spring days at Massif du Sud and Mont Sainte-Anne, winter returned with a vengeance overnight and the next morning, we pulled into Le Massif's huge parking lot in the midst of a driving snowstorm, which was both good and bad news for us. Good in that we'd be skiing on a nice cushion of fresh powder covering the refrozen corn snow. Bad in that my wife wouldn't be able to experience Le Massif's principal market differentiator: the view that I'd been raving about ever since I had booked the trip several months earlier.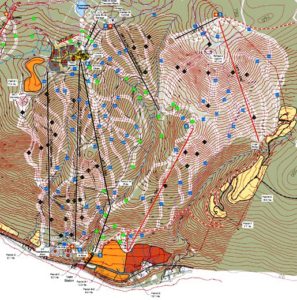 Taking a glass-half-full perspective, the low visibility gave us the opportunity to evaluate the ski area's terrain on its own merits — featuring Canada's biggest lift-served vertical drop east of the Rockies — without being distracted by the sprawling river below. Le Massif offers a nice selection of terrain for all ability levels except steeps lovers. The pitch is consistent enough to keep you moving along nicely on a powder day, and there's an assortment of glades for tree skiers to sniff out.
As we move into the 2011-12 season, the elaborate expansion plans put in place by resort chairman Daniel Gauthier (without question, the most ambitious of any ski area in the northeast) are coming to fruition. As co-founder and president of Cirque du Soleil for 11 years, Gauthier understands the importance of a well-executed piece of performance art, and his vision for Le Massif reflects this point of view.
By its planned completion date in 2014, the project will not only affect the ski area itself, but also have repercussions on the entire region of Charlevoix. It'll include a breathtaking 75-mile train line running along the St. Lawrence that connects Le Massif with Quebec City to the south and La Malbaie to the north, an eight-person top-to-bottom gondola (already in operation), two high-speed lifts in the Mont à Liguori sector along the skier's far left (see the two lift lines highlighted in red on the future trail map to the right), eight acres of beginner's terrain with a dedicated lift, along with more than 200 lodging units at the base of the mountain, and a 150-room hotel in nearby Baie St. Paul — most of which will be imbued with an environmentally-friendly slant.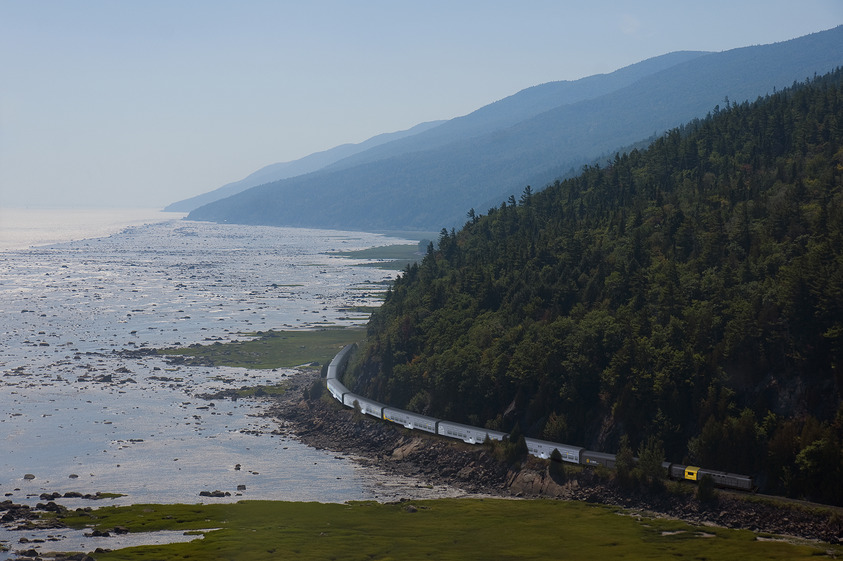 Hardcore skiers may wonder if Le Massif, even when built-out, will have enough terrain to hold the interest of visitors who've booked an entire week there. But that concern overlooks the ultimate objective for Le Massif — a centerpiece for a four-season headquarters that includes everything Charlevoix is famous for: fantastic food, stunning landscapes, a variety of outdoor activities, cute villages, and welcoming locals. If that's what you're expecting during a visit to the region, Le Massif won't disappoint.
Ski Day 4: Mont Grand-Fonds
Following visits to two of the most popular ski areas in Québec, we were looking forward to getting back off the beaten path by visiting another mountain that's usually overlooked by people from outside the region. With a foot of new snow blanketing the art-filled village of Baie Saint-Paul, we started off the day with a sumptuous breakfast at atmospheric Chez Bouquet, then drove north to Mont Grand-Fonds, which was reporting 18 inches of new snow.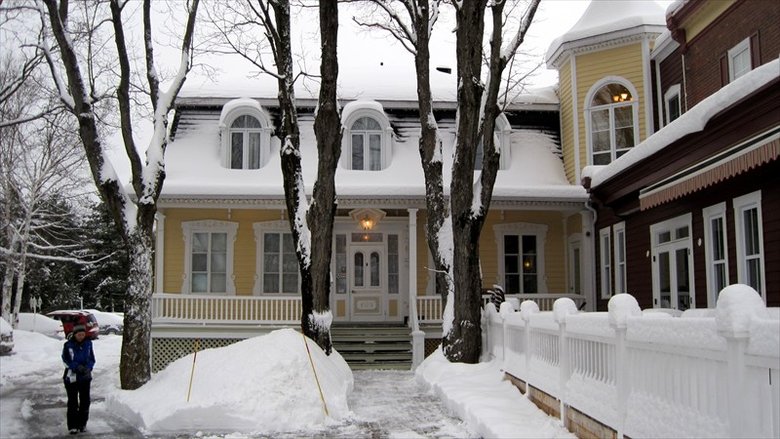 Located about 15 minutes from the town of La Malbaie, Mont Grand-Fonds is a fun 1,100-vertical-foot locals' mountain with views of the St. Lawrence off to the skier's left. As proof of how under the radar it is, when we arrived at 10 am for a legitimate powder day, there were only eight cars ahead of us in the parking lot (including employees), so the cliché of having a private mountain all to ourselves was, in this case, true. From the summit, there were two great choices: ungroomed trails on the skier's right sporting knee-deep powder and groomed runs on the skier's left with five inches of fluff.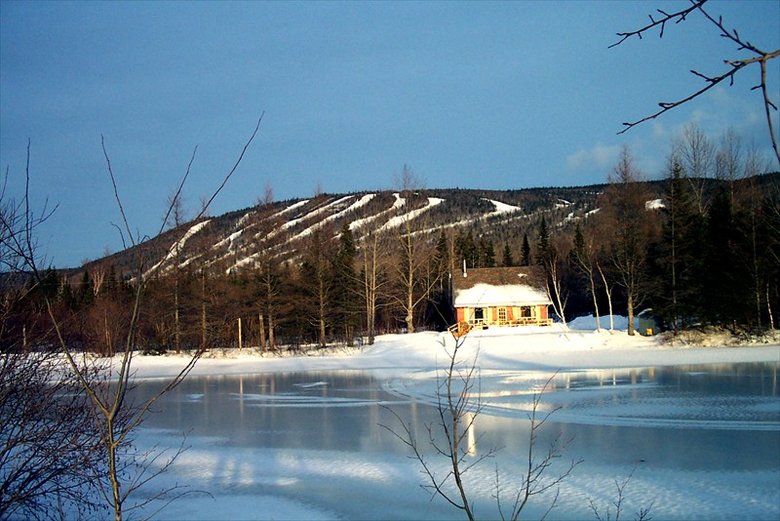 Founded in the early 1970s, and seemingly always in some sort of financial distress, Grand-Fonds is now owned by the municipality of La Malbaie and run by a non-profit organization. With the massive expansion taking place around Le Massif, including the ski train, Mont Grand-Fonds could benefit as a pressure valve during Le Massif's peak periods and for those looking for a more relaxed, low-profile ski day. In addition to the 14 downhill ski trails, it also offers 100 miles of cross-country ski trails and six miles of snowshoe trails.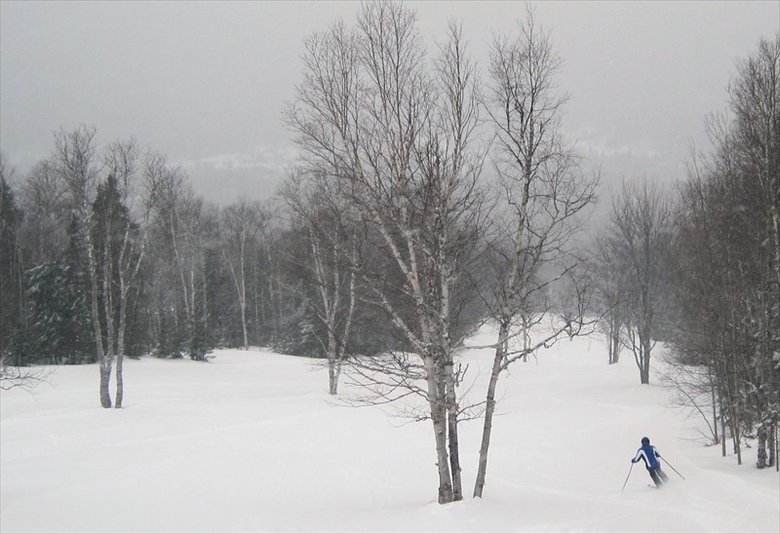 An added bonus to skiing at Mont Grand-Fonds is its proximity to one of the most unique full-service resorts in North America: Le Manoir Richelieu in La Malbaie (warning: this hotel isn't for the budget-minded, but you get what you pay for). After two straight storm days with flat light, we were happy to see clear blue skies the next morning. Even better was the view from our window: an incredible panorama of the St. Lawrence River.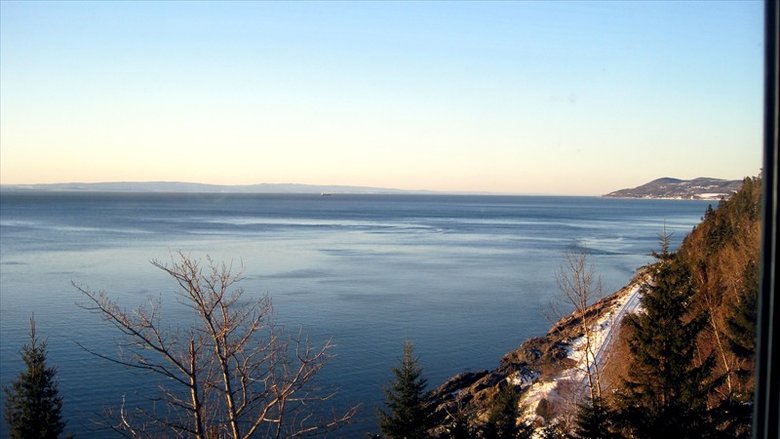 Ski Day 5: Mont Édouard
As much as we wanted to stay at Le Manoir Richelieu and hobnob with the upper crust, there was more skiing on our menu. Mont Édouard had been on my to-do list for years and stayed there due to its far-flung location. Opened in 1990 as yet another government-funded ski area to help promote tourism in economically down-at-the-heel rural areas, it's a long hike for people who live in the province's larger cities in (six hours from Montréal and 3.5 hours from Québec), let alone those of us from south of the border. The closest decent-sized town is Chicoutimi, a little more than an hour away.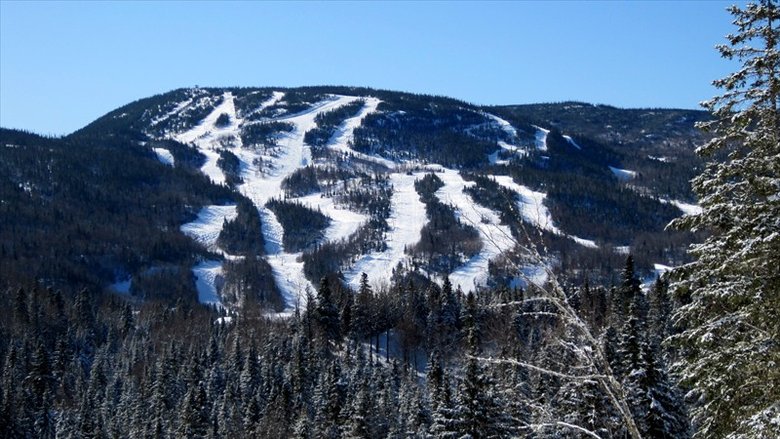 As good as we'd had it at the previous four ski areas, Day 5 was without question the best weather of the entire trip: cloudless skies, warm (but not too warm) temperatures, buttery groomers, and soft calf-deep leftovers in the woods from the previous day's storm. In short: perfection.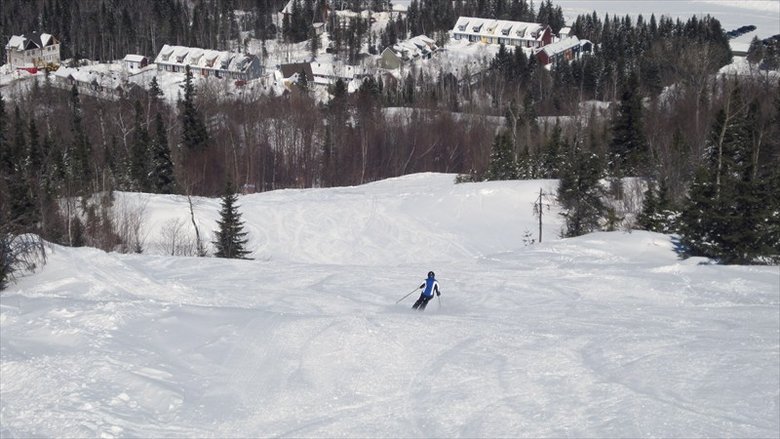 Local Marc Durepos met us at the base lodge and gave us a Cook's Tour of the mountain, quickly demonstrating that Mont Édouard skied bigger than its 1,500 vertical-foot drop. The highlight of the day was the five laps we did through the the Northeast Glades, a fantastic tree-skiing area that opened in 2009, accessible via an 87-yard-long wooden bridge. In addition, last season, the ski area opened 22 acres of side-country terrain on the far skier's right, alongside the Northeast Glades.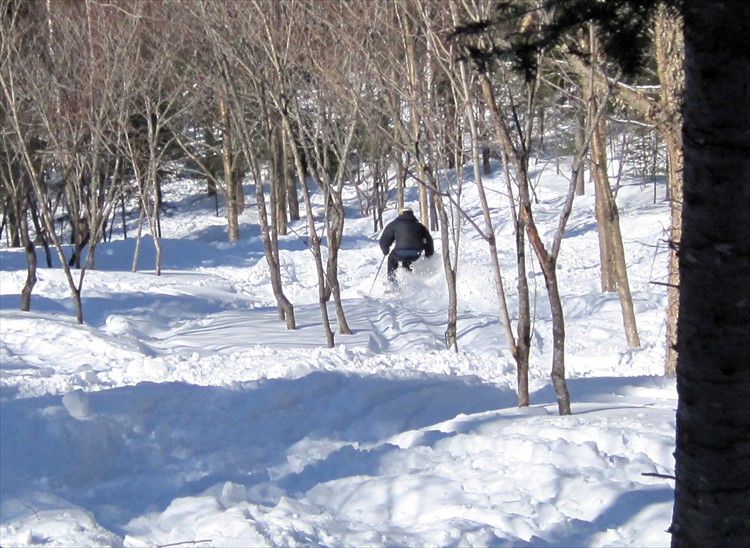 The ride to the summit on the fixed-grip lift is slow (15 minutes), but if you go there on a sunny day, it's tough to get bored with the gorgeous panorama on the way up. A short walk from the top of the lift is a lookout tower with stunning views that stretch to the horizon, including l'Anse St. Jean, a village next to a small cove in the Saguenay River, the only navigable fjord in North America.
Similar to Massif du Sud, Mont Édouard is closed on Mondays and Tuesdays during non-holiday weeks and a real estate development is now growing at the foot of the mountain (we overnighted at the pleasant and convenient Maison de Vebron). Between the almost non-existent skier traffic and a reported 250 inches of snow each season, there's a good likelihood that you'll nail a great day of skiing there, and that's exactly what we got.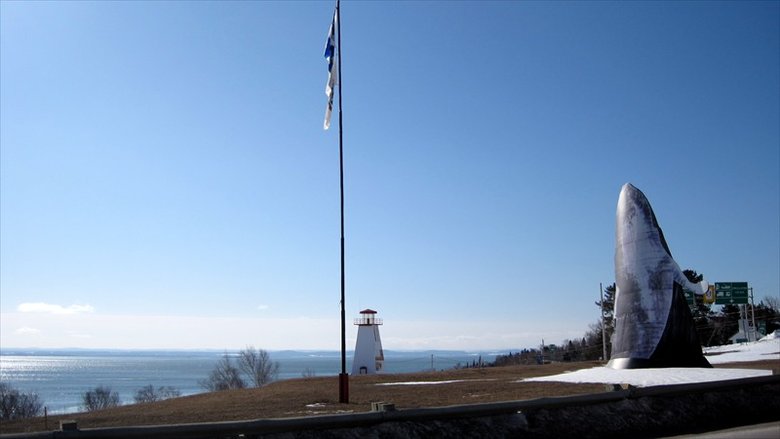 Summary
While traveling up and down the St. Lawrence River for six days, we skied five varied mountains, ate nonstop great food that you normally have to cross the ocean to experience, and met lots of friendly people. Of course, before embarking on a ski safari like this, you have to come to terms with the fact that you'll be packing and unpacking a fair amount, changing hotels several times, driving several hundred miles, and only getting a one-day overview of the mountains you're skiing. But for variety junkies who like to get a taste for an entire region at one sitting, it's tough to go wrong on a trip like this. The photos and memories prove it.
---