by James Michaud
It must have been around noon when I skied over to Tom, a fellow New Yorker and jaded big-city type, and stated the obvious: "Wow." He nodded his head and said in a voice that almost sounded hypnotized, "No kidding."
After just two hours at Le Massif, we had become the skiing version of the same tourists that we goof on back in Manhattan — the ones who stand in the middle of the sidewalk with their mouths open, staring up at the skyscrapers. That's what a 2,526-vertical foot ski area tumbling down to a nine-mile-wide Saint Lawrence River, speckled with ice floes and oil tankers, and backed by deep blue skies will do to you. It's that impressive.
As the day wore on, the impression of skiing straight into the ocean almost turned into an annoyance because my eyes were, more often than not, locked straight ahead on the water when I should have been paying attention to what was under my feet. After getting increasingly cocky about the high success rate of my destination trips (even on those planned months in advance within the not-always-reliable northeast), I was finally receiving my comeuppance.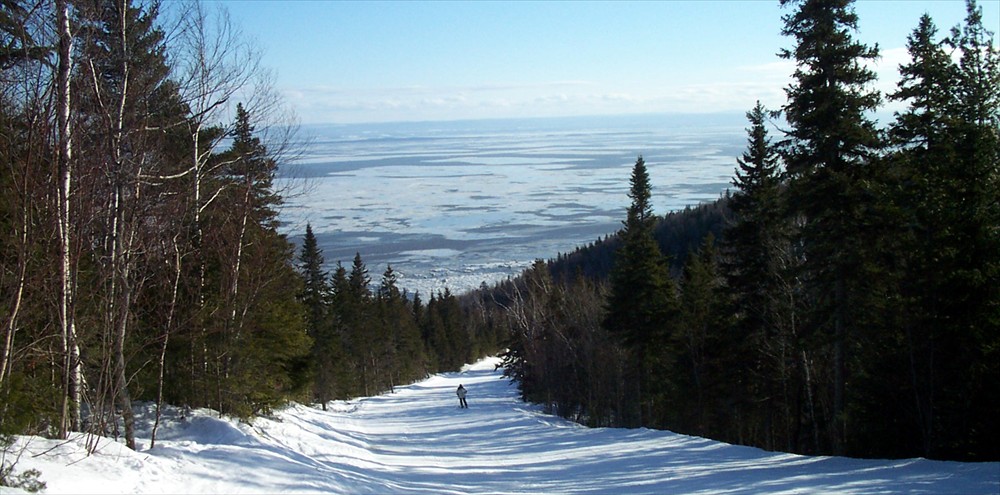 Yep, par for the course for the first two months of the 2004-05 season, a rainy thaw followed by a brutal refreeze had been forecast more than a week before my departure to Québec City. The night of my arrival, temperatures shot up into the mid 40s. The next morning, I drove north on scenic Route 138 through a near monsoon — the kind where it's raining so hard, even with your windshield wipers at the ultra-high speed, you still can't see anything. With liquid precipitation falling all the way to the top of the Gaspé Peninsula, radio talk show listeners were in a state of disbelief at what had happened to their sacred winter. The somber tones in their voices made it sound like the end of the world was near.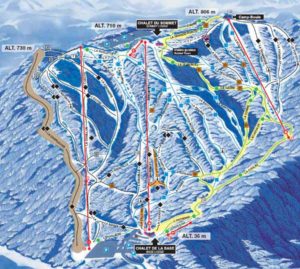 Of course, later that day, the bottom dropped out and we were back to single digits that night, freezing everything solid. When I arrived at Le Massif the following morning, the conditions board at the top of the mountain greeted me with four words that I'd see a lot on this trip: "base durcie et rapide" (hard and fast base). Even though the snowmaking crew did an incredible job getting 29 of the area's 42 official trails and glades open, the firm conditions basically took out anything steeper than a blue square.
We hooked up with a guide, a local hardcore named Anthony, who mentioned ruefully that this would be the first time in more than a decade that he'd spend a full day on groomers. Over the next five hours, he gave us a tour of anything that was remotely skiable: fun, rolling descents with a nice constant pitch all the way down to Le Massif's base elevation, an astoundingly low 110 feet. If you have to stick to groomed trails, with some of the best and longest cruisers in the east, this is a good place to be.
While hauling back to the top on the area's three high-speed lifts, we could see pretty clearly that under better conditions — after a nice dump, when the woods are in play (and there are more than enough for a long weekend) — Le Massif would be a near religious experience. But that would have to wait for another visit.
We also checked out the national racing course "La Charlevoix" (featuring a hairy double-fall line section near the top), and "La 42," the mountain's former signature bump run, which is now served by a high-speed quad — annoying some of the locals who complain about increased skier traffic scraping down the moguls.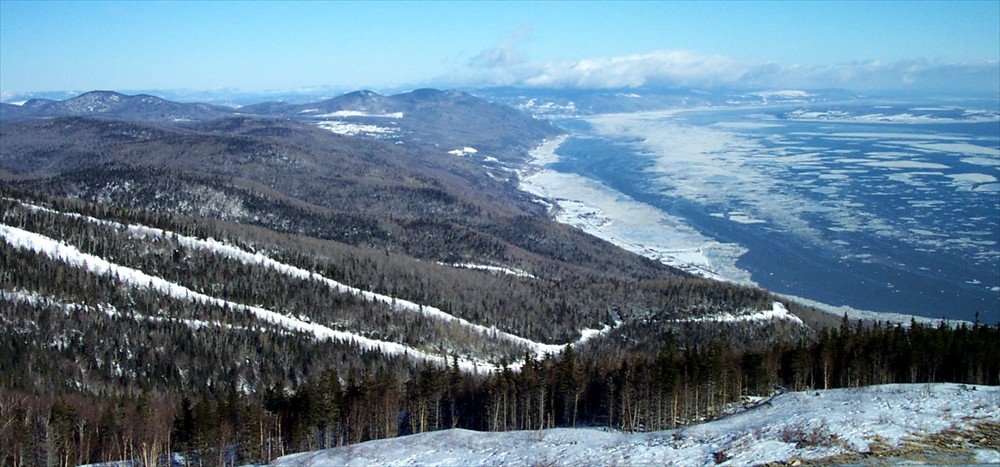 As ski areas go, Le Massif is relatively new. Trails were first cut in 1975 and by 1983, local skiers were being transported back to the top on school buses. In 1992, lifts were installed and the region started entertaining thoughts of transforming Le Massif into an international destination. Finally, in 2002, the ski area was bought by local moneybags Daniel Gauthier, co-founder of Cirque de Soleil. He immediately dumped more than $25 million CDN into the resort, adding a second and third high-speed quad. Gauthier also substantially improved the snowmaking capabilities, especially on the bottom third of the mountain.
Like any other ski area with ambitions to stay in the black, the ultimate goal is to build out the ski area's terrain capacity and transform Le Massif into a four-season destination. However, Gauthier and his team have made it clear that they don't intend to turn the mountain into the new Tremblant, in which real estate is the tail wagging the dog. Instead, they talk about creating an "environmentally sensitive operation that honors the area's incredible natural backdrop." We've heard this rap before at other resorts, and while rumors are flying around about what may be built over the next decade (including a hotel in the nearby town of Baie Saint Paul), pretty much everyone I spoke to felt that Le Massif's plans on a variety of fronts had been carefully thought out. This, in and of itself, was news — how often do you find a majority of locals on the same page about an extensive expansion?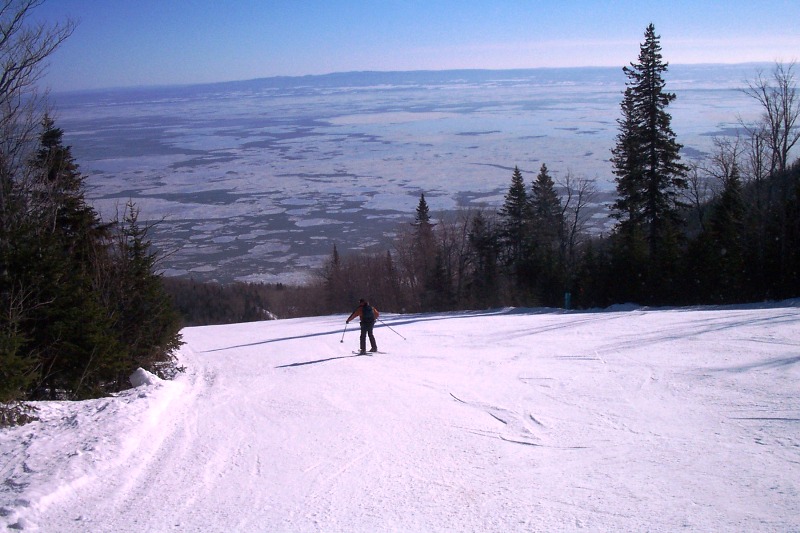 At 4 pm, we headed to the new summit lodge, a rustic, wood-filled building with a full après-ski scene, including a beer-tasting event, local artists painting in the atelier above the pub, and a French-Canadian rock group onstage. And even though I normally couldn't care less about the ski-lodge cafeteria, Le Massif deserves praise for serving food that looks and tastes like something you'd get at a decent restaurant (of note: they don't fry anything there). While Tom and I were nursing beers and discussing where to go for dinner that evening, Anthony informed us girly men from south of the border that he was going whitewater paddling, despite the fact that it was zero degrees Fahrenheit outside.
With a medium-sized ski area directly next to a huge body of water, surrounded by quiet forests, and 300 inches of annual snowfall (second only to East Coast powder king Jay Peak), Le Massif is one of the most unique ski areas you'll find anywhere: east or west. Even with barely 60% of its terrain open, you can't help but be impressed by this place. And if my point-and-click photos don't convince you, take a spin through the mountain's website. They don't cheap out on their marketing collateral.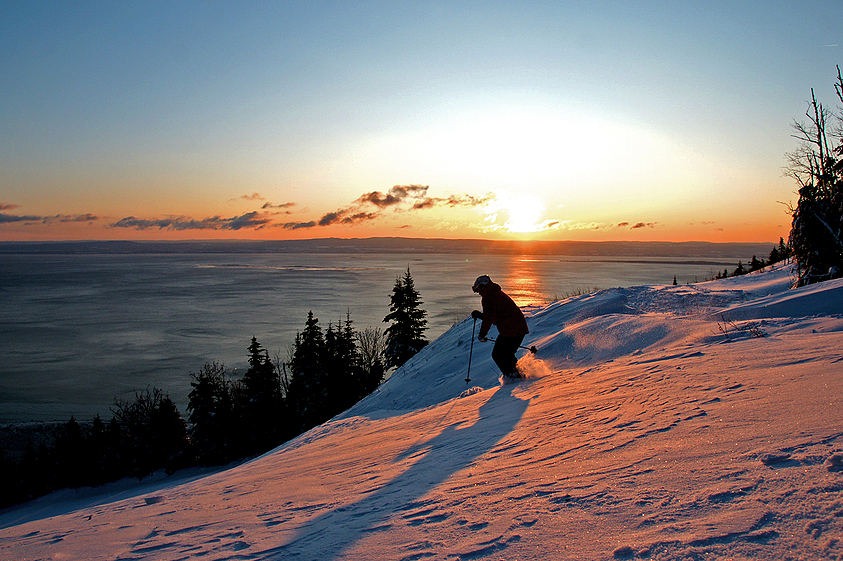 Editor's Note: Although most people continue to refer to the mountain as "Le Massif," since the publication of this article five years ago, it was officially rebranded as "Le Massif de Charlevoix" (pronounced shar-luh-vwah) to help avoid confusion with "Le Massif du Sud," a ski area located on the eastern side of the Saint Lawrence River. For historical accuracy, we used the 2005-era logo and name in this article.
Sleeping It Off
Similar to Utah's Snowbasin, Le Massif finds itself in an interim phase of development — too well known to be considered a locals' mountain, but without on-mountain hotels or condos, not yet a destination resort. When I called to enquire about a hotel, they directed me to one of the area's many privately-owned bed & breakfasts and inns: the Cap-aux-Corbeaux auberge about 15 minutes away on Route 362.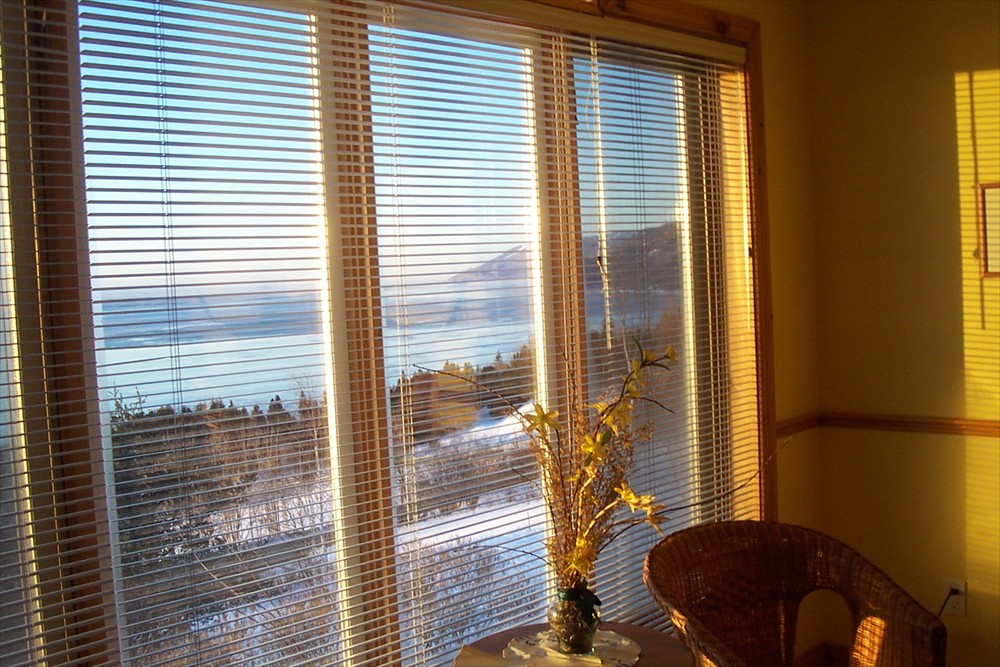 When owner Pierre Prud'homme opened the door to my second-floor room, my mouth dropped from the gorgeous, panoramic vista of the river through my window. From left to right, I had a front-row seat of that amazing view all the way to the ski area in the distance.
Each morning, I went downstairs for a big breakfast in a gorgeous dining area with that wrap-around sightline. Saturday evening, we got the full treatment: a fantastic four-course dinner with a selection of fine wines, served by a waiter in formal attire.
---