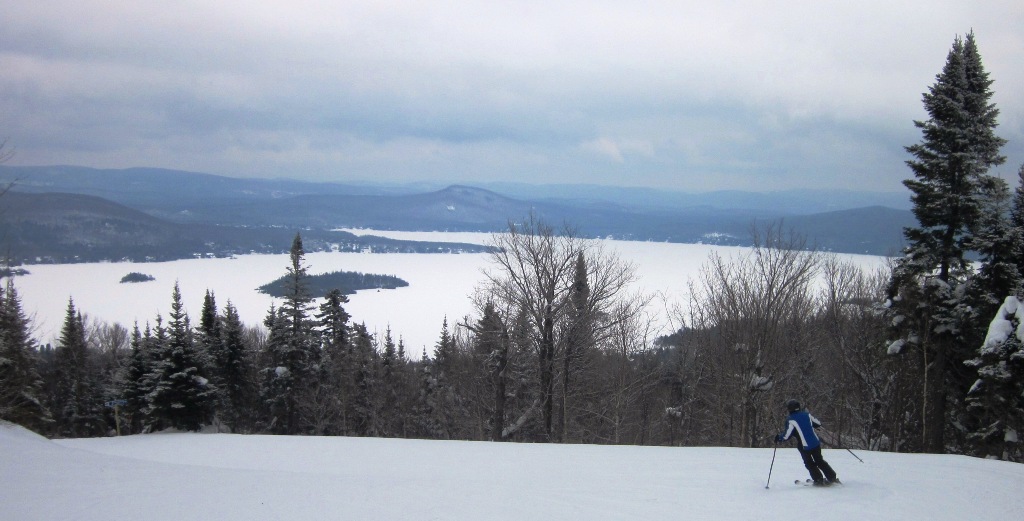 by James Michaud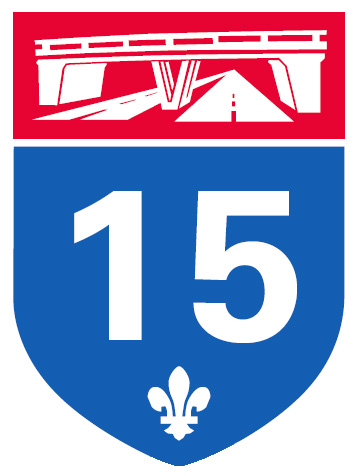 As may have become obvious by the previous articles I've written about Québec, I'm an unapologetic fan of winter vacations in North America's largest French-speaking jurisdiction. All of my trips to La Belle Province not only provide great skiing, they also qualify as complete cultural experiences, with a different language, cuisine, politics, and attitudes: a whole package for us heathens from the south.
Featuring more than 80 ski areas in operation — everything from major resorts to tiny molehills — Québec is an ideal place for a ski safari, where you can mix up short visits to both well-known mountains that everyone has heard about with those that will raise a "huh?" from most Americans. I've had such good experiences in the Eastern Townships and Québec City/Charlevoix that I never got around to visiting the most popular winter ecosystem in the province: the Autoroute-15 corridor 50 miles northwest of Montréal. Within a half hour of leaving the city limits, the Laurentians appear — glaciated mountains that were ground down into mostly low-lying hills similar in general size, shape, and snowfall to the Catskills. Contrary to what I'd believed, the Laurentian Highlands aren't a northern outpost of the Appalachian Mountains; they're actually part of the vast Canadian Shield geologic field that includes the Adirondacks (!).
Soon, signs begin directing you to a dozen family ski areas (according to a local expert, there were more than 40 lift-served mountains in the Laurentians a few decades ago). These hills — some of which are located right alongside the highway — obviously can't compare with the region's vacation mecca, Tremblant, in vertical, skiable acreage, or base village amenities; however, they're not designed to compete with the high-profile resort up the road. Instead, they offer local families on a budget easy access, no-frills ambiance, affordable rates, and lots of night skiing. While none of them are places that people from outside the region would drive six or more hours to ski; there's an interesting upside to hanging out with the locals at these smaller areas, as opposed to being cheek-to-jowl with other tourists at a big, popular mountain.
Tremblant
It only seemed fitting to start our Laurentians itinerary with the reigning king of Québec's ski resort universe. Given the fact that Tremblant has won a certain ski magazine's "Best Resort in the East" for 15 straight years, I thought that it'd be an interesting experiment to daytrip the mountain — thereby skipping most of the categories (off-mountain food, lodging, après festivities, off-hill activities) that make it so popular with destination visitors — and concentrate on the skiing.
The last and only time I had skied at Tremblant was in January 2000. Due to a poor job of due diligence, this last-minute visit fell right into the jaws of the Ontario school break, complete with 20-minute liftlines, crowded trails, and long waits pretty much everywhere in the village. With that in mind, I made sure this time to arrive on an off-peak midweek day and magically, our visit couldn't have gone smoother. We parked only 50 yards from the Cabriolet lift at the bottom of the village, boarded a deserted gondola, skied onto every chair (thanks in part to six high-speed lifts), and had plenty of elbow room both on-hill and off.
With a 2,100-foot vertical (more than double of any other ski area in the region and second only to Le Massif in the entire province), Tremblant has, over the past decade plus, expanded to encompass four separate mountain faces, each with a distinct personality. Of these, "The Edge," with its consistent pitch, handful of glades, and comparatively old-school feel, was where I felt most at-home. Since Tremblant only averages around 150 inches of natural snow per year, they've expanded the mountain's snowmaking arsenal to more than 1,000 guns spread across the reported 650 acres of skiable terrain.
While many have noted that Tremblant's groomers, steeps, bumps, and trees wouldn't end up in most people's Eastern Top 10, the mountain offers a nice balance of everything (similar to Mont Sainte-Anne) and is especially well-suited for intermediates. For example, my wife certainly has fun skiing; however, she also enjoys the resort-y accoutrements too, and is thus closer to the mountain's target audience than me. The attentive grooming, fast lifts, and extensive food, shopping, and entertainment options in the village were right in her sweet spot. If the visibility hadn't been so poor that day (hence, the lack of in-action photos from Tremblant in this article), she would have loved the views too.
Whether a place like this is your cup of tea or not, it's easy to understand why Tremblant is so highly rated by those who want to ski a jack-of-all-trades mountain, eat extremely well, stay in a nicely appointed slopeside hotel, have an array of off-hill activities, and don't mind paying a few extra shekels for all these amenities.
Mont Blanc
After the high-end, everything-but-the-kitchen-sink offerings at Tremblant, Mont Blanc is a return to a more old-school ski experience. Located conveniently right alongside Route 117 with 900 vertical feet spread out across a ridgeline — about the same general footprint as upstate New York's Greek Peak, but more consistently pitched — Mont Blanc is a prototype Laurentians family mountain that's been owned and operated by the same family for more than 40 years. Originally consisting of two separate ski areas (Mont Blanc and Mont Faustin) that were combined into one in the early 1980s, the hill packs a lot of variety into its 41 trails. With the exception of really aggressive skiers, there's terrain for every level, including a handful of nicely pruned glades.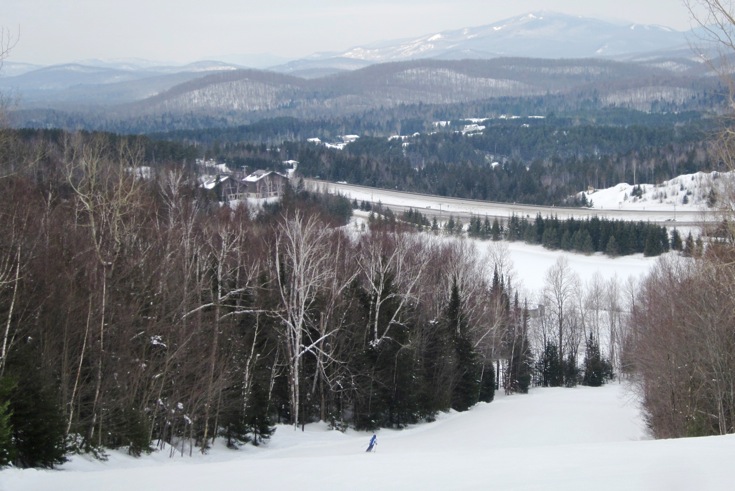 Surrounded by parents spending quality time with their kids and a couple busloads of junior-high students enjoying a school-sanctioned day on the snow, you could feel the family vibe everywhere. At one point, we came across a father and his three-year-old daughter maneuvering through a bumped-up glade. Not only was she using poles (a rare sight with ski tots in the U.S.); she also moved confidently through the trees like a veteran bark eater. Since we were there on a Tuesday, all members of the fairer sex skied for $20. Men get the same deal on Wednesdays.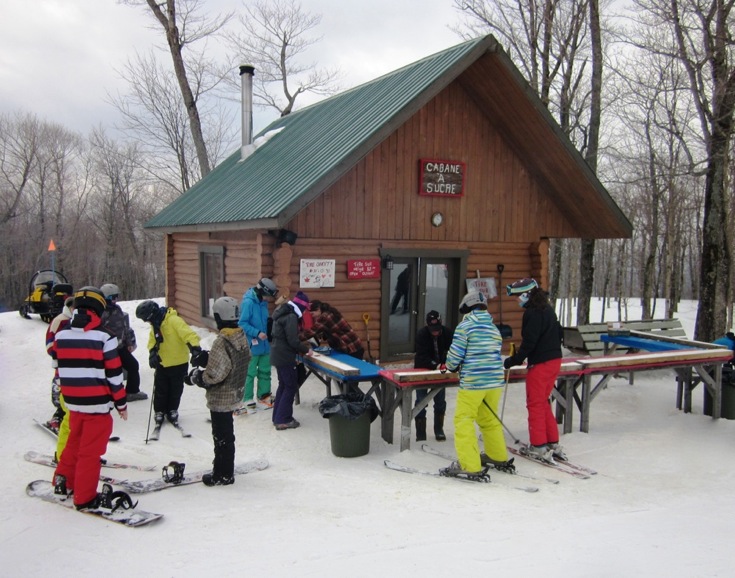 As fun as the skiing was, the high point of our day was a visit to the busy cabane à sucre (sugar shack) at the summit, where they serve the incredibly addictive late-winter national institution: maple taffy. Maple syrup is heated to 200 degrees and poured onto snow in rectangles. After letting it cool for 30 to 60 seconds until it solidifies somewhat, you twist it up with a Popsicle stick into a gooey roll and quickly devour. My wife was so enamored of this sweet, fragrant stuff that we returned two more times that afternoon.
Rounding out our visit were two pleasant nights at a comfortable ski-in/ski-out condo on the far looker's right of Mont Faustin. With just enough resort amenities to provide for a fun family visit (or a quick one-day in and out), but not too much to overwhelm you, we both agreed that Mont Blanc was a nice counter-balance to nearby Tremblant.
Mont Saint-Sauveur
Following our relaxing stay at Mont Blanc, it was time to decamp for bustling Saint-Sauveur, where we stayed the next three nights. As the largest resort town in the Laurentians, it offers a wide selection of eateries, hotels, boutiques, and outlet stores that are just minutes from an extremely popular ski area. It's no surprise that Saint-Sauveur is often mentioned as a French Canadian version of North Conway, New Hampshire or Rutland, Vermont.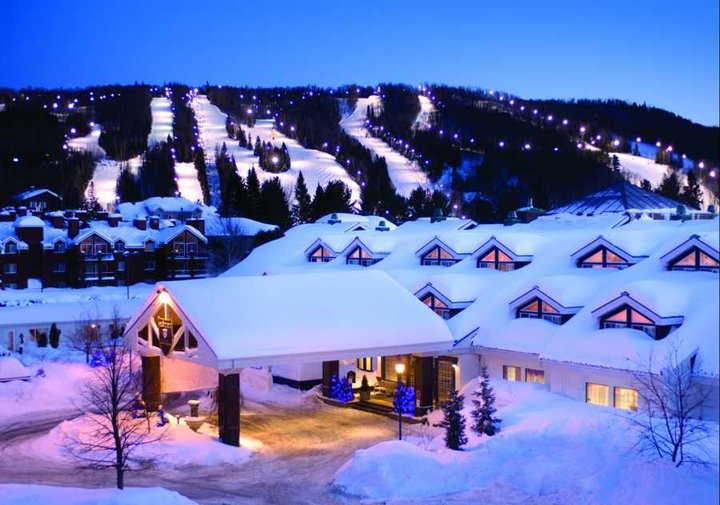 Mont Saint-Sauveur and interconnected Mont Avila is a legitimate "town hill" (i.e. located right in the village). As such, it has modest natural snowfall (120 inches), vertical (barely 700 feet), and challenge (for the most part, groomed intermediate boulevards with a few well hidden glades). Instead, its popularity rests on three key attributes: extensive snowmaking, boundary-to-boundary night skiing, and a very convenient location to a huge metropolitan population. A large part of its clientele simply wants to make turns for an hour or two after work or school with a minimum of drive time, so a 35-minute drive from Montréal seals the deal nicely. All of these factors combine to allow Mont Saint-Sauveur to have the longest ski season in Québec year after year. In addition, lift tickets are also valid at nearby Morin Heights, Mont Gabriel, and Mont Olympia.
For lodging, we went high-end and stayed at the full-service Manoir Saint-Sauveur. Only about a few blocks from the ski area, the Manoir has everything covered: two elegant restaurants, a comfortable bar, a spa, pool, and workout room, and is within walking distance of a number of restaurants and stores.
La Réserve
Of all the areas I had planned to hit on this trip, I was looking forward to La Réserve the most — a classic locals hill that came back to life following a four-year closure in the mid-1990s. After 30 minutes on meandering Route 329 and grabbing coffee and croissants in the quaint nearby village of Saint Donat, we pulled into the deserted parking lot and trundled into the lodge, where a pleasant surprise was waiting.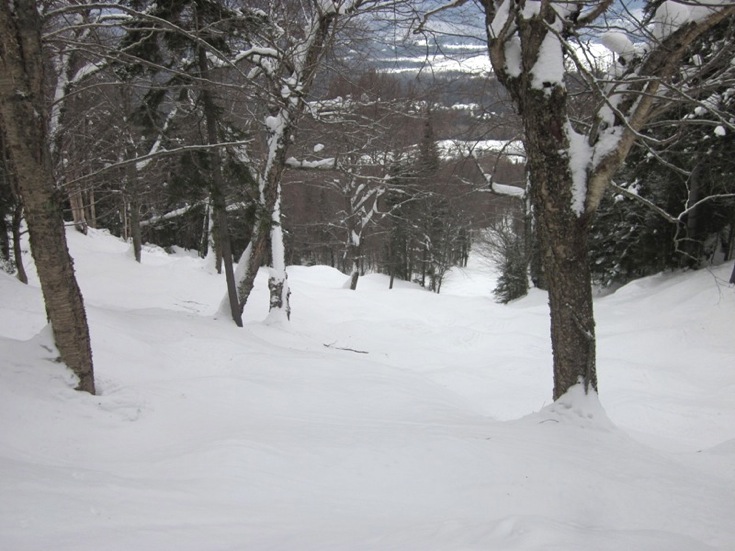 Right in front of the ticket window was a sign announcing the male and female names of the day. If your first name matched the one on the sign, you skied for free. Incredibly enough, the two names were Colette and James. Since French is the official language in the region, I was shocked that my name — which I don't believe to be very popular in Québec — was listed. Given its off-the-beaten-path location and general low profile, it's safe to say that La Réserve isn't exactly printing money, so I made a point of spending the cash that would have gone to the lift ticket ($27, an incredible deal) and then some in the base lodge.
With 1,000 vertical feet, La Réserve is laid out exactly like a 2/3-size version of Vermont's Magic Mountain, but with better views and more natural snow. At the top, there's a 360-degree panorama of the entire region, including a couple beautiful lakes (the photo at the top of the article), the village of St. Donat, and another ski area about five miles away, Mont Garceau, which I unfortunately had to leave off this trip. Just like Magic, La Réserve's upper mountain has some legitimately steep pitches, a handful of gorgeous glades, and a few consistent blue-square groomers back to the lift. Even though it's a compact ski area, we found plenty of interesting, varied terrain.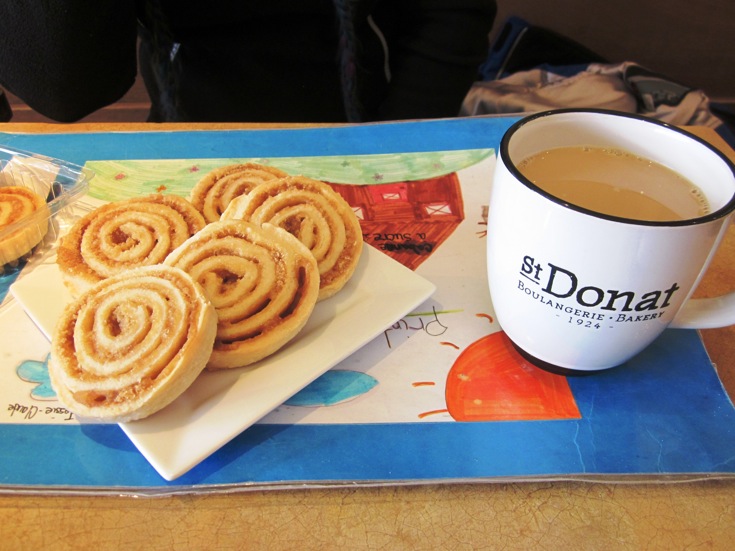 There couldn't have been more than 20 people on the hill all day, if that, and I was told that even on weekends, lifts are always ski-on. The downside of going there on a weekday was that we couldn't take advantage of La Réserve's big attraction: $10-a-run cat skiing on the mountain's south-facing back side. As the only ski area other than the Massif du Sud offering cat skiing in Québec, it was frustrating to have to put that off for another time; however, we salved our disappointment with a return visit to the Saint Donat Boulangerie for mouth-watering pastries, including the renowned "Nun's Fart," whose creative name harkens back to the province's Catholic origins. La Réserve was my favorite stop on this trip and I'd love to go back when fresh snow is on the menu.
Morin Heights
With a seven-hour drive ahead of us on our departure day, we decided to ski until noon and then hit the road. After asking around for suggestions on where we could make some final turns, the aforementioned local expert directed us to a small hill that I had never even heard of before we arrived: Morin Heights. Although the name sounds more appropriate for a gated community than a ski area, it turned out to be a great tip. Many of the trails twisted intriguingly down the hill's 720 vertical feet, and we did multiple laps on a nice long glade along the far skier's right: Fritz's Fling. Morin Heights felt like a good place to bring small kids while keeping the adults happy, and a lot of other people we met on the lift that day thought so too.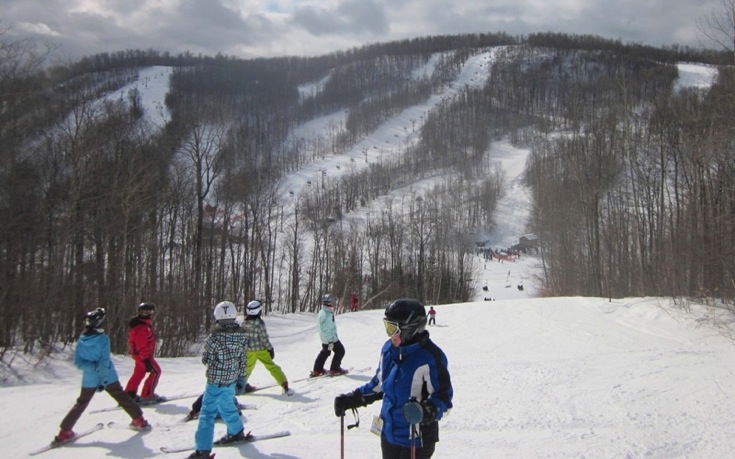 Summary
This trip to the Laurentians turned out to be one of the more unique ski jaunts that I've gone on, but in a different way than you'd normally expect. Usually, the objective on a destination ski visit is to hit mountains that offer things you can't get back home (challenge, lots of terrain, big vertical or snowfall, resort amenities, etc.). While Tremblant offers some of those things, the real attraction of the A-15 corridor is to mix big and (mostly) small, visit cute villages, eat great food, commune with the locals, and, if you're so inclined, tack on a couple days in the second largest French-speaking city in the world.
---