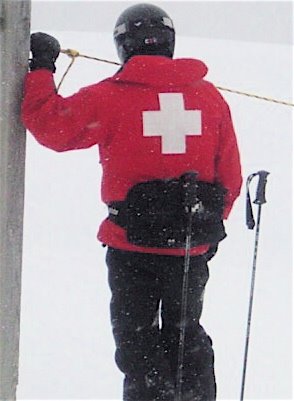 The clipper I'd hoped would provide some fresh snow for Sunday got underway too late to do me any good. When I got up this morning it was snowing lightly, but had only amounted to a dusting at the cabin. As it turned out, the mountain reported 2 inches for the whole day.
When I arrived this morning the crowd was very light.  Snow was falling at a semi-reasonable clip and it continued all morning. Visibility was nil.
I had some breakfast and got on the Gondi line around 8am. Folks were chatting and wondering if the days of early openings were over, at least for now. Someone mentioned that ski patrol is no longer allowed to punch in before 8am to eliminate any overtime. Again the dreaded budget cuts.
All the groomers were off the hill. The Gondi phone from the top rang at 8:20, but we still had to wait until 8:30 to load.
After the first two Gondi rides, Topridge was roped off so I did a lap on the bottom. Foxlair was significantly softer than yesterday. Probably due to the additional day of groomer farming, not any additional snow making.
Like yesterday, Sunway and QuickSilver had the best surface.
On my second run, I did Ruby Run to Showcase, Sleighride, Wild Air and Stokes. Yesterday it was a total mish-mosh of ungroomed snowmaking whales, chunky funk, snowmobile tracks and the kitchen sink. It had been groomed overnight, for the first time this year. But it still left something to be desired. They were still blowing on the bottom of Showcase. Come on guys get this stuff OPEN.
After my third Gondi, Ski Pat was looking like he was going to open Topridge. I really was after Pine Knot based on my experience from yesterday. I asked about it, but after a sarcastic comment about the rope being across it (I can see that)… I did Topridge. It was about like yesterday. Scratchy.
On my second lap of the Topridge Chair, Pine Knot to Tannery was open and like yesterday, it looked like the best thing on the hill. I did some more Topridge and some more bottom. While it was good to be out, and it really did feel like winter, there was a limited amount of soft snow. It was in pockets here and there. After Pine Knot was hit hard, I went back down to the bottom. I even spent some time watching the jibbers in the terrain park. I hit Showcase and Quicksilver again. I was going to call it a day.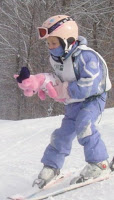 I decided to ride the Sunway chair to the mid-station and give Jamboree a shot. Two hundred feet of low-angle vertical serviced by an ancient chair.
It was just me and a cute, scared little girl with a stuffed animal. (I think it's something they use to get little kids to keep their hands out front?)
I actually got into it. With zero skier traffic there wasn't a trace of scratch in there. I even considered riding the T-bar, but ultimately decided to pack it in.
Snowmaking Note: Once again the website was talking about snowmaking going on at the summit. At first all I saw were four lonely guns in operation at the Straightbrook Chair. When those were shut off around 11am I did hear what sounded like the new towers blasting Hawkeye. One can hope.
Rereading this entry it may be hard to believe, but, I was actually glad I skied today. Still I can't wait to get onto to the summit and into the woods. It may be time to burn something for Ullr.