We went through our "new normal" routine today. I won't bore you with the details. I'm going to stick to two things tonight. Conditions and a Patrol Story. Patrol first.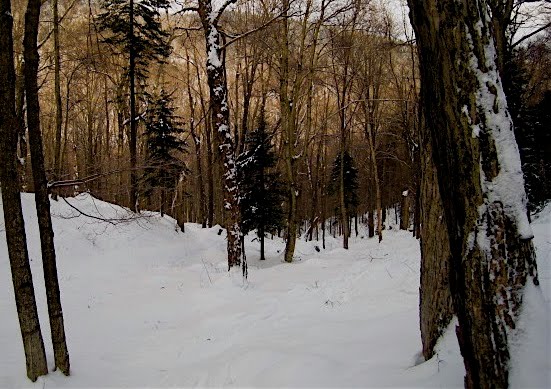 The North Side was open today for the first time this year, on all natural snow. CB and I hit Tahawas as soon as we got to the Saddle for the first time. I saw tracks under the rope to the Tahawahs Trees and inquired next time around at the Patrol station.
Harv: "Any plan to open the Tahawas Trees?"

Patrol: "We'd need some skier traffic to loosen it up."

Harv: "Are you looking for volunteers?"

Patrol: "They'd have to be true experts. Are you an expert?"

Harv: "I know when to sidestep."

Patrol: "What's your name?"

Harv: "Harvey."

Patrol: Are you skiing alone?

Harv: "My wife can ski the trail, and wait for me at the popout."

Patrol: "OK. Check back in here when you are done."
You have got to love Gore's Patrol.  You can read their signals. This whole thing with putting a rope 3/4 of the way across a trail opening means: "It's harder than usual, but doable." Their willingness to let us into the trees this week pretty much saved my vacation.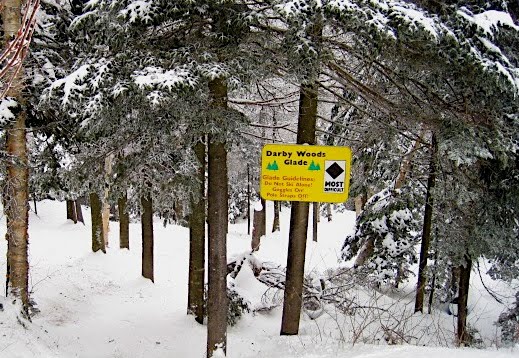 On skiers left, Tahawas was windblown and totally turnable. In other places, the crust required step turns. It was a hell of a lot of work. I could probably have skied in the existing tracks and had an easier time, but I was on a crust busting mission.
KHS was decent. Mineshaft steep, tight and tough, as usual. The whole Chatiemac Ridge had good coverage.
Finally, Uncas opened. Best manmade surface I've skied this year.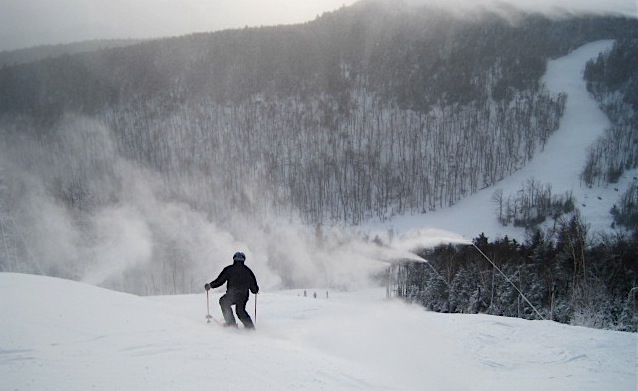 Conditions: Lower mountain was decent in the morning, but even Sunway had large icy sections at the end of the day. North side was great. If you'd rather ski on thin, all natural cover vs thicker, icier manmade, you could have some fun over there. North chair was also good for getting out of the wind today.
The trails at the summit need real work. It's good that they are hitting Lies tonight, but Gore needs a functional Hawkeye or Chatiemac to work. Cloud also really needs snow. The blue skiers that Cloud is designed to serve, were struggling on it at days end.
Summit trees that were thin: Dark Side, Straightbrook. KHS was really good. Chatiemac was also good. Coverage was decent in Mineshaft but I think those lines need more coverage. If they open Tahawas – go for it.
I found the lower part of Cave to be quite sporty – I did not ski the upper half. I also never got to Pine Brook.