From AlpineZone News: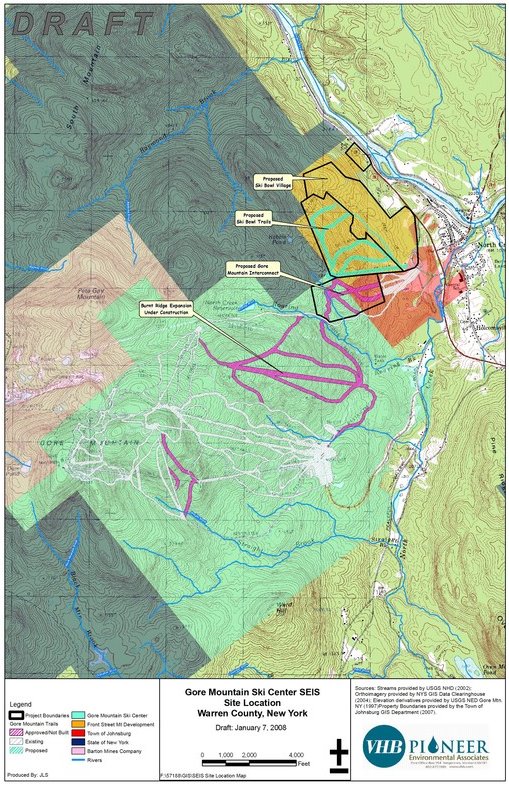 RAY BROOK, New York Gore Mountain Ski Center Interconnect The trail and lift design identified in the 2005 unit plan is unchanged from what was previously approved by the Agency and Commissioner of the Department of Environmental Conservation on June 6, 2006. The interconnection to North Creek Ski Bowl was rescinded based on recognition that additional assessment of potential cumulative impacts from the Front Street residential resort project was necessary.
The primary objectives of the approved amendment are to improve public access to Gore Mountain and Forest Preserve lands, to improve the skiing experience and to provide for a stronger interconnect between Gore Mountain Ski Center, the Historic North Creek Ski Bowl and the hamlet of North Creek. The 2005 amendment included construction of new ski trails and lifts in the Intensive Use Area that connects with the Town of Johnsburg''s Ski Bowl Park.
Like a lot of skiers, we didn't like the original lift design. The gondola between the ski bowl and the base lodge is expensive, doesn't add anything to the ski experience and could make congestion at the base worse.
The illustration above conflicts with the alpine zone story. It's dated January 7, 2008 and doesn't show the "Gondola to Nowhere" as part of the Gore Mountain Interconnect. Most local sources are under the impression that plans for the new gondi have been dropped.