Time spent guiding brought me a deep appreciation of the Catskills. I crossed many peaks and crannies, stashing secret spots away for personal endeavors that I couldn't take with guided groups.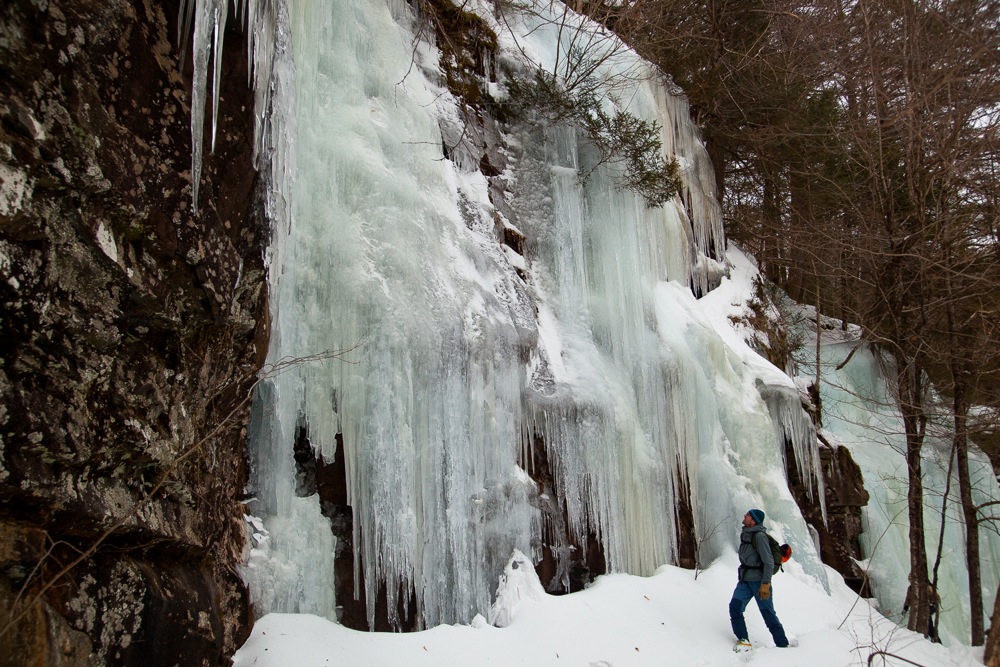 I loved the area near Kaaterskill High Peak, perhaps because of the many days I spent looking at it from across the river when I lived in Dutchess County.
Fast forward a few years, as Director of Operations it was my job to find new hikes. I would also strive to find swimming holes as a side project, and I often ended up back in the area.
I had only been climbing for a little while when the new Catskills Ice guidebook by Marty Molitoris came out. I thumbed the pages in Palenville's Circle W market after a day of skiing at Hunter Mountain. It was delectable waterfall-porn in a winter state that I had never had a chance to fully appreciate.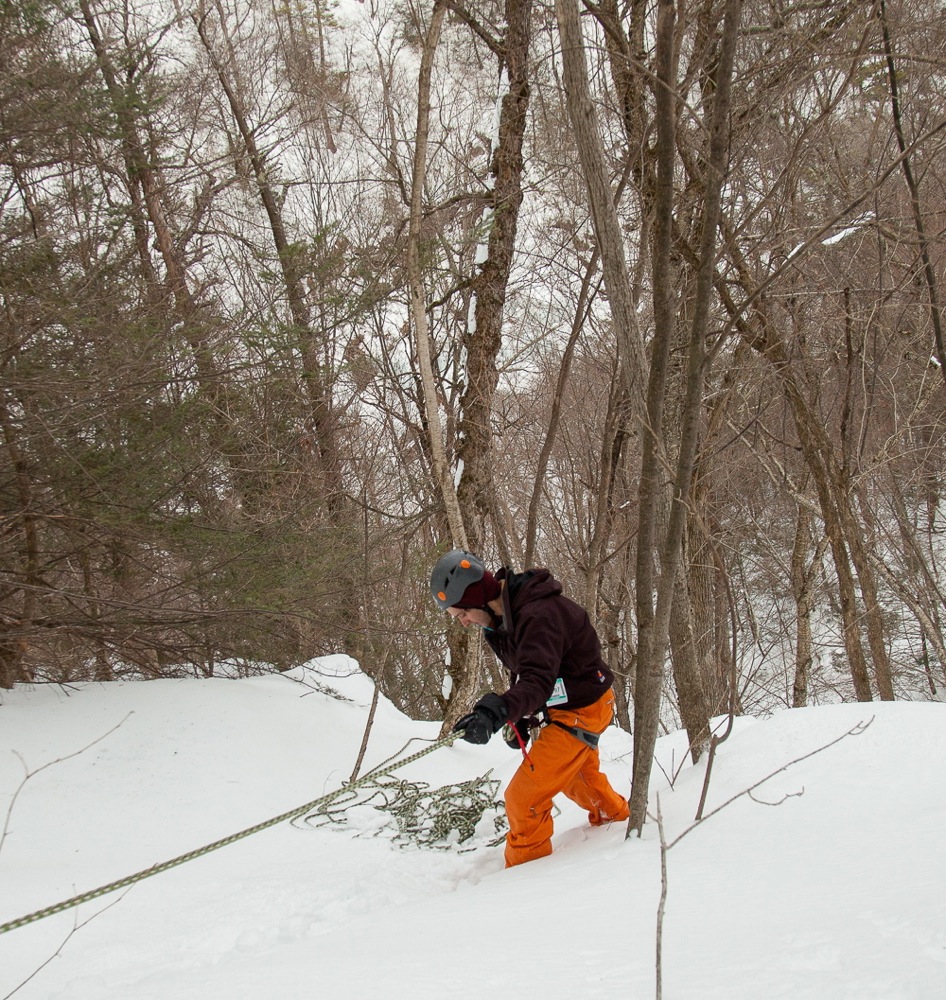 Thinking the book might lead me to some summer destinations, I bought it, along with a mountain of baked goods, and never looked back. Here was a chance to use my nascent climbing skills to build anchors after days skiing in the Catskills.
Perhaps because of the deep freeze this year, or precisely because the snow was so good, I began again to consider other winter activities to add to my quiver. Ice climbing certainly had my interest, so I went to hear the guidebook author speak about guiding and ice climbing in the Catskills at the Patagonia store on 14th street.
After an impressive lecture and slideshow, I asked him first and foremost: "Where can a beginner get a nice top-rope away from the bustle of the road?"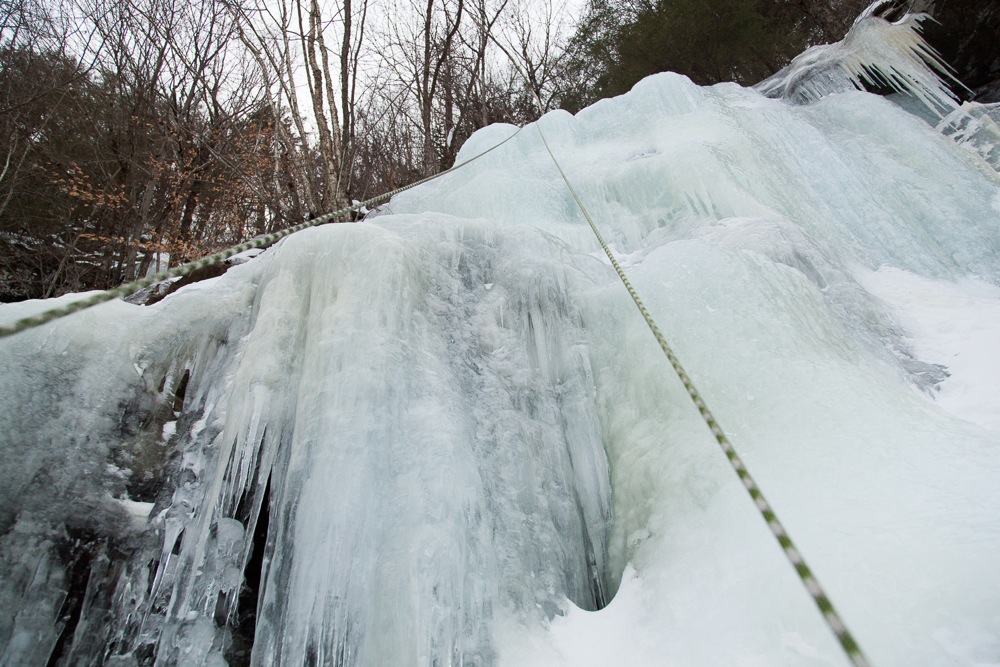 He answered that I should "seek the Dark Side."
So, like Luke struggling against his demons in the swamps, our group battled as well. Facing our demons, the unknown, and waist deep snow covered by a 3/4″ breakable crust we made our way across the Platte Cove valley.
Where the path wasn't beaten in, hiking 500 feet took about 15 minutes, and although i'm sure the directions were eloquent, it's tough to precisely know where to go through snowy woods.
Perhaps this is why most people stay by the safety of the road on 23A, or hire one of the areas well known guide services like Alpine Endeavors, or High Exposure.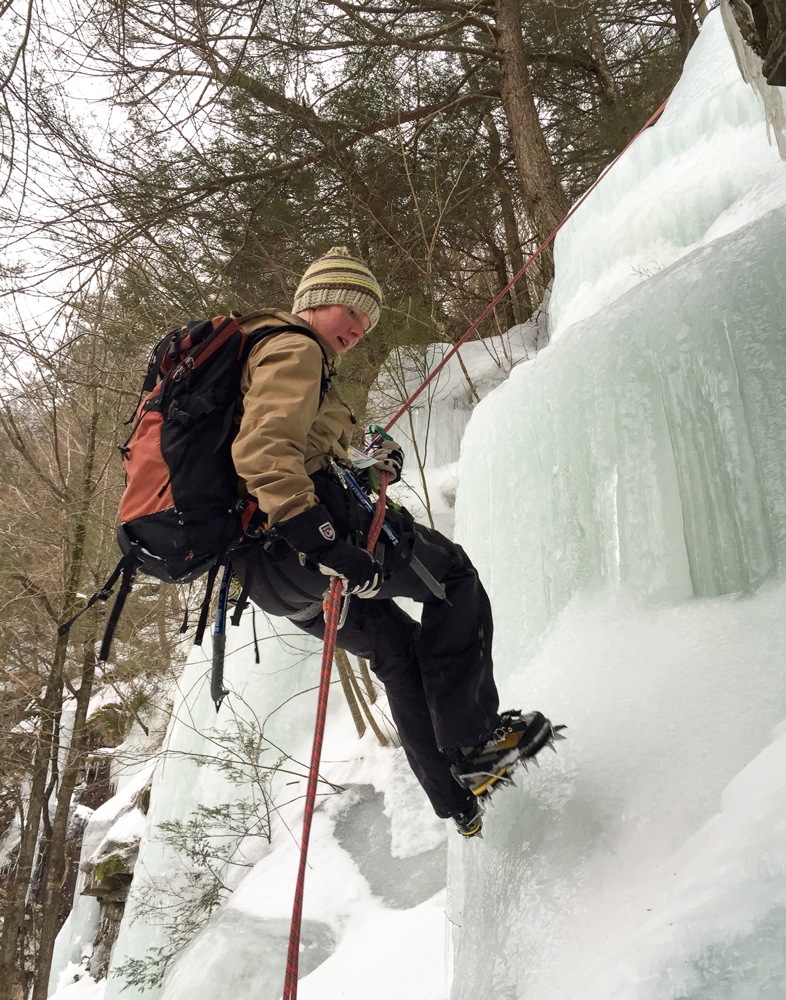 Regardless, we eventually found the place, or at least a place.
Breaking into two groups, Kaisa and I built top-rope anchors over two falls and spent the rest of the afternoon belaying and rappelling until we had firmly vanquished what remained of the daylight and hastily packed up.
While I hope that I didn't leave anything physical behind (this time), my greater goal is that I am further separating myself from any label I might apply to myself. It's never too late to explore, find a new skill, or another angle to a region that you thought you already fully appreciated.