The National Weather Service Forecast Discussion (ALBANY) addresses the possibility that a coastal system may produce mountain snow/valley rain late next week. Excerpts are below the GFS model image for Black Friday: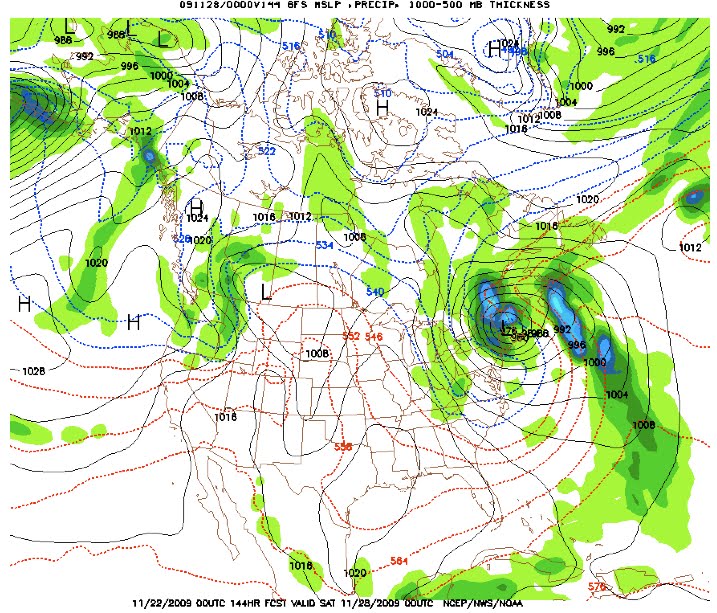 (Click on image to enlarge.)
LONG TERM WED NT-FRI
ANOTHER SFC LOW DEVELOPS ALONG THE SE COAST AND TRACKS NNE. AT THE VERY LEAST…WILL INDICATE CHC POPS DURING THIS PERIOD FOR RAIN…ALTHOUGH SOME WET SNOW COULD BE MIXED IN ACROSS HIGHER ELEVATIONS EARLY THU. THEN …AS MID/UPPER LEVEL CONTINUE TO COOL…WE EXPECT ANY RAIN TO GRADUALLY MIX WITH/CHANGE TO SNOW ACROSS HIGHER ELEVATIONS BY LATE THU …AND PERHAPS WITHIN VALLEYS BY THU NT OR EARLY FRI.
WHETHER THIS PRECIPITATION IS WIDESPREAD AND STEADY…OR MORE SCATTERED AND SHOWERY IS STILL UNCERTAIN … THERE IS AT LEAST SOME POSSIBILITY FOR PORTIONS OF THE REGION TO RECEIVE MEASURABLE SNOW SOMETIME DURING THIS PERIOD.
This is the real first call for any kind of snow or cold in a timeframe that is relevant to the ski season, so I posted it. One issue is that under these conditions…marginal snowmaking temps with wet snow falling….I think it's tough to make snow.
There are real weather guys out there who think that this coastal low may bomb out and produce something bigger – maybe an upslope event on the northern end of the Green Mtn spine. In any case, we'll all be watching this one.