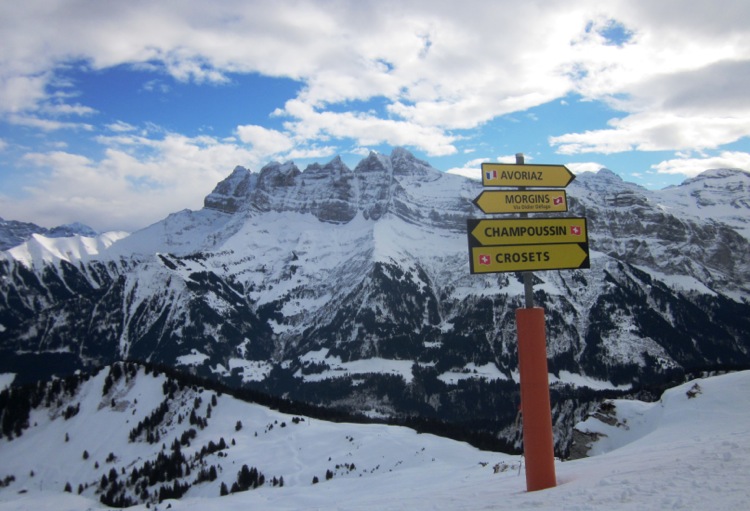 by James Michaud
Although I spent a semester in France as a university student and visited the country many times since graduating, I'd never gone on a ski vacation in the French Alps. Last season, I made it a point to end that omission in my portfolio and spent a week at the Portes du Soleil, just south of Lake Geneva along the Swiss border. There, I met Nadine Chevalier, Co-Director at the tourism office in Morzine, the largest of the region's 12 villages.
While she was in New York City last month as part of a press tour that included representatives from the 3 Vallées, Val d'Isère, and Paradiski, I had a chance to learn more about what it's like to grow up skiing in the Alps and to work at one of the largest ski regions in the world, featuring 265 miles of marked trails and 10,000+ skiable acres.
Where did you grow up and what was your home ski area?
I grew up in Grenoble, a small city along the western edge of the French Alps that hosted the 1968 Winter Olympics. My home mountain was Chamrousse, about 30 minutes away, which is where the alpine skiing events were held and where Jean-Claude Killy won three gold medals. By Alps standards, it isn't huge, but there was plenty to keep us occupied. As you can imagine, skiing is completely integrated into many people's lives there. I started when I was 3, first with my family, then with friends, and finally with the school ski club, where I raced for a number of years.
Given this location, skiing was always our biggest winter sport. I went to the mountain every weekend, every Tuesday and Wednesday afternoon, and every holiday from mid-December to the end of April. If we had a really good winter, the lifts would spin through the first part of May. That's been the rhythm of my life right through today.
Which ski mountain did you like the most as a kid?
My favourite was probably Serre Chevalier. Part of it is for sentimental reasons because that was the first mountain where I accidentally got separated from my parents while skiing. As you know, if you make a wrong turn in one of the larger ski regions in the Alps, it's possible not only to end up in a different terrain sector or village that's quite a ways from where you started out, but sometimes even a different country! Despite being only seven years old at the time and never having skied at Serre Chevalier before, I kept calm and managed to find my way back to my parents without asking anyone for directions. At the time, that was a big accomplishment and I always look back on it with pride!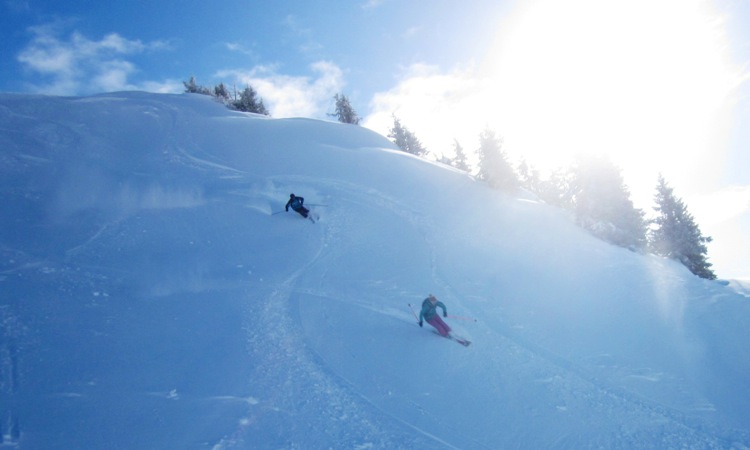 How did you become a ski instructor?
As an undergrad at the university, I completed a multi-year curriculum that was a combination of sports, including cycling, climbing, hiking, and running; however, skiing was the principal component. This education prepared me for a profession in a mountain environment and my current position continues to draw from it. My career choices were always dictated by my passion for skiing and snowboarding and I honestly can't imagine working anywhere else than a ski resort.
How long did it take to become an instructor and how many years did you teach?
In France, it's a long and rigorous process. The training, through the National School of Skiing and Alpinism at Chamonix, took a number of years. I then taught for five years at several mountains in the Alps.
Did you enjoy it?
Absolutely. I loved teaching and have wonderful memories of the bonds I established with students, whether they were adults, teens, young children, from France or elsewhere. That said, like ski instructors everywhere, you have to deal with a number of challenges every day, many of which are outside your control: personalities, weather, logistics, etc. Even though you get to ski a lot, it's obviously not the same as free skiing and at a certain point, I realised that it was more important for me to ski for my own enjoyment. My objective was never to make skiing itself my profession.
Have you skied much outside of France?
Since all of the countries that share the Alps are in such close geographic proximity, I've skied pretty extensively in all four of them. I still haven't skied in the Pyrenées though!
As Co-Director of Morzine's tourist office, what are your main responsibilities?
I'm in charge of print and online communications, marketing, and the promotion of the resort in our principal and secondary markets. That includes drafting and finalising the press strategy, organising and executing media events, workshops, and visits at the resort, participating in press events both in France and abroad, reports on national and regional TV channels, creating written collateral, buying advertising time or space, and creating partnerships.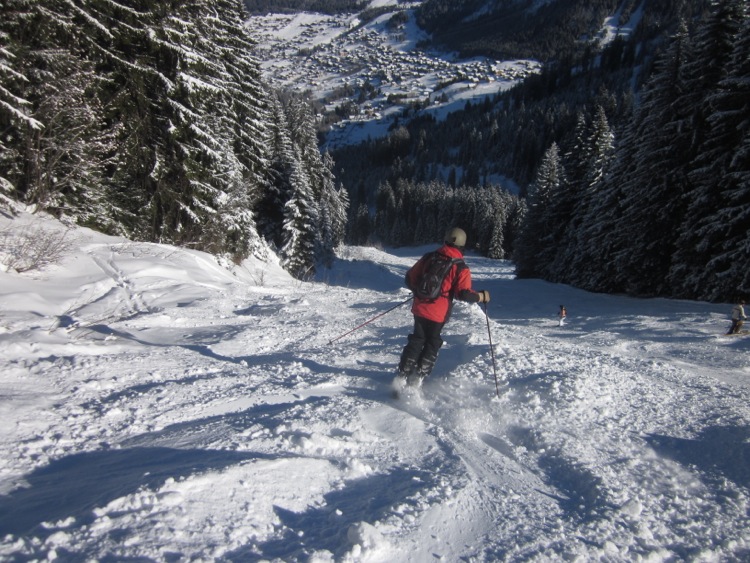 Which are your key markets?
Based on a poll of more than 8,000 visitors last season, they're the UK (34%) and France (29%), followed by Russia and Belgium (9%), Holland (5%) and Germany (4%).
Which parts of your job do you enjoy the most?
I enjoy virtually everything. It's very diverse and impossible to get bored!
Growing up in New York State, I remember that skiing was seen as an often prohibitively expensive sport for many people (I played hockey instead). For some reason, I always figured that it was more affordable in France, especially for those who live in or near the Alps.
In my opinion, it wasn't substantially different in France. As far back as I can remember, the perception was that skiing was a luxury, i.e. only for those of a certain means. As everyone knows, between equipment, lessons, lift tickets, food, transportation, it's an expensive sport! To be able to afford a one-week ski vacation, people often have to make financial sacrifices in other areas of their lives, just like I assume it is in North America.
What we have today that didn't exist back then are almost countless ways to create customizable vacation packages, discounts during off-peak periods, and equally important at the Portes du Soleil: a multitude of activities for non-skiers so that entire families can go on a winter holiday and everyone will enjoy themselves. I'd argue that skiing has become a lot more egalitarian in that we can offer all sorts of pricing options and communicate them quickly via the internet, for example lift tickets: one-hour, half-day, five- or six-day, discounts for groups/seniors, free for kids up to five years. Decades ago, people may not have been aware of the many possibilities at a ski resort unless they were really motivated to gather the necessary information, make phone calls, etc.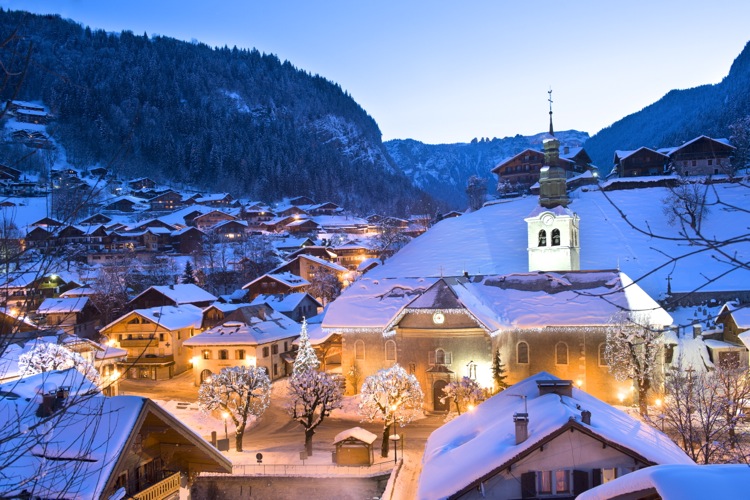 What's the most challenging part of your position?
No question, we're always striving to raise the Portes du Soleil's brand recognition among new audiences, both nationally and internationally. For the village of Morzine in particular, our goal is to communicate that it's a perfect headquarters for a visit — a traditional, lively chalet village that provides easy access to the entire region via high-speed lifts and offers lots of fun non-skiing activities too.
What are the main attractions about the Portes du Soleil that you convey to prospective visitors?
There are several unique aspects about the Portes du Soleil and oddly enough, the one I like to cite first isn't even ski-related. It's that the region is composed primarily of French and Swiss mountain villages that were in existence well before the region became a ski attraction; in fact, several date back to the Middle Ages. For that reason, there's a wonderful sense of folklore and tradition here which you don't see in resorts that were purpose-built for skiing over the past 40 years.
The fact that these are genuine year-round places means the majority of people who work here also live here. This gives the Portes du Soleil a real feeling of continuity and cultural authenticity, including delicious specialties made with produce and ingredients from the region and work created by talented local artisans. All that adds an interesting dimension to a visit, especially for our guests who aren't from France.
Of course, the sheer size of the region is a major selling point. Going on a ski safari over such a large distance, not only from one charming village to another but also to another country, right past the Dents du Midi, an iconic geologic feature [shown in the photo at the top of the article], and more than 90 on-mountain restaurants is a real adventure and something you can't do in North America.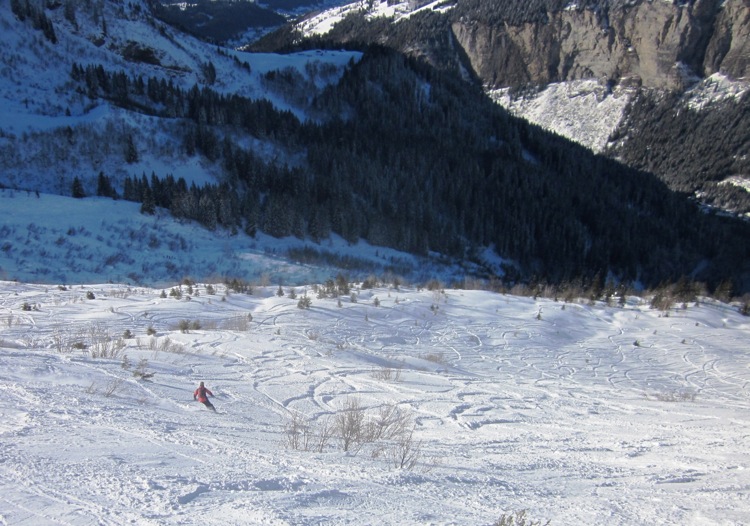 Another key draw of the Portes du Soleil is that it sits in a snowbelt between Lake Geneva and Mont Blanc. At lower elevations, there's comprehensive snowmaking coverage, so it's very reliable for destination visitors. [Editor's Note: According to Fraser Wilkin, an acknowledged authority on Alpine meteorology, Avoriaz — located at the highest part of the region — averages more snow than any French resort. Avoriaz was crowned the snowiest resort in the Alps for the winter of 2012-13 with more than 450 inches of snow at resort level and 530 inches at upper elevations.]
Finally, we have easy access to an international airport: only an hour from Geneva, Switzerland. From New York, you can take an overnight flight that lands in the early morning and ski several hours on your arrival day. From what I understand, Americans don't like to waste time getting on the slopes, so this is obviously a big advantage for you!
I also have to mention that 2015 is the 50th anniversary of the Portes du Soleil ski region, so it's a great time to visit!
Final question: from which country are your most challenging guests?
The French are probably the most demanding, but I'm French so I understand where they're coming from!
---
For additional photos, info, and trail maps, check out the daily trip reports: