The New York State Department of Environmental Conservation (DEC) has proposed a ban on gasoline powered motorboats on Thirteenth Lake in northern Warren County, New York.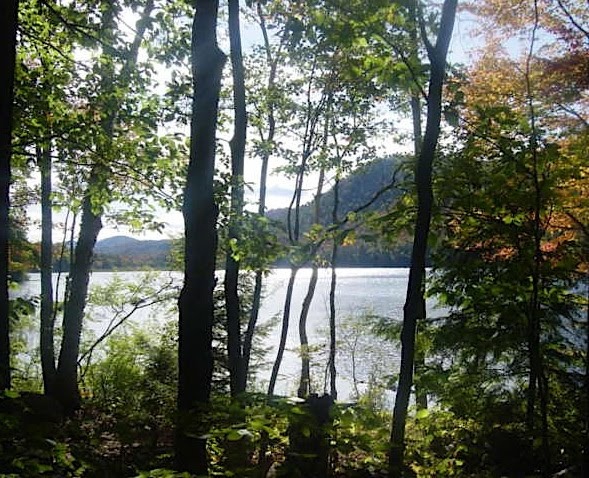 The 2005 Siamese Ponds Unit Management Plan indicates that the DEC has received "numerous letters and phone calls" on the issue. The complaints address the noise, air and water pollution, and impact on nesting loons and paddlers caused by motorboats.
Under the new regulation, electric motors would still be allowed on the lake. This would allow fishermen to troll and the mobility impaired to continue to access the lake and the Siamese Ponds Wilderness.
We've spent a great deal of time on 13th Lake, and it's beautiful. There are very few lakes in the Adirondacks, accessible by car, that are as unspoiled. The lake is fairly well sheltered from wind, and it's hard to imagine a reasonable use of the lake that isn't possible with a quiet, smoke-free electric motor.
Currently, the only limit on craft size is the required walk of 500 hundred feet from the state parking lot. Vehicle access is blocked by boulders, which creates a defacto limit on boat size — what you can pull by hand without the help of a vehicle.
We've been on the lake when a small gasoline-powered motor is in use. If it's noisy or smoky, it's hard not to feel that one person's use of the lake is degrading the experience for others. For this reason, I support the ban on gasoline motors on Thirteenth Lake.
In some ways, this argument is parallel to the debate that surrounds the use of float planes on Lows Lake. In that case, those against the use of motors also argue that the use of a few diminishes the experience of many.  In my opinion, the decision regarding Thirteenth Lake is simpler and more clear cut — there's no existing industry based on the use of gasoline motors and there is an inexpensive, clean alternative.
The proposed regulation was released for public review on May 26. Interested parties have until July 2 to comment:
Peter Frank
Bureau of Forest Preserve
625 Broadway
Albany, NY 12233-4254
[email protected]
518-473-9518