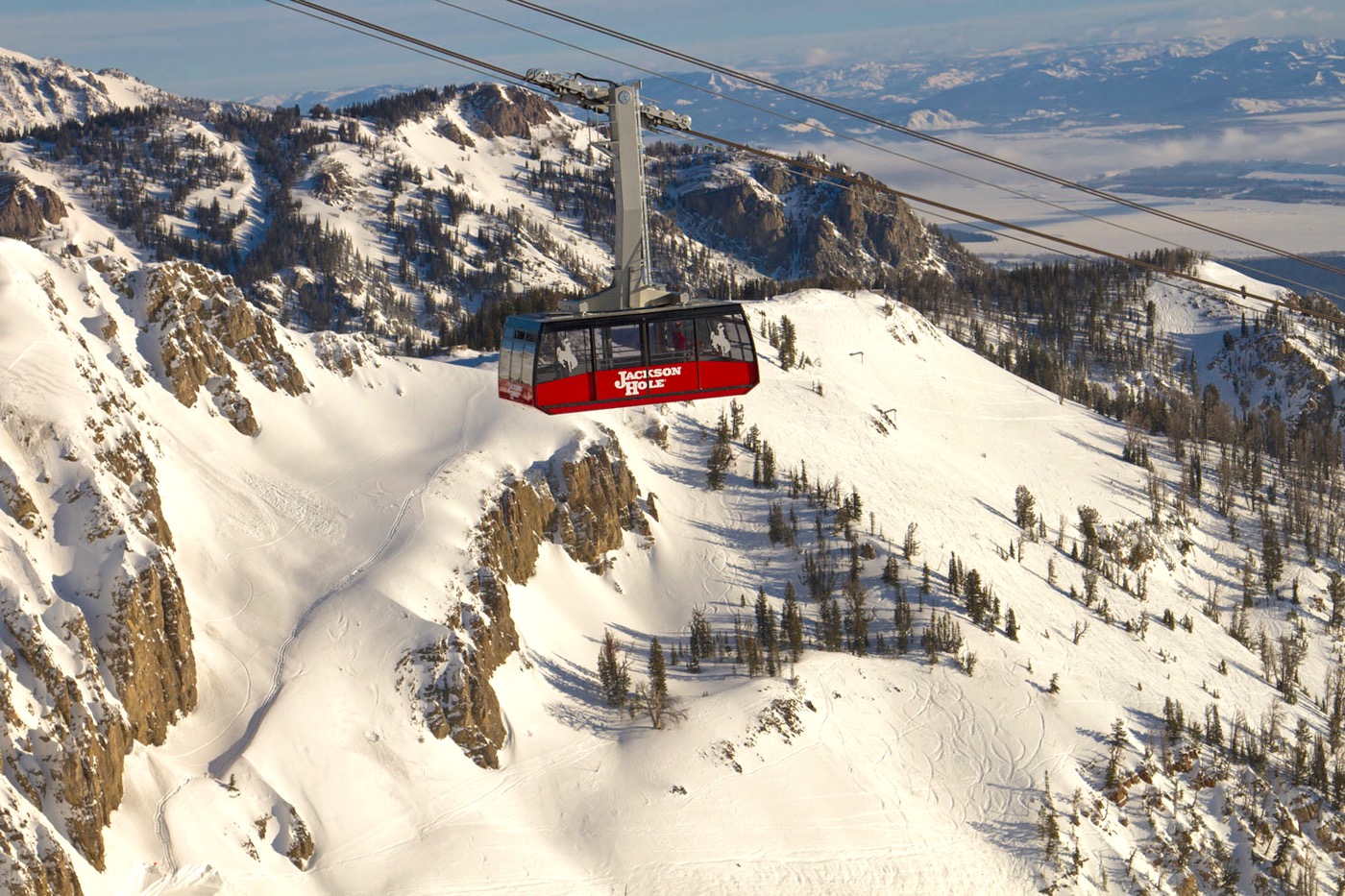 by Alan Wechsler
The original plan was to fly from the Northeast into Salt Lake City with ski buddy Steve Goldstein, spend a few days up in Wyoming and then enjoy some Wasatch powder. To corrupt an old Yiddish saying — you plan and the snow gods laugh.
Utah was experiencing its leanest snow year in recent memory. When we arrived in Salt Lake City on Feb. 1, people were walking around in shorts; yet Jackson Hole Mountain Resort was reporting some of the best powder in America. So we altered our plans, taking more time up in Wyoming's northwest corner. It would be my first time skiing legendary Jackson Hole and visiting lesser-known Grand Targhee. The drive took five hours from SLC, but it was well worth it.
Jackson Hole: Day 1
It was raining when we arrived at the Inn at Jackson Hole, a nearly slopeside hotel that offers large and comfortable rooms. While the weather made for an icy parking lot, rain falling at Jackson's 6,000-foot level meant snow at the summit, more than 4,000 feet higher and about 20 degrees colder.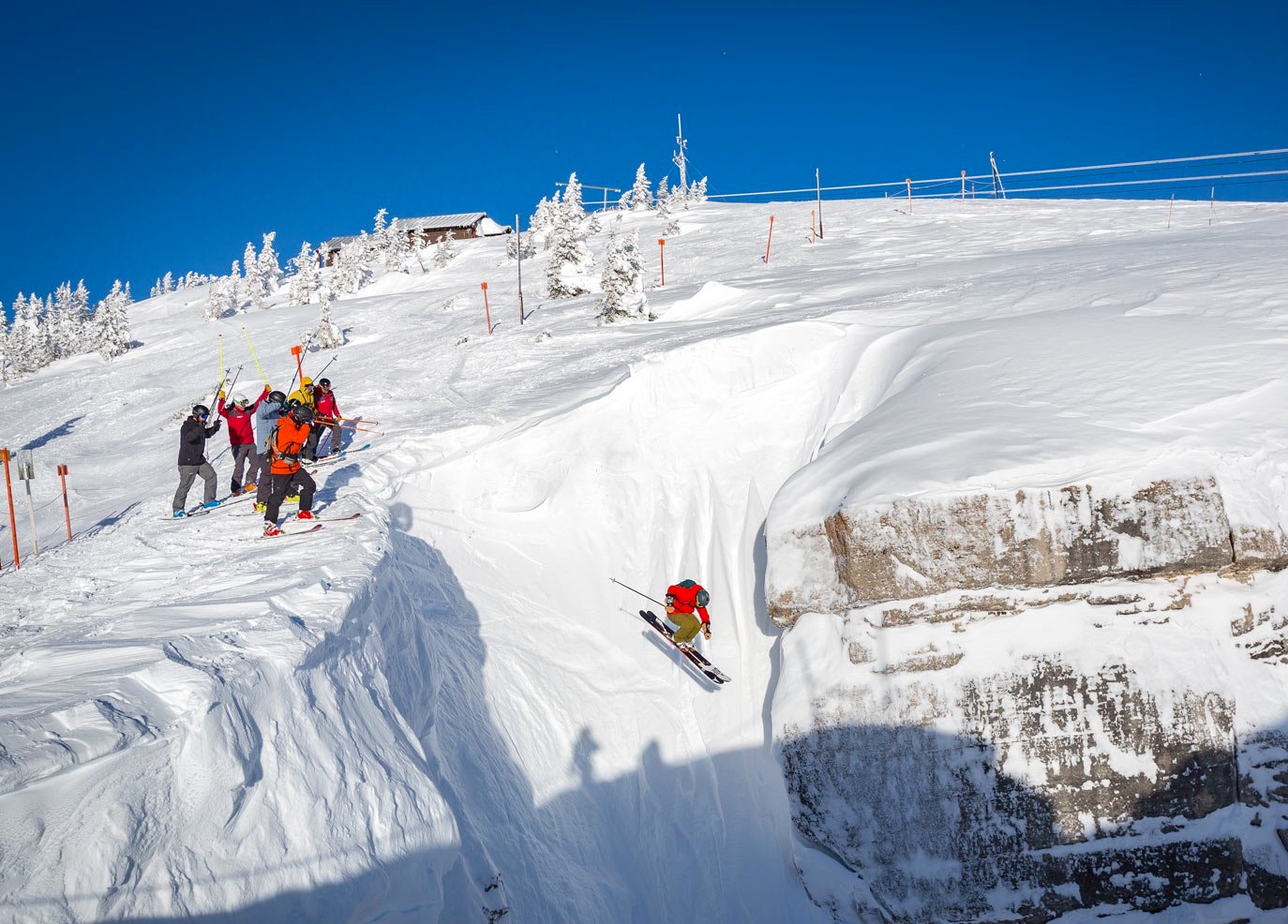 We started our first day with a breakfast burrito at the Southcable Cafe, so named for its location next to the tram, then got in line – and what a line. Know this: if you're at the end of the maze, as we were, it's about a 45-minute wait for the tram. For those considering riding the gondola instead, we tried that the next day and found it took just as long to get to the top of the ridge, so pick your poison.
We waited, and waited, and then crammed into the car, which carries 100 skiers up 4,139 feet in 12 minutes. At the top, snow blew sideways, rime ice coated the deck railings, and clouds reduced our view to a few feet. Nearly blind and somewhat lost, we followed skiers into Rendezvous Bowl, where a whiteout made nonsense of land and sky.
The mountain consists of tiers of steep cliffs and chutes sandwiched between more mellow terrain. The potential for getting cliffed out is everywhere, but hazards are usually fenced off or marked. Still, you'll want to pay attention.
After some blind reckoning out of the fog, we found ourselves above the Alta Chutes, one of Jackson's more infamous challenges. Steep and narrow, these chutes get the blood flowing, especially where Chute 1 hourglasses into a rock-strewn gulley only a few feet wide. The powder was delightful — all the snow that had blown off the summit had landed here.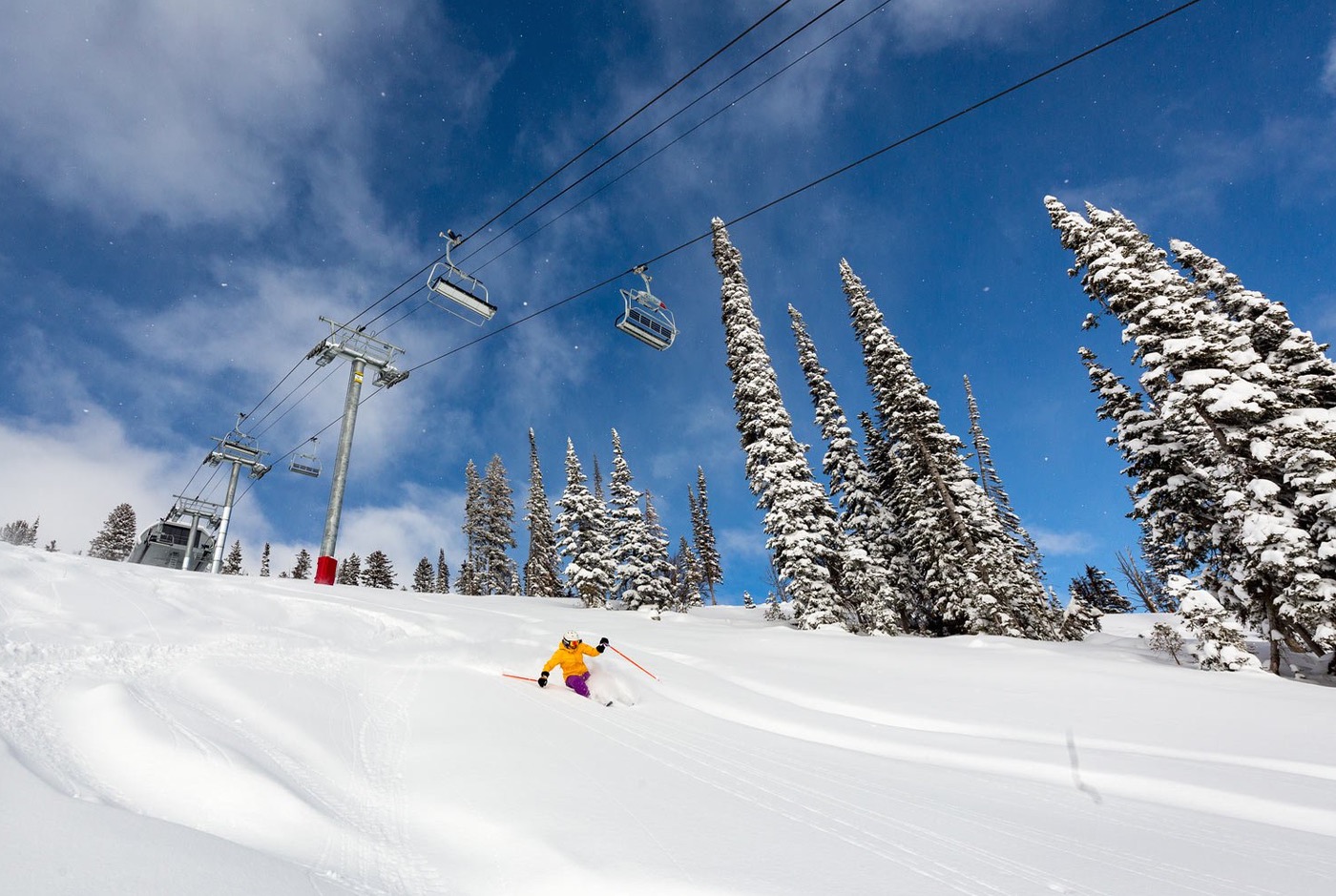 The Sublette Quad is the next-best ride to the tram, and takes riders to some of the mountain's premiere steeps. On this Saturday, the wait was considerable. Clearly, Jackson's snow was no secret. And then there was the new Mountain Collective – a $379 deal that grants members two free days each at 16 resorts around the nation, including Jackson. Steve and I made use of the singles line, and over the course of the day lift lines thinned out significantly.
Steve is an expert skier, even on tele gear, while my form is nowhere nearly as strong. Still, after a few pointers, I found myself following him down steep runs like the Tower Three Chute, and looking forward to more. It's amazing how quickly one gets used to steep exposure.
Intermediate skiers take note: Jackson doesn't use double-black diamonds to rate its trails, so the difference between an enjoyable expert run and a terrifying, butt-puckering headwall is something that may not be obvious at the top. If you're not sure, ask someone first… and hope you don't get sandbagged.
Still, conditions weren't perfect. You had to stick to the upper half of the mountain – the lower 2,000 feet was completely crudded up due to wet snow. Still, there was plenty to explore, and the snow kept coming down. We skied until closing and took off our skis wanting more.
Jackson Hole: Day 2
The question on the second day was: would Corbet's Couloir be open and if yes, would I have the nerve to ski it? For Steve, Corbet's was a long-awaited check off his lifetime ski bucket list. I was happy just to look at this legendary run, described by some as "America's scariest ski slope." I wanted to peer down its maw and maybe, just maybe, get up the nerve to jump down the thing.
To those who have neither skied it nor stared with awe while riding up the Jackson tram, entrance to this route requires either hucking off an overhanging cornice or committing to rocketing down a near-vertical chute for ten feet and then making several turns in rapid succession to avoid rock walls. If you survive the entrance, the headwall guards some of the best in-bounds powder on the mountain, mainly because so few ski it.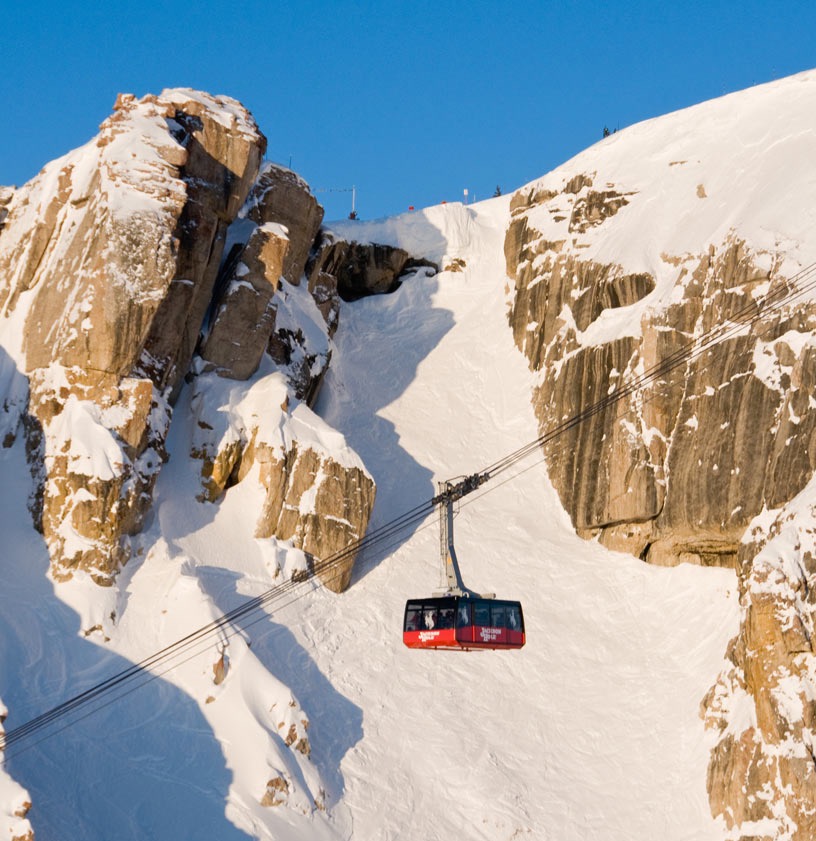 After a few runs, I heard Corbet's was open, and immediately informed Steve. To get there, we'd have to ski down to base and wait for the tram – the only lift to the summit. It was even warmer than yesterday, meaning a 2,000-foot run down wet, draggy slop. Still, we sloshed our way down.
As I waited at the chaotic entrance, three snowboarders cut in front of me. This didn't bother me until a half-hour later, when the lift attendant put the chain down right in front of us. Still, it was only 10 minutes to the next car.
At the top, it was even more blustery than a day earlier. We were pelted by ice crystals, and it was hard to tell where the entrance to Corbet's even was. I couldn't imagine getting the nerve to commit, so I said good luck to Steve and headed down the Rendezvous Bowl, where the white-out was so complete I could barely tell if I was moving. Steve and I caught up again at the base of Thunder, and he was smiling. "It was amazing. The powder in there is knee deep."
I questioned him about the entrance, pressing for details. He described the drop in, and how he almost lost it on the second, mandatory turn. But after that it was just him and the most perfect powder on the mountain. Now I really wanted it.
Still, rather than heading back to base, we investigated some areas we hadn't seen yet, moving skiers left to the Teton Quad Chair. We did a few runs playing in the Moran Woods and what Steve called the "Wasabi Glade" (actually Washakie Glade). We passed one of the resort's half-dozen backcountry access gates, and some pack-laden skiers heading out for some out-of-bounds fun. This mountain has a lifetime of adventures, provided you know where they are. It would take years to learn all its secrets.
Eventually, we decided on another summit run. The tram line was shorter by now, and I tried to steel myself for Corbet's. I ate a protein bar, looking for extra energy. I pestered Steve for more beta. I pictured success in my head. 12 feet. All I had to do was launch and turn. Weaker skiers than me do it all the time. Just find the nerve to pull the trigger, and I'd be in powder heaven.
We reached the top. The operator gave his usual spiel about the backcountry: "If you don't know …" – "Don't go!" yelled out all the riders on cue. The doors opened, and we wandered out into the wind.
This time the weather didn't bother me. I felt strong. I had descended some of the mountain's steepest gullies. I was ready. I can do this. I followed Steve into the fog, and down to the rime-covered sign that said "Corbet's."
It was closed.
I wasn't sure if I should be relieved or disappointed. We found some easier lines for our last run, and I knew I'd be back. Perhaps next time I'd even find the nerve.
Grand Targhee
Grand Targhee is located at the end of a dead-end road, with a small base area, several hotels and a few eateries. Nightlife consists of the hot tub and whoever's sitting in the lobby when you come back.
The mountain's 2,500 feet of vertical get an average of 500 inches of snow a year. On blue sky days, skiers get a clear shot of the Grand Tetons, some of the most recognizable and jagged mountains in this hemisphere. We never did see the Tetons, but we sure got some powder.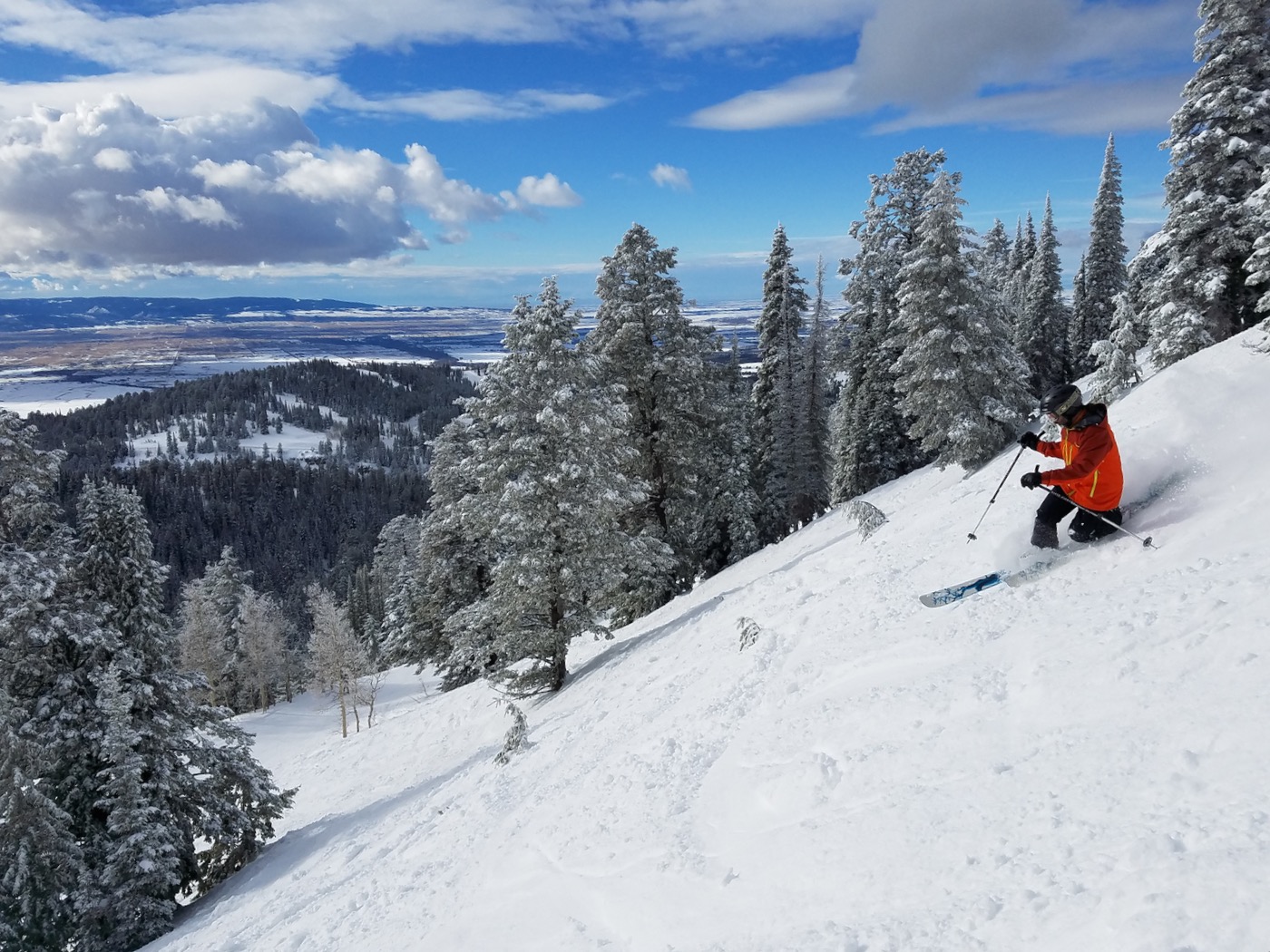 On the way in from nearby Driggs, Idaho, the ground was completely bare. But then we started row after row of switchback turns, and with each hairpin turn, the snow got deeper.
We arrived in time for dinner at the high-end Branding Iron Grill, where I'd had a respectable prime rib special. We were staying at the nearby Teewinot Lodge, and afterward shared the hot tub with a trio of stoners from Minnesota, who make the 20-hour drive each year. They regaled us with stories of skiing Mount Bohemia, a 900-vertical-foot resort on Michigan's Upper Peninsula. And that was about it for Targhee after dark.
Targhee is not a big mountain. With only three major lifts, you can ski most of it in half a day. But it's got tons of fun tree runs and retains its powder thanks to a lack of crowds. On our first day, the mountain claimed nearly a foot of powder, and even by the end of the day we were still finding stashes of it. There was never a line to be seen.
We began by heading over to skier's right, by the New Blackfoot Quad. I could talk about individual trails, but there's really no point. Trails at Targhee are really just an idea — a stretch of open bowl between clumps of widely-spaced trees. It's all pretty indistinguishable — intermediate-level pitches for the most part with glades everywhere.
For more expert skiers, there are plenty of challenges. To the right of the main Dreamcatcher Quad, there's a series of steeps that I called the "Spaghetti Western Wall," because the trails are named "The Good," "The Bad," and "The Ugly" after the 1970s Clint Eastwood masterpiece.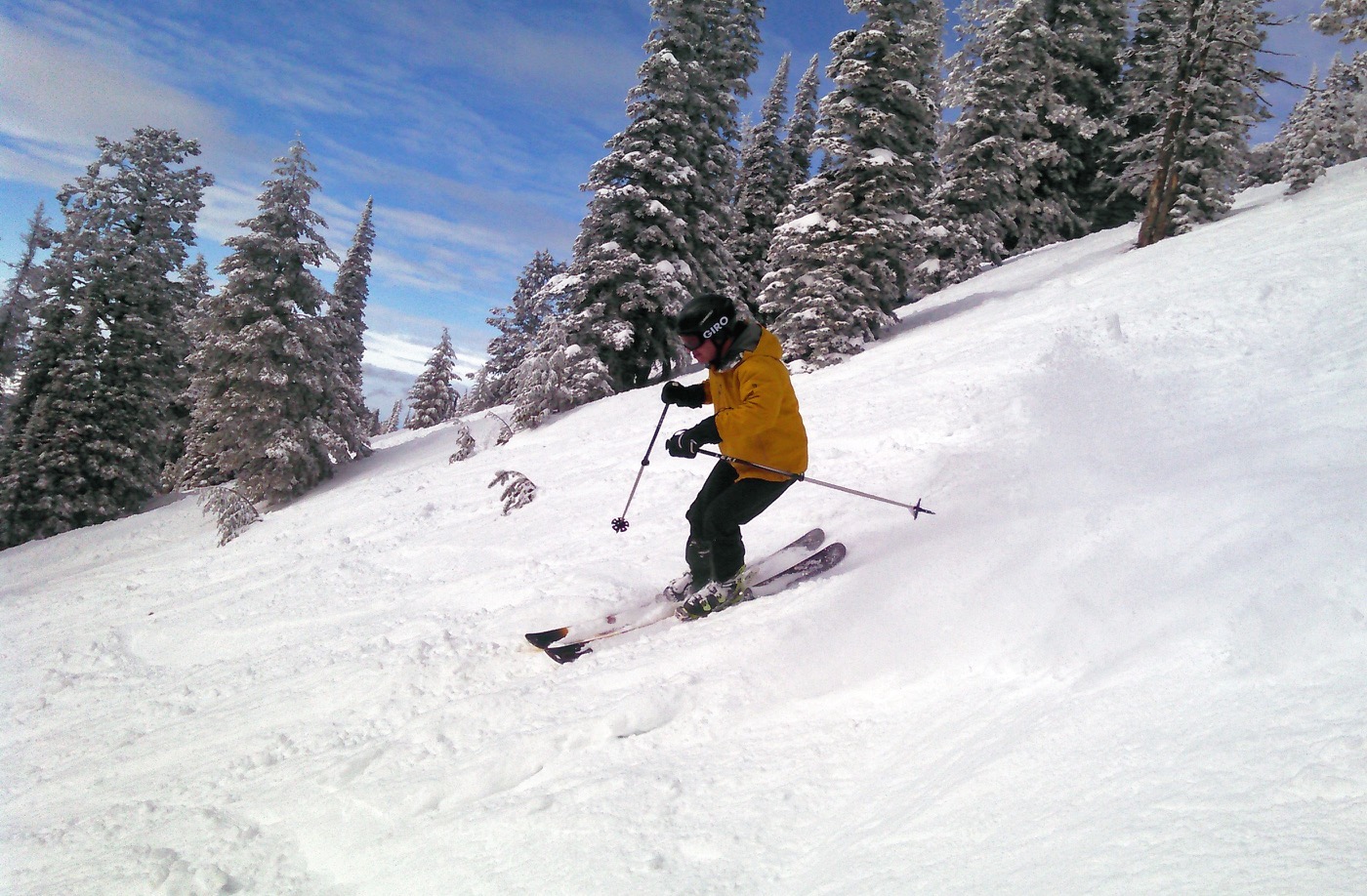 From Dreamcatcher lift on skier's left, there's a series of single-blacks that get surprisingly steep toward the bottom. This also affords a newby a great view of Targhee's most challenging face, a slope bifurcated by a long cliff band. To get to these runs, you have to take the Sacajawea Lift. At the top, pass through the gates, make about four turns down steep snow, and get ready to huck.
The top of Sacajawea also affords skiers a peak into Targhee's Powder Cat Skiing Area. A day of skiing in this area costs about $400, and reservations are required, up to a month in advance.
As we were exploring, we heard the blasting from avalanche controllers up at Mary's Nipple. The highest peak in the resort, this is Targhee's hike-to terrain. It's about a 20-minute hike, or longer if, like me, you're exhausted from back-to-back days of skiing. It's worth the effort on a powder day, as it provides access to some seriously soft conditions. Once you're down in the bowl, you'll also get an up-close-and-personal view of the aforementioned cliffs.
One complaint about Targhee from Steve – its terrain invites traversing everywhere. So instead of the moguls one might get on down-mountain trails, powder gets criss-crossed into chunky bits, making for jagged riding. It gets doubly hard when you find yourself in the thick, soupy fog for which Targhee is famous.
Targhee, named for a local Indian chief, is celebrating its 50th anniversary next year, and has launched a ten-year plan to upgrade its infrastructure. With a $30 airport shuttle and daily buses from Jackson, it's well worth a visit if you're in the neighborhood, even if you don't have a car.
Teton Pass
After four days of skiing Wyoming, our legs could barely turn. But we weren't done — we wanted to ski Teton Pass. Located a few miles outside of Jackson, 8,400-foot-high Teton Pass (not to be confused with a small resort of the same name in Montana) is one of the premiere backcountry ski destinations in the U.S. Every day, dozens of cars park at the pull out, so skiers and riders can follow the boot-pack to the top of 10,086-foot-high Mount Glory.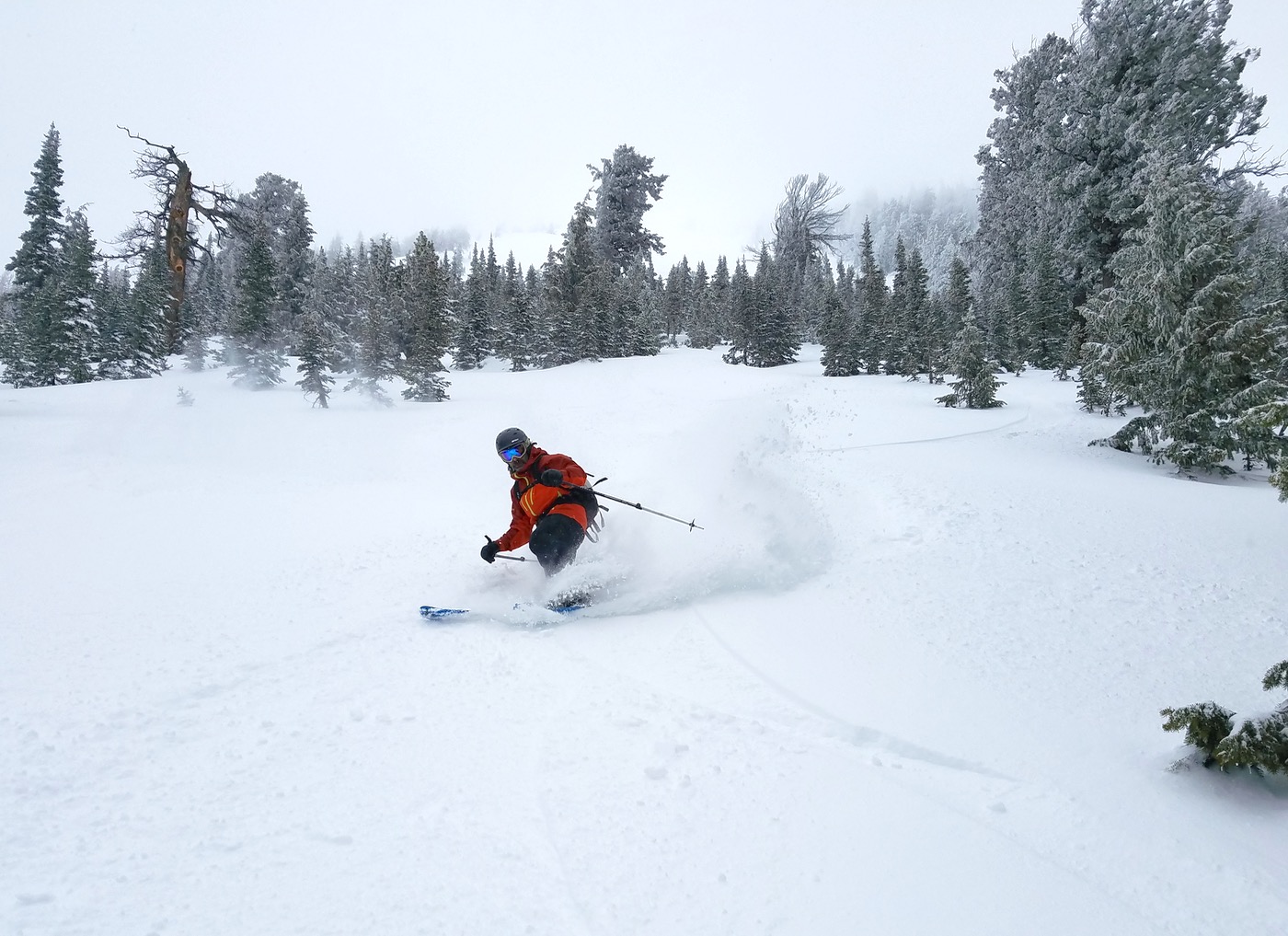 While some of the busiest skiing here is early morning, when locals stop by for a quick run before work, the parking pull-out was still almost packed at 10 a.m. on a Wednesday. As we dressed and checked our avy gear, a massive snow-blower truck, big enough to swallow a cow, drove along the road, carving out the shoulder. Down in Jackson, there was no snow to be seen, but up on the pass, it was full-on winter.
I followed Steve up the boot-pack. In no time, I was in the clouds. The wind blasted away, yanking at the skis on my backpack. I passed a giant pipe sticking out of the ground — part of a complex Gazex snow control equipment on the pass. When snow builds up, piped-in gas is ignited to create a sonic blast, triggering a controlled avalanche.
When I reached Steve near the top, we met a lone snowboarder named Mike, who offered to guide us down. We welcomed the opportunity to link up with someone who had been here before.
"Some people go into the Mt. Glory bowl, but I wouldn't," he said. "The avalanche risk is pretty high right now." "There might be some rocks," he added. "I'm not going to tell you there won't be."
And then we were slipping down perfect, creamy powder, through widely-spaced trees. Eventually, we came out to the side of a wide bowl. By now we were out of the clouds and the road was visible. Avoiding a potential slide zone, we wound up in a drainage that brought us through a weakness in cliff bands and back to the road.
It was hard work, earning those turns, but we weren't done yet. Across the road, on the south side, was a lower-angle skin track to a cornice-lined ridge. We ate lunch in the car, put on skins and began the ascent. At the top, we peeled off skins and dove into the trees. Then, another agonizing trip back to the top.
Some things are worth the trip.
Jackson Hole photos courtesy of Jackson Hole Mountain Resort
---