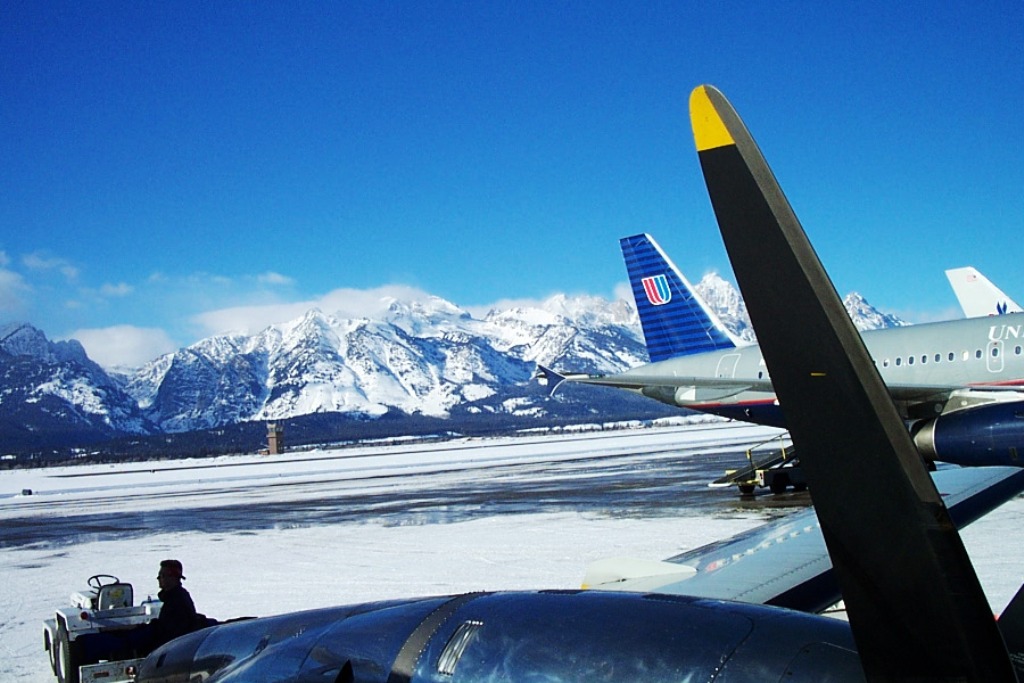 by James Michaud
One week before leaving for a six-day ski trip to Teton County, Wyoming, I checked several online weather sites to see what kind of snow conditions I would encounter during my stay. To put it mildly, things were looking grim. After a bountiful early season in which Jackson Hole received more than 15 feet of snow before January 2, a major market correction had taken place.
A high-pressure system had parked itself over most of the intermountain west for three straight weeks, resulting in lots of sun, but zero precipitation. As all that early-season powder was trampled by thousands of oversized fat skis, conditions at Jackson Hole went from heaven to hard-as-a-rock.
The whole scenario reminded me a bit too much of my trip to Jackson Hole two years earlier, when an inversion kept everything cloudy and bitterly cold on the lower mountain, while above the clouds halfway up Rendezvous Mountain, temps were 15 degrees warmer and sunny. I spent three days yo-yoing on the Thunder and Sublette lifts, skiing everything that was within my skill level, and often way above it. I streaked down Bivouac, hopped through big hard bumps on Thunder Run, Cirque, and Tensleep Bowl, made high-speed turns on groomed runs like Grand, Amphitheater, Gros Ventre, and Sundance, tiptoed my way through the intriguingly named Dog Face and Egg Carton, and had a spectacular yard sale in the Cheyenne Gully. Unfortunately, because of the dry conditions, my freshly waxed fat skis remained confined to house arrest inside my room at the slopeside Hostel X. In fact, they never made it out of their protective bubble wrap inside the ski bag.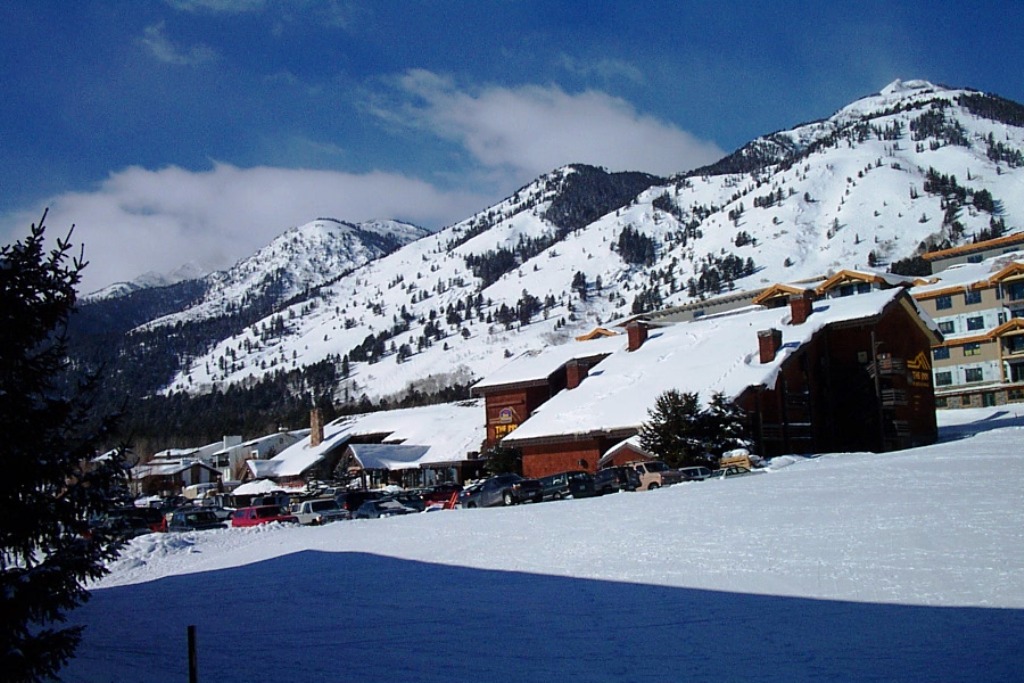 Although the trip was hardly a failure — I took lots of great photos, improved my steeps technique, and saw an amazing ZZ Top tribute band at the Mangy Moose — at the same time, I felt vaguely robbed. Like every other tourist at Jackson Hole, seething with a sense of entitlement, I was denied the big-mountain powder experience that I believed I deserved. In spite of the beautiful scenery and western ambiance, for the honor of skiing steep terrain covered with hard snow, I could have just as easily driven up to Whiteface and saved myself the airfare.
But thankfully, my luck had changed. As I packed my bags for an early morning flight, a storm track had moved into western Wyoming and weather forecasters were calling for continued flurries the following week. By the time I arrived at Teton Village the next day, conditions were outstanding. While walking through the parking lot, I heard several skiers (one with his face and beard caked in snow) raving about the deep powder they had just tracked up.
Rendezvous, on the skier's right, is the headlining act here. With everything from cliffs, chutes, couloirs, steeps, trees, gates to thousands of acres of backcountry skiing, and a few really long cruisers, this is the terrain you've seen in the ski magazines, in the movies, and the main reason people come to Jackson Hole.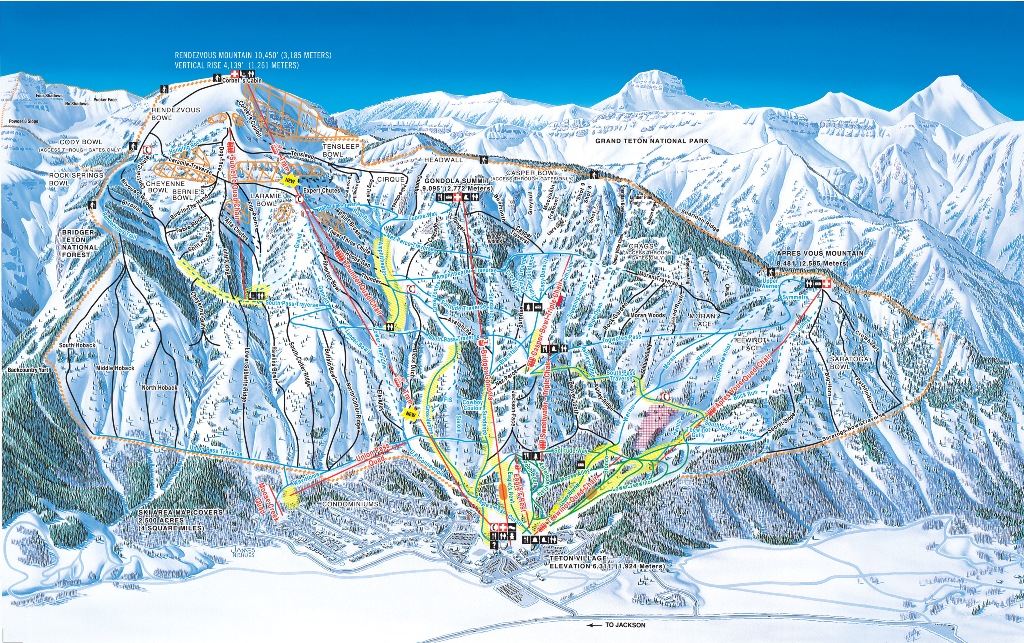 The tram is the fastest way to the top of Rendezvous, accessing more than 4,100 continuous vertical feet in one shot. Not surprisingly, it's Jackson Hole's most popular lift, especially on big powder days. Walking past the tram entrance at 9:30 am, the queue was already spilling out well beyond the lift maze. To get a handle on how long I'd have to wait, I began counting the number of people in line. I stopped somewhere between 150 and 170. With each tramcar holding approximately 55 skiers, I was looking at a 30- to 40-minute wait followed by a 10-minute ride crammed inside a big metal container with a bunch of sweaty skiers. I moved on.
Turning to my right, I glanced at the shiny red Bridger Gondola, credited with being the turning point in Jackson Hole's evolution into a more user-friendly ski resort. By replacing the old slow chairlifts that had frustrated skiers for decades, the gondola now provides easy access to the middle of the ski area — a quick and comfortable ride up 2,730 vertical feet to the top of a expansive mountainside, divided by several gullies. Unfortunately, the waiting time for the gondola was nearly 20 minutes. Not an appealing option either.
Running out of alternatives, I fixed my attention on the empty Teewinot quad to the far skier's left. Figuring that anything was better than waiting in line on such a beautiful day, I started up Apres Vous Mountain. Often referred to as "intermediate paradise," Apres Vous has a threesome of very easy beginner trails on its lower flank, and some intermediate groomers on its upper half. That's where many skiers pound out a few high-speed warm-up runs, followed by a quick dash down Teewinot Face. At that point, tradition generally dictates that you traverse to the skier's right to Rendezvous Mountain, and stay there until the lifts close at 4 pm.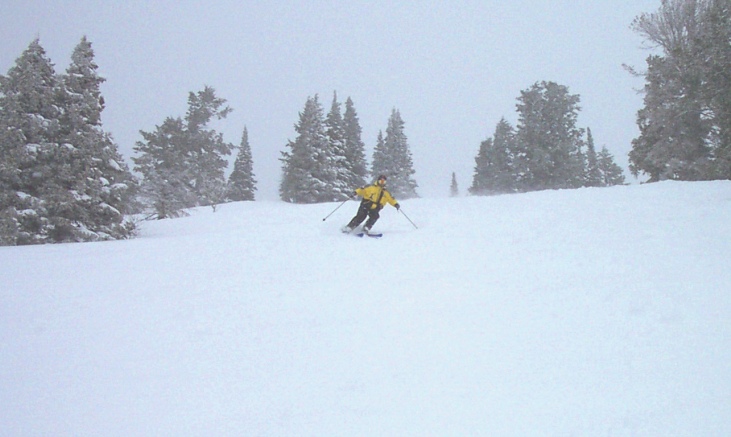 When I reached the summit, everyone seemed to be turning left and dropping down into the groomed Moran and Werner trails. However, since my goal that day was to avoid as many people as possible, I hung a quick right and headed to one of my favorite areas at Jackson Hole: Saratoga Bowl. Until a few years ago, Saratoga was officially outside the resort's boundaries, but is now considered in-bounds. Although geographically located on a comparatively mellow section of the ski area, it has a surprisingly large selection of terrain: rock gardens, gullies, treed sections, some nice boulders to launch off, and a few genuinely steep shots.
But what' s best about Saratoga Bowl is a sense of solitude often missing from the rest of the mountain on a busy day. While far from untracked, I kept finding a surprising amount of deep powder, particularly as I traversed further to the skier's left. And although this section may not offer expert skiers any truly fear-inspiring terrain, you'll find a fair amount of legitimately challenging skiing without paying for it with long lift lines. Not a bad tradeoff.
After 1.5 days each at Snow King and Jackson Hole, I woke up the next morning to bluebird skies following three straight days of snow. Aware that my legs needed a bit of rest, I headed to the Casper Bowl. Serviced by a slow-as-molasses triple chair that lumbers unhurriedly up 1,000 vertical feet, this is a great place to kick back, glide down a bunch of easy intermediate groomed trails, or rip through some mellow bump sections.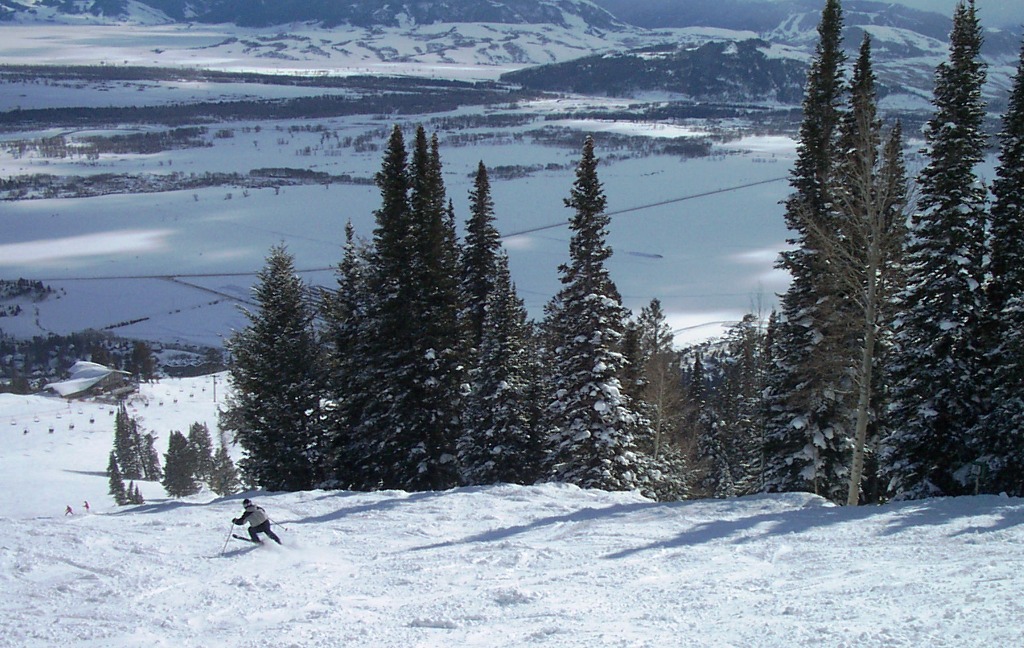 But on my very first run, I discovered mounds of knee- to thigh-deep untracked powder hiding in the long stands of conifer trees that separated the trails from Casper Bowl's groomed boulevards. Why hadn't anyone bothered to ski this snow out? I didn't know and frankly, I didn't care. I blasted through the trees for the next three hours, slowly working my way left toward the Moran Woods and Moran Face. By the end of the day, my fat skis — the very ones that didn't see the light of day on the same trip two years earlier — thanked me for bringing them.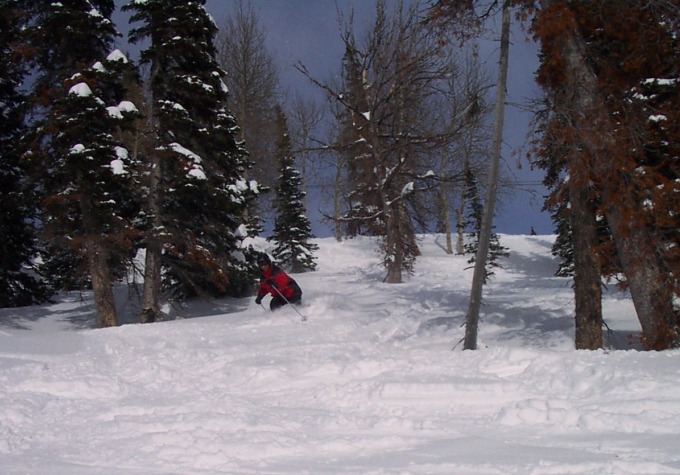 When I told a friend about my seemingly peculiar terrain choices while at Jackson Hole, he looked at me sternly and said, "you've committed one of skiing's ultimate sins." Looking back on it, I guess he was right. I spent the better part of two days ignoring some of the premier lift-served terrain on the continent in exchange for what many consider gaper heaven. But the payoff was hard to deny: excellent conditions, fun terrain, and non-existent lift lines.
---