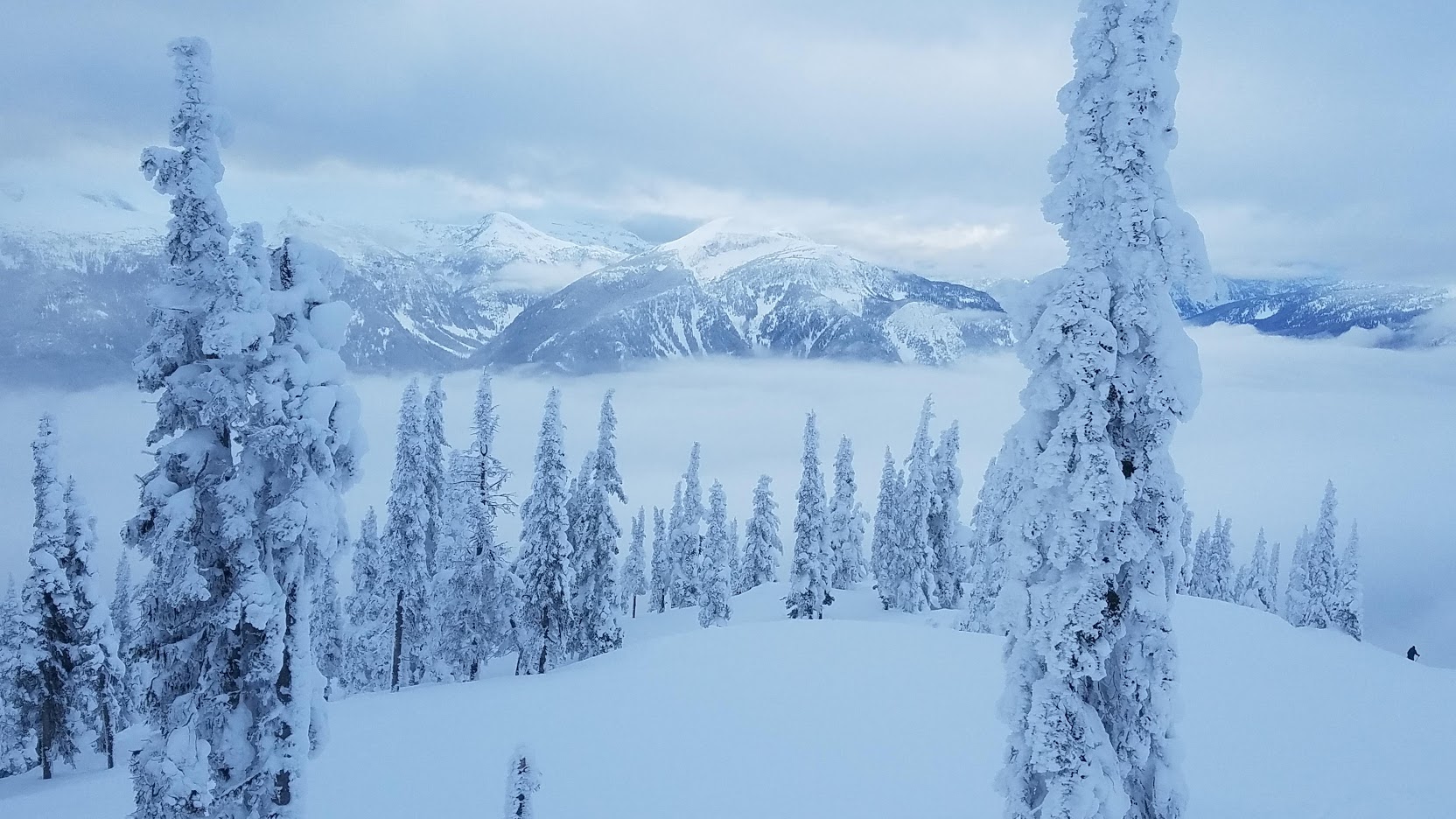 by Alan Wechsler
Many American skiers, especially from the East Coast, never make it to Canada at all. Those who do are probably headed either to the massive Whistler-Blackcomb near Vancouver, or perhaps some of the more well-known eastern resorts such as Mt. Tremblant or Mt. Saint-Anne.
We wanted to ski the Canadian Rockies and the resorts of Western British Columbia. Connecting these four resorts – Revelstoke and Kicking Horse in B.C. and Lake Louise and Sunshine Village in Alberta – is Canada Highway 1.
It's a great route upon which to anchor a week-long ski trip. But it's not without its dangers. During our trip, driving at times seemed more challenging than skiing.
We (myself and two other New Yorkers, Steve Goldstein and Mike Parrinello) flew into Calgary from Albany, NY, with a short layover in Chicago. Our flight arrived just after 1 p.m., and I figured we'd be on our way in no time. In fact, it took forever to walk through the length of the terminal with our skis, and even longer to collect our rental SUV (a Jeep Compass, not recommended, especially for three people!).
It's four hours on the map from Calgary to Revelstoke, but that's in good conditions. With road closures from avalanche clearing, we didn't get to the Sutten Place Hotel, a well-appointed, slope-side lodge until 11 p.m. Sleep came quickly.
Revelstoke: Pow and Vert
Revelstoke is both the newest ski resort in North America, and the place with the tallest vertical drop. Opened in 2007 on the side of Mount Mackenzie, just outside the town for which it is named, it gets more than 400 inches in an average winter and sports a whopping vertical drop of 5,600 feet. Skiing from top to bottom requires some serious thigh.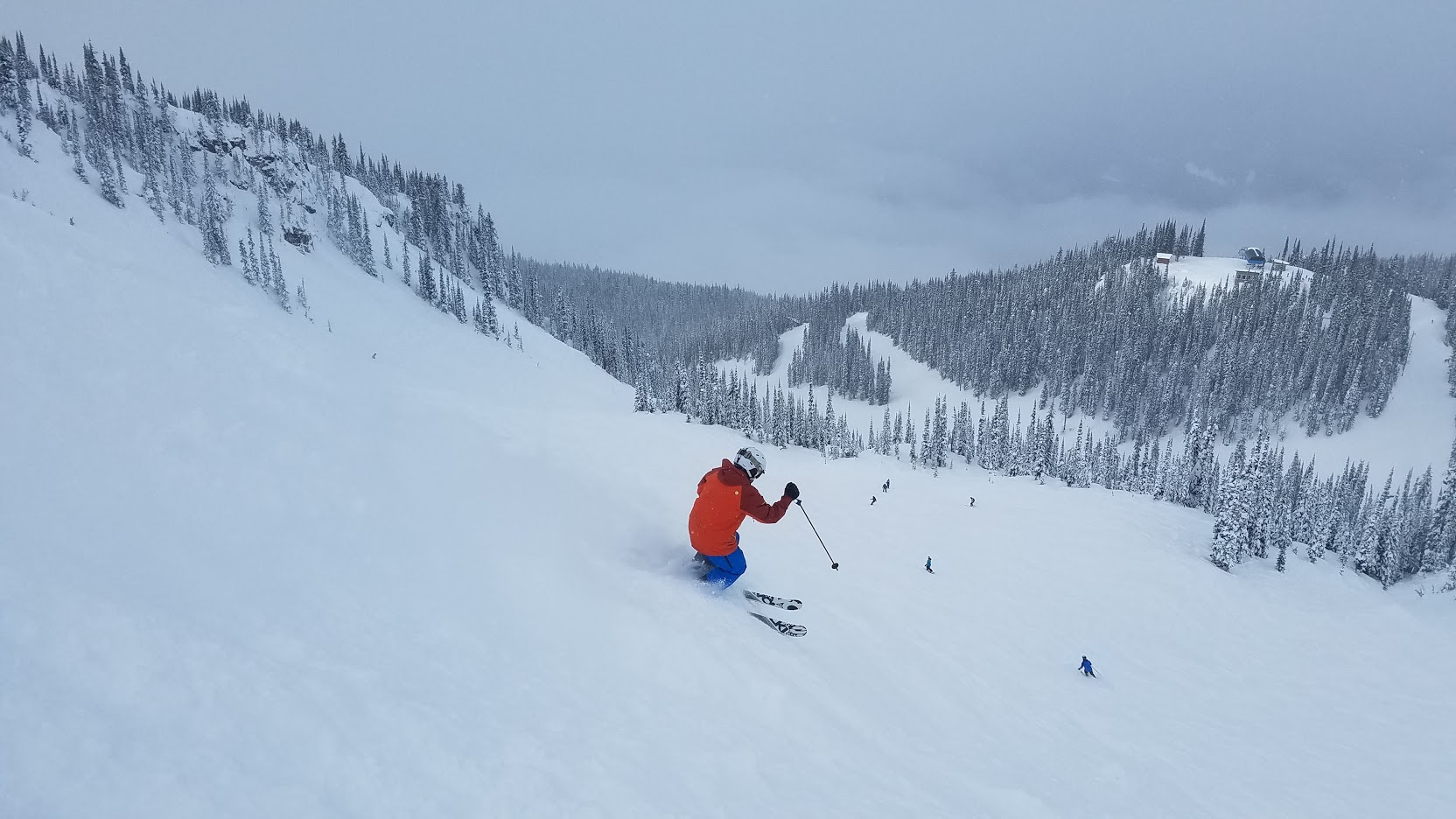 It was a Sunday morning, but the resort was quiet. It was drizzling at the base, but we know this meant decent snow higher up, where the temperature would be 15 degrees cooler.
We picked up huge breakfast burritos at the La Baguette coffee shop. Soon we were riding the first gondola, a short ride that brings skiers to the base of the much longer gondola, which itself only brings skiers halfway up the peak. This is a big mountain, and it had virtually no lines anywhere.
At the top of the gondola, Steve talked us into hitting Kill the Banker, a double-black run that leads to the cleverly-named Conifers of Gnarnia Glades. "I don't know about this," Mike said as he and I followed. Neither of us had been skiing much this year; Steve already had 30 days under his belt.
Turns out, double-blacks at Revelstoke – and this was true throughout our trip – are not to be taken lightly. Banker has several constriction points and cliffy areas. And Conifers is indeed gnarly. Skiing separately in these double-fall-line woods, we all ended up atop cliffs. In the East, such drop-offs would have huge fences and bright-orange warnings. Here, there were just tiny plastic signs that casually mentioned how skiing any further would result in certain death.
No financiers were actually harmed during our descent. But we were all sweating heavily by the time we reached the gentler lower half, where the snow turned choppy and slick.
During our two-day visit, the mountain seemed to support three different weather zones. It was cloudy and drizzling at the base, cloudy and cold at the top. The dryer middle was sandwiched between the two cloud layers. Occasionally, a patch of blue sky peaked out, but for the most part visibility came and went.
Revelstoke (and B.C. skiing in general) is known for its powder. Though Revelstoke is hundreds of miles from the ocean, the mountain sees much more Pacific moisture than the dryer, colder Alberta resorts. However, it's not always this balmy. Only a week earlier, the temperature had dropped to -40, so cold that the values of Celsius and Fahrenheit were equal. On one gondola ride, we sat next to locals commenting on how high their heating bills were going to be.
We spent the day riding the front-facing Stoke chairlift, trying out various single-black trails and darting in and out of the woods. It had been nearly two weeks since the last big storm, but occasional stashes of powder were still findable in some of the more obscure corners. We would have liked to delve into the resort's North Bowl, but with a thick cloud over the summit, exploring a giant snow bowl for the first time just didn't sound appealing.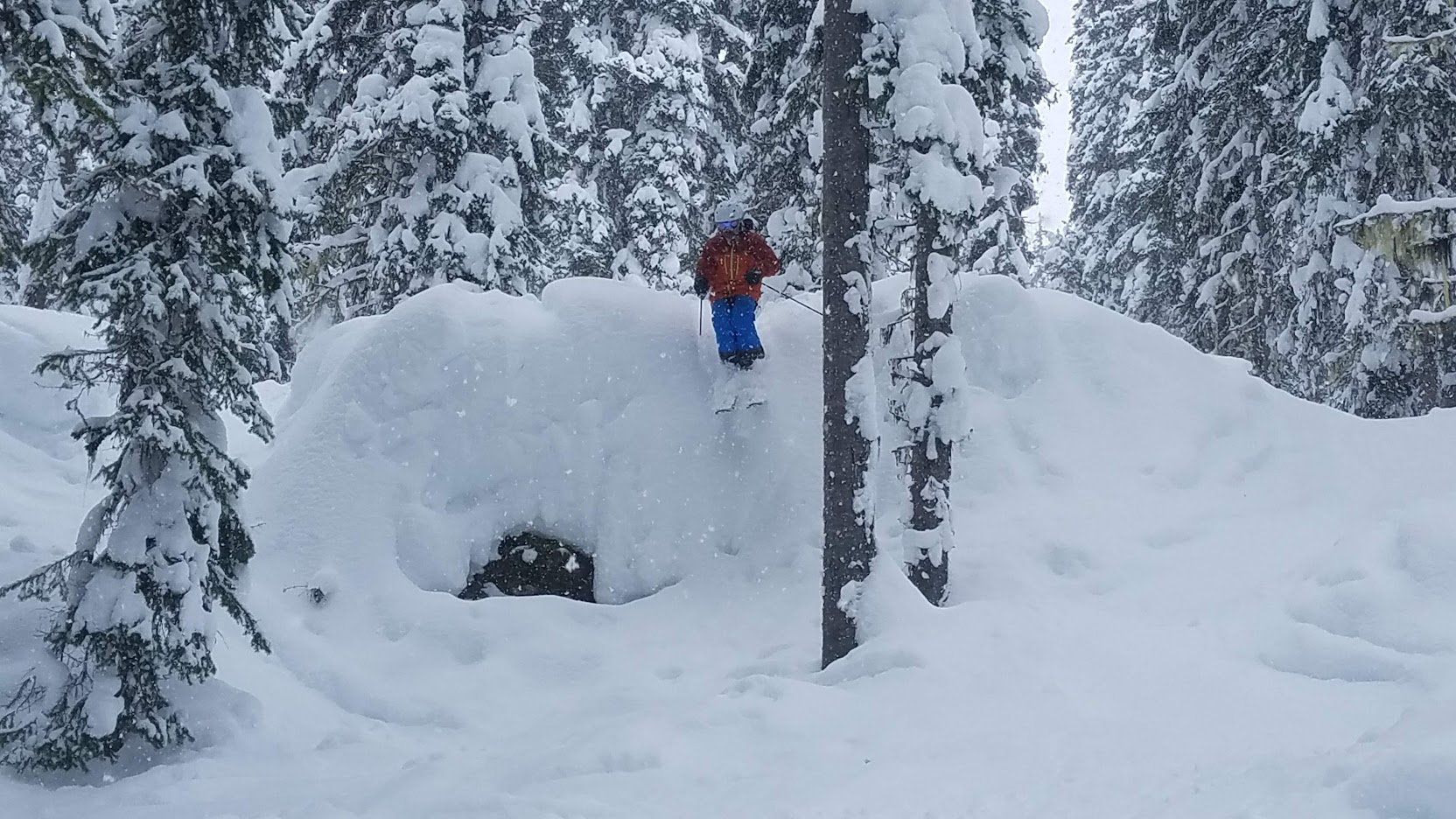 When our first day was done, we joined a free wine tasting in the hotel lobby, chatting with a handful of visitors and the British bartender. At Western resorts in America, you're likely to find staff from South America. In Canada, all the seasonal workers seem to come from Great Britain, Australia or New Zealand, all taking advantage of Canada's membership in the Commonwealth (made up mostly of former colonies) and an easy work visa.
The second day was cloudy but dryer, and the summit was at least clear enough to contemplate exploring. From the top of the Stoke chair, we followed a low-angle boot track (nevertheless exhausting after our previous day of skiing) to Drop In, one of several easier descents into the North Bowl (you can boot-pack straight up from the top of the Stoke chair for even bigger lines).
Drop In was still a committing start – you had to contour around a narrow cat track that ended in a cliff, making your way along a rock wall before finally being able to launch off the soft slope. Our first foray into the bowl was an adventure. We made our way down a wide-open slope with fantastic, soft powder, and then had to find our way around several cliffy steps. It was all a bit intimidating, especially in low visibility, but also quite fun. Eventually we wound up at the bottom of the Ripper Quad.
This turned out to be my favorite place on the mountain. It was protected from the wind and had the best visibility on the mountain. There was also more snow here, especially in the huge bowls and glades that made up the lower part of this area. We spent most of the day here, taking two more trips into the North Bowl along the way.
On my last run down, I wandered into the Critical Path Glades, located on the front side below the Stoke Chair. Skiing was incredible, until I got into the crunchy snow/rain zone, and I began to wonder if I would ever reach the bottom. That's what Revelstoke is all about endless runs.
At the end of the day, I was exhausted – with five days of skiing still left in our trip.
Highway to Adventure
So now we were back on Highway 1, heading east in light snow for 100 miles (or 159 kilometers, as the Canucks say) to Kicking Horse. It was dark by the time we hit the road, and it soon became clear this was not a road to be taken lightly.
The Trans-Canada highway stretches 4,860 miles from Victoria, B.C. to St.John's, Newfoundland (not including a ferry ride from Nova Scotia). Construction began in 1950, and it was completed 21 years later, at the time the longest uninterrupted highway in the world.
The eastern section is, of course, unremarkable. Once you head west of Banff, however, you will find yourself in a land of unrivaled verticality. Few highways in the United States can compare to the sheer vertical walls that surround this road. At times, we would see the bottom of avalanche chutes, clogged with snow walls dozens of feet high, that had been cleared over and over by machinery. Other times, for miles, we would drive safely through snow sheds, sort of the modern equivalent of the New England covered bridge, which protected us from snow sweeping overhead.
Still, closures are common. Later in our trip, we ran into a man who drove east from Vancouver. He said the mere 350-mile trip took him four days.
Our present route took us through two national parks and over multiple mountain passes. The highway was dark, the lane markers impossible to see. My windshield was mired with dirt and, for some reason, my headlights weren't working well. After a while I realized it was because Parks Canada uses sand instead of salt on roads to protect their fragile alpine waters, and my lights were covered.
I was relieved to finally reach Golden (the town nearest to Kicking Horse), where we could clean off the car and find a place to stay. While Revelstoke is based around a charming mountain town, Kicking Horse feels more like a giant, town-sized truck stop. Nearly all its amenities – cheap motels, family restaurants, gas stations — are located on a service road paralleling the highway. At night, these side roads fill with 18-wheelers, turning the road into an obstacle course.
It also seemed like some business owners had given up on anything but peripheral snow removal. Parking lots were filled with huge, icy mounds we had to surmount. When we stopped at a motel, Mike stepped into what turned out to be a six-inch-deep slush lake that filled half the parking lot.
We did get a good dinner (and, the next morning, breakfast) at the charming Bear and Bone Burger Co. Later we discovered more charm off the highway, where downtown abuts the Columbia River. I imagine it's much nicer in summer.
Kicking Horse Kicks Butt
Kicking Horse Resort (trademark: "Champagne Powder Capital of Canada," although we didn't see any) is located way above town. It is most certainly an expert mountain, with more than 85 chutes and 4,300 feet of vert. The mountain consists of five ridges, and you can ski inbounds down both sides of three and one side of the two others. And then there's even more backcountry options. Just a glimpse of the map will have fans of steep skiing drooling.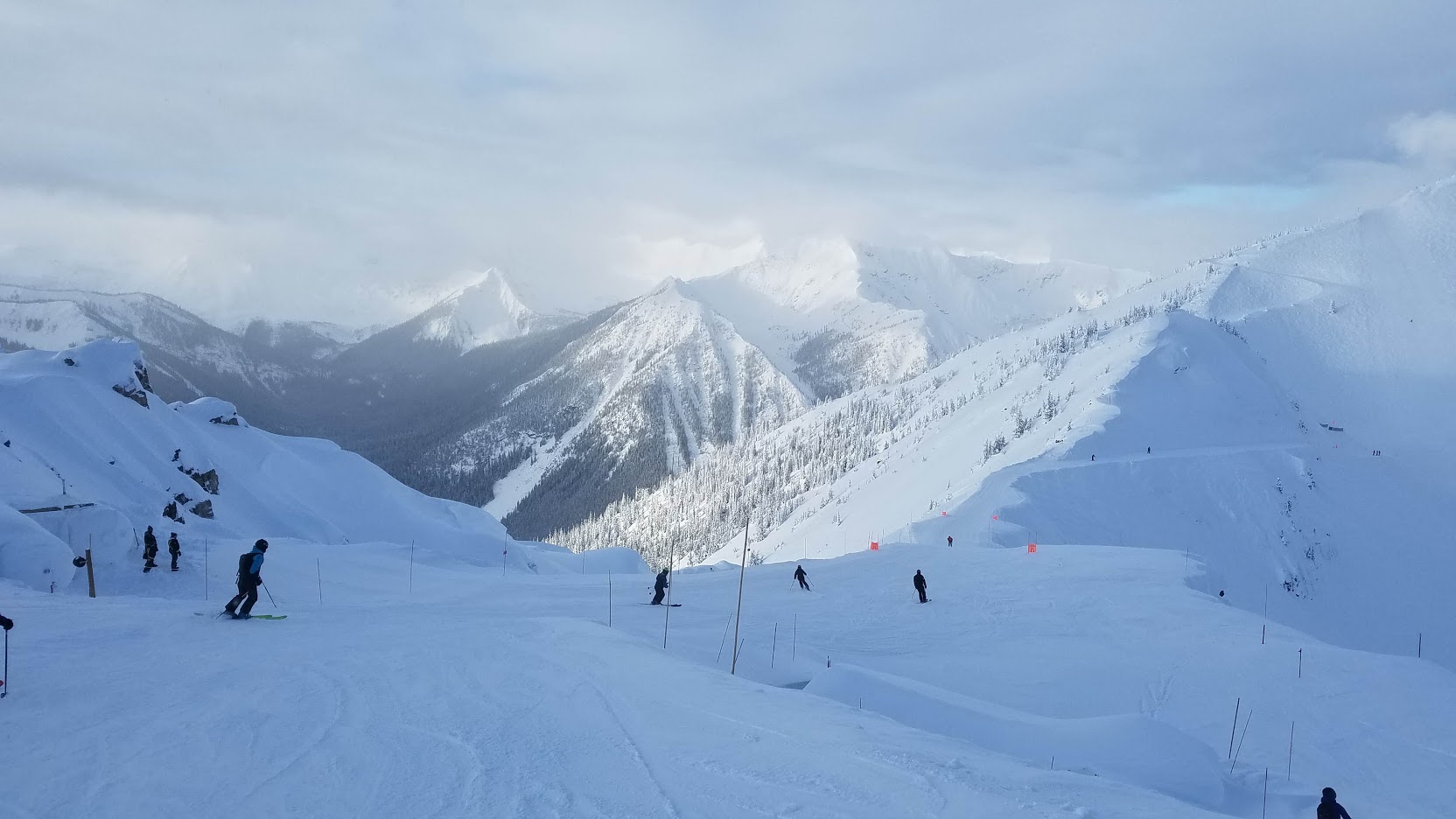 The mountain, being well below the radar of most skiers, had virtually no lift lines. We jumped on the Golden Eagle Express gondola, which whisked us to the top in no time. From there, we could ease into Bowl Over or Crystal Bowl, or ski along the spine of CPR Ridge for some more aggressive lines.
Though its said to be the sixth largest ski resort in North America, it feels small. That's a good thing; huge terrain with the mystique of an intimate ski area.
After a few runs there, we headed over to the Stairway to Heaven quad, which brought us to the top of Redemption Ridge and more options.
As at Revelstoke, those double-blacks are nothing to sneeze at, with some being quite committing. There are, fortunately, plenty of easier ways down.
If Kicking Horse has one problem, it is lack of lifts. With all that great terrain (including a recent, significant expansion of inbound skiing), only about a third of the upper mountain is accessible without walking. And, with only one mid-to-summit lift, most descents require a long, energy-sapping ski back to base, whether you want to or not.
It's certainly great for locals who don't mind an hour boot-track. And clearly, there are plenty who are willing – from one vantage point, we could eye a number of Z-shaped skin tracks heading up the adjacent ridge, just outside the ski boundary. Those with strong legs will find ample rewards, and I imagine powder lasts for a long time on these distant descents.
The Road to Banff
From there, we drove to Banff, where we would be based for the rest of our trip.
World-famous Banff, one of the most thriving resort towns in North America, has been home to outdoor tourism for well over a century. The town is dense with hotels and restaurants, giving visitors many affordable options, from a hostel to four-star resorts. There's even more down the road in Canmore.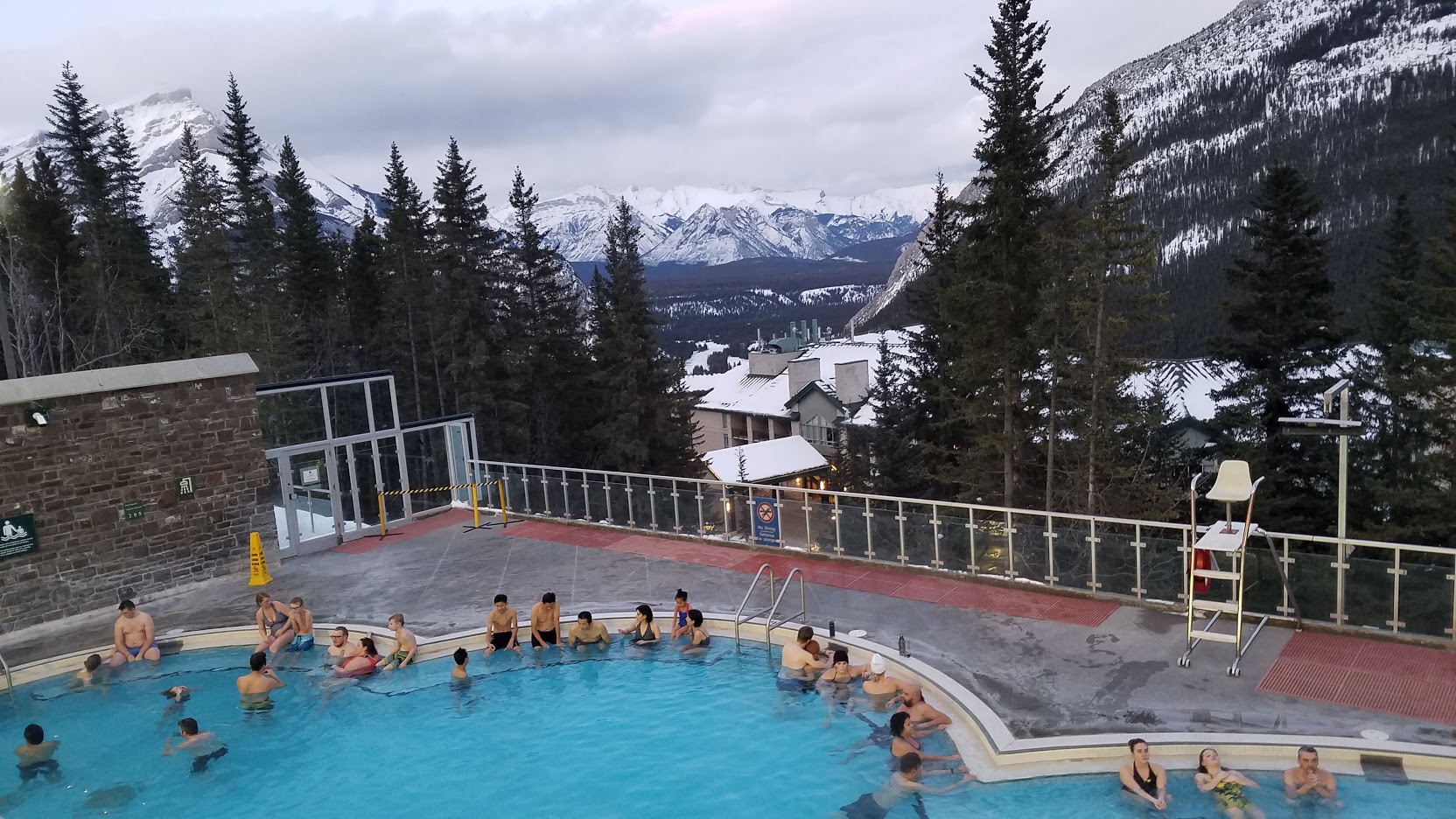 We stayed for four nights at the Banff Caribou Lodge and Spa, located along several blocks of similarly styled hotels. The Banff offered a large room at a good price, and had a huge hot tub (appreciated) and underground parking (very appreciated). It's a bit of a walk from there to downtown, but a short drive.
For those looking for a rest day, there is much to do, from a visit to the Whyte Museum for its collection of western-style artwork and historical artifacts, to the busy Banff Hot Springs. We also found plenty of dining choices, from expensive steak houses to cheap Asian fare. I'd also recommend lunch or tea at the amazing Fairmont Chateau Lake Louis, about 45 minutes north, where you can check out ice sculptures and one of the most famous lake views (albeit frozen) in North America.
Note that anyone skiing near Banff will need to buy a national park pass ($10 Canadian per day per car). Technically, you need it to park in town, but in practicality you probably won't get asked to see it except when parking at the ski resorts.
Banff is the perfect base for skiing two big resorts in Alberta: Lake Louise Ski Resort, with 3,200 feet of vertical, and Banff Sunshine Village, with 3,500. There's also the smaller Mt. Norquay, located just outside of town, with a respectable mix of trails of all difficulties. Unfortunately, due to its relatively low elevation and snow shadow, it gets an average of only 120 inches of snow, less than many eastern resorts. Indeed, when we were there it drizzled on and off at that elevation, so we passed.
Loose on Lake Louise
The hardest part about Lake Louise on our first day was getting there. It was a bluebird morning, and the alpenglow was hitting the peaks as we drove by. I lost track of the times we pulled over to photograph the incredible views – the scenery here is famous for a reason.

We parked easily on this weekday morning, surprisingly close to the Ten Peaks base lodge. After grabbing some breakfast and suiting up, we headed off on the Grizzly Express.
Lake Louise is a massive place, with seven lifts accessing the woodsy skiing on the front side, and one more (Paradise) that ascends the incredible open bowls of the back. With high winds and icy conditions during our visit, we didn't do too much in the bowls, but there was still plenty of terrain to explore.
We especially enjoyed the glades off skier's left of the Larch Express. Except, on one descent in the Lookout Chutes, I found myself above a series of van-sized boulders. To escape, I edged sideways to more comfortable terrain (look out, indeed!).
Rock Garden, off the same chair, is a fun blue run with a great view, and which skis like a natural terrain park.
For lunch, we dined European-style at the Whitehorn Bistro, a fancy restaurant located halfway up the mountain. If you don't mind giving up valuable ski time, it's worth the price for a fancy lunch.
There are too many trails at L.L. to recommend any more. The only thing I can say is, if you can, avoid the weekend (more on that later).
Sunshine and Wind at Sunshine Village
On our second day in Banff, we headed to Banff Sunshine Village. Sunshine has more complicated topography than L.L. From the base, a gondola takes you up to the village, located at 7,000 feet. Like Squaw's High Camp, the village consists of two lift-accessed hotels (overnight guests have their luggage taken up on the gondola) and accompanying services. From here, a half-dozen lifts diverge likes spokes from a wheel hub.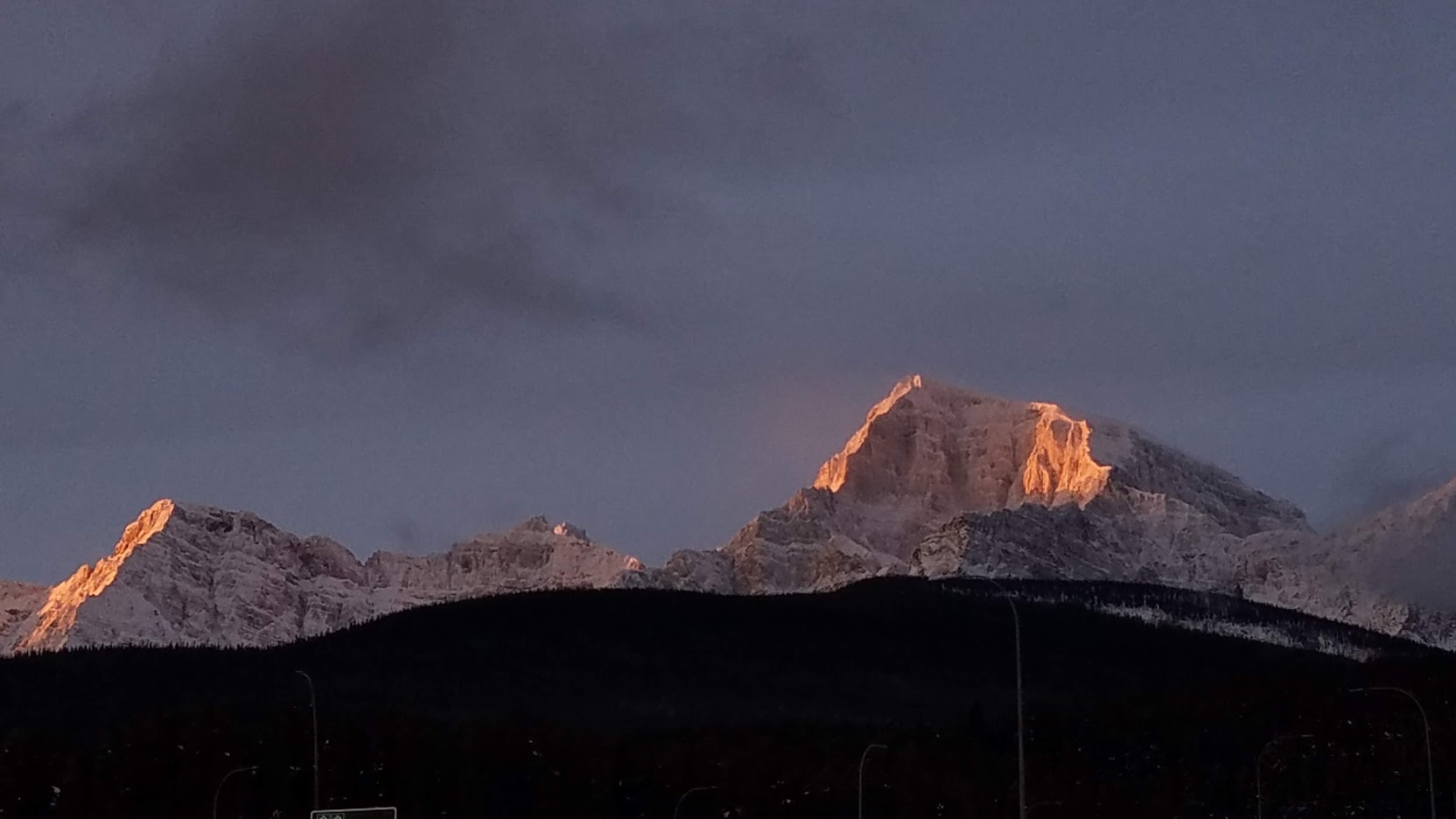 Halfway between the base and the village, the gondola passes by the Goat's Eye Express Quad, a lone lift that accesses dozens of black and double-black trails.
And then there's Delirium Dive, a 2,500-foot "freeride zone" that requires skiing with a partner and avalanche safety gear. You enter The Dive at the top of the Great Divide Express, going through a gate and down a metal stairway to the ridge. Although the most popular descent is said to be a reasonable 40 degrees, there are chutes located along the ridge that go as steep as 60. Rocks and natural obstacles abound (including some cliffs), so watch your step.
Not sure if you're up for the challenge? The mountain recommends skiing Wildside or Farside chutes on Goat's Eye to get a feel for the commitment level.
Unfortunately, The Dive was closed when we arrived, so we had to settle for the many open bowls surrounding the village. We enjoyed the spectacular views (and even found some leftover powder in the trees) as we plied the various slopes. And we had another delicious, sit-down lunch at the Mad Trappers smokehouse. With wind blowing hard in the afternoon, it was easy to sit back and enjoy the sunny view through the windows – but the snow, of course, was calling.
Mike and I took the next day off to explore, while Steve hit Sunshine for a second day. We had reason to save our strength – a foot of snow was coming, and we wanted to be fresh for what would the lone powder day of the trip.
Freshies at Last
That day in question was a Saturday, and it seemed every skier in Calgary was on their way up to Banff to ski the first new snow in weeks. We made sure to get to Lake Louise early, but even before 8 a.m. we faced traffic and a long walk. We geared up, caught the gondola and reached Exhibition, at the top of the Ptarmigan lift. The rope was still up, but people were gathering. Could it be…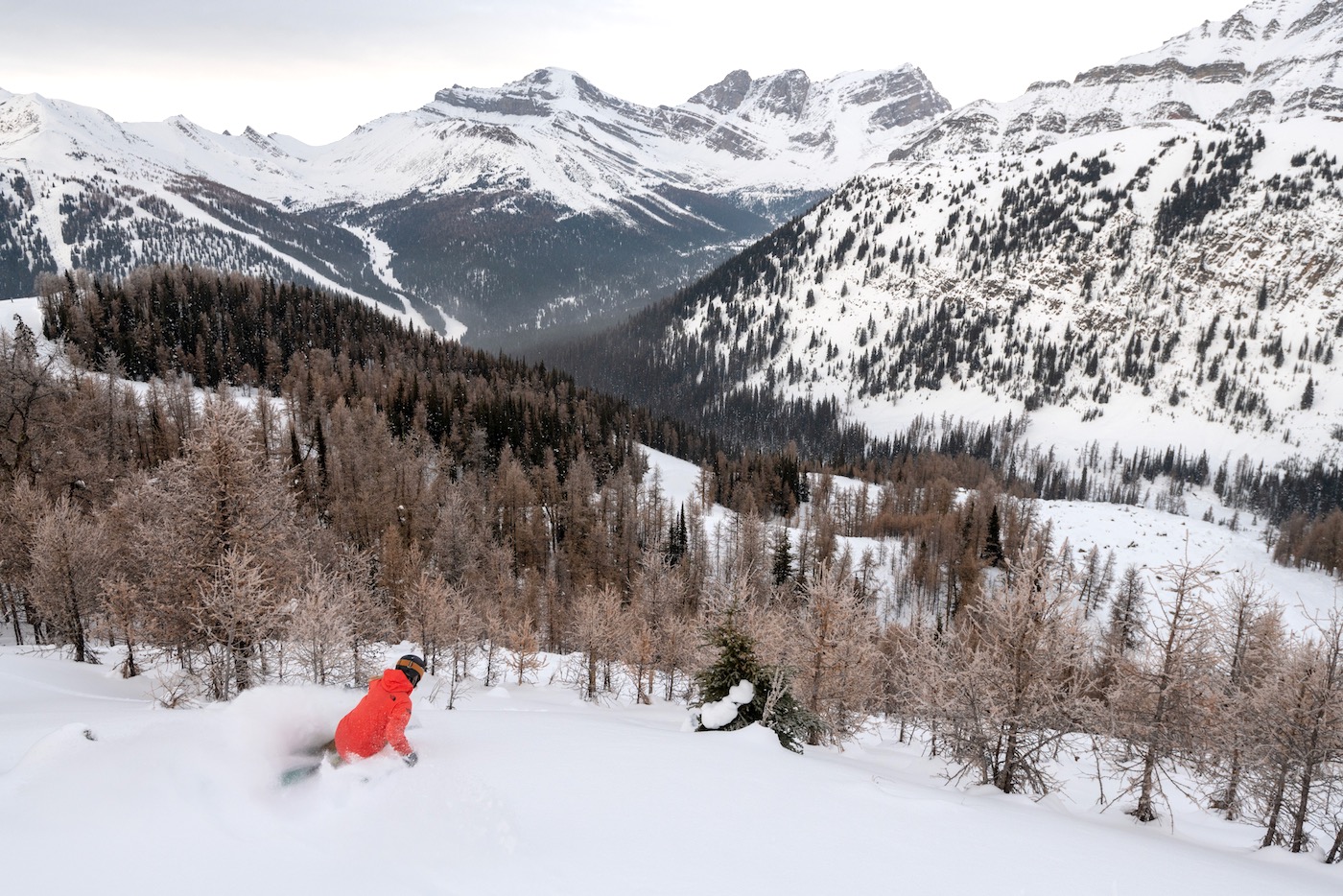 Sure enough, a moment later the rope came down, and the masses exploded into powder.
Steve, the strongest skier of our group, was at the bottom and back on the chairlift while I was still working my way down. We didn't see him again for two hours.
Subsequent runs brought me into the deep glades surrounding the trail. With all the trails of the Ptarmigan and adjacent Larch Express lift, there was no reason to leave the area.
Indeed, on a busy day like this, one would be advised not to. When we finally found Steve again, he said, "I accidentally wound up back at the base. The line on the gondola took 90 minutes – and that was in the singles lane."
Fortunately, it wasn't until after nearly 1 p.m. that the crowds found us. Chairlift lines lengthened to 45 minutes. By that point, most of the powder was gone. Lunch was a similarly crowded experience, trying to find a place to sit (and room for our gear) in the Temple Lodge.
Despite the crowds, it was one of the best days of the trip.
Following our powder day, we stopped in Canmore for dinner and then headed back on Highway 1 for what should have been an easy one-hour drive to our hotel near the airport. Suddenly, traffic came to a stop. All we could see were thousands of taillights, the dreaded "red snake" effect all the way to the horizon. Apparently, freezing rain had fallen all afternoon down in the plains, and a multi-car accident had completely closed the road.
We creeped along for hours with heavy snow blowing sideways, my mouth dry, and my eyes focused on what little I could see ahead. Calgary, when we finally arrived, seemed a ghost town. We didn't get to our hotel until 1 am, and still had to pack for the flight home.
Highway 1: always an adventure.
---