Published on November 04, 2019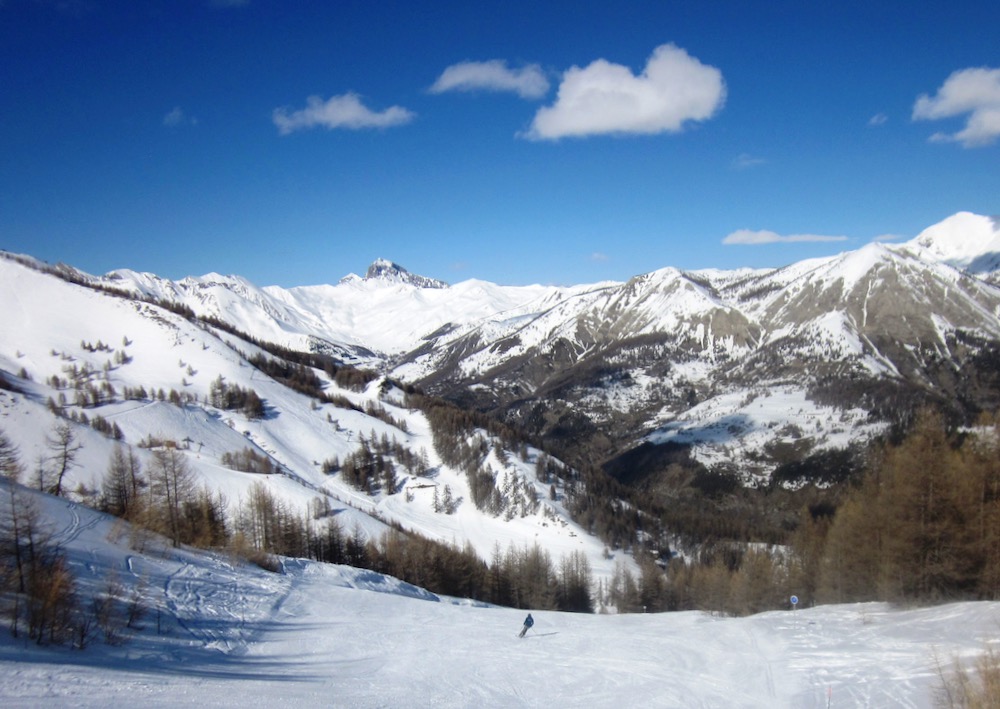 by James Michaud
A year ago, as I entered my 17th year as a downhill skier, the question of where to go in the upcoming season for a unique destination trip came up again. After considering and rejecting several candidates, I found myself going back to a handful of enticing trip reports from France's Maritime Alps region, just north of Nice, in the German-language Alpinforum — where I steal all my ideas for off-the-beaten-path ski areas in the Alps. They reminded me that for a country the size of Texas, France has an unusual amount of variety: culturally, topographically, and climatically, including five distinct mountain ranges/all with ski areas (the Alps, Pyrenees, Massif Centrale, Jura, and Vosges), the dry rugged inland south, ocean and beaches on the Mediterranean and Atlantic, the New England-ish climate in Brittany, wine country in the center, etc.
Like most of us on this side of the Atlantic, I don't instinctively connect the Côte d'Azur/Riviera with skiing, but those reports made me realize that the region had more than enough for a week-long itinerary, with distant views of the Mediterranean on clear days as a value-added bonus. After booking flights and plotting out a 280-mile road trip with five ski areas, I was looking forward to the trip not only as a skier but also because more than a quarter century earlier I'd spent a half year at the University of Nice to learn French and hadn't been back since: a homecoming of sorts.
Isola
After an overnight flight from Newark and a quick change of planes in Zurich, I arrived in Nice at 10 am. Just walking through the airport, which is directly on the Mediterranean and decorated with plants from the region, was an odd feeling – a bit like arriving in southern Florida for a ski trip. I got my rental car and headed north on Autoroute 8, the Route de Grenoble, which eventually becomes a narrow two-lane road that zigzags through canyons and small villages. Even from the middle of Nice, the snow-covered mountains are clearly in view.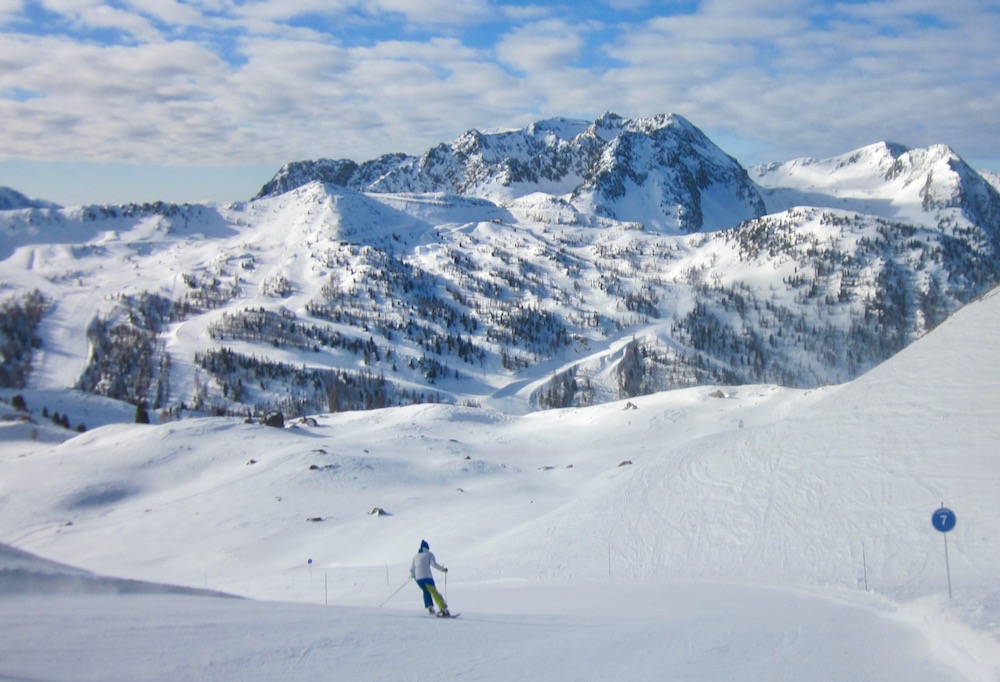 Isola is the closest destination ski area, directly on the Italian border about 32 miles as the crow flies from the ocean. It's officially known as Isola 2000, referring to the base area's elevation in meters (the actual village of Isola is much further down). As always in the Alps, the trail map doesn't convey how big the circuit is end to end, especially for a North American who isn't used to the size of ski areas on this side of the ocean.
On weekends and school holidays, Isola is hugely popular with people from the Côte d'Azur and offers all sorts of activities for families, including those who don't ski or snowboard. Like many French purpose-built resorts from the 1960s and 70s, there are a number of concrete buildings at the base (similar in style to Snowbird in Utah) that they would certainly build differently today; however, the dramatic Alpine scenery, long and satisfying runs (2,800 verts, often uninterrupted) a fair amount of tree skiing, and views of the ocean in the distance more than make up for it. In addition, there are several atmospheric mountain huts to relax with drinks and sustenance, and for military freaks — along the Italian border, there are still a number of military fortifications from WWII, including barbed wire and other detritus.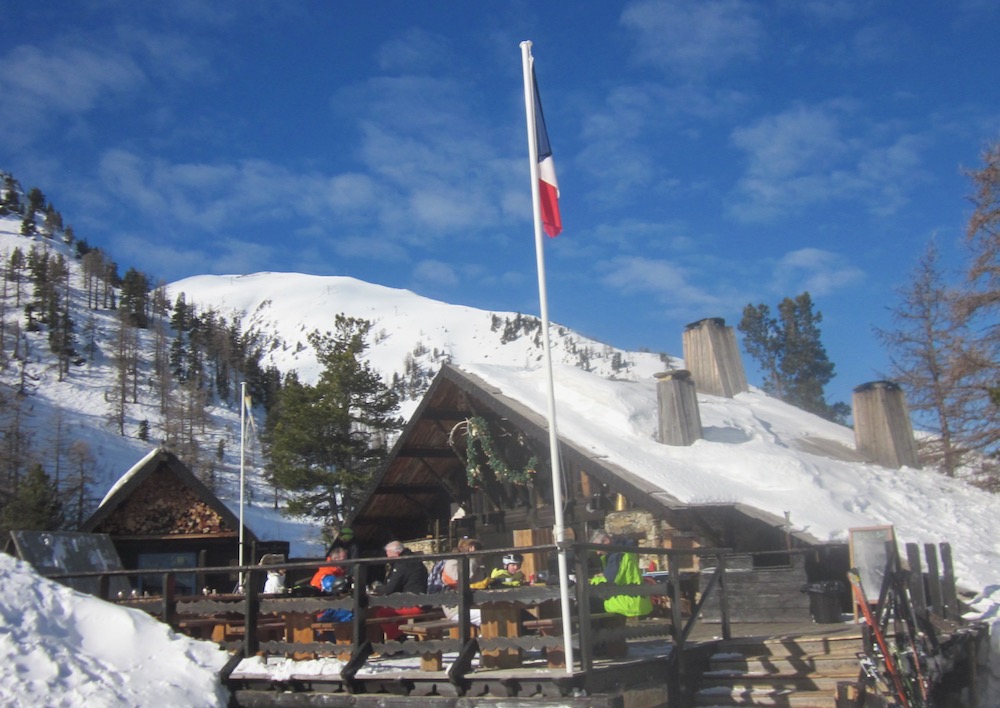 Surprisingly, given how close it is to the ocean, Isola averages 180 inches at the bottom of its terrain and approximately 275 inches toward the summit. It's one of the very few resorts in France that relies entirely on Mediterranean weather systems rather than those from the Atlantic. If a weather system is coming from the northwest (best for the northern 2/3 of the Alps), nothing at all gets through to Isola. The takeaway is that while snowfall can be volatile, with both monster and low-tide years, there's absolutely no rain at this altitude during winter, similar to Colorado.
In short, while Isola has several aspects of a large mainstream ski area, there's lots here to recommend and I'd definitely return, preferably during a non-peak weekday.
Auron
After 1.5 days in Isola's high-energy weekend ambiance, I headed 40 minutes directly west through the Tinée Valley to Auron, a more tranquil and traditional French ski town. As I drove uphill, signs indicating the city of Nice less than an hour away contrasted with the mountainous wintry ambiance. Culturally, it felt like going from Snowbird to the more no-frills ambiance of Alta with the charming village still keeping many of its historical characteristics from before it turned into a ski area in 1937, including a beautiful church from the 13th century. Furthermore, Auron has a history of attracting lots of high-profile celebrities including French presidents Pompidou, D'Estaing, and Chirac.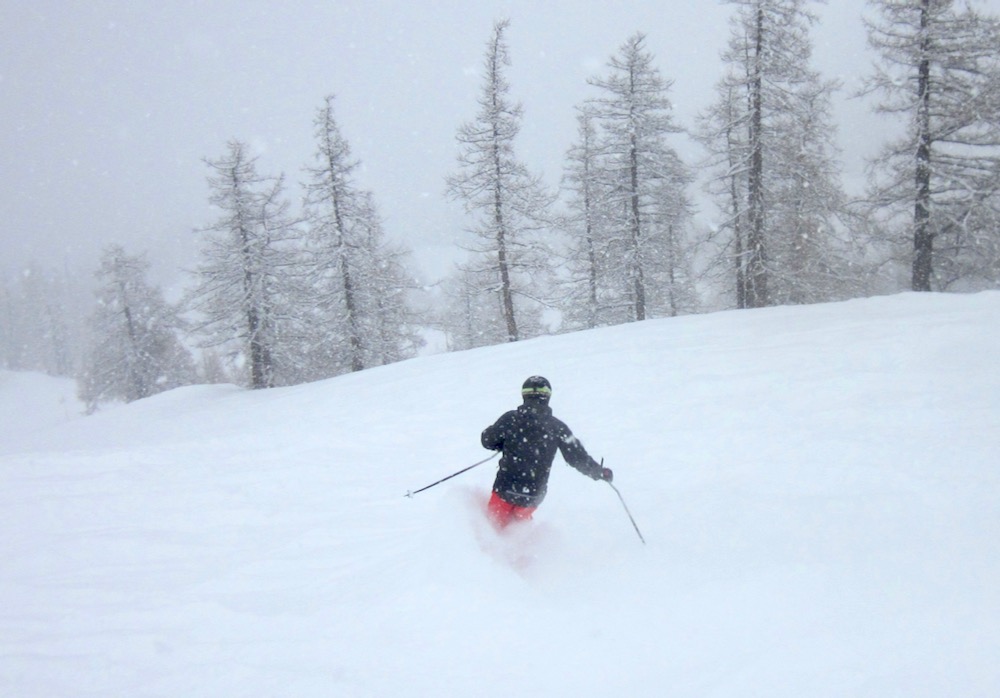 In yet another instance of "the trail map doesn't tell the whole story," Auron has 83 miles of marked trails, 2,800 vertical feet, a lot of off-piste and legit black terrain, along with a north/northwest orientation that allows skiing into May — shocking given how far south it is. While the surrounding landscape isn't as dramatic as Isola, locals argue that it offers a better overall skiing package.
For the previous week, I'd been keeping my eye on a storm that had been forecast to drop ten inches the day I arrived and it came in just as advertised with a solid foot over most of the mountain and upwards of 16 near the top. Of course, I would've liked to experience Auron under sunny skies but don't argue with a powder day, especially one this close to the Mediterranean.
To close the deal, that evening, we went out for some nighttime snowmobiling with a bunch of locals and stopped for a great dinner at the Grizzly restaurant 40 minutes up the mountain.
Roubion
More than any of the other Alpinforum trip reports that convinced me to plan a ski visit to the Maritime Alps, this one about Roubion really hit my sweet spot: comparatively small for the Alps at barely 1,600 vertical feet, rolling hills, and about 18 miles of cozy trails that wind through the forest. For lack of a better comparison, it felt like Bobcat or Hickory in the south of France, with views of not only the Mediterranean, but also the mountains of Corsica 150 miles away (!).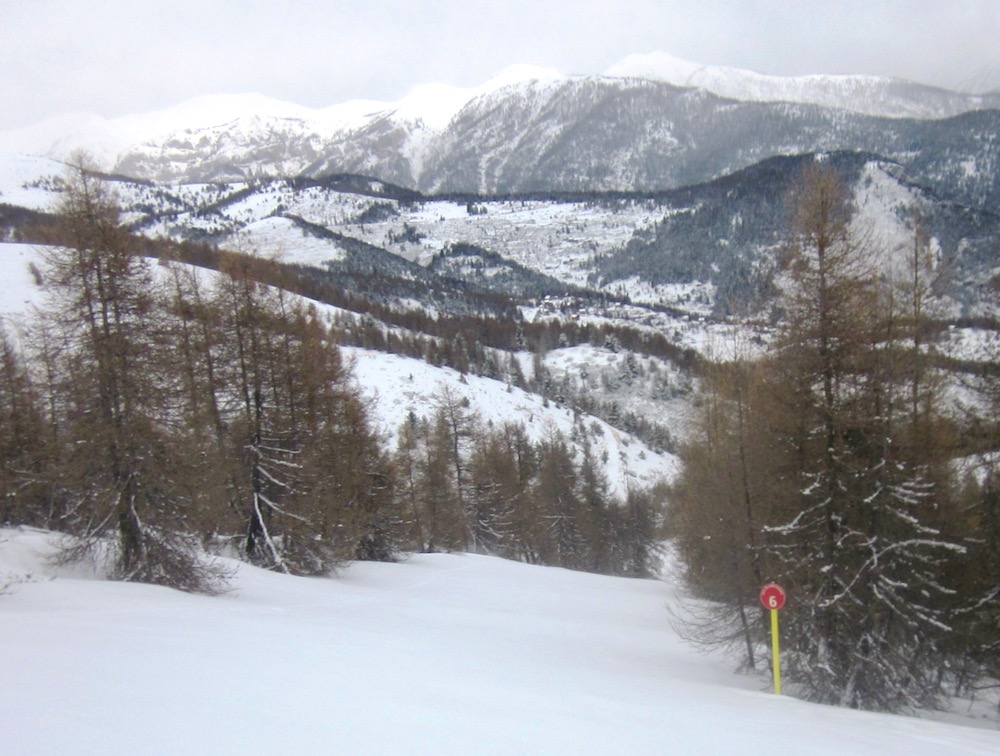 Immediately after exiting the well-traveled route from Nice at the village of Saint-Sauveur sur Tinée, I slowly negotiated the switchbacks of the twisting road that meanders through a deep gorge with dark red rocks that felt like it had been teleported from northern New Mexico. Only 30 miles as the crow flies from Nice, Roubion is the newest ski area (1975) in the Maritime Alps region and prides itself on being a family-oriented option to industrial tourism.
Upon arrival at the base, it became apparent that following the previous day's storm in Auron the skies weren't going to clear up. Atypically for the region, I was in for a gray, flat-light day, meaning that breathtaking full-color photos captioned "Corsica in the distance" weren't in the cards. There was some additional less than delightful news — I'd read their operating hours incorrectly: they weren't running their lifts that day. But after speaking with the gentleman in charge of grooming, he felt bad that I'd flown all the way from the mean streets of New York City to visit their ski area and generously offered to give me a few rides uphill.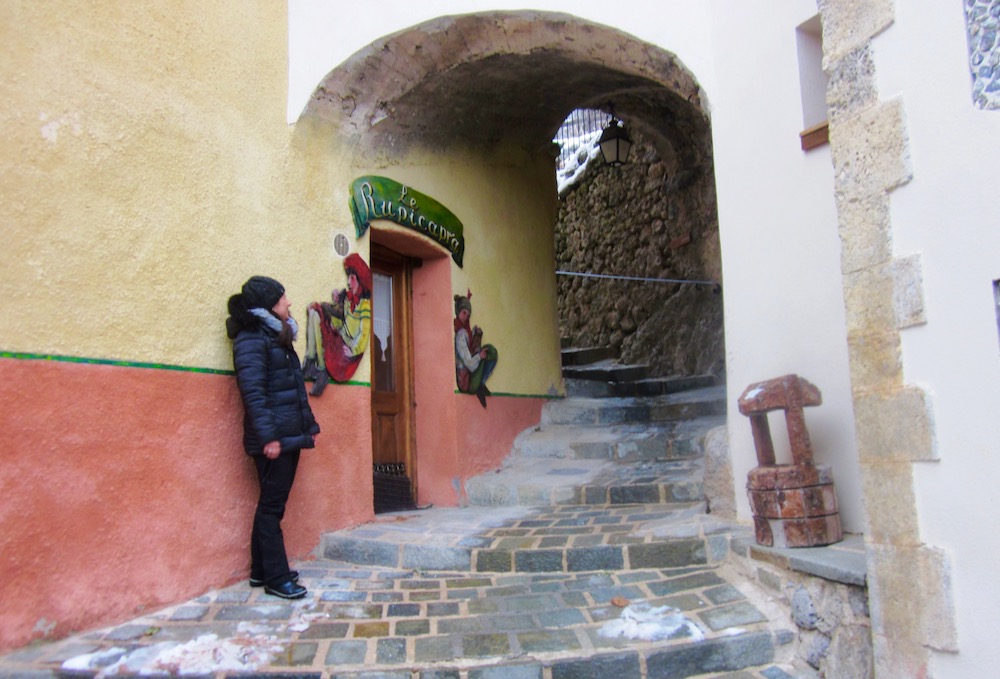 While the views from the top weren't as nice as they'd be on a bluebird day, it was great to get a private-ski-area experience and take advantage of the additional six inches of powder that'd fallen overnight. Like all of the comparatively low-elevation ski areas in the region with limited snowmaking, natural precipitation is their biggest variable and challenge. The previous three seasons had been especially tough, however, this season was a bit more normal.
Since it wasn't even 1 pm, I headed back to the cliffside village of Roubion (the name is a regional variation of the word "cliff") and took a quick ride on a rental electric mountain bike through the atmospheric village in existence since at least 1067, interconnected by winding sidewalks with great views at every turn.
Valberg
Over the first half of my week in the Maritime Alps, I visited three diverse ski areas and #4 was equally different from the others. A half hour from small, atmospheric, and proudly throwback Roubion, I arrived at the animated but relaxed ski village of Valberg, which averages more than 300 days of sunshine a year.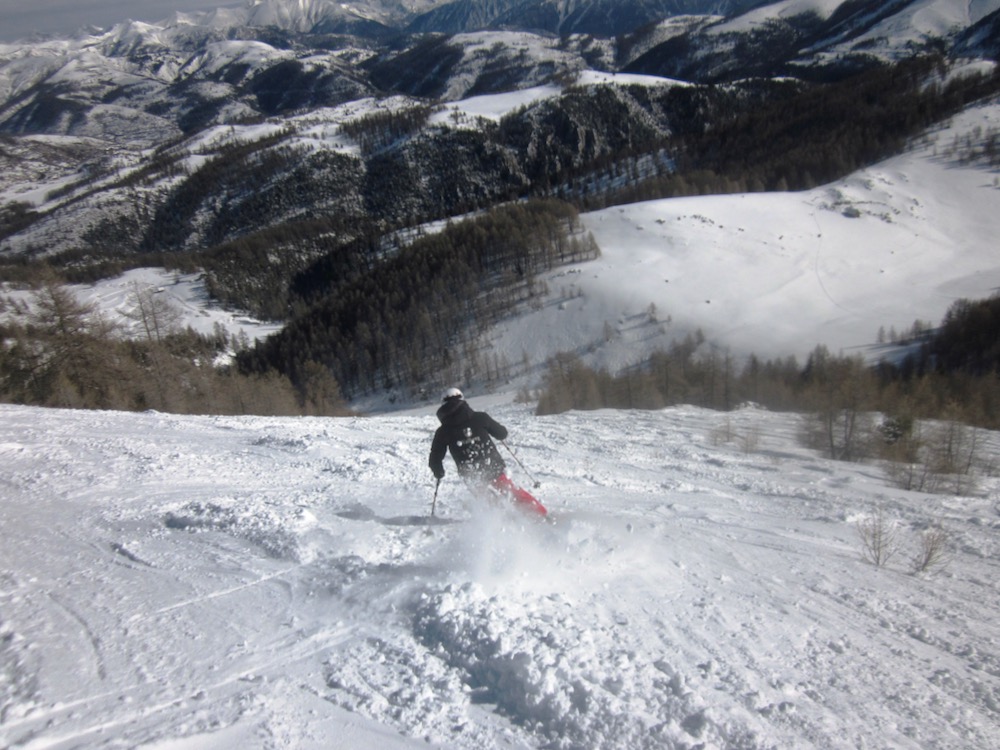 At dinner that evening, I got chatting with a few French visitors at the next table about the resort and asked why a town in the south of France, only 32 air miles from Nice, had what sounded like a Germanic place name. I was quickly corrected — Valberg is a contraction for "Vallon des Bergers" or the Valley of Shepherds. Founded in 1936, it's both the oldest ski area in the Maritime Alps and the closest full-service ski village to the Cote d'Azur with all sorts of options, including snowshoeing, swimming, horseback riding, sledding, and that week an extensive standup comedy festival.
Having had so much fun during my evening snowmobiling in Auron two days earlier, I signed up for a group ride departing the following morning at 7:30. While not as challenging as the previous outing it was still a pleasant, leisurely cruise surrounded by beautiful scenery and the quality of light at sunrise was gorgeous: worth the early wake-up. About 30 minutes in, the monsieur in charge unpacked a breakfast of coffee, tea, and croissants surrounded by a completely empty ski area.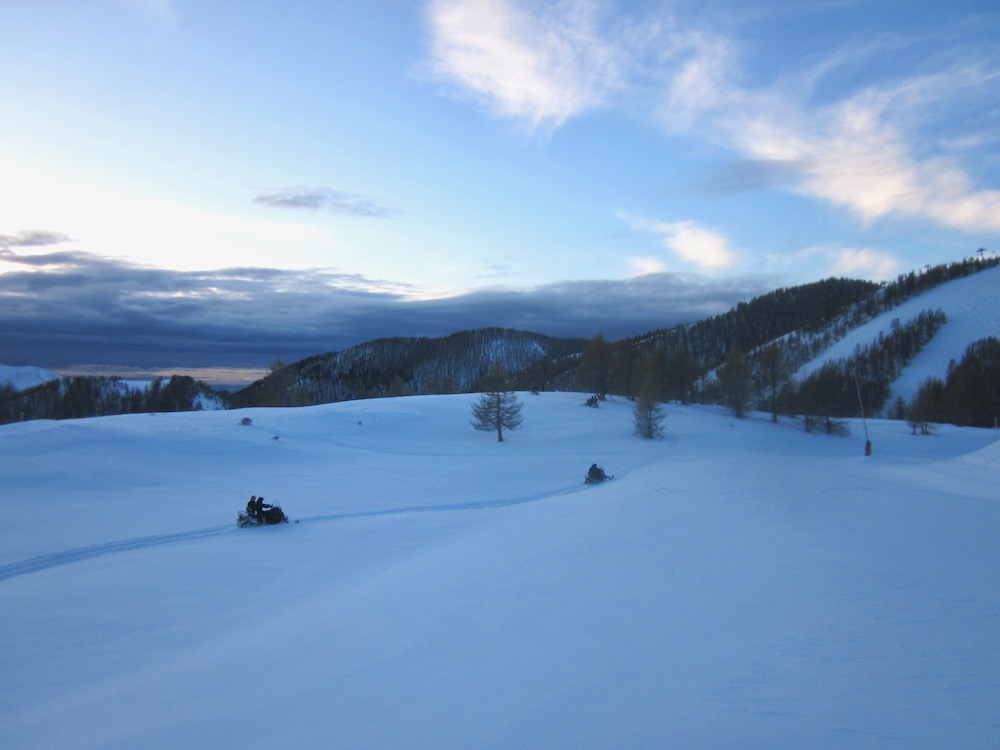 By 9:15, I was booting up and looking forward to a circuit similar in layout and feel to Park City's The Canyons: a series of rounded peaks with 54 miles of trails, a vertical of 1,900 feet, and as always over here, tons of lightly-touched offpiste. In addition to high-speed cruising on buttery soft groomed trails, I found a bunch of nice shots with several inches of leftovers from the storm two days earlier.
Mid-afternoon, I visited the "planetary trail," which reproduces the solar system on a miniature scale amidst the monolithic rocks including all sorts of educational signs. Once back in town, I checked out the Twizy, a two-seat electric car from Renault that you rent, similar to a Citibike. In short, a beautiful ski area with mostly relaxed upper-intermediate skiing and a cute village.
Espace Lumière
For my final stop on this trip, I headed northwest from Valberg to the Allos Valley. Only 18 miles as the crow flies, but an almost two-hour drive through the scenic Daluis Gorge, which wouldn't look out of place in southern Utah with its red-rock topography popular for kayaking, hiking, and rappelling. A half hour later, the road started gaining elevation and passed by a few more 1,000-year-old cliffside villages.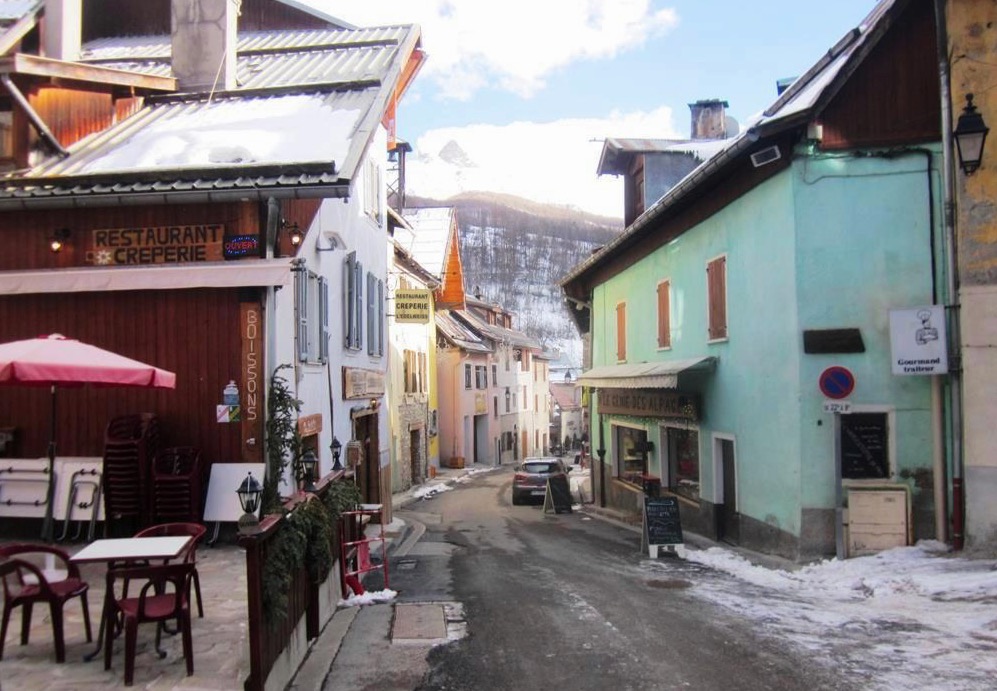 One of the interesting things that I've noted on Alps trips over the years is how rarely one runs across wildlife other than birds; however, in this region I encountered a couple grown wolves and a VW-sized wild boar with tusks and everything. According to locals, the wolves generally mind their own business; it's the boars you need to watch out for given how they love to burrow, causing damage to gardens and farming areas.
The next day, I arrived at the largest ski area on this trip, the Espace Lumière, which translates as the Region of Light, referring to how sunny this area is year-round. Encompassing 136 miles of marked trails and large amounts of offpiste that you wouldn't guess from the map, it's a beautiful varied circuit that could easily keep you busy for four days.
I first skied at Seignus (SAYN YEWSS), which could easily be connected to the main circuit; however, they left it separate as a local's area, very similar to how Pico is to Killington with 3,000 verts of consistent double-blue/single-black pitch. While it's known mainly as a high-speed cruising type of ski area, there were plenty of well-preserved leftovers not far from the groomed trails.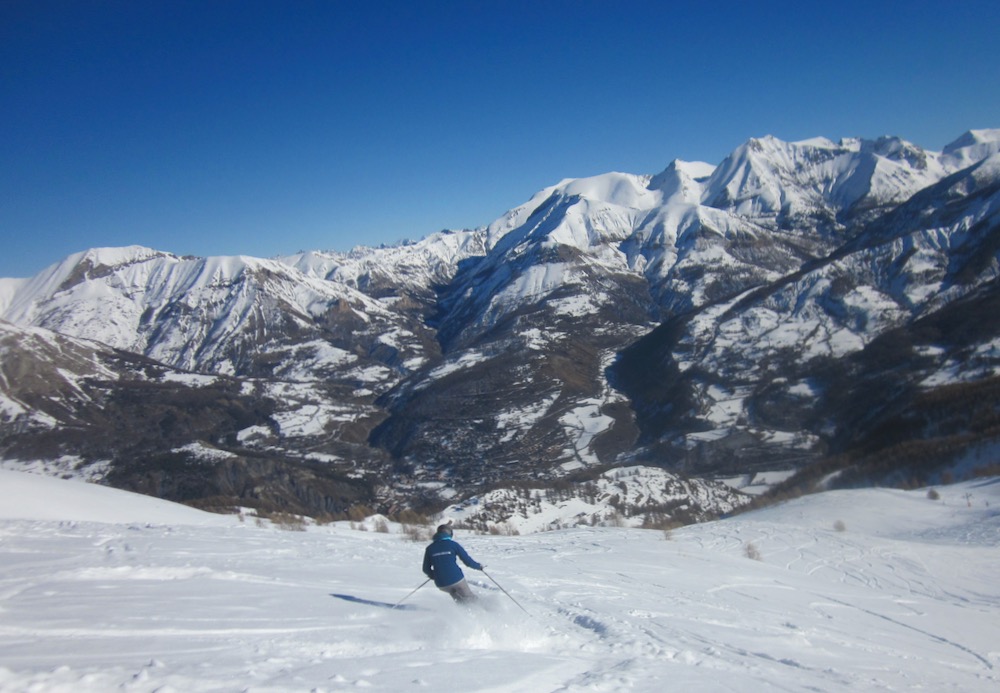 The following day I skied the larger part of the Espace Diamant, which includes two large sectors, La Foux and Pra Loup, featuring a 3,700-vert drop above the town of Barcelonnette, which is known for having a huge Mexican Festival in August. Apparently, quite a few residents left for Mexico in the late 1800s, became successful entrepreneurs over there, and eventually moved home, bringing a lot of Latino cultural influences. Throughout the day, I was impressed by how many separate different valleys were connected, often by interesting lift setups, and the southern French flair both in the culture and scenery was really enjoyable.
As I headed back to the Nice airport, it was clear that I could've easily spent a couple weeks in the Maritime Alps, mixing 15 ski areas of all sizes with visits to the medieval villages in the back country of Nice as well as some time along the Mediterranean coast. Truly a unique region that should be considered for anyone planning a visit across the pond.
---
For additional photos, info, and trail maps, check out the daily trip reports: