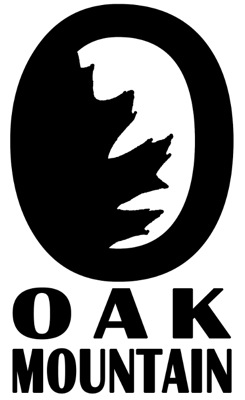 Oak Mountain is located in Hamilton County in the lower Adirondacks in the town of Speculator. The privately owned ski center offers a ski and rentals shop, one large lodge with plenty of space to accommodate their visitors, a take out cafe, as well as a top-notch restaurant and bar. To the side of the lodge there is also a three-run tubing area with rope-tow as well.
Although Oak is a smaller mountain it has terrain for just about every skier. From the learning hill, to "Upper Devil's" this is truly a mountain that has the entire family in mind. There are 14 trails and has a 650 vertical with three lifts, two being t-bars and one quad. There is one trail, Nova, that has a significant flat spot at the end and will leave some people doing cross country for a little while. The true secret of Oak Mountain are the glades. Tree-skiers will have an amazing time in consistent knee-deep powder that rarely gets touched.
There are three huge aspects about Oak that truly make it a great mountain to go to. The family friendly atmosphere makes it a mountain for everyone. Their instructors for both children and adults are knowledgable, friendly, and give the utmost attention to skier ability as well as just having a good time. Affordability gives people the opportunity to ski when it may not be an option for $90 lift tickets at other mountains. Lift tickets range from $16 – $38 and have season, and family pass options. Of course the best for last is SNOW. Not only is snow making done here as much as possible, but because of the location of the mountain lake-effect snow is always giving Oak more snow than the rest!
For the 2013-2014 season there will be MANY new programs and changes for the mountain, including; Friday programs for moms and seniors, a terrain park expansion with many new features, racing program, and events for all types of skiers or boarders.
Oak is accessible from route 30 and is about an hour to an hour and a half, away from Amsterdam and Glens Falls.
Programs
More than a Mom: Kids off to school? Join us for an eight-week program of Friday morning skiing with one of our Professional Ski Instructors. Learn to ski or sharpen your skills, the important thing is some quality time just for you!
New Lessons: In addition to traditional Snowboard and Ski lessons, this year you can take lessons for Racing gates or playing in the Terrain Park!
Snowshoeing Get a little closer to nature on our new snow shoe trails. Climb the mountain or take it easy to the peaceful pond. February 1st , Snowshoe Race 5k/10k.
Group Discount: Fifteen or more skiers/riders in a group and you get a huge discount.
Oak Runner Pass: Buy a book of five day use tickets for another huge discount.
Book of 5 Lessons: Five consecutive weeks of lessons with the same Instructor at a reduced rate.
Silver Fox Program: Don't need to do the hardest runs on the Mt and looking for friends to ski with? Join our men's and women's Silver Fox Groups on Fridays and ski with Chuck and Chari Smith.
Terrain Park Expansion: The Terrain Park is moving to the other side of the hill. Several new features in the park and now Instructors are available to show you some tips and tricks.
Racing Program: You test your time in the gates when they are open on Saturday and Sunday. Compare your time with your friends, or just try to improve your personal best! Racing lessons available.
Fireworks and Torchlight Parades: An extended day of skiing followed by a torchlight parade and fireworks. Once Christmas/ New Years week and once Presidents week.
Rail Jams: A series of 3 in the Terrain Park. This one is as much fun to watch as it is to participate.
Kids Races: During the holiday weeks to give the kids a little challenge and obstacles.
Pond Skimming: This is one event you don't want to miss. The costumes are incredible and the challenge has been accepted to make their way across the pond!
Two Groomers: Two groomers should insure perfect conditions every day.
Cafeteria or Pub & Bar Menu: Lots of choices at Oak this year! New additional seating. With 7 craft beers on tap, mouthwatering wings, great pizza, live music and fun atmosphere- your sure to enjoy your time together.
by Marcy
---
Trail Map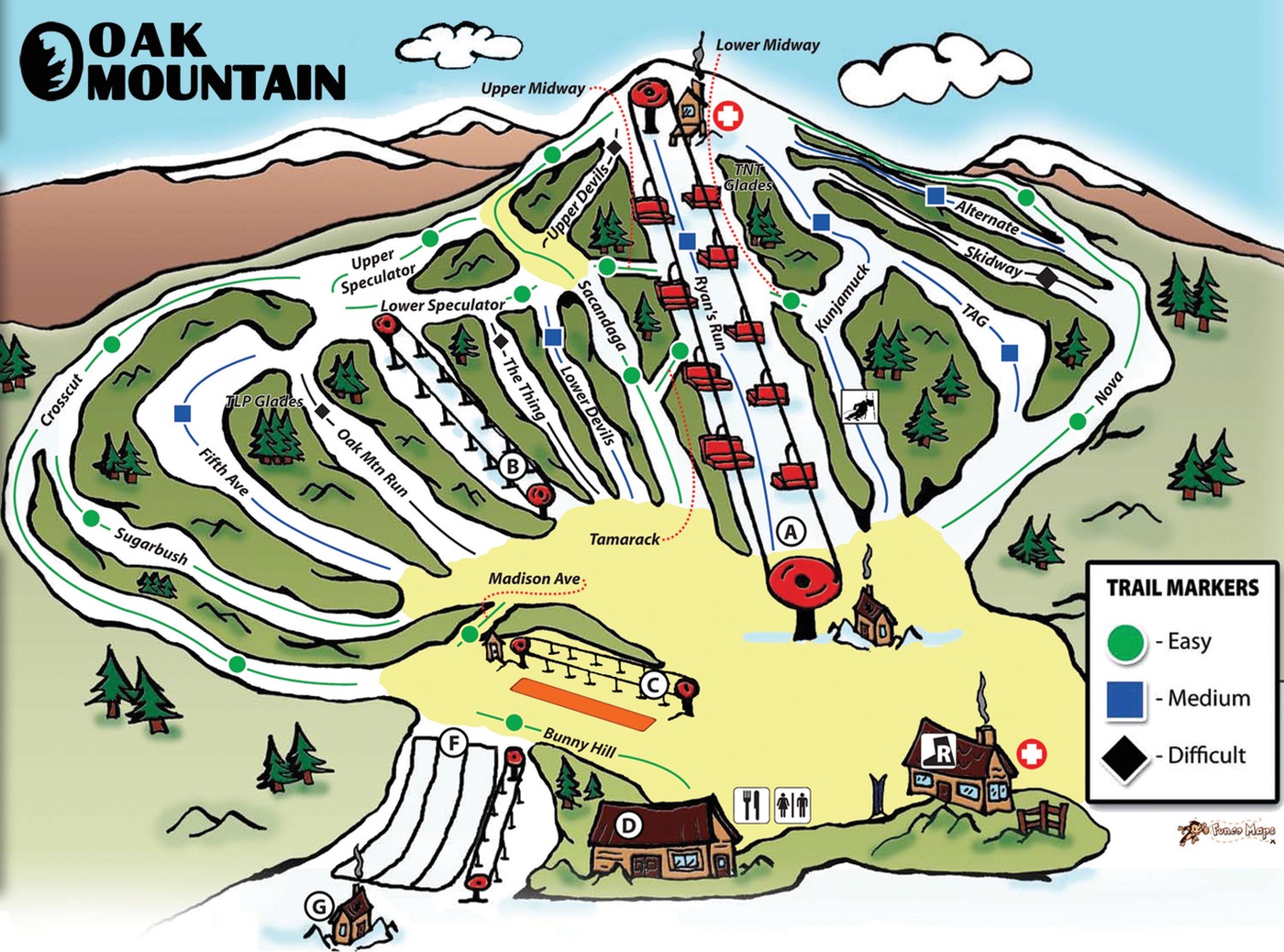 ---
Mountain Stats
| | |
| --- | --- |
| Base Elevation | 1,750 feet |
| Summit Elevation | 2,400 feet |
| Vertical Drop | 650 feet |
| # Trails | 14 |
| Trail Miles | XXX |
| Longest Run | 7,920 feet |
| Skiable Area | 46 acres |
| # Lifts | 3 |
| Uphill Capacity | 3,000 / hour |
| Annual Snowfall | 120 inches |