January 30, 2010
Ithaca, NY: 1/29/10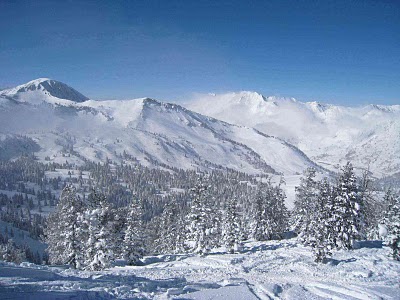 In 24 hours I'll be jetting to The Promised Land. The skis are in their travel bag, along with an assortment of outerwear and my helmet. Boots and ski pants are in their bag which will be my carry-on. I borrowed Acidchrist's Pieps, shovel and probe. Gear is packed. Tying up loose ends, finishing up work, paying bills, charging batteries and making lists. Bought my Utah Super Pass. Stay tuned to Harvey Road.
* * *
Alta, UT: 1/31/10
Day 1: The snow report from Alta said 4″, but I didn't see 4″ anywhere…it was more like a foot and deeper in some places.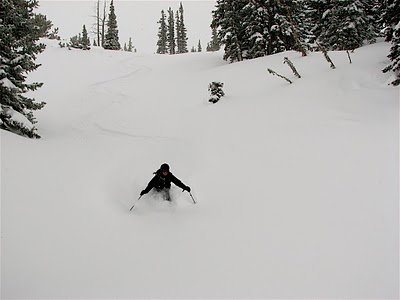 Powderqueen nails first tracks in Catherine's Area at Alta
photo: Marc Guido/First Tracks!! Online Media
There were a lot of people in town and 3 large groups would not be able to stay together, so I stayed with the www.FirstTracksOnline.com crew, led by FTO's Admin, Marc Guido. The start of the day was a little rough as we got up there later than planned. With such a large group, there's always some waiting around. But this was not an issue for Admin, as he loves to be the tour guide and always is a gracious host and leads us to all the fresh stashes.
In the group were FTO regulars Kingslug, Admin, Skidog, Pat, Amy, Tele-Jon and PDQ!
We spent quite a bit of time riding the Supreme lift, hiking/traversing/schlepping to fresh snow. Each time, well worth it. When I'm following a group, I pay little attention to how we got to where we are going, or the name of the shot. I'm just focused on staying with the group. Full TR from FTO is here.
* * *
Alta, UT: 2/1/10
Day 2: Monday morning dawned with sunshine that lasted the whole day. Alta reported 7″ of snow. No brainer.
My friend Paul drove in from Jackson, WY to ski with me, even though they were getting the same storm there, that dropped 18″ on Jackson Hole. He was a little bummed he missed it, but he had a stellar day skiing with me at Alta.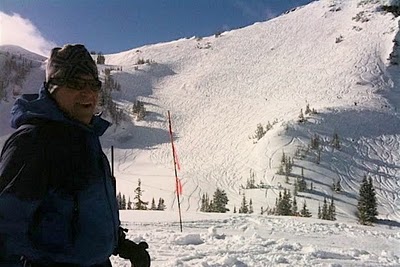 Ballroom was closed when we got there, but after one run on an almost untracked West Rustler, the gate had opened and we hopped into line with about 20 or so people ahead of us.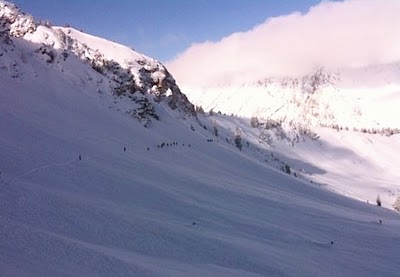 It was darn good timing and we had beautiful untracked knee-deep fluff all the way down. Totally euphoric. We lapped it 4 times, which included a good amount of schlepping to get up to the best lines, but well-worth the time and effort.
Powderqueen laps Ballroom
Hungry and exhausted, it was time for a break. We found a nice table on the patio of the Gold Miner's Daughter where we dried out in the sunshine and refueled for the afternoon.
When we got to the top of Collins, there was a line-up hiking up to Backside. It had opened 15 minutes prior and they were letting people through in small groups and telling us to spread out. We did our job and laid down some fresh tracks. On our second lap, patrol opened another gate and we were first on it.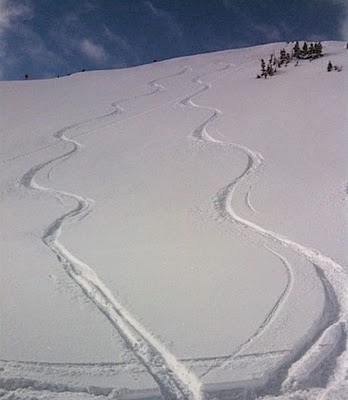 After a couple of laps we decided we couldn't schlep uphill again so we used gravity to get us to the goods.
We hopped on the High Traverse, picked our way through Piss Pass and found our way over to Eagles nest. We found fresh snow and it was beautiful in the trees.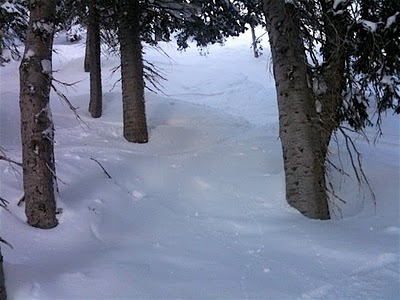 We were both toast by 2:45 and called it a day. I'm starting to hobble a bit…but with a big grin.
* * *
Solitude, UT: 2/2/10
Day 3: As we were boarding the Summit double chairlift to ski Honeycomb Canyon, Paul and Cynthia rode together and I was about to get on the lift alone. Suddenly a guy schussed up and asked to join me. Another Mark (this seems to be the most common name in my ski world), and he was from Rochester, NY. He was skiing alone so I invited him to join us, or, er, um for us to join him, since he seemed to have a plan to find fresh snow in Honeycomb Canyon.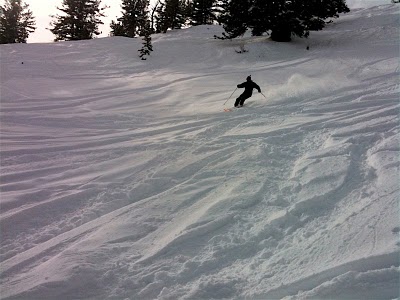 Mark from Rochester gettin his ski on
Mark is a very like-minded skier and we hit it off immediately. The three of us followed him to his stashes that took some effort getting to on a long traverse with a bit of uphill travel. Each powdery run was followed by the long run-out on the canyon floor, punctuated by a sweet soft mogul run before the final run-out to the Honeycomb Return lift.
Since we had a flatlander with us from the Chesapeake Bay who had not skied a day since last March, we figured that Solitude would be a nice mellow choice where we could focus on quality instead of quantity. Cynthia got more quantity than she bargained for. The uphill traversing was hard enough even for those who were used to it. What I've learned is that it is always worth the effort to traverse and go a bit uphill to get to the goods. It took a little convincing, but she kept going and earned the rewards.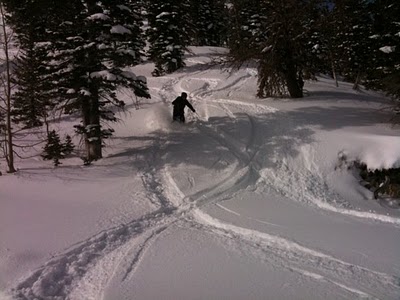 The snow was soft and lovely on the northern exposures.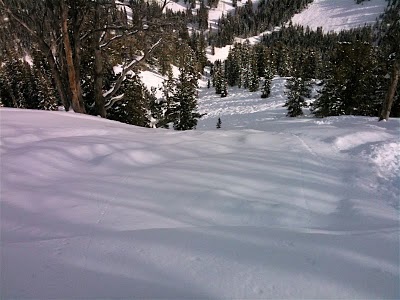 The brilliant sunshine made the south faces heavy. We stayed away from them as much as possible, though the fresh snow did look tempting.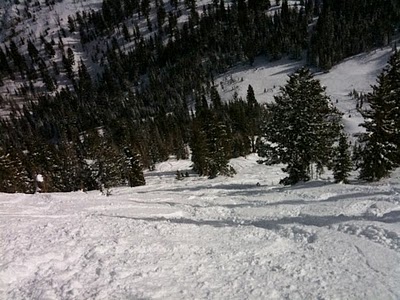 Working hard to seek the dry fresh snow until almost 2pm required a much-needed break. We ate a late lunch in the sunshine and followed it up with an hour of cruising the long groomers before our quads were screaming mercy.
Today was the best day I've ever had at Solitude.
Mark is going to meet us at Snowbird for Day 4.
Snowbird, UT: 2/3/10
Day 4: Thoroughly exhausted. Snowbird always kicks my ass, and my ass was draggin' today. Chugged a Red Bull at Creekside before heading out to look for pockets of powder in the woods on the western side of the resort.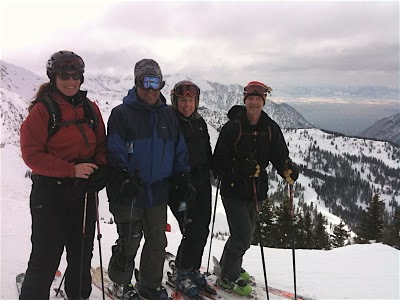 PDQ, Paul, Cynthia and Mark on Hidden Peak
Our group went from 3, to 4, to 6, to 2 and then back to 6 after lunch, before calling it a day at 2:45. We skied with 2 of Mark's friends who are ski instructors at Deer Valley.
We skied all over. Highlights include leftover shots of fresh powder in the morning West of Gad, 2 runs in the Peruvian Cirque, and a run out in Mineral Basin to the Bookends (?) .. it's that huge steep run in the shadow of the mountain, that ends in a nice steep chalky chute. The hike up to Baldy was quite unappealing after all the schlepping we've done in the last 4 days.
We poached a hot tub up-canyon before heading back into the smoggy valley. I'm feeling pretty beat, but I'm ready for the next powder day.
* * *
Powder Mountain, UT: 2/4/10
Day 5: What they say is true…hit Powder Mountain after a storm. Plenty of powder to keep the Powderqueen happy. Powder Mountain has 5500 acres and low volume daily skier traffic. There is so much acreage that you are guaranteed to find fresh lines.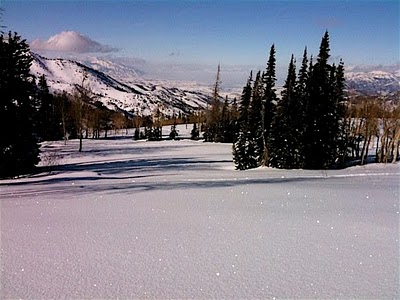 Paul went back to Jackson WY, so Cynthia and I skied with Mark, Mike and Dave. Mark was so kind to come and pick us up.
When we arrived at PowMow, Mark realized he forgot his ski pants. Thankfully a ski instructor had a pair to lend to him, and it didn't delay us for very long. We had a great group of patient, and like-minded people.
Starting out the day with a cat ride up to Lightening Ridge proved to be a good idea. The cat was barely full, and everyone seemed to disperse once on the ridge.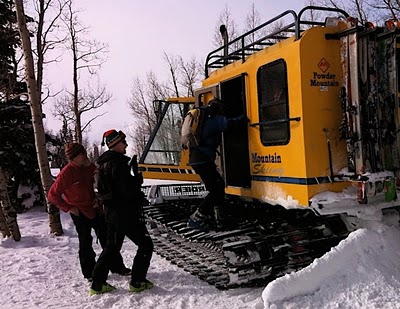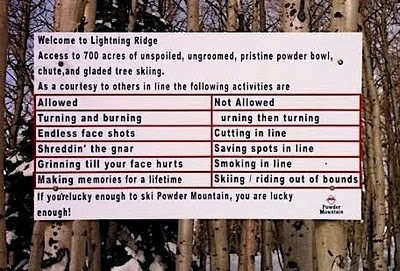 Sign at Cat Pickup
There was plenty of powder leftover from Sunday's storm with a fresh inch of snow on top for good measure. All turns were pleasurable. The snow still light and dry, with plenty of untracked left to sink your skis into.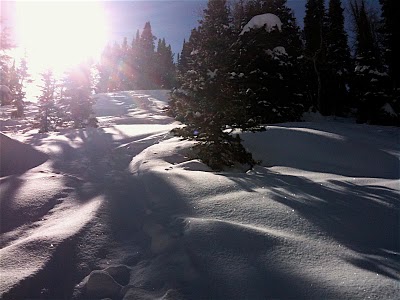 After a super powder run from the snow cat, our next adventure was Powder Country. You ski off the backside of Hidden Lake Peak, and down to a bus pick, up at the road.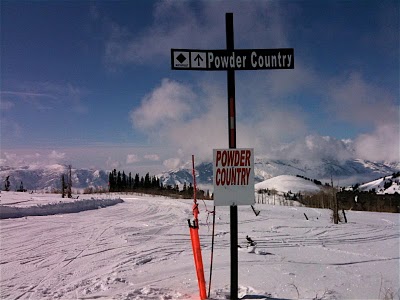 2 long lift rides, one poma ride plus a short hike out took us to Cobabe Canyon. On the way over, we found pockets of untracked in the north-facing trees but in Cobabe, there was still plenty of fresh lines to ski.
In fact it was so good and there was so much left out there to track up, we decided to go back to Powder Mountain again in the morning.
We finished with one last run down Powder Country and caught the last bus at 4pm. My legs were quite weary. And the lower part of the run, while still untracked, was getting some sun and skiing like glue. I was totally spent.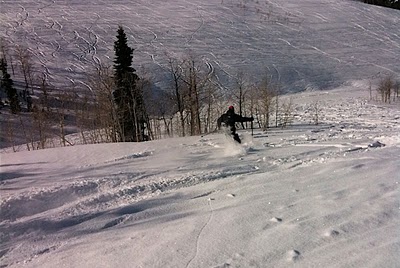 Rochester Mark
Today was a multi-modal transportation day: 2 bus rides, 1 cat ride, 6 lift rides, 1 poma surface lift ride, a car ride, some moderate hiking, and lots of powder skiing.
We topped off the day in Park City at the Wasatch Brewing Company. I had the best burger I've ever had, a Buffalo Burger, washed down with an Evolution Amber.
Everyone in our group was amazed at Powder Mountain and it has become our new favorite.
* * *
Powder Mountain, UT: 2/5/10
Day 6: The weather today really put a damper on the fun meter. It was gray, foggy, snowing and you really couldn't see, unless you were in the woods. Thankfully, there are plenty of trees at Powder Mountain and we found solace in the the forest.
Low Visibility in Cobabe Canyon
The 3 of us were all hurting in some way. Cynthia had swollen feet and blisters, which made putting on ski boots painful. My patella on my right knee isn't tracking well and the brace I'm wearing is no longer doing it's job. Or my knee has just gotten much worse with all the skiing without much rest. Mark was feeling tired and also had a sore knee, but he's the energizer bunny. He kept it going anyway, but felt like he was done at 3:30.
With visibility bad, we skipped Lightening Ridge and Powder Country and took a few laps at Cobabe Canyon. It was a chore to get there, and in hindsight, Powder Country might have been ok. But I was skeptical. The lower elevations were really getting heavy, so we decided to stay high even though the visibility was bad.
The woods skied well, even though the snow had changed in the last 24 hours. It was much denser and creamier and you floated more on top. The humidity of the storm, which kept pelting us with grauppel turned the powder into a thicker texture. It was still pleasant to ski, but not as nice as the days prior.
We met some Greek Peak friends in the bar. This is the third time we ran into each other at the Powder Mountain bar in the last 3 years. When I walked in at 4pm, I sensed that people were looking at me. I was cold and unfocused. Finally my eyes met theirs and we all started to laugh. What a small world.
Today was not a hard-charging day. I think those days are over for the week. My legs are not sore, just tired and my knee issue was really affecting my skiing. It hurt quite a bit on the hike out to Cobabe. I'm starting to feel worn and am thinking that next year I will have to take a shorter ski trip. I think 6 days is plenty. 8 days may be too much, even though I skied 13 days in a row last year. I'm a year older now, and I'm starting to feel it. How did that creep up so fast?
This weekend we'll be part of the crowd in Little Cottonwood Canyon.
* * * 
Snowbird, UT: 2/7/10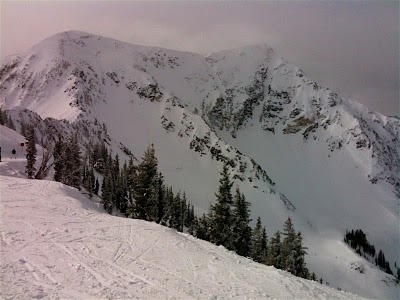 Day 7: Feeling much better than yesterday. Was expecting to ski in low visibility again and 4″ of new snow was reported. There was supposed to be weather system coming in that would add a few more inches throughout the day, but the clouds broke up, and we had sunshine for a good part of the day.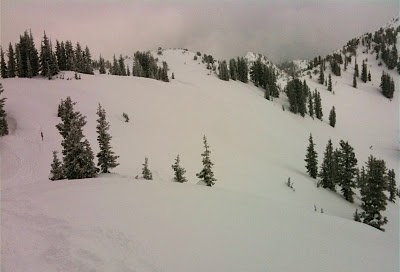 Ridge Meadow
Mark picked us up and we met up with FTO's Admin, Marc_C, Tele-Jon, his brother Malcom, nephew Devin and SkiVT-ler Pattimac. Such a large group didn't make sense, so Marc_C took Pattimac and Cynthia on a tour of Alta, while Admin and Tele-Jon took me and the rest of the guys on a tour.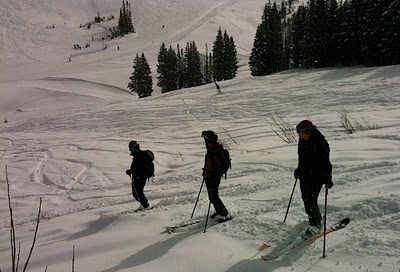 Admin, Tele-Jon and Rochester Mark
We found some nice fresh snow, long and steep pitches from Greeley bowl to beyond Catherine's.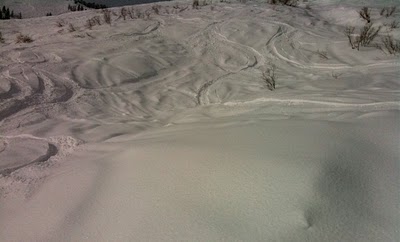 Greeley Hill
I wanted to demo skis during this trip and the ski shops at Alta were selling demo skis for about $400. I've been interested in demo'ing the newer Salomon line of fat skis. They had a pair of Salomon Scarlets, the 2009 women's version of the Gun (which I ski now, but the older model). It's 96 under foot with a 130mm shovel. I decided to dedicate the last 2 hours of the day to demos.
The Scarlet skied a lot like the Gun which is 90 under foot. It was a really good deal, but it didn't make sense to buy such a similar ski. I am looking for a ski that's about 100mm underfoot and versatile enough for both east and west skiing. The guy in the shop recommended the Atomic Coax. The one he had was out. When I was leaving the shop, an Australian guy came in with those skis. He said he loved them so much, he was going to buy them. The guy bought them that minute, so I could not try them.
On the Salomon Scarlets, I enjoyed runs down Ballroom, Fred's trees, West and North Rustler.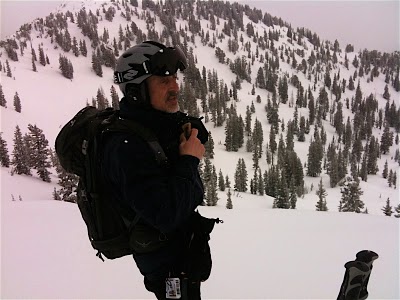 Marc Guido of First Tracks!! Online near Sunset Peak
We all reconvened on the patio of the Goldminer's Daughter for beers in the setting sun. (Marc Guido's FTO TR here.)
* * *
Powder Mountain, UT: 2/5/10
Day 8: We got an early start and were out on the Gadzoom lift just as it started loading at 9.
The snow was definitely stiffer than yesterday. We sampled a number of lines in the Gad Area. Noodled through the woods and dropped into some tight lines. My knee was not feeling so great, but I pushed on.
We found the best snow top to bottom on the ungroomed portion of Regulator Johnson and off the Road to Provo. Did one run in the Peruvian Cirque before lunch which had some really bad visibility and somewhat stiff snow. After lunch we hit Mineral Basin. The snow in and near Bookends was very good and we did a few laps sampling different lines in MB after lunch. We dropped into Gad Valley again for a few more laps.
I was skiing with Mark from Rochester in the morning. At lunch we met up with former Cornell Ithacans, Missy and Kyle, who have relocated to SLC.
Missy expressed some desire to improve her skiing, so I volunteered to give her some pointers. I told her that first she had to get skis that were more than 70mm under foot and to keep her hands in sight at all times, elbows bent near waist, upper body facing the fall line. Once she got the correct body position, she was able to keep her upper body quiet.
She had remarkable improvement, even on the toothpicks she was skiing on. She said she had been skiing all her life but was never taught good technique. She'll go down anything, but I think I helped her make it a little easier. And with new skis, she'll really be rockin. Anyone have any used fat skis (over 85 under foot) and about 160cm? She's small, so chick skis would be best. (Click on my profile at the lower right and send me an email).
We skied until 3:30 and were ready to call it a successful vacation. We didn't get too much deep powder, but we made the best of what we had. It was a fabulous time with old and new friends on the mountains of Utah.
I'm ready to go home to my family, and rest.