July 6, 2012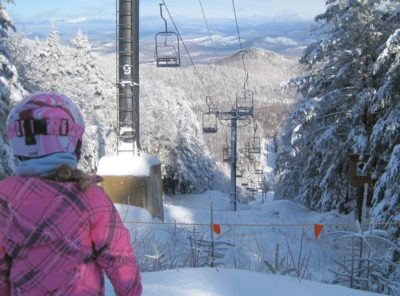 Tree Dreamin • Somewhere in New York • January 14, 2012
Finally, in mid-January, we got some significant measurable snow in the mountains of New York.  At HQ in North River, it was barely a foot, and didn't really get the trees going, but it was snow. Natural snow always improves conditions.
Reports and photos from Greek Peak were very encouraging. Laszlo Vajtay of Plattekill called the improvement in surfaces "amazing." At Gore that weekend, we found carvable corduroy, pockets of untracked snow, and some nice natural snow rope-drops.  Was this the beginning of the much hyped "pattern change" that was all the talk?  We didn't know and we didn't care. We just skied.
"When we arrived last night, the first thing I did was shovel the porch. This week's haul was seven inches of snow, an inch of sneet, topped with another three inches of snow. It wasn't the 18 inches of upslope blower that Vermont got, but it was perfect base-building snow.
This storm had significance beyond the snow it dropped and the cold air mass it ushered in. for us, the storm delivered some hope. We've had some wintery moments this season, but for the first time this season it felt like winter in our corner of New York."