December 5, 2014
Last August a friend asked me to recommend the Eastern resort with the best chance for fresh snow over the Thanksgiving weekend. I was intrigued because it seemed like a bold and direct challenge to me, to organize an early season destination trip with a good shot at pow.
It didn't take me long to consider Jay Peak, Vermont. Jay is of course the exception that proves the rule, recent winner of Powder Magazines "Best Pow" award and home of a mindbending Eastern US accumulation record total of more than 500″ in a single season.
While there are few guarantees for conditions anywhere on the planet, I'd also been itching to get back to Jay. Few resorts get to completely re-imagine themselves, but it seems that's what Jay has done in the past 20 years.
December 1, 2014
Ski Day 5: Garnet Hill Lodge had a Ski Shop Open House all weekend, with music and free skiing. On Friday after our drive to the mountains, we made some late day nordic turns on Upper Tailings, Old Faithful and Lift Line.
Saturday Neve got her new gear through the annual GHL kids nordic gear exchange ($20/year) and we picked up our seasons passes. The girls headed back to the cabin to do some sledding. I was surprised they didn't want to ski but I soldiered on, heading out solo towards the intersection of Trapper and 4H.
Like the day before, my intention was to check out the view from the Upper Tailings then head down 4H to Old Faithful. But also like the day before, after I enjoyed the view, as I skied past Lift Line… it sucked me in.
November 25, 2014
The recent monster lake effect event in New York created real friction for hundreds of thousands of people in western part of the state. At the same time, two NY State ski areas were "grazed" by the storm. Holiday Valley reported 23 inches and Snow Ridge pulled in 35 inches of snow.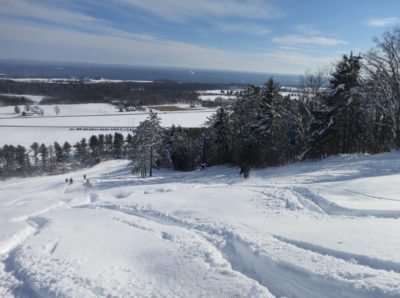 In our forum, skiers were focused on Snow Ridge NY. I was no exception. The idea of November powder… I'd never skied it before. I did actually ski October pow once.
I was up before dawn on Friday headed to Gore. I made record time and was booting up at 11:30. I skied the afternoon, starting out on cambered skis then moving to rocker. The snow was good with guns blowing nearly top to bottom. The goal was really to get Day 1 in, before heading to Snow Ridge, for the pow opening on Saturday.