March 9, 2015
The British Columbia Powder Highway has become a legendary destination for its big mountain terrain and snowpack that is reliable in normal seasons.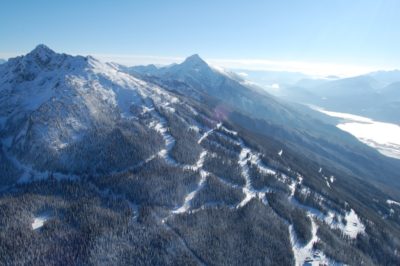 But with so many mountains towns and resorts scattered throughout this sparsely populated southeastern corner of BC, skiers are spoiled for choice. A mining and railroad town turned pilgrimage site for the Selkirk hardcore, Revelstoke Mt Mackenzie is one of the many plum spots to park one's skis and boots for a few days. The town became even more attractive to long-distance visitors seven years ago when Revelstoke Mountain Resort opened, offering the highest lift-serviced vertical drop in North America.
At a leg-busting 5,620 feet from the top of the highest chair back to the base area, Revelstoke is a test of stamina even for diehard fitness enthusiasts. With a healthy mixture of Canadian tastes, scruffy ski town charm, and the kind of scenic mountains that make the "Beautiful British Columbia" license plate slogan live up to its name, Revelstoke should be a stop on any Powder Highway traveler's list.
Please read our magazine feature:
Revelstoke Mountain Resort: The Mt. Mackenzie Legacy

March 3, 2015
Windham has built a reputation helping people face and conquer challenges.  This weekend, while not officially enrolled in the mountains acclaimed adaptive program, we made some strides too.
My daughter has been after me to arrange a playdate in the Catskills all winter. With an open day on Sunday for both Neve and Lana, the time was right.
Lana, the daughter of one of my best ski buddies, was excited too. The two girls are the same age, ski at the same level, and even though they haven't seen each other for almost two years, it took less than a minute for them to reconnect and start laughing.
February 23, 2015
When Belleayre announced the opening of their new glade "Dreamcatcher" this week, I knew that I had to get back up there to check it out.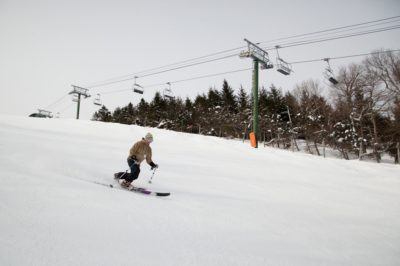 Despite Belle's reputation as a more family oriented mountain, they've added quite a few expert glades in recently and with the deepest February base in memory, I was very curious to see how the mountain was skiing.
The marketing had been a siren call to more people than just myself; I had never seen the lot so full, even with an early arrival. But access was actually pretty easy, and I soon realized that a majority of the skiers must have been in the lodge booting up, as empty chairs were still heading skyward on the 'Ol Reliable, #7.