Blog:
Windham
December 13, 2016
My kids don't exactly object to getting out of bed early. It's more like they're incapable of functioning without precise guidance before 8am. Each insulating layer requires new instructions. Putting on socks does not, apparently, imply that shoes should follow.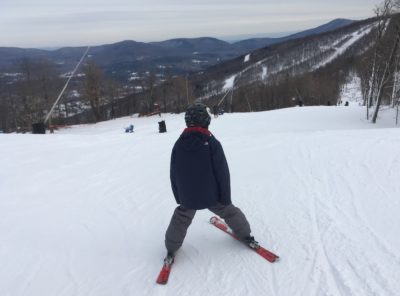 In spite of this, we made good time up the Thruway on Sunday. We arrived at Windham, parked, grabbed our gear and jumped on the shuttle bus. I left the kids to boot up while I got our lift tickets.
Junior made it to Hunter's opening day with me, but Sunday was my 10 year old's first day of the season. He's stepping up to a longer pair of skis this year, so we got on D-lift, a fixed grip triple to start out mellow. The little grom did great but I noticed he was skiing really slowly.
March 3, 2015
Windham has built a reputation helping people face and conquer challenges.  This weekend, while not officially enrolled in the mountains acclaimed adaptive program, we made some strides too.
My daughter has been after me to arrange a playdate in the Catskills all winter. With an open day on Sunday for both Neve and Lana, the time was right.
Lana, the daughter of one of my best ski buddies, was excited too. The two girls are the same age, ski at the same level, and even though they haven't seen each other for almost two years, it took less than a minute for them to reconnect and start laughing.
March 27, 2014
Among the many things skiers like to rhapsodize about from "back in the old days" is that winters were far colder and stuck around longer than they do today.
Growing up in Central New York in the early/mid-1970s, I still remember traipsing through shoulder-deep snow to deliver the Syracuse Post-Standard at 5 am every morning while walking backwards for most of my route to avoid getting blasted in the face by sub-zero wind gusts.
While 2013-14 hasn't been a record breaker for snow, it's been noticeably colder than recent seasons and has delayed the arrival of spring skiing.