Blog:
Windham
March 27, 2014
Among the many things skiers like to rhapsodize about from "back in the old days" is that winters were far colder and stuck around longer than they do today.
Growing up in Central New York in the early/mid-1970s, I still remember traipsing through shoulder-deep snow to deliver the Syracuse Post-Standard at 5 am every morning while walking backwards for most of my route to avoid getting blasted in the face by sub-zero wind gusts.
While 2013-14 hasn't been a record breaker for snow, it's been noticeably colder than recent seasons and has delayed the arrival of spring skiing.
January 2, 2014
In 2014, the stars have aligned early for skiers in New York. The Catskills are in the bullseye for winter storm Hercules, and no one should miss out on turns tomorrow, let alone over the weekend.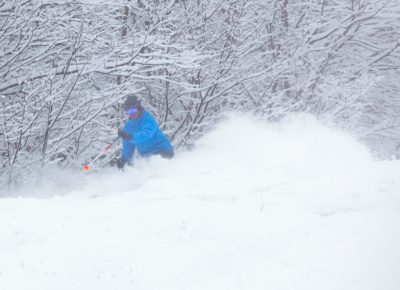 Not wanting to get snowed out, I left the city late last night, GF in tow, to make sure that we would arrive at Windham bright and early.
I'd seen their trail count increasing pretty quickly since the thaw and I had been dying to check out some of their summer improvements, which include new terrain features in the form of a blue square called Windfall and a very tasty looking gladed area just off of it.